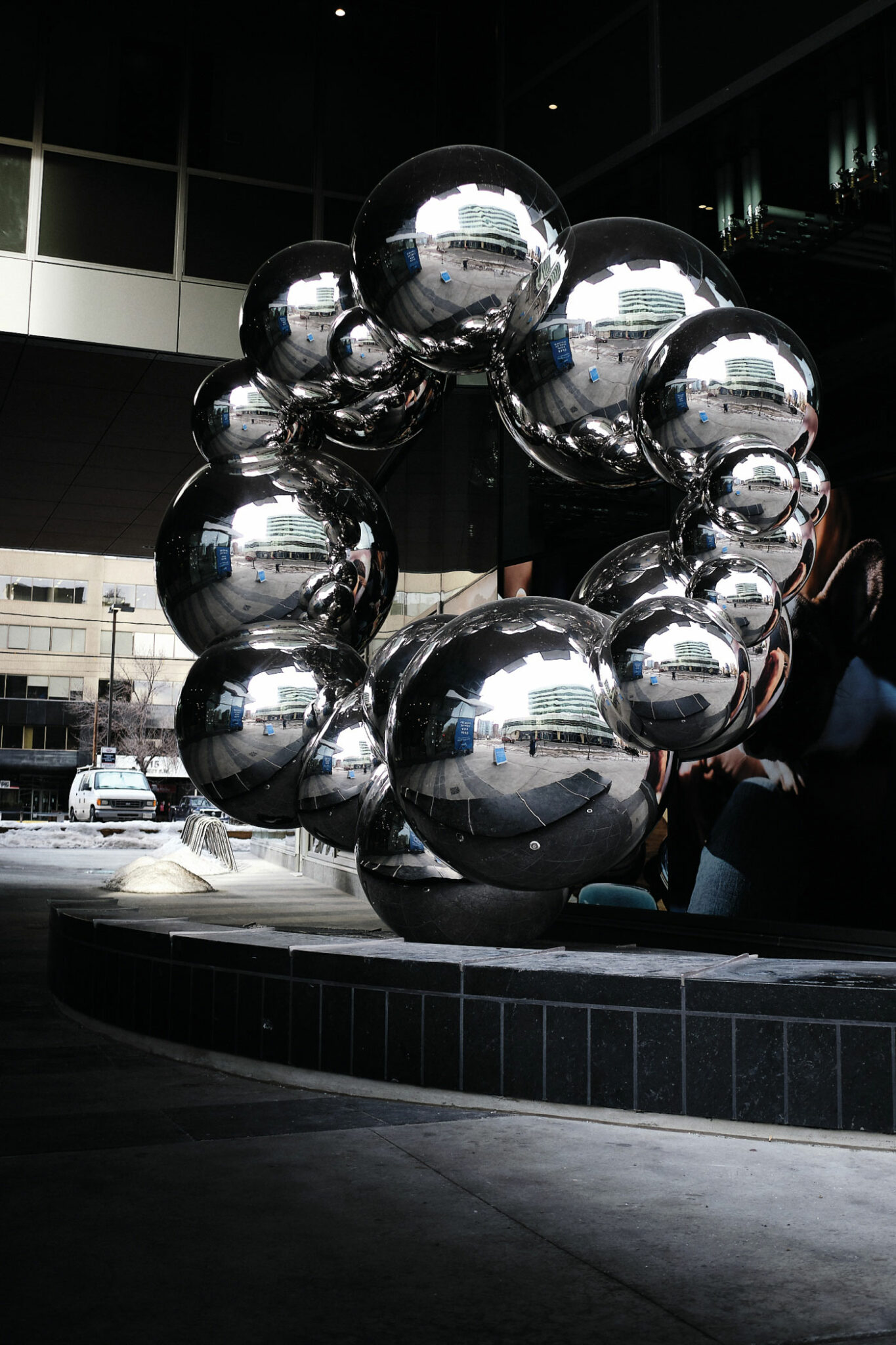 Title: Anomaly
Date: 2020
Artist: Alex Caldwell
Medium: Stainless steel
Size: 156 x 144 x 72 inches
Location: One Park Central, 510 12 Ave. S.W.
Notes: Commissioned by Hines; installation by Crystal Services (Calgary). Alex Caldwell is represented locally by Paul Kuhn Gallery. Another outdoor sculpture by Caldwell is at Drake condo tower at 1500 7 St. S.W.
The sparkling geometric form of Anomaly is eye-catching from the street. Whether you linger to gaze at your multiplied and distorted reflection or catch a glimpse while on the move, you see yourself incorporated in the mirror images of the shifting streetscape.
The grand wreath of gleaming steel spheres that seem to bubble one from another in a carefully balanced circle — suggesting small molecular systems, cloud formations or planetary activity — is one of Calgary artist Alex Caldwell's most impressive projects to date.
International developer Hines invited Caldwell to fabricate this sculpture for the "Galleria," an open space between the site's residential towers. Hines dedicated the space to showcasing notable Calgary artists and debuted works by Caldwell, Blake Senini and Bradley Harms in late summer of 2020, with more to come in a second phase.
John Wilbeck, Hines' Calgary representative, and the Houston-based design team asked Caldwell to make a large-scale version of an earlier tabletop sculpture in highly polished stainless steel. Caldwell had to develop new ways of working for this scale.
He imported specific sizes of steel spheres and square tubing rather than drawing from his collection of scrap metal, and hired two welders, a machinist and a stonemason to help him, although with the onset of COVID-19 he was forced to let his crew go. For months, Caldwell took on the tedious, gritty polishing job himself, ultimately finding it meditative. But as his deadline approached, he enacted COVID-safety procedures in order to have assistance for the final stage.
Caldwell studied with Katie Ohe at Alberta College of Art (now Alberta University of the Arts), graduating in 1985. He set up Alexander Caldwell Design Ltd, in a warehouse converted into a studio and foundry. There, he makes his own art, does custom design work and fabricates work for other artists.
His sculptures have been called minimalist, but there is an earlier art movement that also resonates with his aesthetics and philosophy. Streamline moderne, epitomized in automobile design, was the exciting new fashion at the 1933-34 Chicago World's Fair. With smooth curves, horizontal speed lines and sleek surfaces, streamline moderne signalled a confidence in modern life, accentuating simplicity and science. Introduced during the dark days of the Great Depression, it brought an optimism that was sorely needed, and continues to appeal. Likewise, Caldwell's contemporary sculpture seems to resonate in these times.