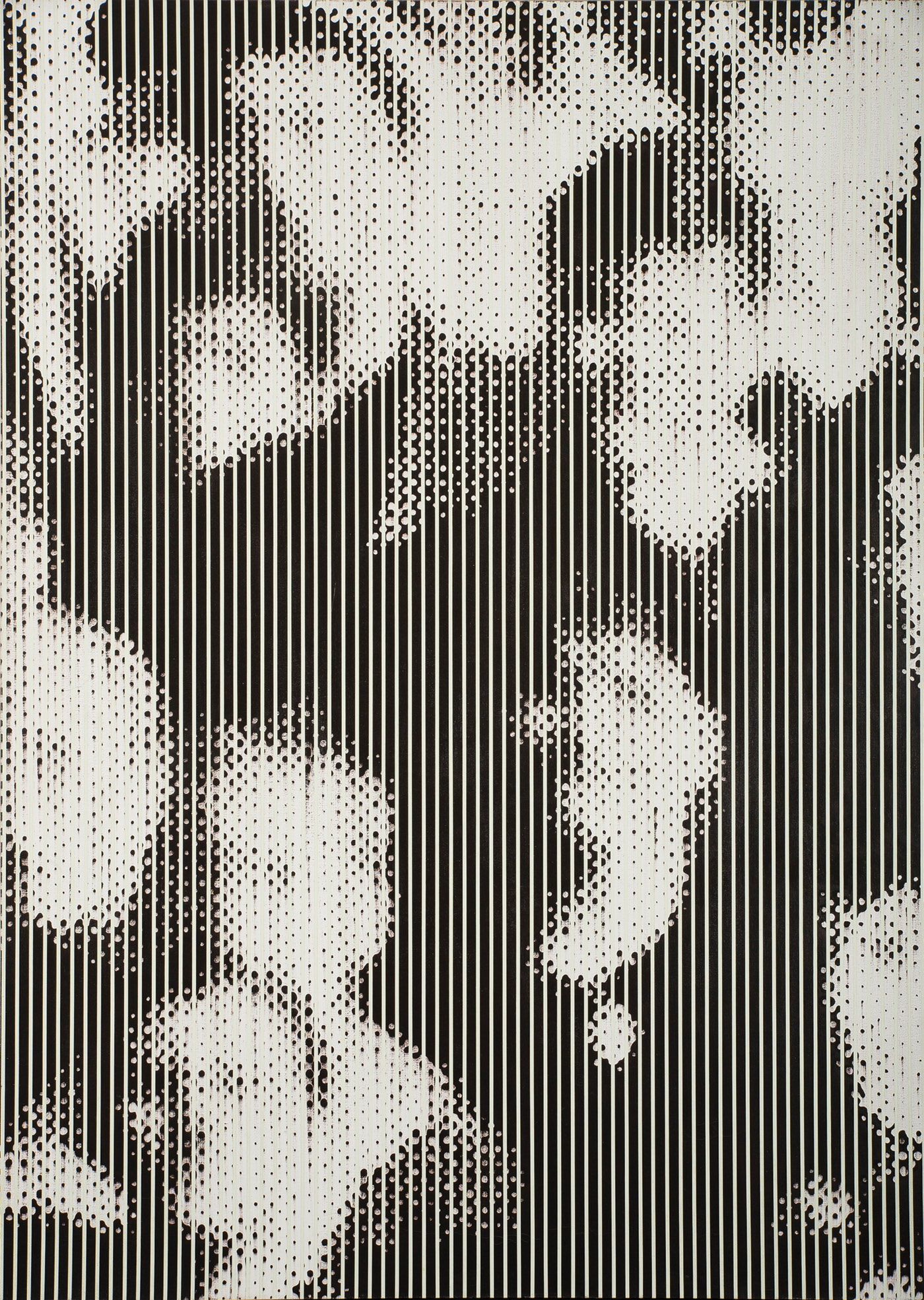 Title: Grey Green Crowd #2, 1991.
Artist: Chris Cran.
Medium: Oil and acrylic on canvas.
Size: Seven feet by five feet.
Location: Mount Royal University School of Communication Studies (entrance to classroom O-222).
Notes: This work is part of the City of Calgary Public Art Collection and an image of it can be seen at the 19th Street N.E Max Orange shelter as part of the BRT Shelter Project. Nickle Galleries 
at the U of C is staging an exhibition of Cran's work Sept. 20 to Dec. 14. He is represented in Calgary by Trépanier Baer Gallery.
The halls of Mount Royal University's School of Communications Studies are a fitting setting for this painting, as so much depends on your perspective. From various angles, a tug-of-war plays out between what you see and what you think you see. Approach from the side and you see a black-and-white photograph of a crowd of about 12 people. Head on, you see an abstraction constructed of two main elements: a screen
of crisp, thin stripes and a photographic image (a fragment of a half-tone photograph, perhaps?) that seems to slip out of focus. Close up, the building blocks of the painting dominate: stripes, dots and swaths of black and white.
Grey Green Crowd #2 is the work of Calgary-based contemporary artist Chris Cran. A graduate of the Alberta College of Art (now Alberta University of the Arts) in 1979, Cran produced this painting at the dawn of the 1990s, when he was well into his stride as an artist, making a splash with exhibitions across the country. Today, Cran is one of the best-known artists to come out of Calgary, with a major solo exhibition at the National Gallery of Canada under his belt.
Cran accompanied me on my excursion to view the painting at MRU. "What I was interested in, especially then, was that when you are close, you can't tell what it is. Distance provides intimacy," he said. Not one to keep trade secrets, he talked me through the steps he took to make the painting back in 1991.
Methodical, low-tech processes are part of the appeal of this work. First, a layer of white gesso, then another of pale green. Then strips of quarter-inch sign-painter's tape placed vertically with a system of weights, matte medium to seal the tape and another layer of white gesso over all. Cran used a macro lens to photograph a fragment of a newspaper ad showing a crowd of people, already out of focus, capturing a small section of the faces. Using a slide projector, he painted the projection on the canvas with black and dragged a wide brush lightly through the dots from top to bottom.
He then removed the tape to reveal the green stripes that disrupt the image. As a result of a phenomenon known as simultaneous contrast there was an added perceptual twist: the proximity of green makes the feathered black edges appear reddish.
Grey Green Crowd #2 is worth the visit to MRU to experience Cran's handiwork up close and consider that, at this stage of his long career, he was already an artist at play in the fields of painting and photography, fully engaged with illusion, perception and sheer mischief.