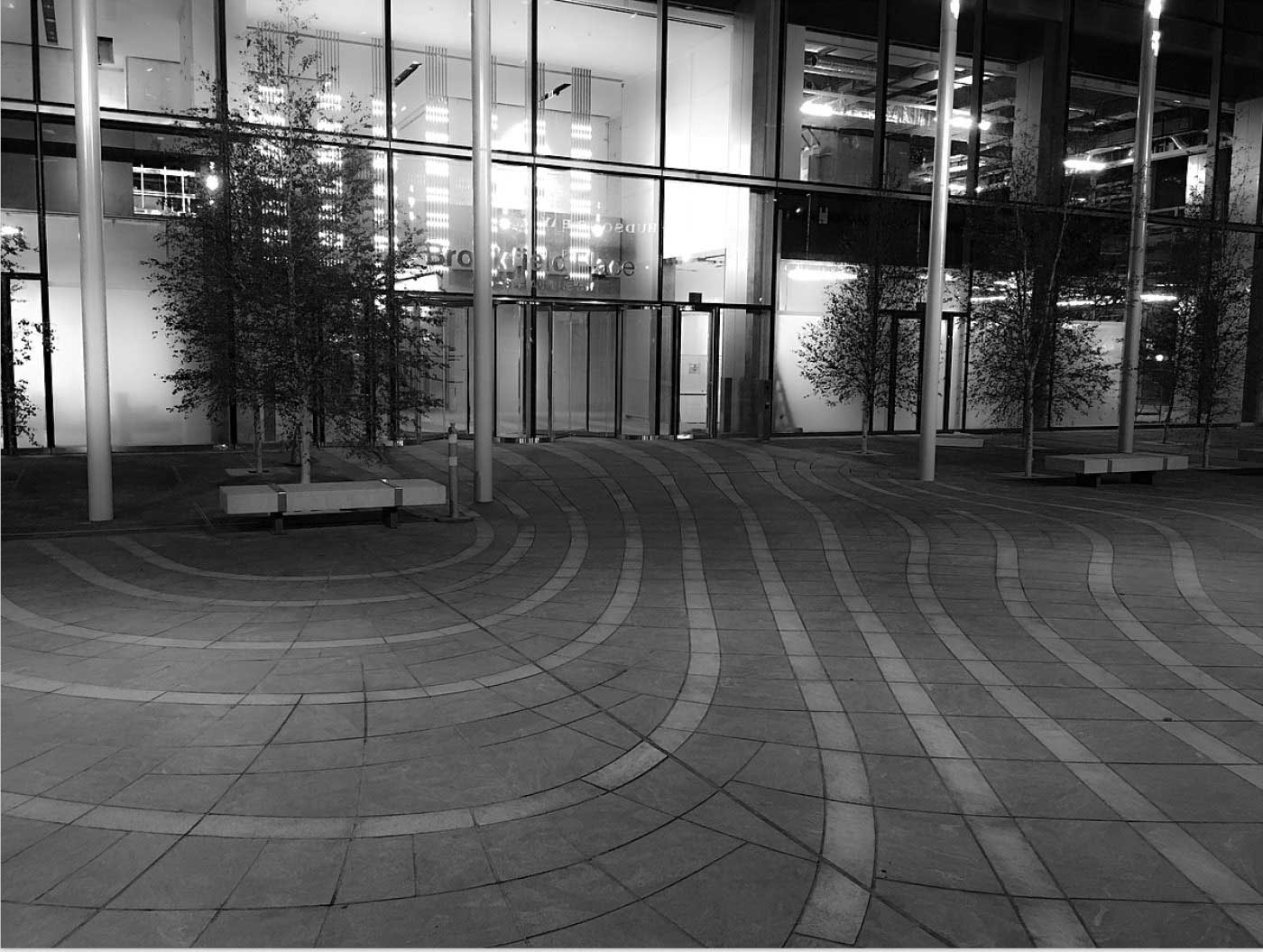 Title: Herald/
Harbinger, 2018.
Artist: Ben Rubin and Jer Thorp.
Medium: Steel, granite, sound, sensors, software, electronics, LEDs.
Size: The work encompasses the entire interior and outdoor plazas of its office tower host site.
Location: 
Brookfield Place Calgary, corner 
of 7th Avenue and 
1st Street S.W.
Welcome to one of the most unusual, complex and engaging works of art in Calgary today. Herald/Harbinger is located downtown in the outdoor plaza at Brookfield Place where the Calgary Herald Building once stood. Using three different forms of data-based art — audio feed, paving design and LED light display — operating on location in real time, this artwork brings audible news of Bow Glacier activity and acts as an oracle about the relationship between the shrinking glacier, the Bow River and city life. The remarkable collection of data is transformed into experiences of sound, space and light.
Information inside the south entrance outlines the components of Herald/Harbinger. But to take in the full effect, sit on one of the 16 stone benches in the plaza. You may distinguish sounds that are surprising in the familiar urban soundscape: "crack," "ping," "rumble," a long low groan, perhaps a lyrical trickle of water. These strange noises emanating from speakers beneath you are actually collected and transmitted from a solar-powered sensor on the Bow Glacier and arrive downtown via satellite within minutes.
Light-coloured curving bands embedded in the gently sloping surface of the plaza suggest a topographical map. They indicate lines of pressure within the glacier. Visible through the south windows of the building, an overhead display of seven vertical LED light columns switch between modes that translate three sets of data: the glacier's activity, vehicular traffic along 14 routes of downtown office workers' daily commutes and pedestrian movement across the plaza.
Herald/Harbinger is the result of a collaboration between Ben Rubin and Jer Thorp. Artist and designer Rubin is currently director of the Center for Data Arts at The New School in New York City, a creative hub for research, art and design. You could say that Herald/Harbinger answers the question posed on the Center's website: "What cognitive and sensory technologies can help us grasp and feel the fabric of information around us?" The experience in the plaza of listening to Herald/Harbinger's contemporary duet between the glacier and the city in real time can be both beautiful and disturbing.
Thorp is an Edmonton-born artist, writer and educator who began his career in Vancouver, moved to New York and now serves as Innovator-In-Residence at the U.S. Library of Congress. In an essay on the process of making this piece, he concludes, "Herald/Harbinger is a living wake. In 50 years or so the Bow Glacier will have receded up to the level of our seismic station. In the years after that, the signal from the mountain will start to grow quiet. Eventually the sounds of the ice will fade, and the plaza will again sound only with the sounds of our footsteps and the thrum of our vehicles. Until then, the Bow has a voice in the city."