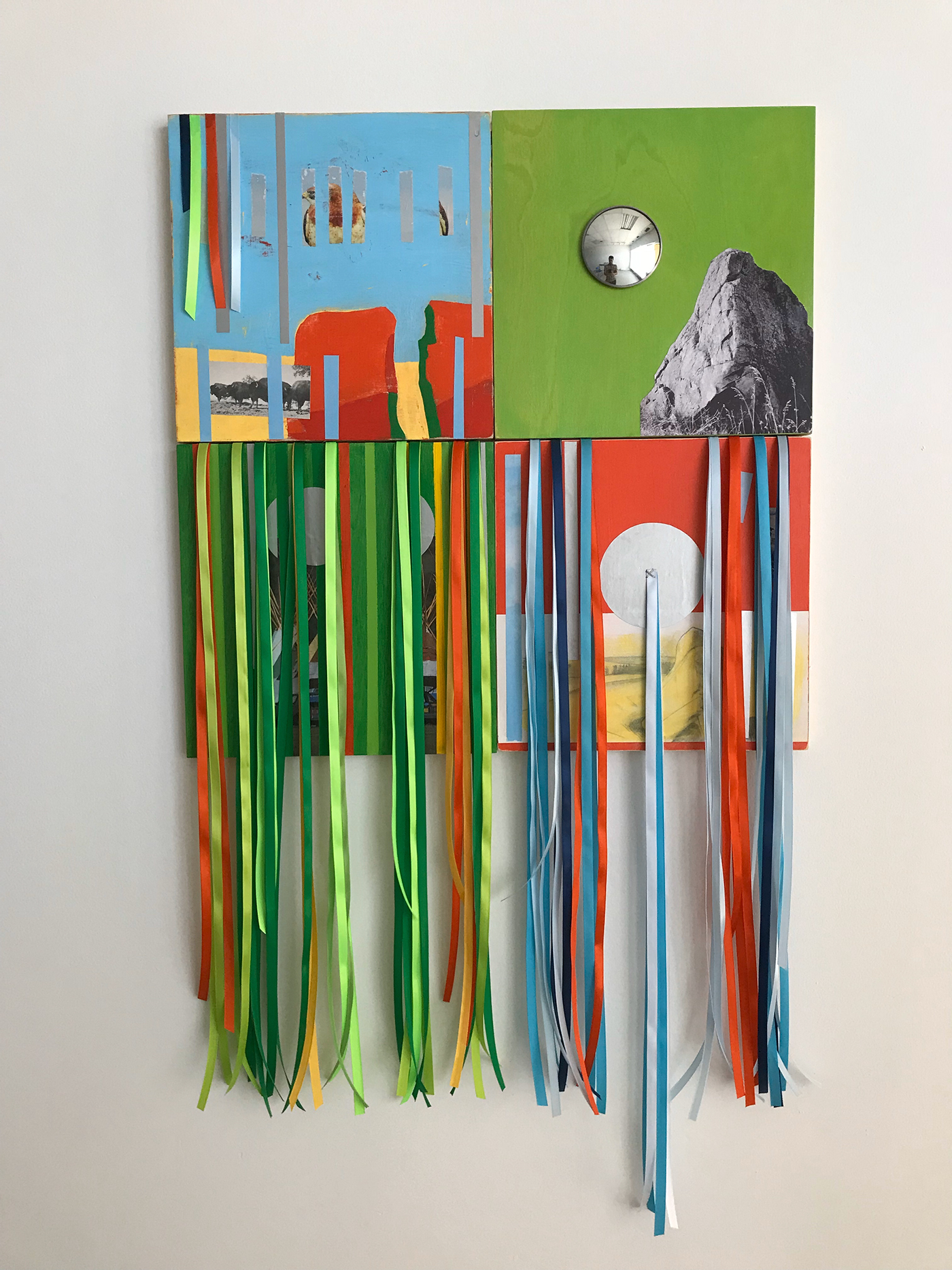 Title: landmarks
Date: 2021
Artist: Bruno Canadien
Media: Acrylic, found images, graphite, satin ribbons, mirror on birch panel.
Size: 40 inches by 24 inches.
Location: Owerko Hall, St. Mary's University, 14500 Bannister Rd. S.E.
Notes: Canadien's landmarks is in the art collection of St. Mary's University. Canadien is represented in public collections such as the Alberta Foundation for the Arts, Glenbow, Nickle Galleries and the Indigenous Art Centre.
In each of landmarks' four panels, artist Bruno Canadien evokes experiences of the land with the thoughtful use of images, colour, geometry and material.
On the top left, a small shower of multicoloured ribbons shimmer against the clear blue sky. Photographic slivers of a bird of prey — perhaps a northern harrier — hover over golden grassland where an archival photograph of a herd of bison and a painting of the glacial erratic known as Split Rock are interrupted with strips of blue. Below, a curtain of green ribbons, evocative of tall prairie grass, obscures a photo of a gathering in modern times with cars and teepees. It's cut and collaged with a silver circle, leaving the image cleaved like the rock above.
Each of the square panels echoes at least one visual element from its neighbour. In the bottom right panel, the silver circle reappears as the central focal point. Underneath is a sun-washed, delicate graphite drawing of an erratic, set amidst an expansive prairie landscape. The green panel above conveys two elements: a photo of a large boulder in the foreground and a convex mirror in which you might see yourself and consider how our surroundings have changed.
When curator Tamara Lee-Anne Cardinal invited eight Indigenous artists to create a new work for Aisinna'kiiks, the debut exhibition at the Mauro Art Gallery at St. Mary's University in Calgary, she consulted Elders, who asked that the artists envision the land pre-settlement. Canadien, one of this group of eight, considered how the glacial erratics would have been prominent landmarks on the open prairie, as well as sites of spiritual importance for the people and rubbing stones for the buffalo.
Erratics were carried to the Calgary region approximately 10,000 years ago on a tongue of glacier reaching south from Jasper. Canadien depicts two erratics: Split Rock, one of Calgary's best-known, is in West Nose Creek Park; the other is near Priddis.
Canadien was born and raised in Denendeh, in the communities of Fort Providence and Hay River in the Northwest Territories. He currently lives and works in Black Diamond. A member of the Deh Gah Got'íé Kóé First Nation, a Deh Cho Region member of the Dene Nation, he has a long history in the Mohkinstsis (Calgary) area. He lived here with his family when he was three, and later returned for art school, graduating from the painting department of the Alberta College of Art (now Alberta University of the Arts) in 1993.
The Indigenous painters of the '80s and '90s, including Jaune Quick-To-See Smith, Jane Ash Poitras and Bob Boyer, were important influences for Canadien. He has garnered a strong exhibition record of his own, often focusing on First Nations/Tribal sovereignty, resource exploitation and environment.
Canadien's landmarks is characteristic of his inventive use of materials and commitment to presenting evidence of continuing Indigenous presence.
[Correction: A previous version of this story stated that the size of the artwork was 4.1 x 2.5 metres. It is actually 40 inches by 24 inches.]