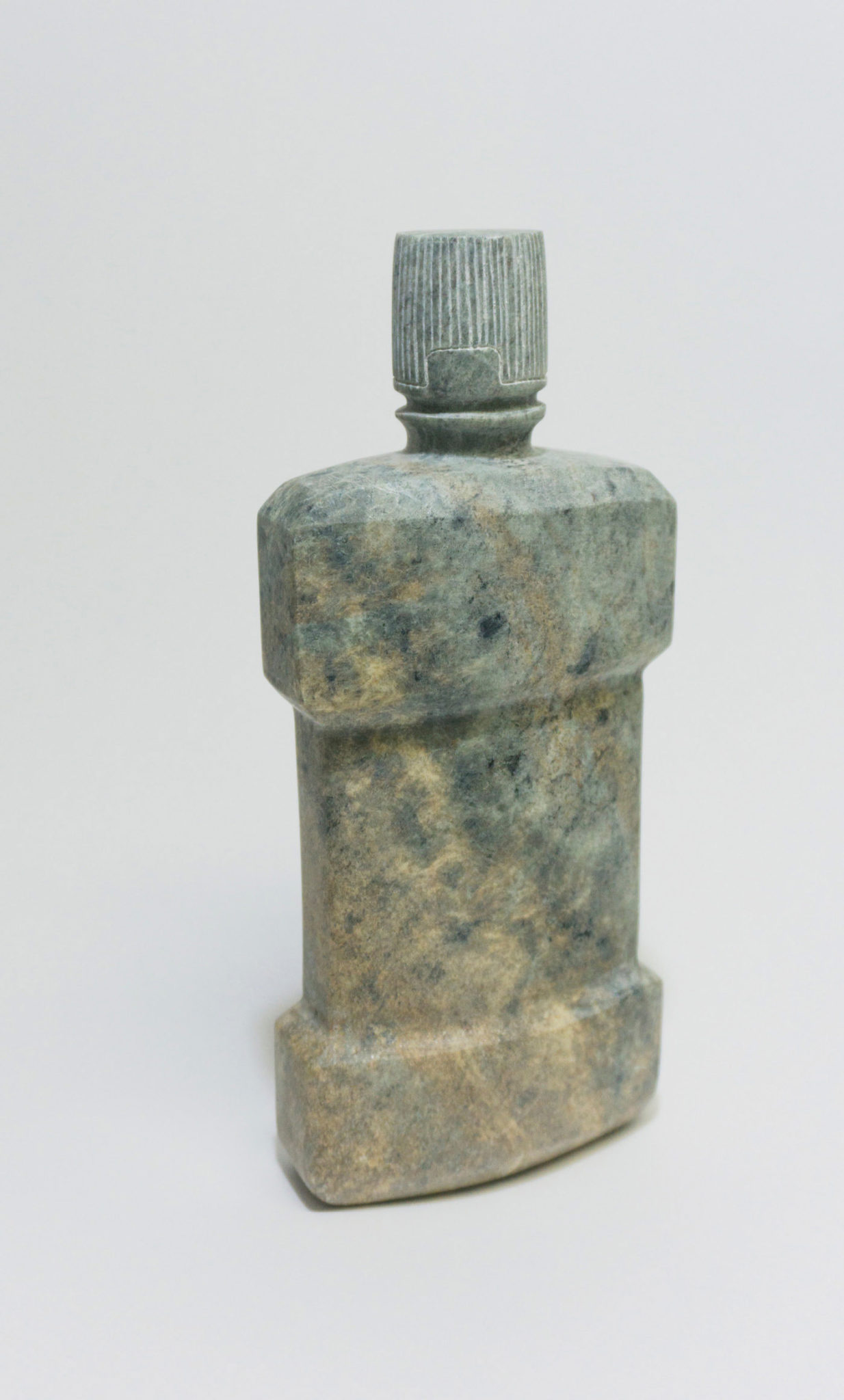 Title: Listerine, 2018
Artist: Kablusiak
Medium: Soapstone and tung oil.
Size: 1:1 scale of the actual bottle.
Location: Esker Foundation, 1011 9 Ave. S.E., part of group exhibition "Among All These Tundras."
Even without a label, the flask form is instantly recognizable: Listerine. As an example of packaging as advertisement, the shape is spot-on. Like pop art made popular by Andy Warhol, the sculpture is infused with wit that riffs on consumerism. In the hands of the artist Kablusiak, there is another layer: a reminder that the Inuit are contemporary people.
The medium stores a milky mix of earth colours, light shades of green, soft greys and hazy cream. A diagonal vein of darker green runs from the shoulder to the base, while the "cap" is polished with tung oil, enhancing its subtle colouring. In your hand, it holds the warmth of your touch and feels soft. High talc content gives the metamorphic rock its tactile feel like dry soap, hence its name, soapstone.
Listerine is one of a series of sculptures called Uyarak/Stone by Kablusiak, a young Inuvialuk artist and curator who is attracting notice with exhibitions, projects and awards. Kablusiak received the AFA (Alberta Foundation for the Arts) Young Artist Prize and Primary Colours Emerging Artist Award after graduating from the Alberta College of Art + Design (now Alberta University of the Arts) in drawing in 2016. They — Kablusiak uses non-gendered pronouns — completed the Indigenous Curatorial Research Practicum at Banff Centre in 2018 and is now part of a curatorial team preparing the debut of the Inuit Art Centre at the Winnipeg Art Gallery.
Born in Yellowknife and raised in Edmonton, Kablusiak travelled to Inuvik last summer to the Great Northern Arts Festival as part of a customized artist residency awarded through the TD North/South Artist Exchange in collaboration with the Canadian Art Foundation. It was the first time Kablusiak had returned to their ancestral territory as an adult. That's where Listerine was carved.
The master carvers in the festival tent were amused as the shape of the Listerine bottle emerged. Kablusiak has deep respect for their work and gratitude toward them, but takes aim at the actions and assumptions of the agents of Hudson's Bay Company, the Canadian Handicrafts Guild and the government, who in the 1950s worked together to set up soapstone carving as an industry in the North to feed a market for art down south. Hudson's Bay even circulated a pamphlet with notes on style, technique and subject, urging carvers to represent their "authentic" way of life — specifically, animals and igloos.
Kablusiak pushes back against the vexed history of the colonial endeavour and turns the tables with intelligence and humour. Soapstone? Check. Smooth, rounded forms that can be transported safely? Check. Carefully hand-carved and polished? Check. Representation of authentic life? Check. And with that, Kablusiak claims space for the expression of contemporary life through the humble Listerine bottle.