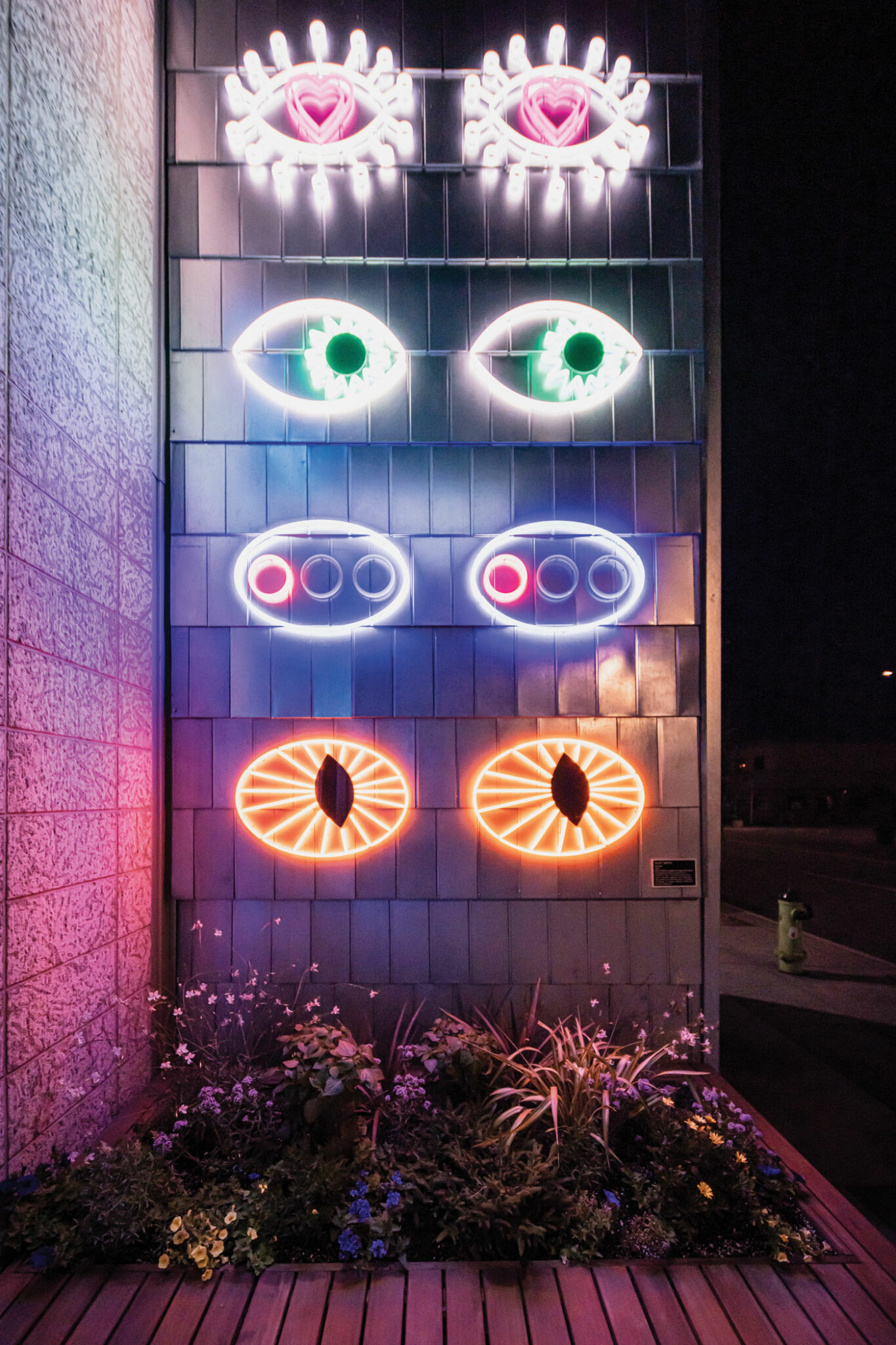 Title: NIGHT WATCH
Date: 2021
Artist: Kyle Beal
Media: LED faux neon, electronic components, zinc and aluminium.
Size: 4.1 x 2.5 metres.
Location: Avli on Atlantic building (exterior) 1020 9 Ave. S.E.
Notes: Commissioned by Jim and Mike Hill and VivianeArt. Fabricated and installed by National Neon Signs (Calgary). Kyle Beal is represented in Calgary by VivianeArt.
A stack of illuminated eyes animate a nook on 9th Avenue S.E. in Inglewood. Amber lines radiate from slit pupils; rosy pupils gaze left to right within blue ovals; green zigzag irises intensify every five seconds; while every 10 seconds, luscious eyelashes wink over heart-shaped pupils.
Artist Kyle Beal has put a contemporary spin on nocturnal city life with incisive humour, teasing out various characters who share the streets of this particular neighbourhood. With a twist of time travel, he deftly includes people from the past. Beal, who grew up in Calgary and recently relocated to Edmonton, has seen how quickly areas in his hometown are redeveloped. As things get swept away and papered over, we are left with a selective history.
It was the Inglewood of his childhood that provided Beal the seed for NIGHT WATCH. Formerly Atlantic Avenue, 9th Avenue S.E. is Calgary's oldest commercial street, and formerly a spot where sex-trade workers congregated. For NIGHT WATCH, Beal used LED lighting with the look of classic neon signage, embedding the reference to commerce in the material and structure of the artwork. The drawing style is clean, pared down and legible in the language of playful cartoon animation. The installation fits seamlessly into the architectural space, as Beal designed the lights to attach to a large panel of zinc and aluminium tiles that mimic those of the building's cladding.
Beal, who got a diploma in drawing from Alberta College of Art + Design (now Alberta University of the Arts) in 2001, and an MFA from the University of Victoria in 2004, extends his practice beyond drawing and printmaking. Like the multivalent American artist Bruce Nauman, whom he greatly admires, Beal is interested in language, wordplay, visual tropes and the nature of communication.
In 2016, Beal used the structure of a midway carnival game to comment on a century of immigration and development in Inglewood, Ramsay and Stampede Park in 
A Chicken in Every Pot, or How to Cook Your Own Goose, exhibited in the Esker Foundation Project Space. In early 2021, as the pandemic kept museums and galleries closed, he displayed Business Class, an installation of 24 neon "Open" signs (purchased on Amazon) in the upstairs windows of the Art Gallery of St. Albert.
NIGHT WATCH examines the intersection of commerce and community, bringing to mind the phrase "eyes on the street," coined in 1961 by urbanist and activist, Jane Jacobs, who championed activity on the street as essential for safety and key to the vibrancy of urban life. Jacobs' philosophies have manifested as the Jane's Walk movement, in which individuals and groups lead free walking tours on the first weekend in May, putting into practice her ideas of city building through community involvement.
Acknowledgement and respect can go a long way. NIGHT WATCH adds to the conversation with an artwork that is both quick to read and curiously complicated.