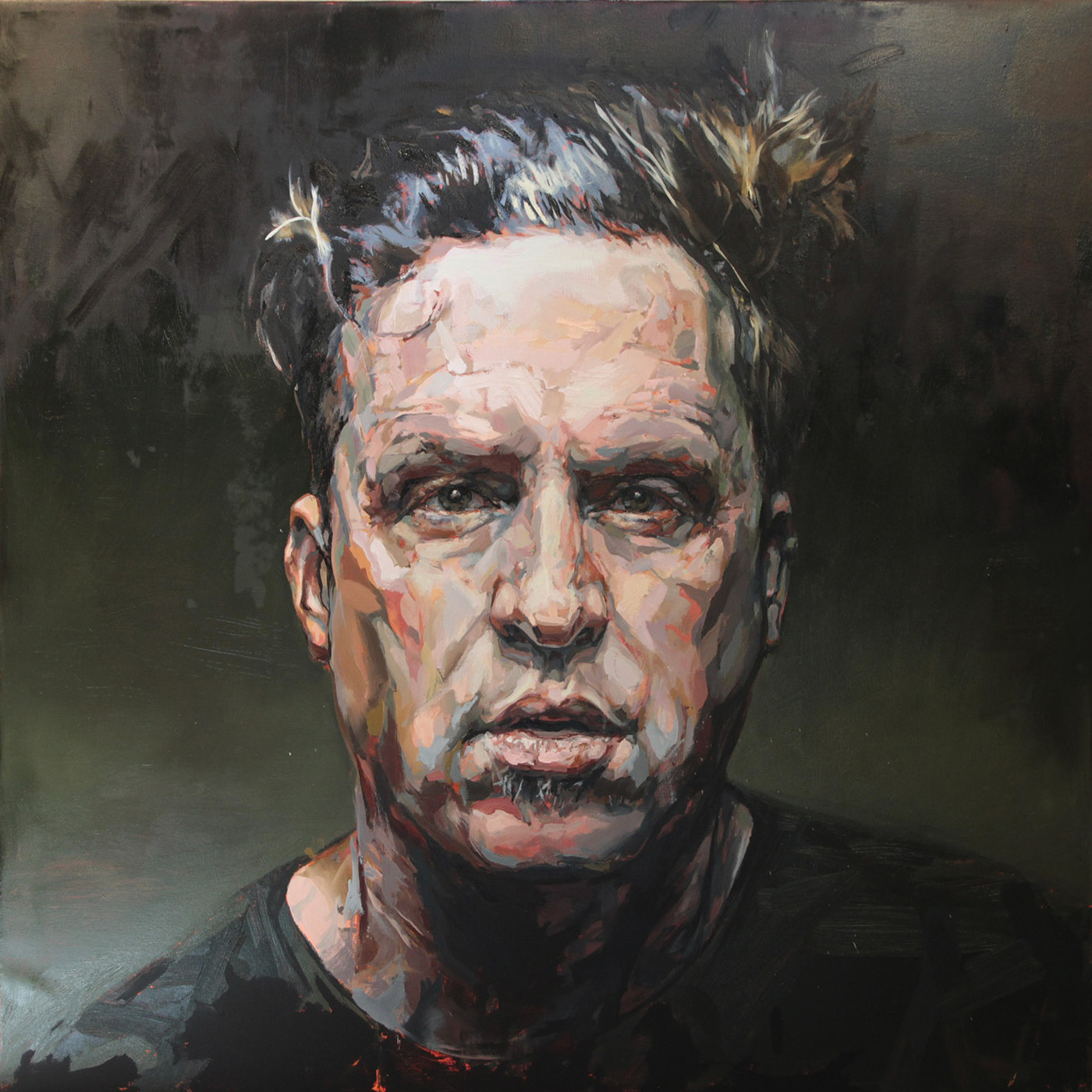 Title: Old School Selfie, 2016
Artist: Aaron Sidorenko
Medium: Oil and acrylic on canvas
Size: 72-inches square
Location: Alt Hotel Calgary East Village, 635 Confluence Way S.E.
Note: Aaron Sidorenko is represented locally by Paul Kuhn Gallery.
A colossal, uncompromising portrait confronts you at the end of a corridor at the new Alt Hotel Calgary East Village. Energetic, gritty brushwork on the six-foot-square canvas reveals acute observation and tough psychological scrutiny, but also sheer pleasure in the act of painting: brushing, dabbing, blending, scraping and scumbling.
The artist, Calgarian Aaron Sidorenko, grew up with a sketchbook close at hand and decided to study at the Alberta College of Art + Design (now the Alberta University of the Arts) in the early 2000s. A few years ago, as his life and studio circumstances changed, he made the decision to work big.
In the non-flattering overhead light of his dining room, Sidorenko photographed himself with a single-lens reflex (SLR) camera and set to work, pushing the shadows and facing the hard reality of his aging image. He began Old School Selfie by underpainting with hot colours. Neon orange and reds are still apparent in slivers and patches, while warm complementary colours come to life in tandem with the dark greens and grey-blues. He gave form to the cheeks and forehead with blocks of colour before defining the recesses with tonal variation, the eyes with little touches and the tousled hair in abstract passages.
His Old School Selfie is a thoughtful, slow self-portrait in an era of ubiquitous phone selfies, a precursor to his current series of large portraits of the Second World War veterans at an elder care facility in the northwest.
As Calgary is home to many excellent portrait painters, Sidorenko conceived and initiated the "People's Portrait Prize," an open exhibition for Calgary-area artists. He was amazed when 162 artists entered the first exhibition at C-Space in 2017. The following year, over 200 participated. Nvrlnd, the new art hub transformed out of the Shamrock Hotel in Ramsay, will host the third exhibition in 2020. Here's an old school that is alive and well in Calgary.