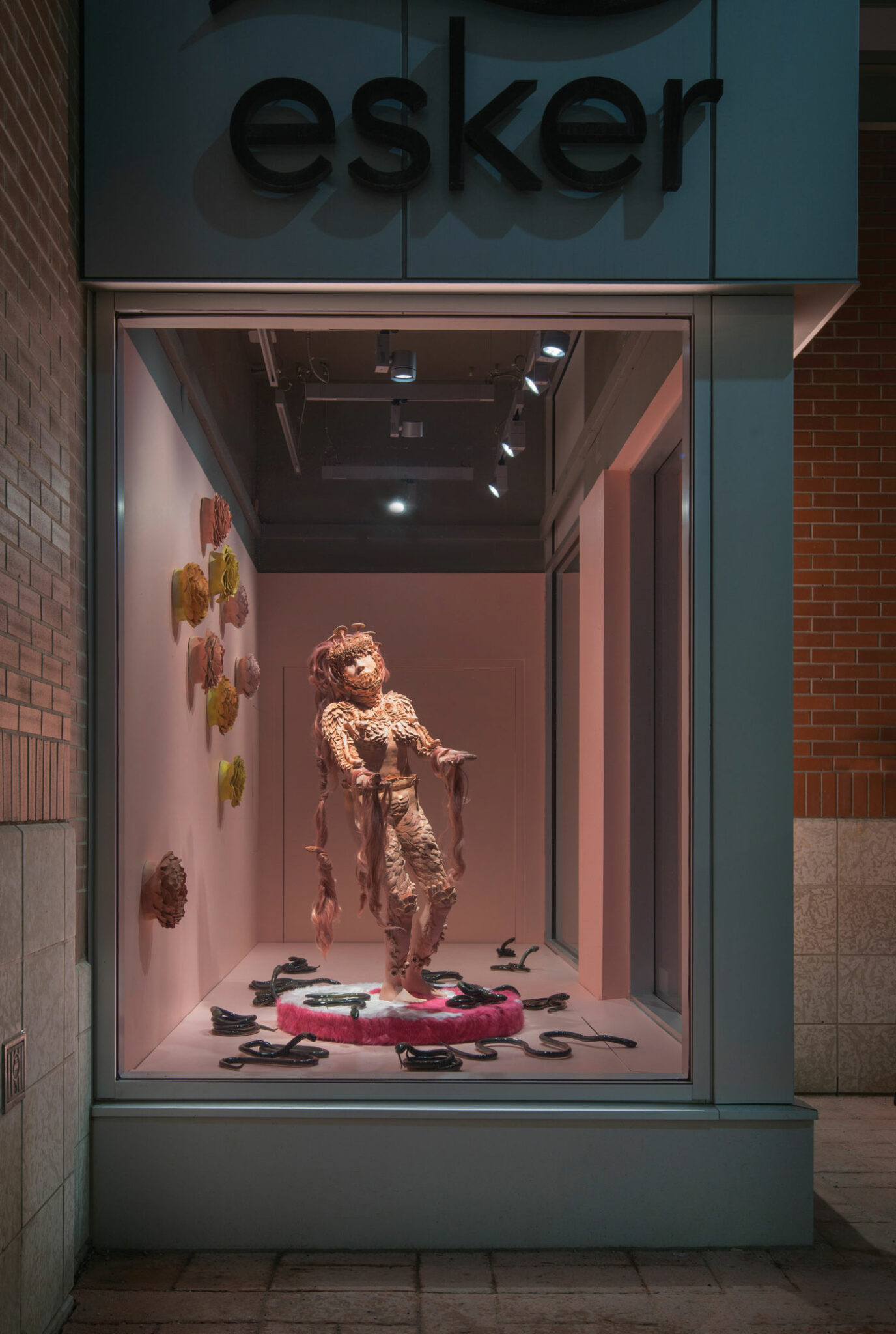 Title: The Garden
Date: 2021
Artist: Yvonne Kustec
Media: Underglaze and glaze on mid-fire white clay, synthetic fibre.
Dimensions: Figure is approximately five feet tall (not including base).
Location: Esker Foundation Project Space, 1011 9 Ave. S.E.
Notes: Curated by Shauna Thompson. Created in studio at Medalta in the Historic Clay District, Medicine Hat, Alta. Base fabricated by Epic Metal Services in Redcliff, Alta. The Garden is on display until June 6.
With this fantastically detailed, rosy, porcelaneous figure, artist Yvonne Kustec reclaims pink with panache. Air-brushed colour energizes this life-size sculpture of a woman melding with nature. She extends her graceful arms in a gesture of offering and appears to pause, mid-sentence, or perhaps, mid-metamorphosis as the supple tissue of her blush-toned skin becomes a living garden. Toadstools curl up her shins, foliage hugs her thighs, turkey tail fungi cover her knees and pelvis, blooms garland her collarbone, garter snakes align as sentinels, flowers and leaves frame her face and chanterelle mushrooms crown her shimmering dollar-store wig.
The figure embodies themes of transformation and rebirth, which abound in the gardens of literature and art history. Consider Primavera, the allegorical Renaissance painting by Sandro Botticelli: the nymph Chloris (with roses coming out of her mouth) and Flora, the goddess Chloris will become, appear as two forms of one woman, who has the power to transmute grief with the creation of flowers. With The Garden, Kustec acknowledges the influence of contemporary artists whose work Calgarians have seen in recent years, notably Rita McKeough (Illingworth Kerr Gallery, Truck Contemporary Art exhibition space and Walter Phillips Gallery), Shary Boyle (Esker), Nick Cave (Glenbow) and Louise Bourgeoise (Esker).
Kustec graduated from the Alberta College of Art + Design (now Alberta University of the Arts) with distinction in 2011. She describes the years following graduation as a lengthy transformative period triggered by the loss of both parents to cancer within four years of each other. The story of transformation in The Garden reflects the enthusiasm Kustec has for working with clay and the love of gardening she developed during that difficult time. She reframes memories of growing up in Oakville, Ont., with hardworking parents of Slovenian heritage, bringing fresh perspective to her mother's pride in her nourishing garden and bringing beauty into the house with porcelain dolls and collectibles.
The Garden is Esker's 30th presentation in its Project Space, a street-level gallery window facing 9th Avenue S.E. in Inglewood. In early 2019, Esker curator Shauna Thompson encouraged Kustec to take a giant step as an artist by inviting her to create a new installation for the space. The Garden came to life over the course of two studio residencies at Medalta in the Historic Clay District in Medicine Hat — the second of which is ongoing until September 2021. The result, a marvellously detailed hybrid woman in the company of glazed snakes and giant blooms, conjures a magical garden that mediates the feminine and feminism with exuberant pleasure and care.