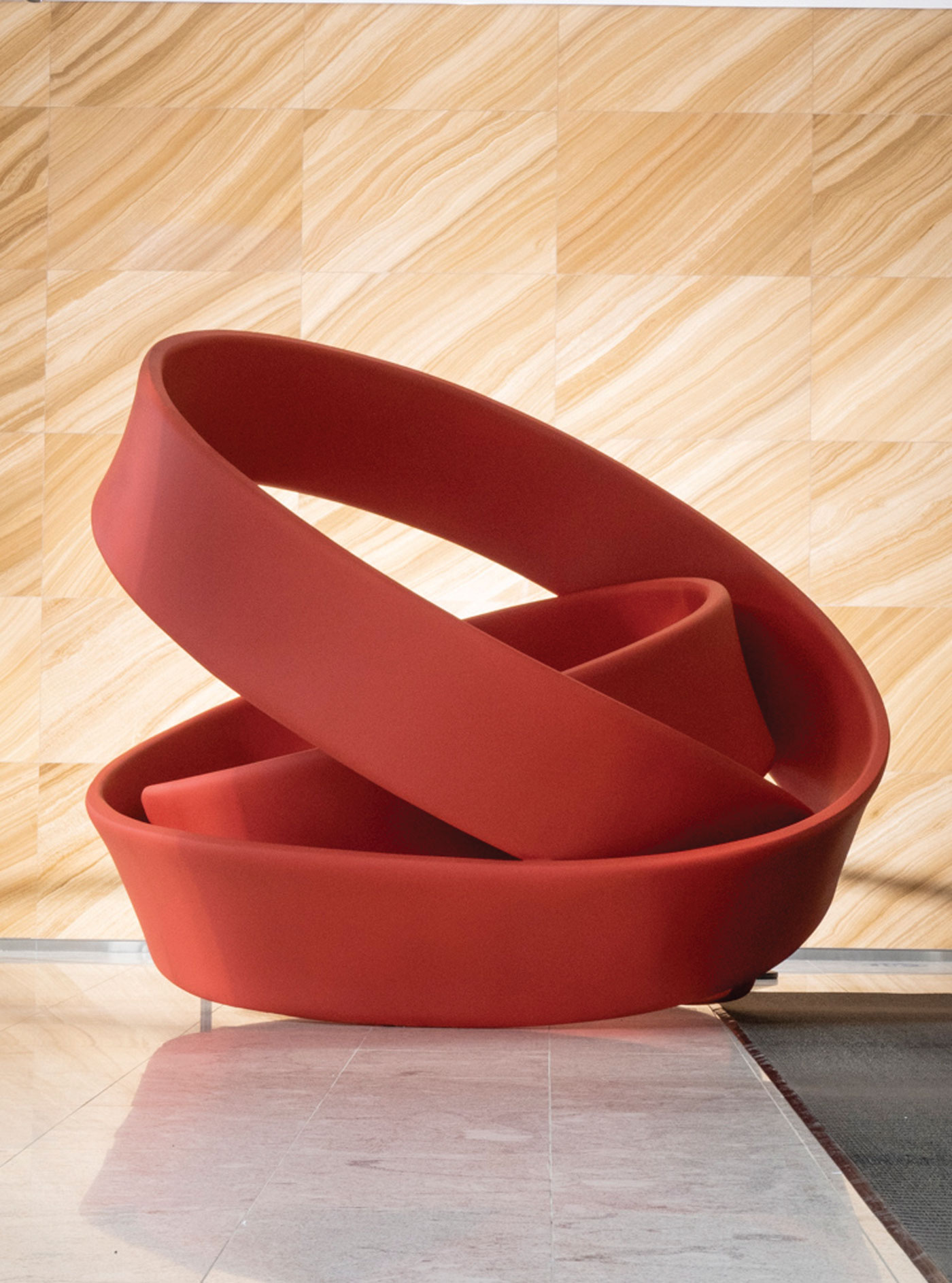 Title: thing's end (Eau Claire – red), thing's end (Eau Claire – yellow)
Date: 2020
Artist: James Carl
Media: Hand-hammered stainless steel with autobody paint finish.
Size: 289.5 x 259 x 259 cm (red), 320 x 274 x 102 cm (yellow)
Location: Eau Claire Tower lobby, 600 3 Ave. S.W.
Notes: Commissioned by Oxford Property Group assisted by Art to Public art consultants. Raw steel forms fabricated in China; paint finish by South Pointe Collision Center, Calgary; installation by Reggin Industries, Calgary. James Carl is represented by Nicholas Metivier Gallery in Toronto and locally by TrépanierBaer Gallery.
Twiddling a rubber band will never be the same once you see the smart, sassy sculptures by artist James Carl in the airy lobby of Eau Claire Tower. The surfaces of the enigmatically titled thing's end (Eau Claire – red) and thing's end (Eau Claire – yellow) mimic the texture of the everyday rubber bands we all have stashed in a drawer somewhere, with the elegant restraint and satisfying proportions of a steel sculptural form that is both minimal and monumental.
Toronto-based Carl is one of Canada's leading sculptors, known for his playful use of unconventional materials, his impeccable craftsmanship and his far-reaching intellect. Carl introduced the first iteration of thing's end in a retrospective exhibition organized by the Justina M. Barnicke Gallery of the University of Toronto in 2009.
Rubber bands have been around for 175 years. Carl's project had him handmaking hundreds of rubber band look-alikes out of polymer clay. When he applied the concept to large public commissions, he required the same level of precision from fabricators to make the pieces on a grand scale. A giant blue version stands outside the Festival Tower in Toronto and there is a gargantuan one in Wuhan, China.
The red and yellow thing's end sculptures at Eau Claire Tower were constructed in China, where their steel armatures were clad with steel plate, ground and hand-hammered, before being shipped to Calgary for finishing and painting. Eau Claire – red is a single, continuously curling band with three flexed loops, overlapping as if ready to spring, but poised in a moment of balance, barely touching the floor. The swirling lines circumscribe a spherical space, suggesting the hinge of an opening clamshell where they intersect.
The sculptures invite various experiences throughout the indoor plaza designed by B + H Archiects. From the Plus 15 level, the people below bustle like Lilliputians in relation to the Gulliver-scaled thing's end (Eau Claire – red), while from the adjacent seating area, the sculpture feels enormous, as if the viewer is now Gulliver on the second leg of his voyage into the land of giants.
Thanks to the Pop artists of the 20th century, we've come to appreciate humble, everyday objects as grist for art. In the early 1970s, Sorel Etrog riffed on hardware screws to create the bronze Sadko (red) and Kabuki (yellow) for Calgary's Bow Valley Square. With the introduction of this contemporary red and yellow duo into our urban space, Carl has added his own invitation to marvel and be inspired by something so everyday ordinary as a rubber band.