Yoko Ono has invited her audience to become collaborators in the act of making art since the 1960s. With WATER EVENT, a piece launched in 1971, Ono provides the concept and idea of water; collaborators provide vessels. For this exhibit of WATER EVENT on now at Contemporary Calgary until January 31, 2021, Ono worked with six Indigenous artists from southern Alberta, marking the first time she has worked with a fully Indigenous cohort.
Note: Contemporary Calgary is temporarily closed due to Alberta COVID-19 restrictions.
Advisories, by Judy Anderson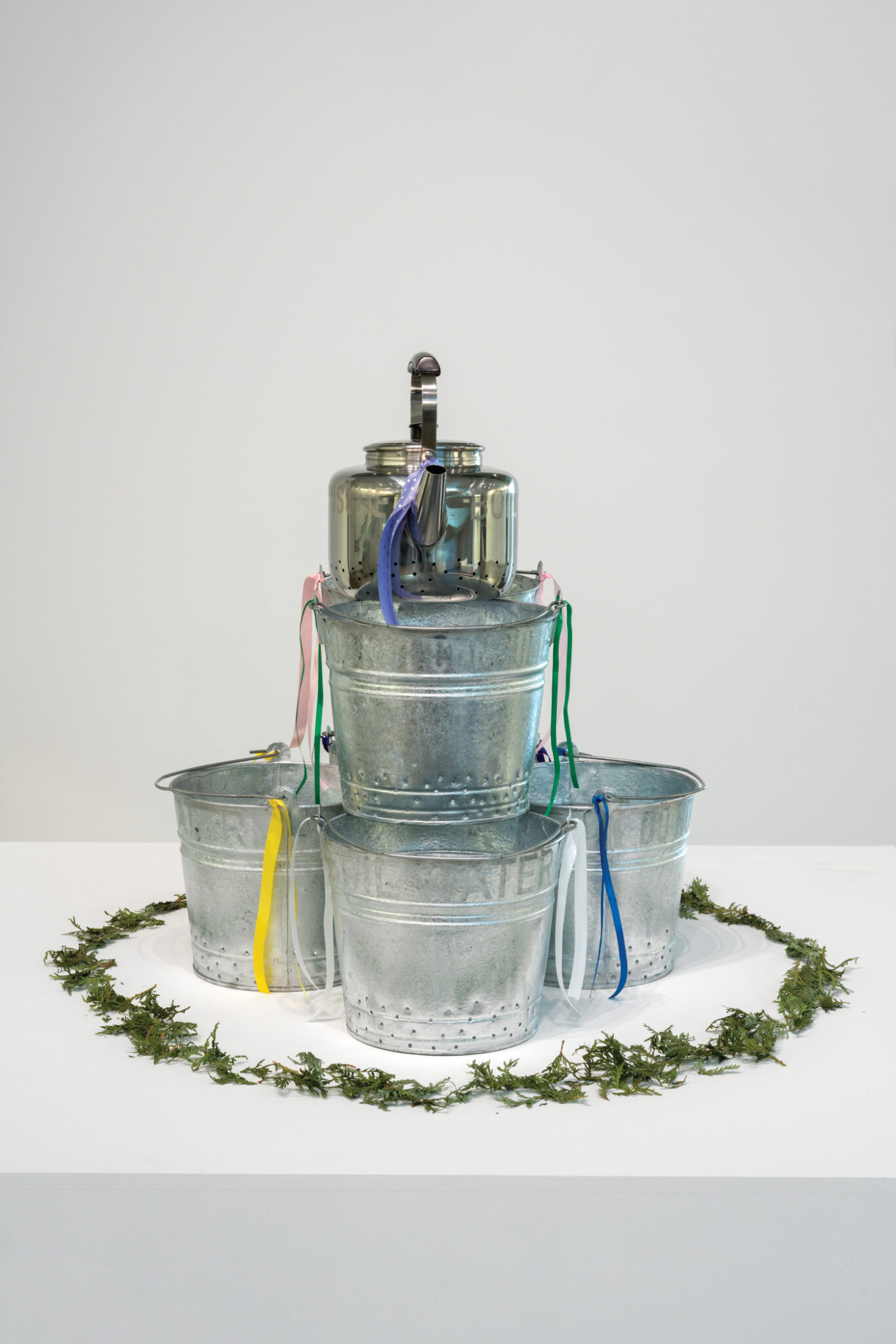 A pyramid of pails and gleaming kettle are beribboned, encircled in cedar. But read the etched warning: "Boil Water, Do Not Consume." Mind the 85 holes in each vessel. That's the number of boil water advisories on First Nation reserves listed by the Government of Canada on the day last summer Judy Anderson drilled the holes, envisaging a toxic fountain of untreated water.
The Glenmore Rezerveoir, by seth cardinal dodginghorse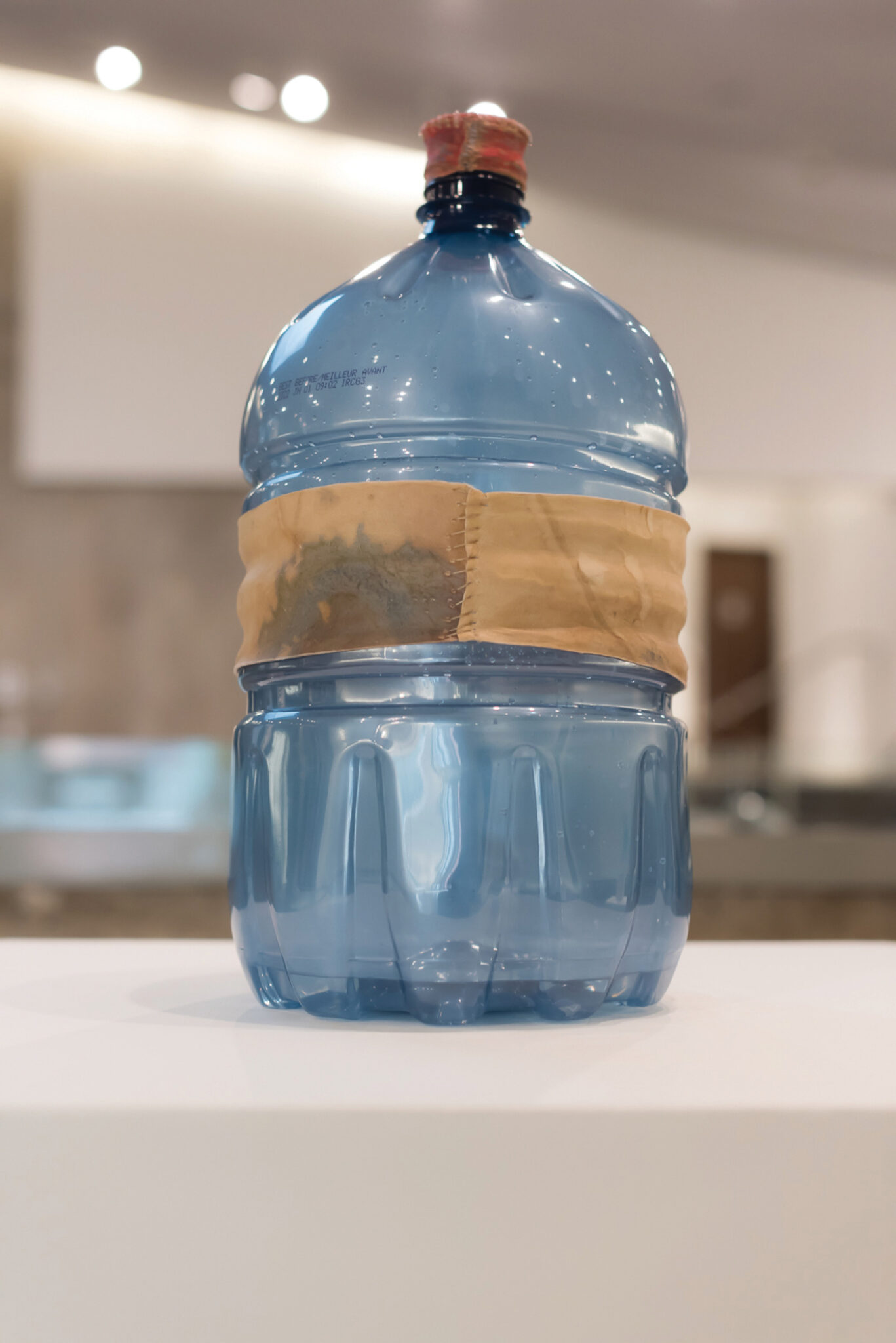 Artist/musician seth cardinal dodginghorse partially refilled a jug of store-bought water with water from the Glenmore Reservoir and replaced the label with a band of rawhide with the message: "You drink Tsuut'ina land." The inward-facing words are a potent reminder of his family history.
aohkii/water by Faye HeavyShield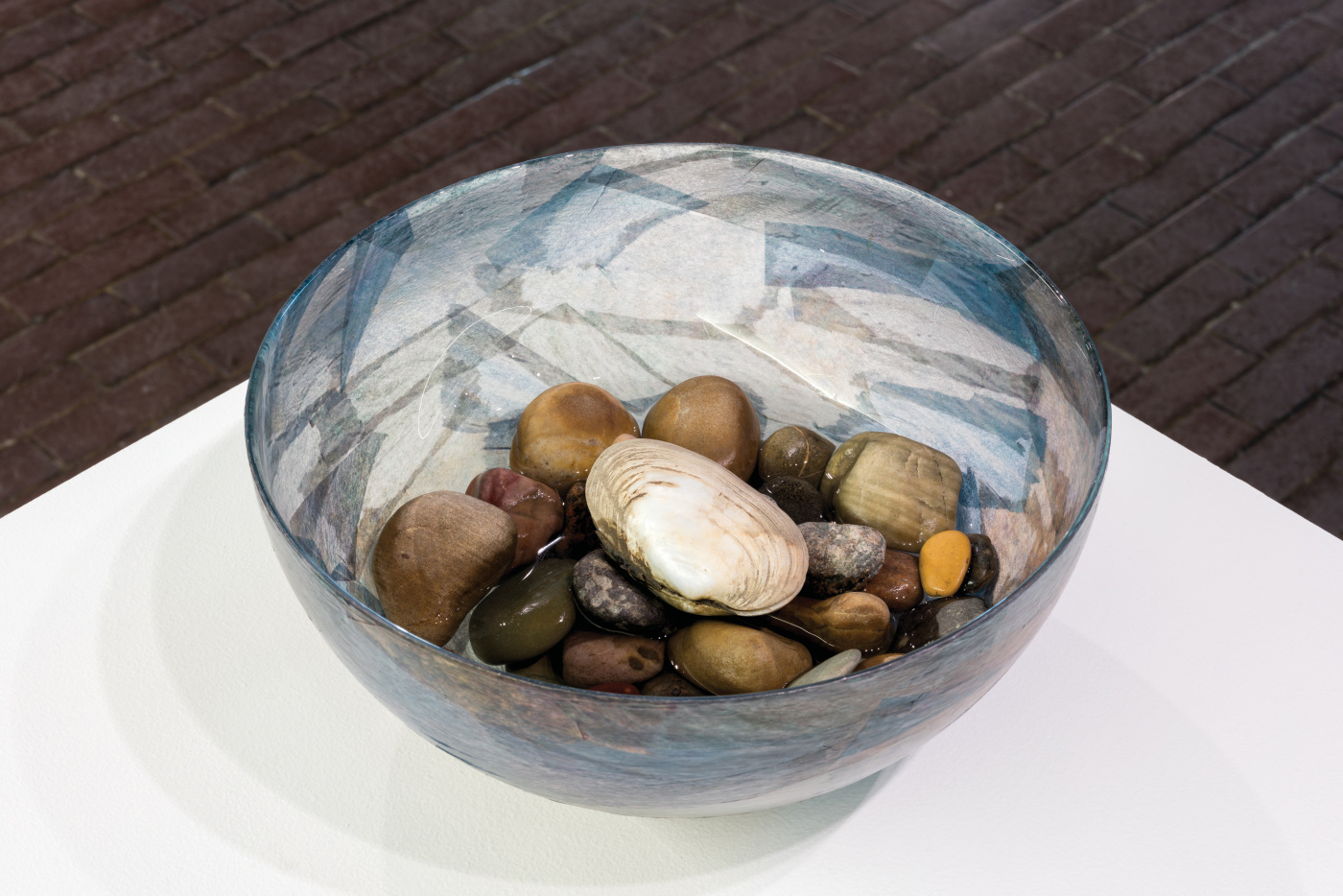 Count on Faye HeavyShield, one of Canada's pre-eminent senior sculptors, to bring simplicity and the wise use of materials in making a vessel that honours rivers, especially the Oldman, with poetic beauty. The bowl's photo collage evokes the surrounding land; the smooth stones, the riverbed; and the freshwater mussel shell, living beings and their relationships.
Qullik asulu utchuklu, Kablusiak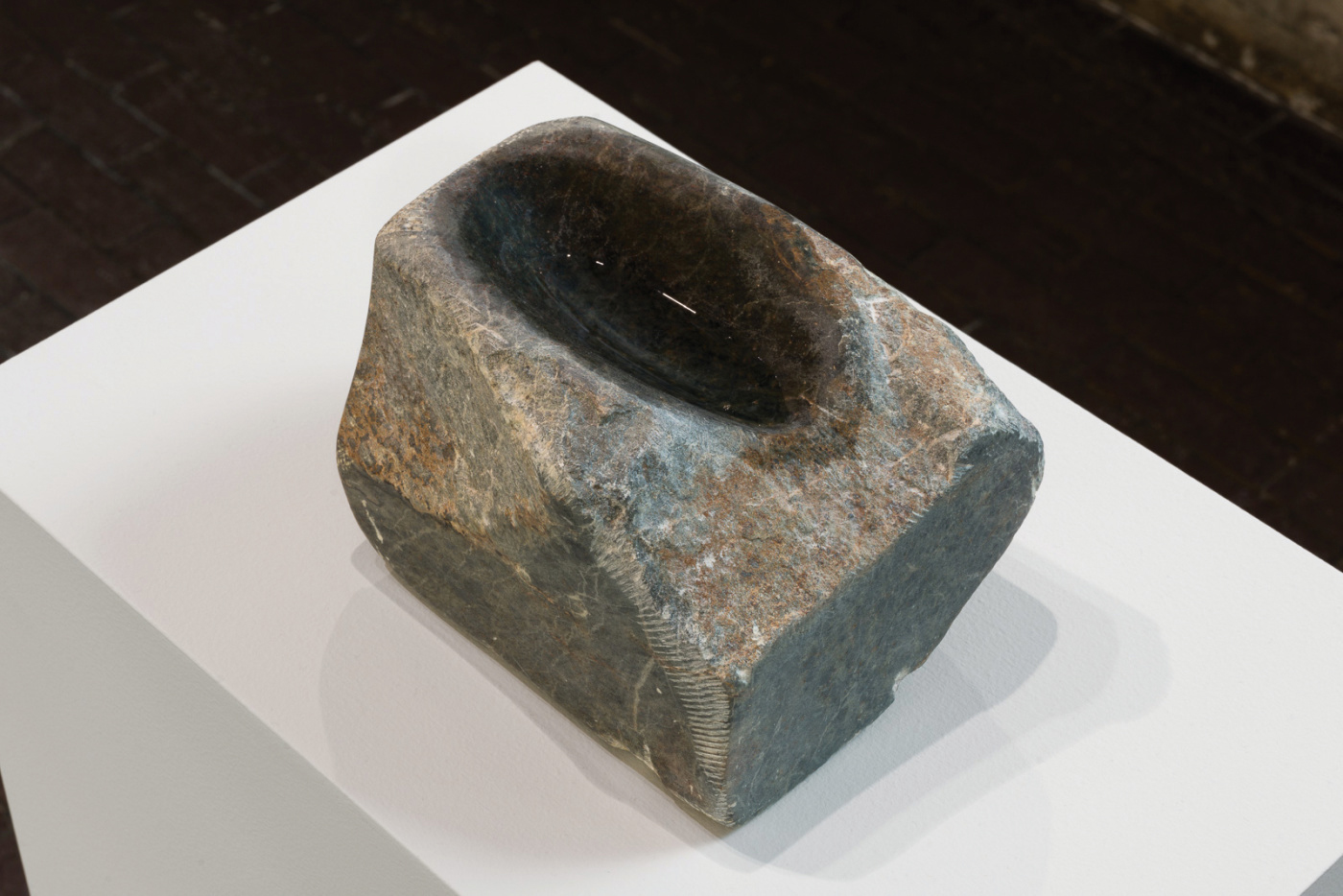 Kablusiak turned from representation to an experimental mode for this project, keeping their parents' communities of Ikahuuk (Sachs Harbour) and Tuktuyaaqtuuq (Tuktoyaktuk), in mind. Intuitively, they added markings to the stone's textures and colours. On the upper surface, they carved a smooth, boat-shaped concavity that holds water.
Pained by Jessie Ray Short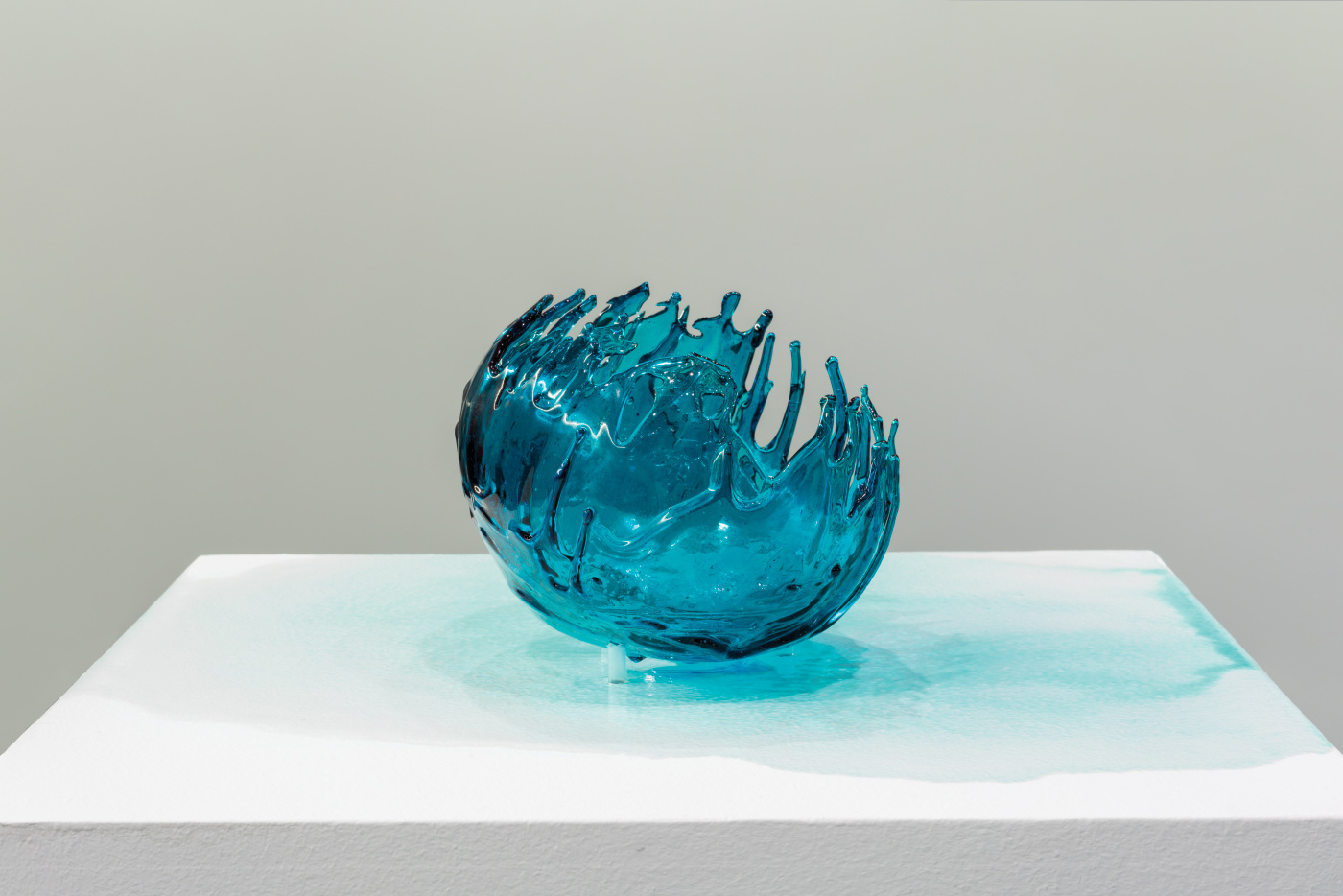 Jessie Ray Short made a vessel that could be transformed by water (love). With her mother's help, she dripped molten sugar syrup over a form to fashion a hard candy bowl. Her parents were emissaries to the gallery opening where they poured water into the translucent blue bowl, initiating the hoped-for transformation, melting away pain.
We've made our Water Bed… by Adrian A Stimson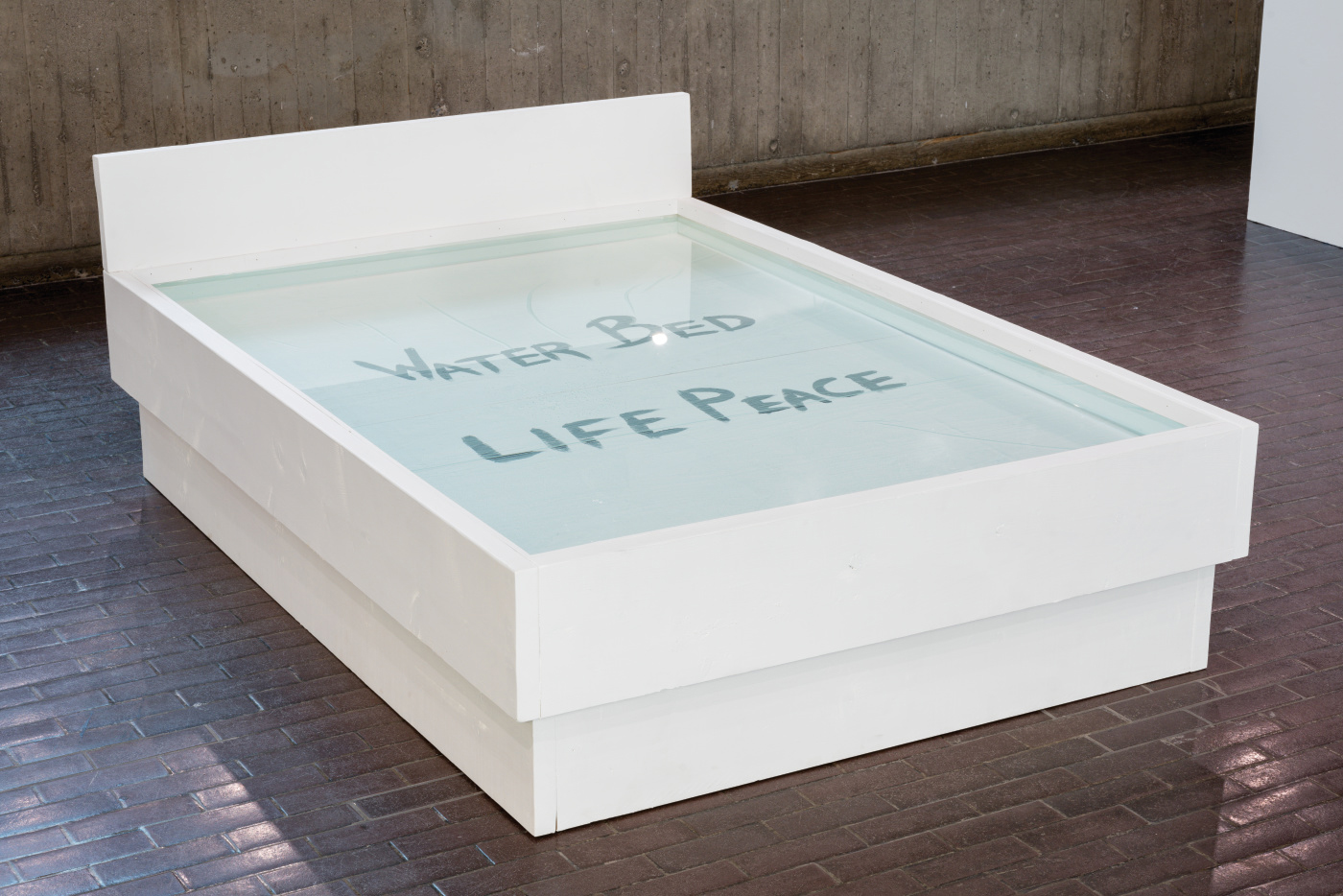 Artist Adrian Stimson's proposition builds on the form of John and Yoko's famous bed, with the hopeful words "Water Bed Life Peace" painted on the bed base. Stimson's version of a vessel for WATER EVENT is a waterbed, decorated on the headboard with a Blackfoot sign for water and tagged "for Jason and A. Stimson" on the back of the headboard.