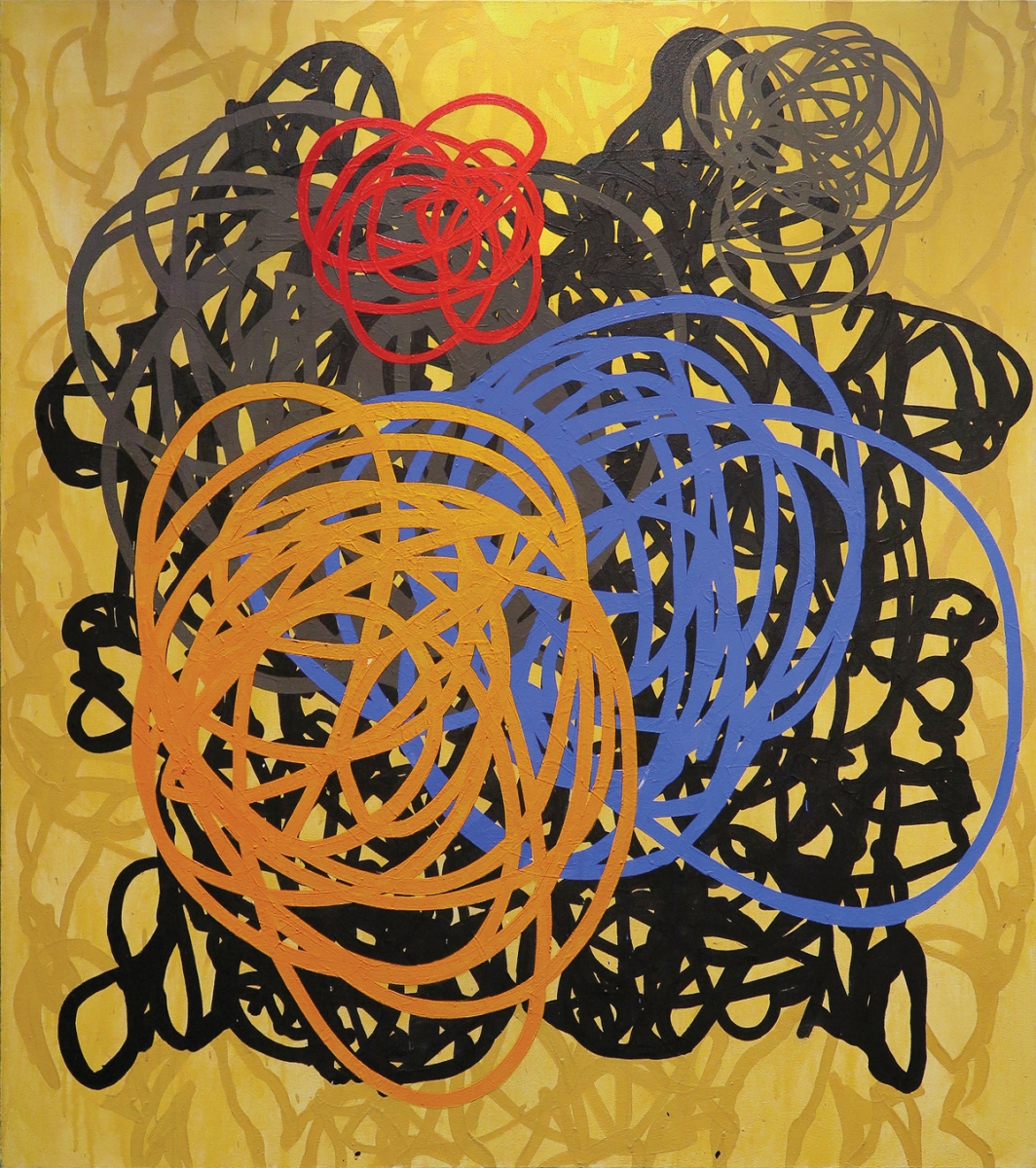 Title: Little Moses (Part Two), 2007
Artist: Geoffrey Hunter
Medium: Oil and acrylic on canvas.
Size: 137.2 centimetres by 122.1 cm by 4.4 cm.
Location: First balcony walkway, Southern Alberta Jubilee Auditorium, 1415 14 Ave. N.W.
Note: Other paintings from the Alberta Foundation for the Arts Collection at the Southern Alberta Jubilee Auditorium include Dry Bones (second balcony lobby) and Blue Garden (first balcony walkway). Hunter is represented in Calgary by Newzones Gallery of Contemporary Art and also has paintings on permanent display in the north and south campuses of Bow Valley College.
The Southern Alberta Jubilee Auditorium is one of the primary performing arts venues in the city. But many don't realize that it is also a significant art gallery space, showing works from the Alberta Foundation for the Arts collection.
Calgary artist Geoffrey Hunter's Little Moses (Part Two) is part of the collection on display at the Jube. When asked about his process, Hunter replied: "I let the paintings tell me what to do." In Little Moses (Part Two) he depicts the ground as an ancient shade of yellow, dark-yellow lines forming a loose, tangled pattern that spills off the edges. The linear network continues into the central section but in black, suggesting a shadow. Five squiggles in dark grey, lighter grey, red and blue with cadmium yellow float free.
Hunter works in series, evolving one from another. For the background, he salvaged images from Enlightenment-era thinker and art critic Denis Diderot's Encyclopédie, a book that appeals to Hunter's fascination with history and his penchant for borrowing and repurposing. The squiggles were born digitally; Hunter doodled on a touch pad then captured the image, produced slides, projected, traced and finally painted the lines with precision.
Hunter graduated from the Alberta College of Art (now Alberta College of Art + Design) in 1986, where his principal teachers were Don Kottmann, a "painter's painter," and Alan Dunning, a conceptual artist engaged with hypertext. Hunter drew from both, developing a keen understanding of the principles of design and an idiosyncratic approach to digital technology and information links. The title of this work refers to a song on Smithsonian Folkways Anthology of American Folk Music, a pioneering collection of the earliest recorded American music. The lyrics of the song draw from the Biblical origin story of Moses: before it was dark, she opened the ark, and found the sweet infant was there. Themes of loss and renewal permeate this painting on many levels.
This article appears in the September 2018 issue of Avenue Calgary. Subscribe here.