*All youth in this story are identified by first names only.
The front lawn of Ernest Manning High School looks like a typical Hollywood scene — think Clueless or The O.C., minus the palm trees and Mission Revival architecture. It's lunchtime on a mild day last fall, and hordes of students mill around, eating lunch in groups on the grass, chatting and flirting and draping themselves over cars. Other than the masks that some students are wearing, it all looks very ordinary — classic carefree, oblivious adolescence. You could be forgiven for thinking that life has largely returned to normal for Calgary's youth, in spite of whichever COVID wave we're in.
Peel back the Hollywood trope and the reality is far more complicated. For all the appearance of normalcy, Calgary has a serious problem with youth mental health. It started before the pandemic, but the arrival of COVID-19 was like dousing a brushfire with gasoline. If this was a 90-minute blockbuster, everything would be ablaze by now. The reality, however, is more nuanced than that: there's a crisis, but there's also hope, and, in between, are subtleties in grayscale.
So, are the kids alright? It's complicated.
The
 Adolescent 
Brain
 on 
Restrictions
Imagine the Kool-Aid man, busting through a brick wall with a grin on his face. "Teenagers kind of think they're superheroes, that they can do anything, even bust down walls!" says Gina Grace, school counsellor at Foundations for the Future Charter Academy (FFCA) south middle school in East Fairview.
The feeling of invincibility is developmentally appropriate at this stage. But the pandemic has interfered with normal development. "Now that COVID has hit, they're like, 'Uh oh. Where'd my superpowers go?'" says Grace.
Adolescents are not processing life — pandemic-era or otherwise — the same way their parents are. Nor should they be: Their lodestar is not a vision of tax-paying respectability and early retirement. "This is the most critical developmental time for their brain and their body. They're changing so much," says Dr. April Elliott, a pediatrician who specializes in adolescent medicine. "They have the development of their self-esteem and healthy identity, they have emancipation from their parents, they're becoming autonomous, they have formation of sexual identity, and they're supposed to be having meaningful social and peer interactions."
But, instead of socializing normally, students are spending countless hours online. "The pandemic, for me, has basically been me hunched over my desk, staring at my computer for 12 or 13 hours straight," says 15-year-old Shannon*. Health professionals have sounded the alarm on screen use for years, but that stance was trumped by COVID restrictions. "They're supposed to be establishing their moral and ethical values. How do you do that without relationships?" says Elliott. "They've just ended up spending a lot of time on screens, which we know is not good for the brain."
Even when youth are allowed to interact in person, masks can interfere with bonding, especially for youth, who don't yet have the forehead crinkles and crow's feet to show emotion or engagement — both helpful when you're still learning how to connect with peers. "We really saw a change in kids, just with the masks. If you're new coming in, not only could you not socialize with anyone else, but you're wearing a mask, so making new friends is really difficult," says Grace, the FFCA school counsellor.
Annie, 13, agrees. "Now, I guess, it's almost like we're hiding behind our masks. Even me, who's usually very social, is sometimes hiding behind the mask, because I know I can show less emotion."
The effects of restrictions can linger. "I feel like COVID has made it way easier to compartmentalize [mental health], and then not tell anybody," says 15-year-old Priscilla. "If you're used to keeping so much to yourself [during lockdowns], or being a certain way all the time, to just adjust all of a sudden back to what was 'normal' pre-COVID? This is really hard."
For many adolescents, bouncing back from COVID restrictions simply isn't happening.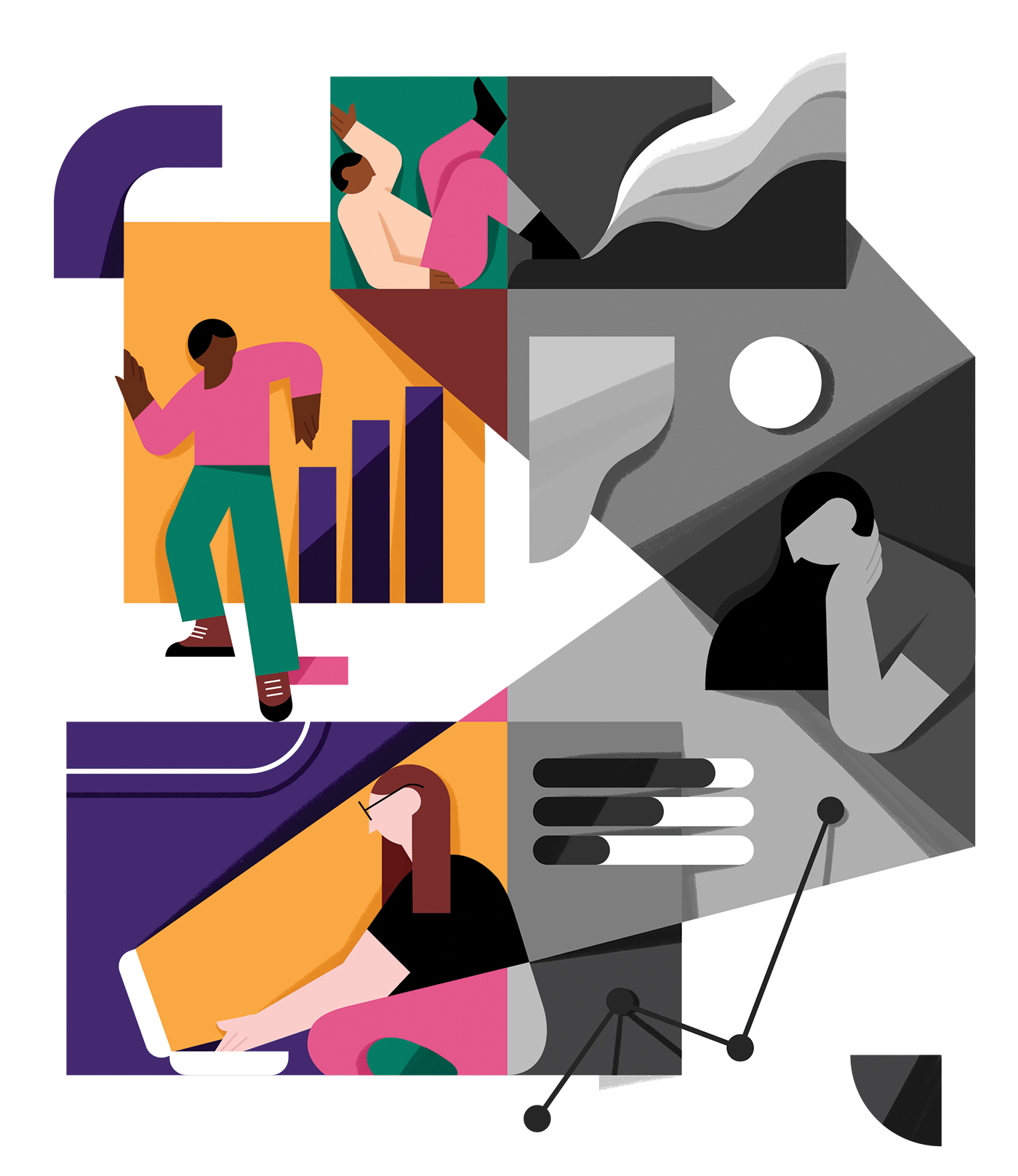 Fear,
 Anxiety
 and
 Language
The almost palpable atmosphere of anxiety surrounding the pandemic can saturate budding psyches. Youth are old enough to know what's happening, but not necessarily old enough to filter information, or to feel a sense of agency.
"They're just taking in all of this information, some of which is too big for them to understand," says Grace. "They're not talking to adults about it, they're hearing really scary stats, and that becomes really overwhelming. So their worries can get big, real fast." Sometimes. those worries even cause students to lash out at their peers. "This one kid brought [COVID] into the school," says 11-year-old José. "He got bullied a lot for that. I didn't like that, because it wasn't technically his fault."
Older students may have a better understanding of the pandemic, but that can be both a blessing and a curse. "My mental health is pretty closely related to the waves and restrictions," says 17-year-old Sarah. "During a wave, I am terrified and grieving for all of the lives being touched by COVID-19. Lives that could have been untouched had there been earlier restrictions. Then, I breathe a 
disappointed sigh of relief when restrictions are back in place."
If fear and anxiety were limited to youth, perhaps a remedy would be more straightforward. But adults are dealing with restrictions and isolation (and screens), too. They might also have experienced job loss, domestic conflict and their own mental health problems. Those who are parents have the added bonus of knowing that their reaction to it all can deeply affect their kids.
"A big factor [in kids' mental health] is how the parent reacts," says Dr. Roxanne Goldade, a community pediatrician. "Part of it is genetic, but they also learn it. They are watching their parents carefully. So, I'd like to encourage parents to keep their own responses in check. Work on healthy ways of relieving stress."
The way we frame the pandemic can add to the anxiety already floating in the ether. "If we use language like 'crisis' and 'risk' and 'deficit,' it's possible for youth to internalize that message," warns Dr. Kelly Schwartz. He's an associate professor in the School and Applied Child Psychology program at the University of Calgary's Werklund School of Education, and principal investigator of an ongoing study of Alberta's student well-being during the pandemic.
While Schwartz is aware of gaps in the mental health-care system, he prescribes a dose of circumspection: "If we too quickly pathologize normal behaviours and physical responses [to the pandemic], we run the risk of stigmatizing developmentally appropriate reactions and feelings. This could backfire by telling teenagers that there's something wrong with them, rather than reassuring them that what they're feeling is normal and common."
The
 Crisis
It's a typically busy Wednesday afternoon at Dr. Goldade's office, and she's squishing our interview in between patients. She has always had a lengthy waitlist, but the pandemic has inundated her office with calls and emails from desperate parents. "The intensity and volume of need have exploded," says Goldade. "When I say 'demand,' I am actually talking about parents calling and begging for help on a daily basis." Their children are threatening self-harm and suicide, acting out with extreme aggression or refusing to eat. "We're trying to see them; we're trying to stamp out fires. But the whole thing has escalated. There are more of them, and they're much more intense."
Youth non-profits tell a similar story. "There are just so, so many parents calling in, saying, 'I don't know if my kid is okay,'" says Janet Stewart, program manager of Wood's Homes Eastside Community Mental Health Services. "Over the years, we've done lots of parent-child conflict, and typical teen stuff, but we are noticing parents are more scared for their children's mental health."
At ConnecTeen, the Distress Centre's youth line, suicide-related contacts have spiked since the pandemic started. "The pandemic essentially exacerbated issues that youth were experiencing," says youth program coordinator Ashley De Vera Macayan.
Of course, COVID doesn't directly cause suicide, or eating disorders, or substance abuse. But, when the right combination of factors is in place, COVID can be a trigger. "Mental health issues can be precipitated by stress," says Dr. Nicole Racine, a postdoctoral research fellow and clinical psychologist in the Department of Psychology at the University of Calgary. "Maybe you were genetically predisposed, maybe you had experienced significant stressors early in life. And then there might be a precipitant, an actual catalyst stressor that leads to the onset. COVID could have been the catalyst."
That catalyst has caused extensive waitlists, with some youth waiting months for treatment. "To get care in the public system, your symptoms have to be so severe," Racine says. "We don't have enough resources at a prevention level, or at the front end, so that people don't have to be in imminent danger to be admitted to a program or to receive mental health support." Money can often buy quicker access to treatment, but, even in the private sector, many child psychologists aren't accepting new patients.
Broken hearts and anxiety attacks are easier to disguise than broken bones and asthma attacks. Perhaps that's why Calgary didn't have adequate mental health resources — for in-patient beds, for early interventions, for psychiatric care — even before the pandemic. But, with pediatric hospitals across Canada reporting a 100-per cent increase in suicide-attempt admissions and a 200-per cent increase in substance-abuse admissions during the first year of the pandemic, it becomes harder to ignore mental illness. COVID may be a catalyst, but it's also a spotlight.
The question is: how Calgary will respond? "I've seen the health-care system really step up when we needed resources for the pandemic," says Goldade. "We need our health-care leaders to do the same for the swell in mental-health challenges for our children."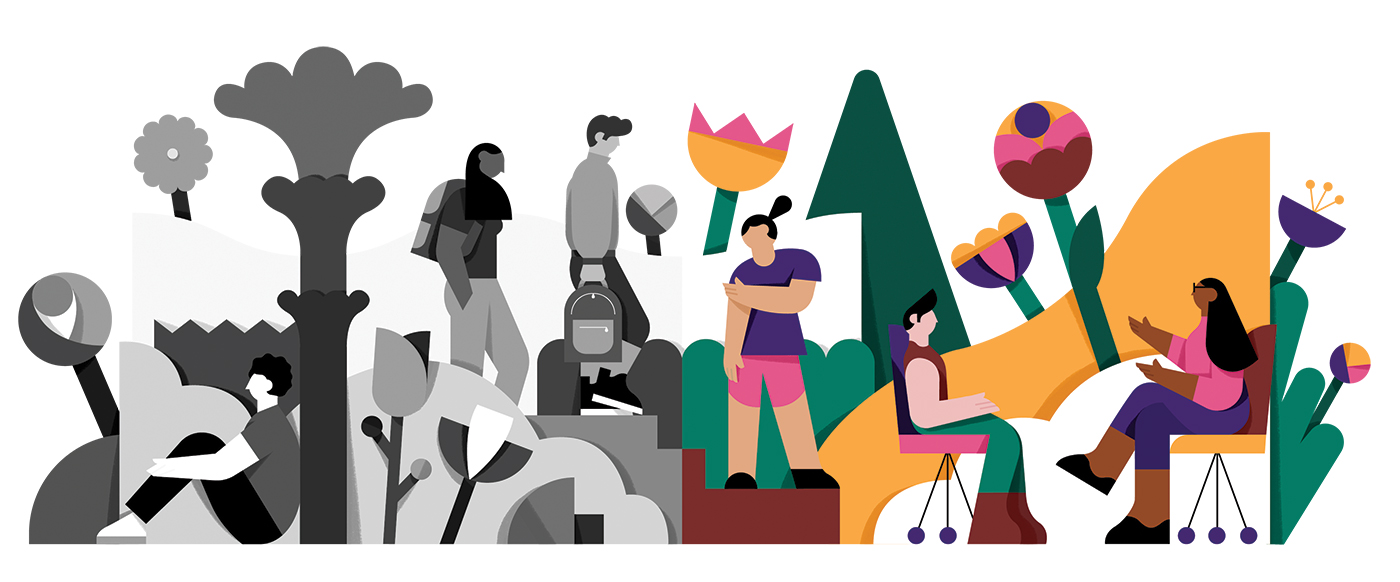 The Hope
It's another mild fall day and the northwest neighbourhood of Hounsfield Heights-Briar Hill looks almost bucolic in the dappled sunlight. Modernist homes nestle cheek-by-jowl with 1950s bungalows amidst rolling parkland and trees as big as any ever get on the prairies. Other than an overzealous property owner wielding a leaf blower, the only thing disturbing the calm is a crane in the hub of a construction site. The new neighbour will be the Centre for Child & Adolescent Mental Health.
If a building could be constructed from hopes and dreams and sheer desperate need, instead of concrete and rebar, surely this would be it. Everything, from the quirky origami-wrapping of the exterior, to the large windows that will flood the interior with natural light, is designed to make the building feel healing and non-institutional.
When youth and their families are potentially experiencing the most difficult time of their lives, design matters. A partnership between Alberta Health Services (AHS) and the Alberta Children's Hospital Foundation (ACHF), the Centre is envisaged as a "one-stop shop" for youth mental-health needs. It will house walk-in services, intensive community treatment services and a day hospital.
It's an innovative approach, one that advocates hope signals a sea change in thinking about youth mental health. Whether it will make significant headway in meeting the needs of Calgary's youth is a question for the future, after the Centre's planned opening in late 2022. For now, even the excavator digging the foundation seems like a symbol of hope.
Overlooking the construction zone is a tree-skirted field that will become the Brawn Family Foundation Rotary Park. The first park in Calgary specifically designed for mental health, it will have quiet nooks for reflection and open spaces that invite connection. It's a novel concept, but perhaps it shouldn't be: if you've ever glimpsed the Bow River streaming quicksilver in the summer dusk, or watched the alpenglow kiss the mountains from the top of Nose Hill Park, you know that outdoor spaces can bring health to our spirits, as well as our bodies. The park is connected to the new Centre, but it's open to everyone. "Imagine children from the community coming to play, and knowing that they are with kids who are getting mental health support. They can say, 'Maybe, if I was having a hard time, I could go get some help.' It normalizes it," says Sheila Taylor, CEO of Parks Foundation Calgary, who spearheaded the project.
Normalizing mental health is no small thing. But, if there's a silver lining to the pandemic, it's that most everyone has now been confronted with their own mental health — some for the first time. "Among adults, students, youth and children, having conversations about one's own mental health no longer has the same level of stigma as before, because I think everybody has had to deal with it," says Andrea Holowka, a superintendent of school improvement with the Calgary Board of Education. And, just as the pandemic exacerbated mental-health problems, it has also sped up the tearing down of stigmas.
"I feel like even a lot of people who didn't acknowledge mental health pre-COVID have kind of gone through some form of anxiety or isolation, enough to have even just a glimpse of what it is," says 15-year-old Priscilla.
Perhaps it's that universal experience that is fuelling the growth of mental-health resources in Calgary. Despite all the waitlists and sobering statistics, growth is happening. The Build Them Up campaign, run by ACHF, has launched new youth programs and is fundraising for emerging-adult mental-health services. The City approved Calgary's Mental Health and Addiction Strategy, and the supporting Community Safety Investment Framework, in March 2021, which includes more funding for non-profits like Wood's Homes to expand and develop immediate and no-cost crisis supports for families. YouthSMART and other educational programs are reaching into schools. "We have a unique opportunity right now to strengthen existing resources and to create new pathways and programs for youth access that are both preventative and interventive," says Schwartz.
Finally, it's important to remember that youth are resilient. "They are worried and tired and frustrated, but the majority are reacting in developmentally appropriate ways and adjusting as best as they can," says Schwartz. "If we frame this era as one of intense learning and growth and resiliency, the research would lead us to believe that we can see sustained health development — albeit with some psychological bumps and bruises — in the months and years following the pandemic."
Back to the high school students out front of Ernest Manning: just as one carefree lunch hour can't confirm that kids have bounced back from restrictions, neither can the suicide statistics tell us that everything is on fire.
There's a youth mental health crisis, but there is hope. The kids aren't necessarily alright, but they are resilient.