The first time Laura Collins saw her new Glamorgan home, it was on the small screen of a FaceTime call as her mother took her on a tour of a rental listing she insisted Collins would love. After catching a glimpse of the sunken den complete with a fireplace and encased with wood panelling, Collins knew her mom was right. "That space is really what drew my attention," Collins says. "As soon as I saw it, I thought, 'This is my mid-century dream.'"
Collins and her husband, Blayre, had been living in a semi-detached Victorian row house in Toronto with their two children, but they decided it was time to start fresh and relocated to Calgary. She wanted to find a character-driven home to rent that would give her more room for creativity, and this 1950s bungalow had the mid-century features she craved: wood panelling, alcove windows, a fluted glass divider in the entryway and plenty of built-in storage.
They took possession in February 2023 and Collins got to work on reimagining the space.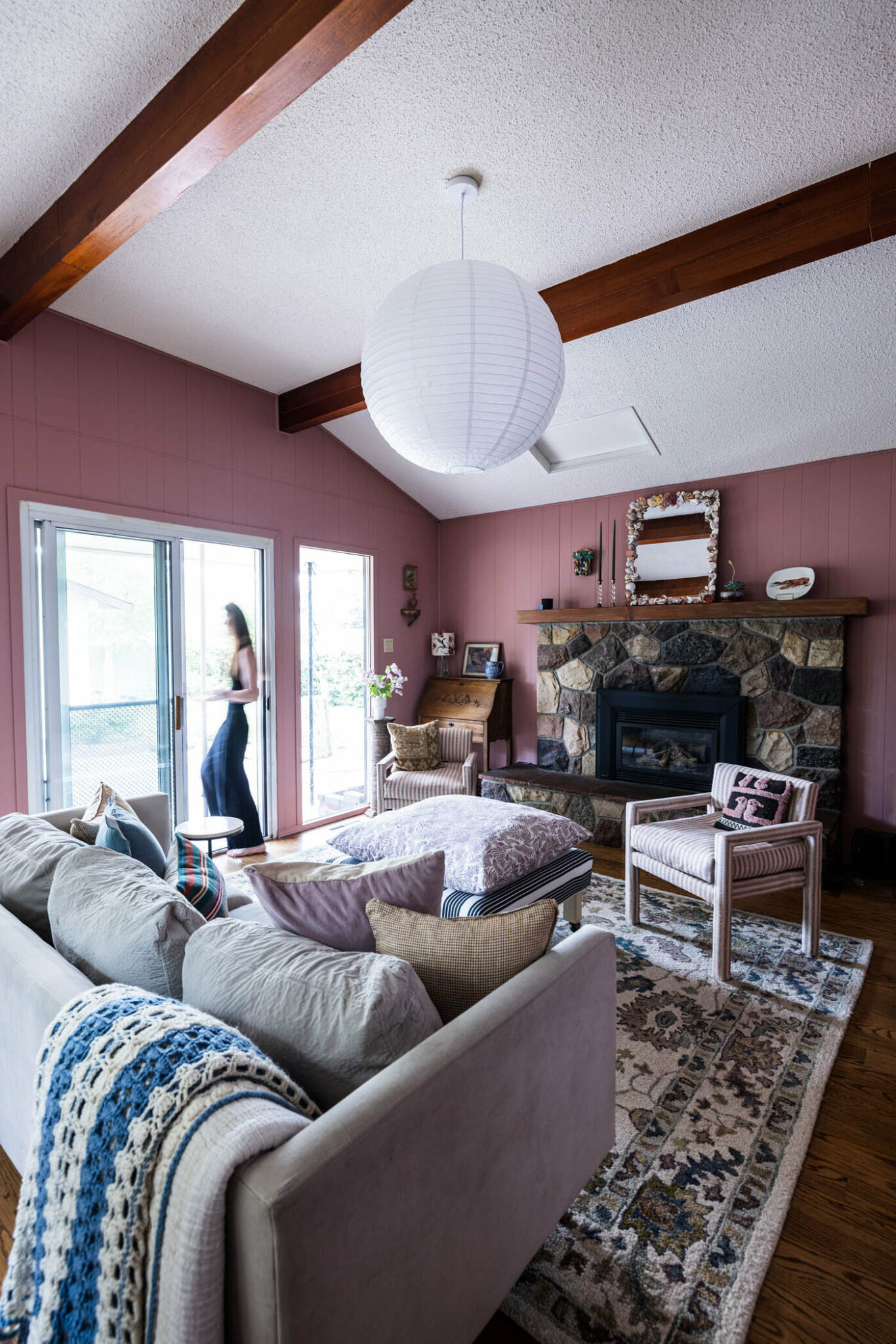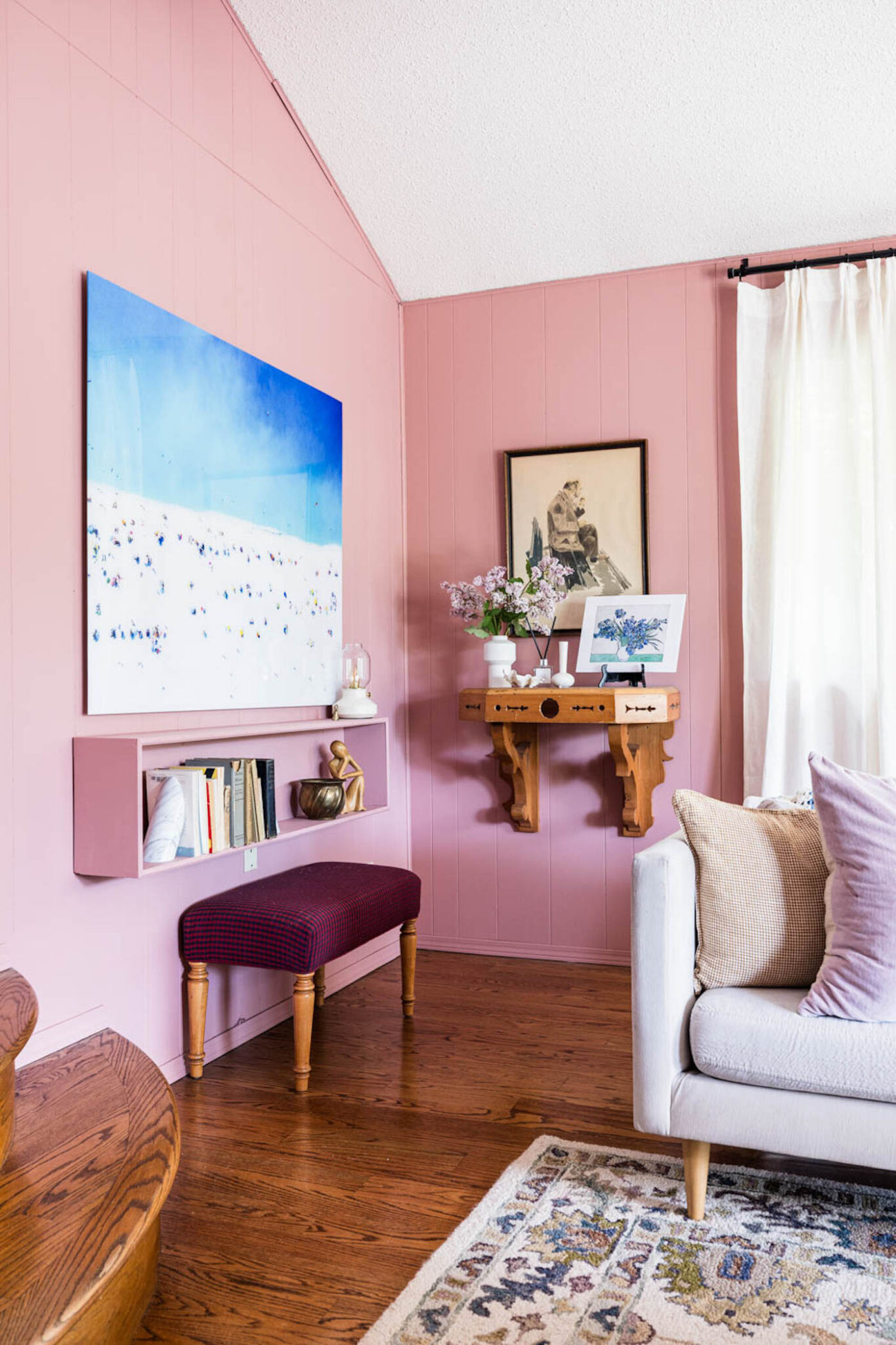 After seven years of co-running the LC & Kel Interiors design firm in Toronto, Collins was ready to embrace a design all her own and set about transforming the rental with cosmetic upgrades to match her vision of mid-century English. "My overarching thought is how we can merge English and mid-century," she says. "Colour is always a staple of any British interior. There's usually a bold colour — they really don't hold back."
With the space being a rental, Collins prepared a presentation for her landlord, where she pitched her plans and "promised him the home will be in great hands," she says, laughing. Starting with the sunken den, she pulled out blush, rosy tones from the stone mantle and repainted the wood panelling in Amaryllis by Benjamin Moore. For the dining room wainscotting, she opted for Oval Room Blue by Farrow & Ball.
"I've selected some colours that are possibly a little bolder for some people's tastes," Collins says. "It can easily turn into a funhouse when you're dealing with colour, so you have to be really careful. I was incredibly mindful that it should be light and bright throughout, and also have original character."
The colours make their way through the rest of the home, including the library and Collins' studio. For the library, the couple purchased Ikea Billy bookcases that were painted Savannah by Benjamin Moore and finished with custom cuts in the dentals for depth. Collins then filled out the space with items from her personal inventory of furniture, art and decorative objects, many of which are heirlooms or hidden gems found at estate sales.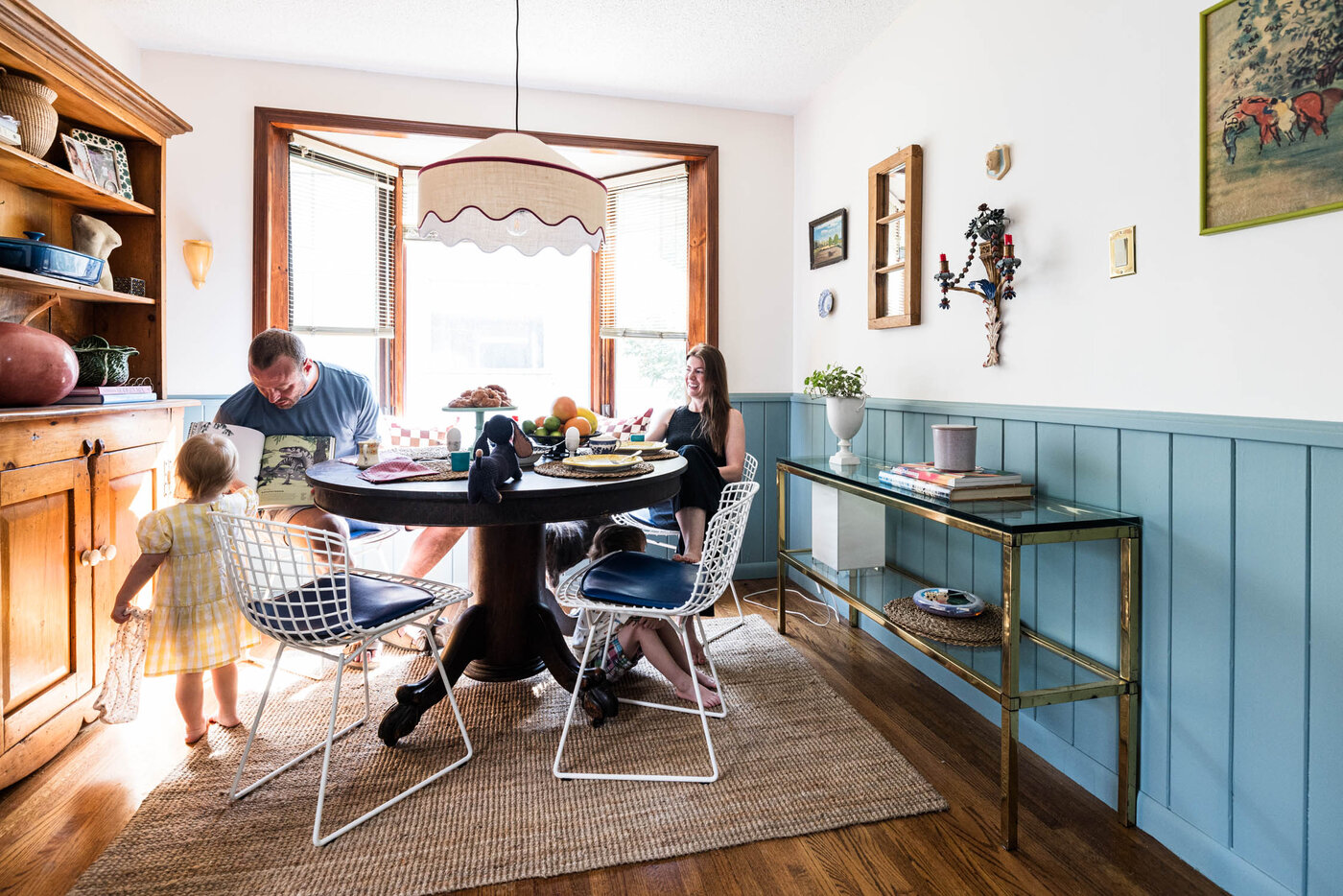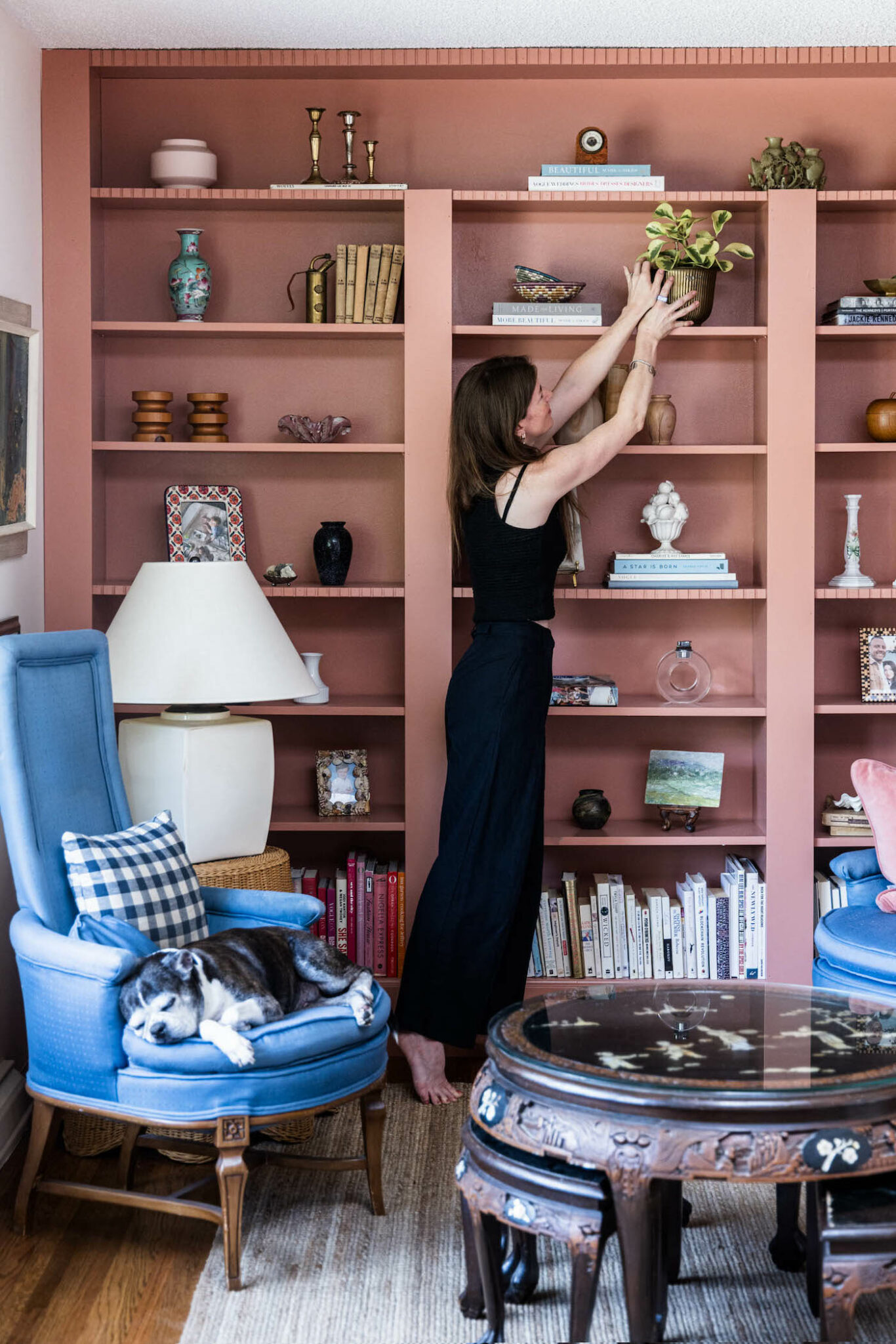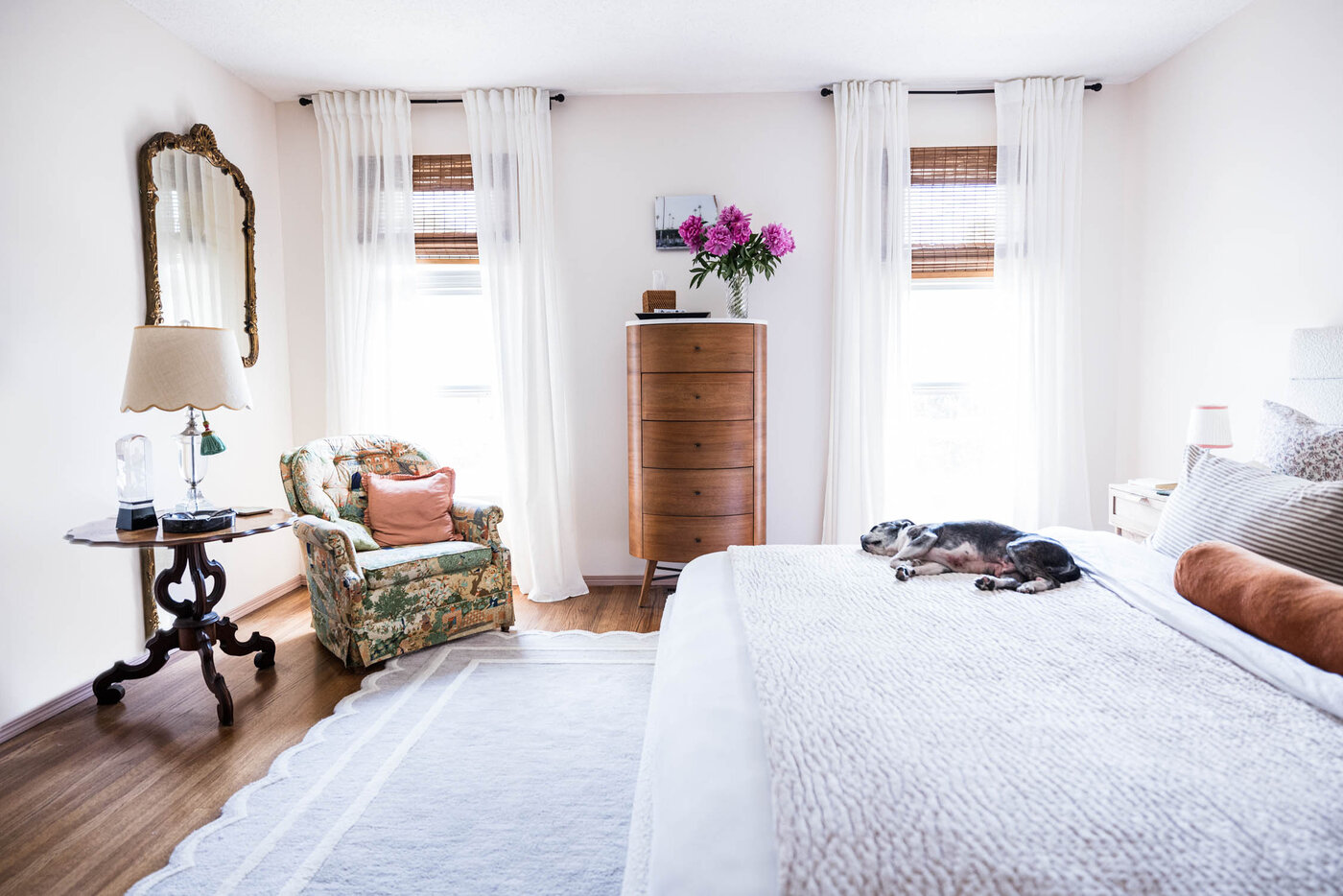 Re-purposing furniture when looking for a change is a cheaper and more environmentally friendly way to upgrade your space, Collins adds. "There's a lot of repurposing in British interiors. They take the pieces that they have and re-upholster them to give them new life."
Mixing heirloom pieces from her family with modern art and textiles is one of the ways Collins keeps her space dynamic and unique. "Layers, layers, layers," she quips, while pointing out the antique long-backed chairs in the library that once belonged to her grandmother, Audrey, now cushioned with new throw pillows. "Layering old and new keeps things cheeky and fun. I just want the overall feeling to be very in-the-middle and playful"
Behind the fluted glass built-in divider in the entryway, Collins looks into her newly completed living room and wonders what Audrey would think. "She had a lot of opinions," she muses. "She might have questions, but she'd like that these pieces have a new home.
"It's a really cool way to honour people, and I'm also lucky that she was very tasteful," Collins adds. "My grandmother has passed and my father has passed, and I think it keeps them alive. It makes me think of my memories of interacting with them in their spaces, and it makes me smile."
Collins continues her colour theme and layered aesthetic throughout the rest of the home. The three bedrooms each feature layered custom curtains, storied art and pops of colour. The kitchen has unique features including a sky tube skylight and traditional built-in cabinetry with beading and dental moulding that Collins painted Ecru by Benjamin Moore.
"There are weird, funky little nooks and crannies everywhere," says Collins as she opens a spice cabinet. "I think some people might be overwhelmed by a space like this and how to tackle it and modernize it, whereas, for me, that's my greatest excitement."
How to Get a Big Impact from Cosmetic Upgrades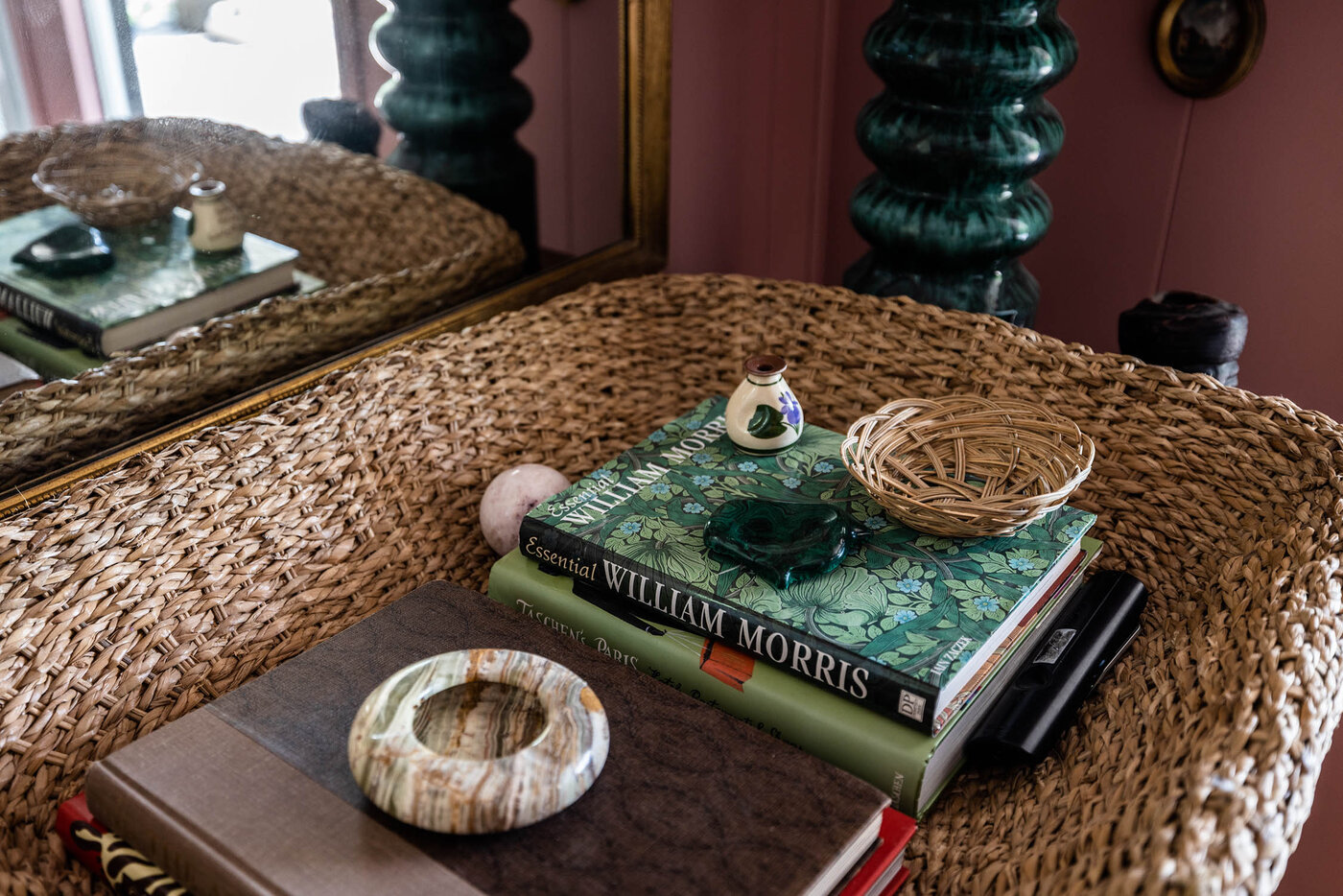 Prime for Paint
"No matter what budget you are playing with, paint is typically the most important space-influencer," Collins says. "In some rentals, you may be subject to what the landlord has selected, in which case I'd encourage the use of colourful art, new draperies and textiles."
Textile Messaging
"I love layering, so naturally rugs are of the utmost importance. By adding beautiful textiles to the walls, floors and furnishings, you instantly bring the space to life and make it feel more personal."
Beautiful Books
"One of the best tips I've heard is to buy a beautiful coffee-table book with each paycheque. Not only are they pieces of art, but they also can display decorative objects."
Quirks and Curios
"If you want to have a home that keeps people guessing, scour sites like Frank Hall Estate Auctions to find unique pieces that no one else will have. Almost everything in my home is either bespoke or found items. It makes your home completely unique to you, and I love a storied home."