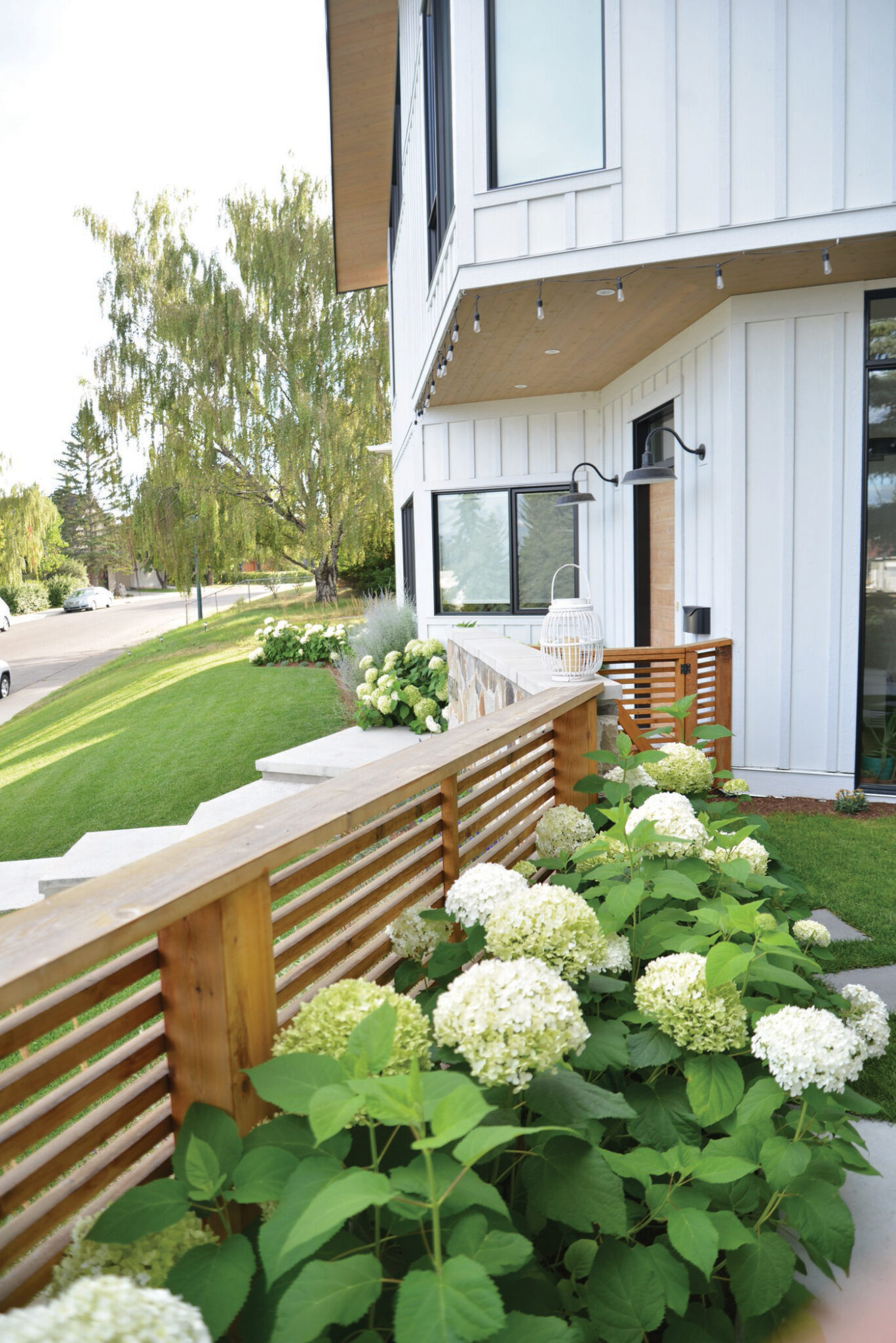 Paulina Ramis had a clear vision when building her brand-new family home. Of particular importance was that the design, which takes inspiration from summer beach house and prairie farmhouse aesthetics, flowed effortlessly between the indoor and outdoor spaces. For her front yard, Ramis wanted a low-maintenance garden that felt summery and elegant, while tying in seamlessly with her home's interior.
Ramis knew just the person to bring her vision to life: María del Sol Galdón, principal landscape architect and co-owner of Planta Landscape. The two women, who've been friends for 20 years, share a cultural connection, both having immigrated to Calgary from Argentina, as well as a creative one: Ramis, a fashion stylist, has an architectural background, and Galdón has both interior design and landscape architecture experience. Galdón's parents started Planta Landscape in 1991, shortly after the family moved to Canada. She and her brother took over the business in 2016.
"I have seen all the projects Maria does, and they are incredible," says Ramis. The collaboration was equally appealing for Galdón: "Paulina really knew what she wanted aesthetically, functionally and proportionally. This made it very straightforward to work together and collaborate."
For the front garden to integrate holistically with the house, the colour palette was maintained in both spaces; outdoors, this was accomplished through thoughtfully chosen plants. "It's not just about the house, or just about the garden. It really is about the composition of it all," says Galdón.
"I think it's very Argentinian, too," says Ramis. The two women note that an indoor-outdoor lifestyle is a big part of Argentinian culture.
"For Paulina to have this openness and that transition through the spaces, both physically and visually, is a very cultural way of living," says Galdón.
The Courtyard
"Having a place where we can enjoy the weather outside and have it connected to the interior was the main idea of this space," says homeowner Paulina Ramis. She and her family make the most of the courtyard all summer long, eating meals outside and enjoying maté, a traditional Argentinian drink.
The Plants
"The plant material is tied into that beachy farmhouse look and feel," says María del Sol Galdón, principal landscape architect and co-owner of Planta Landscape. "The design is a bit rustic and wild, but also refined with a mix of hydrangeas, sage and ornamental grasses." There is always something in bloom until the frost arrives, she says, starting with dianthus and salvia in the spring.
The Colour Palette
Subtle colours were key to evoking a timeless, yet bright and summery feel. Galdón and Ramis settled on a fairly neutral palette, including earth tones such as sage, white shades, bluish-purple accents and a touch of pink in the spring. "[The colours] complement each other and create that summer freshness," says Galdón.
The Lighting
"From day one, Paulina and her husband wanted string lights," says Galdón. So, string lights they got, together with soffit lighting (added to the home during the architectural design process), as well as a broad beam light that highlights the front wall and house number, and ornamental lighting that illuminates the entrance.