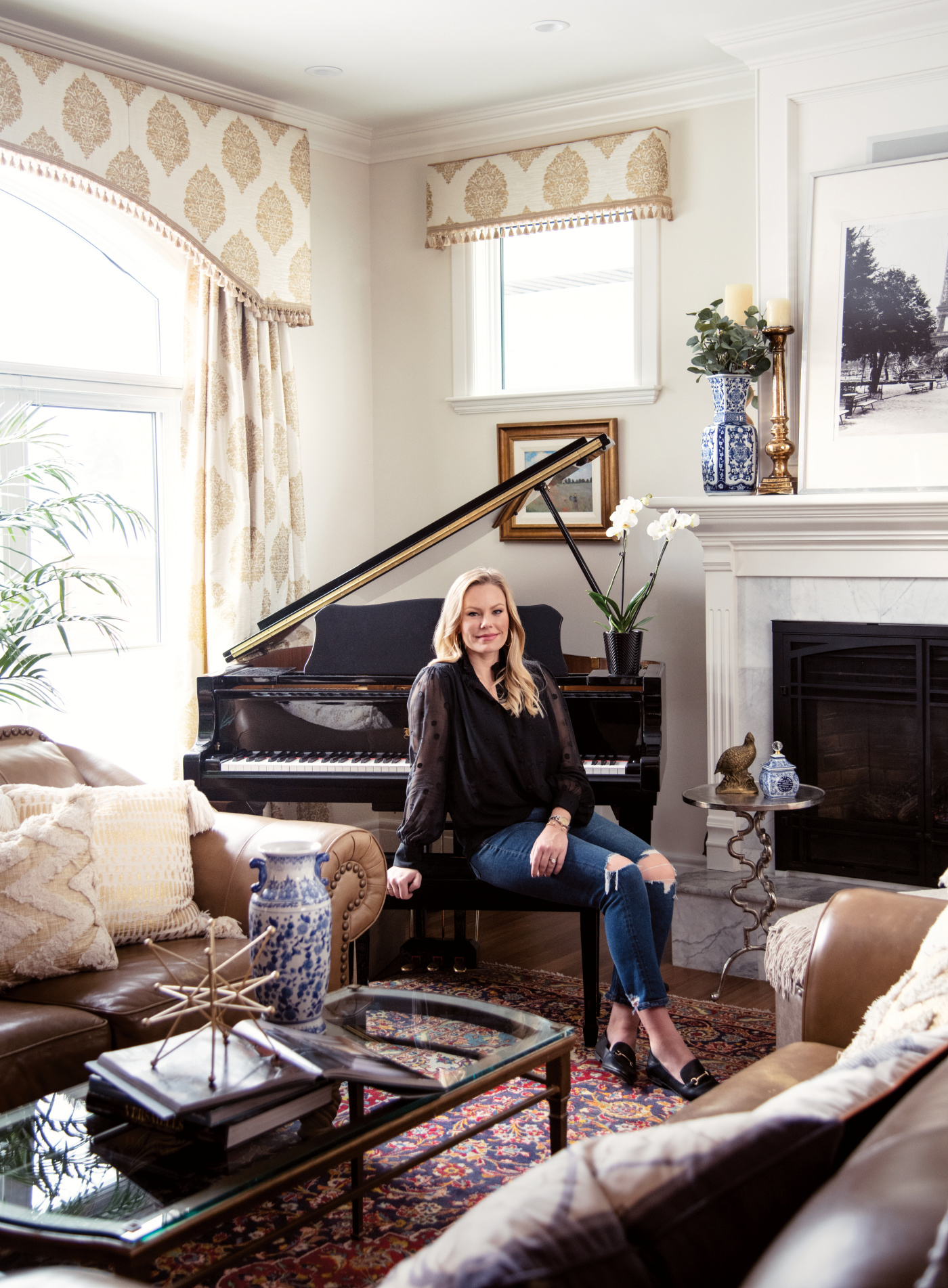 Adopting a "work hard, play hard" philosophy, Maggie Keeper and her husband, Thomas, spend most of their vacation time travelling through Europe and other destinations around the world.
Inspired by their travels to France and England, as well as Maggie's favourite TV series, Downton Abbey, they designed their home in a traditional style in contrast to many modern homes in Calgary today.
Maggie and Thomas designed their home for their family of four, which includes their two children, ages seven and eight, without the help of a professional. Thomas, who found the lot for their home, owns the real estate brokerage Engel and Völkers Calgary. His experience as a realtor meant he had a broad understanding of home design. That, paired with Maggie's affinity for taking travel photos of grand European castles and châteaux, gave the couple the confidence to decide exactly what they wanted their home in Renfrew to look like.
In January of 2013, the Keepers began work on their new home, managing the project themselves, without the help of a builder. They knocked down the existing home on the lot and built the new one from the ground up. The family moved into the home in December of that same year. Over the following year and a half, the home's interior decor took shape as they curated a collection of old and new pieces. Maggie says it will continue to evolve as time goes on.
The living room is the perfect introduction to the home's traditional design aesthetic, with many elements that are repeated throughout. A grand piano anchors the space and adds to the traditional feel of the room.
"When Thomas and I were first dating, as a very romantic gesture, he bought me a grand piano," Maggie says. "That's a very special piece to us. We kind of designed the living room around the piano."
While the design of the home is unmistakably rooted in the traditional, the Keepers aren't immune to modernity. The open floor plan of the living room and kitchen, for example, is more characteristic of contemporary design.
The baseboards and window trimmings also offer clean lines, and are white and minimal, so as not to make the space feel old-fashioned. The more traditional aspects of the home mostly shine through in the wood choices, light fixtures and decor, which Maggie says is approximately half new purchases and half antiques and heirlooms from her side of the family.
Just off the kitchen, the formal dining room is enclosed in the style of older homes. With a fireplace and long wooden table with upholstered antique-style dining chairs, this room exemplifies the style of the home best. Pointing to the place settings on the dining room table, Maggie identifies the china as "Spode Sheffield — the pattern that has been featured in Downton Abbey."
Maggie and Thomas continued the traditional design aesthetic into the kitchen, which has two large chandeliers and dark wooden cabinets. Blue-and-white china vases and plates show up in the kitchen as well, inspired by Maggie's mother, who collected the antique china throughout her life.
Maggie says that all these traditional elements were chosen for more than just their aesthetic value. A house with roots in history creates a strong feeling of home, she says. "When you walk in, you feel relaxed, you feel calm, you feel warm, and that's what we wanted," she says. "That's why we really embrace it."
Video by Jared Sych.
Creating a Classic
Inspired by European castles and châteaux, Maggie and Thomas Keeper kept traditional design at the forefront of their home while integrating select modern elements to fit their lifestyle. Here are a few of their tips on how to create a traditional home for a modern world.
Design for function. Older homes had more rooms to provide more private spaces for larger families, though today, an open floor plan might make more sense. Finding the intersection of where these two home styles meet, such as an open floor plan with a traditional enclosed formal dining room, is key to having a functional home.
Create a fusion of modern and traditional. Many elements in the Keeper home were designed to feel like a traditional home that has been modernized. "We've got columns that separate the kitchen and the living room, but we painted them white for a more contemporary feel," Maggie says.
Incorporate clean lines. Clean lines can put a modern twist on a traditional home. "We have very ornate door handles, but the doors themselves have clean lines and aren't too over the top," Maggie says. "We try to balance [our traditional decor pieces] with something that's crisp and clean."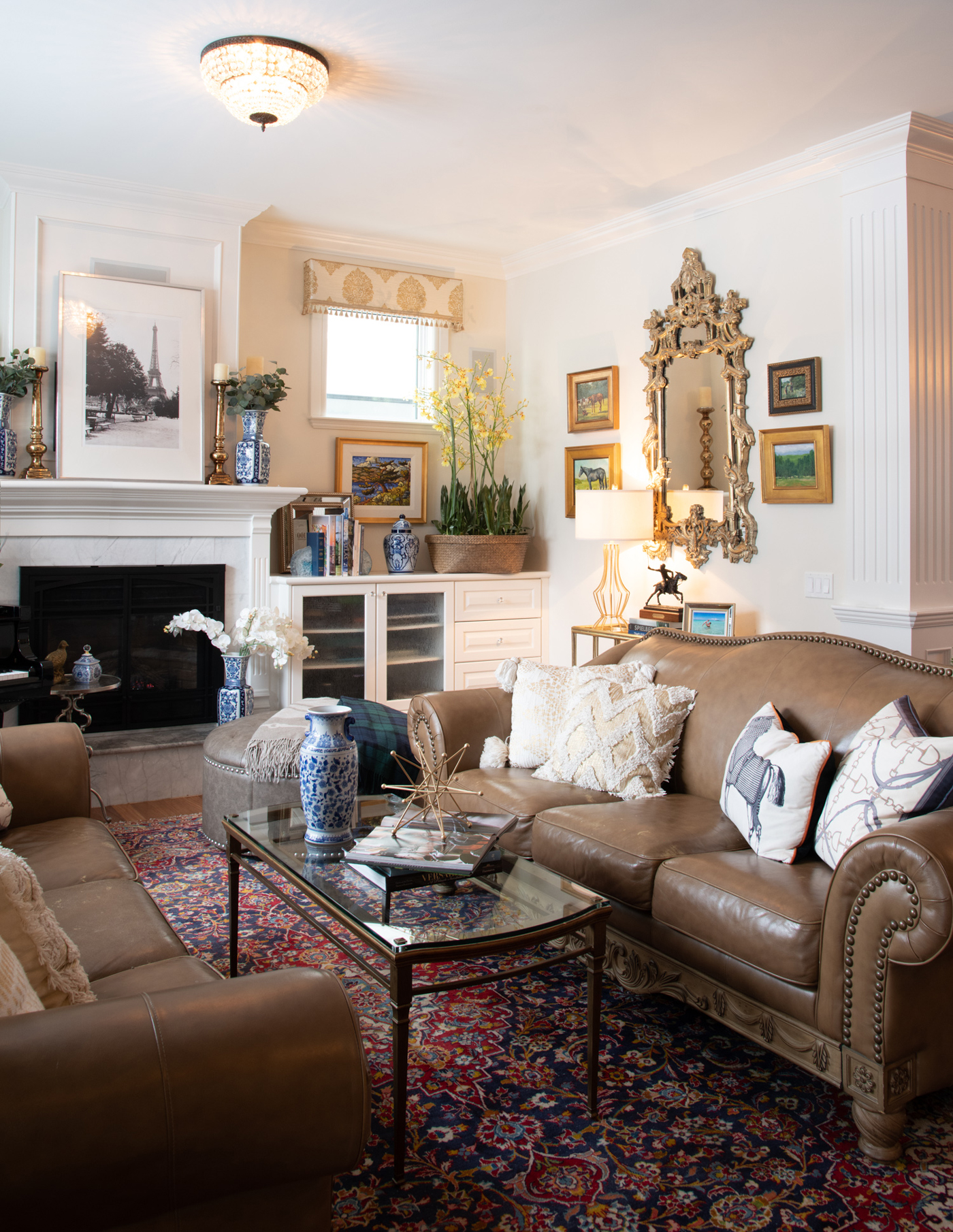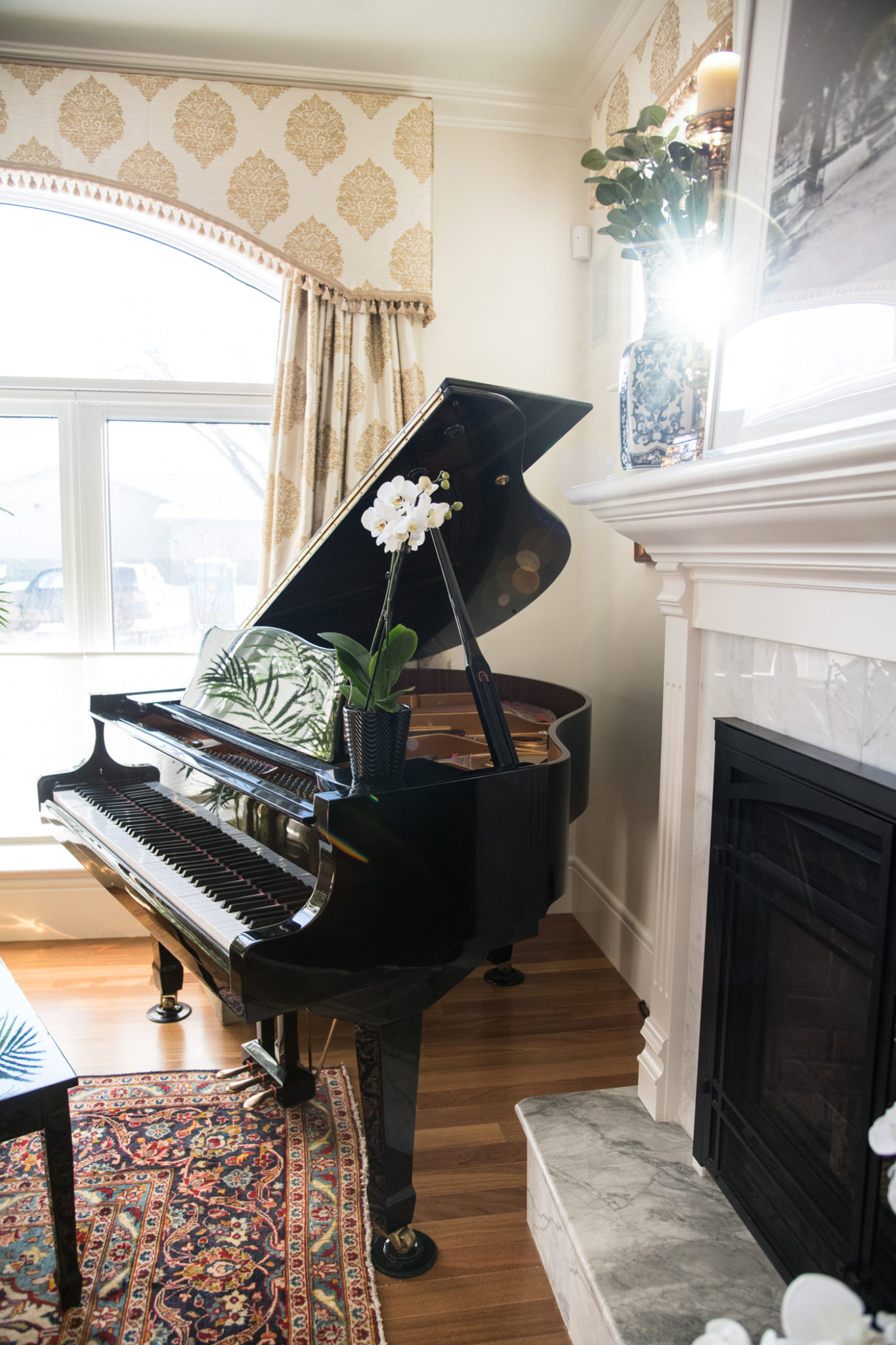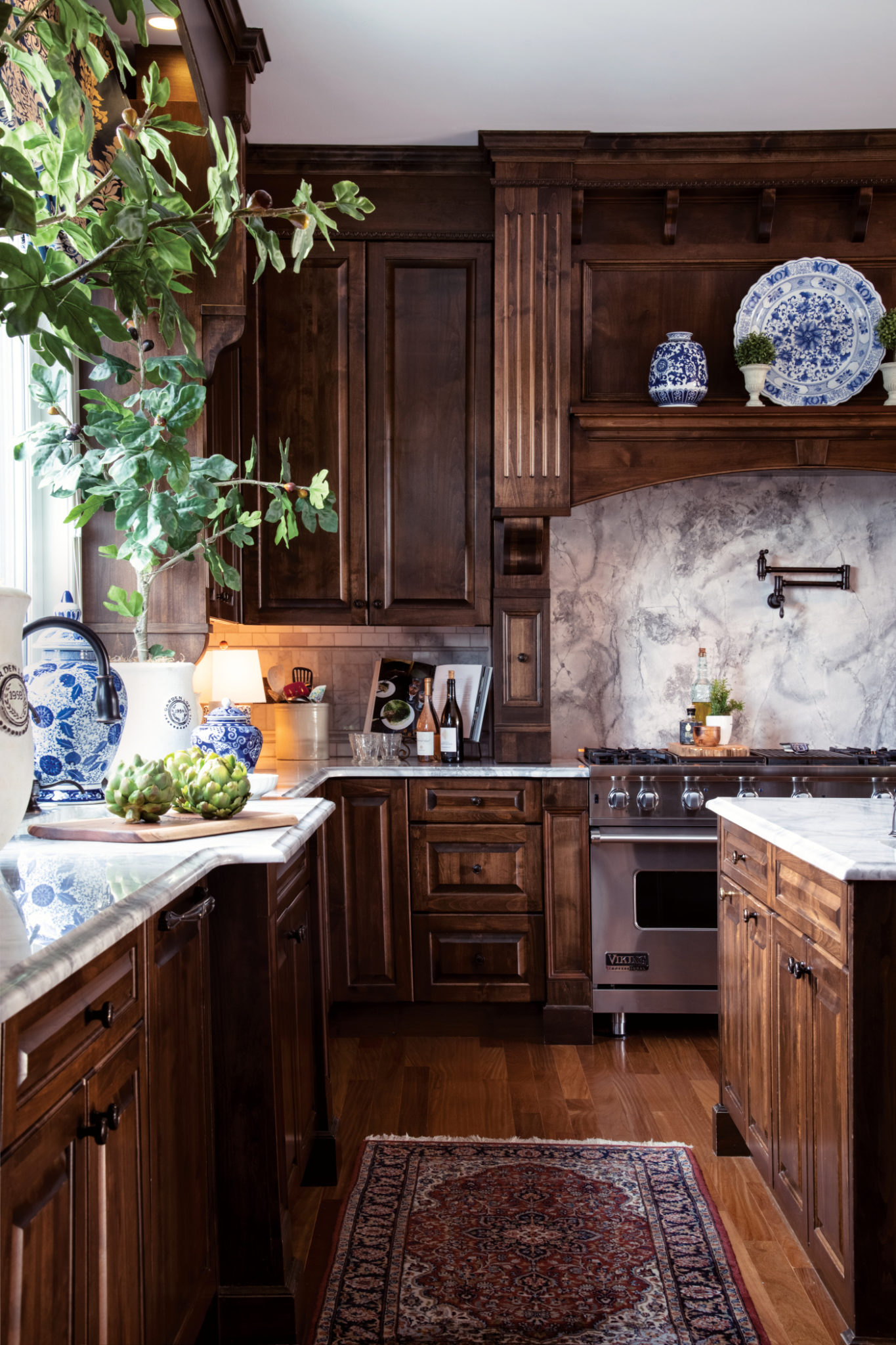 Traditional dark wood cabinetry in the kitchen is balanced by contemporary marble countertops and modern appliances.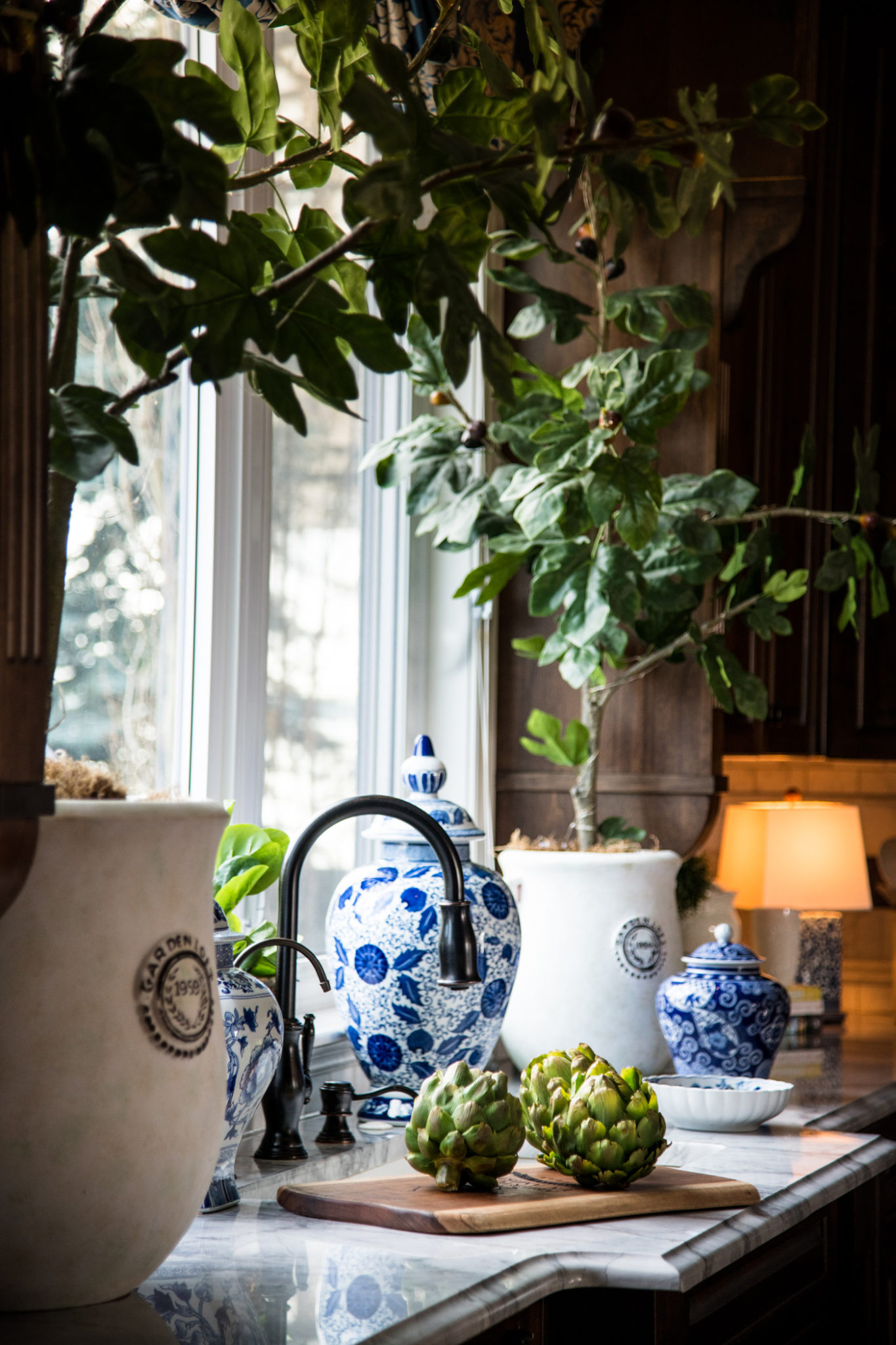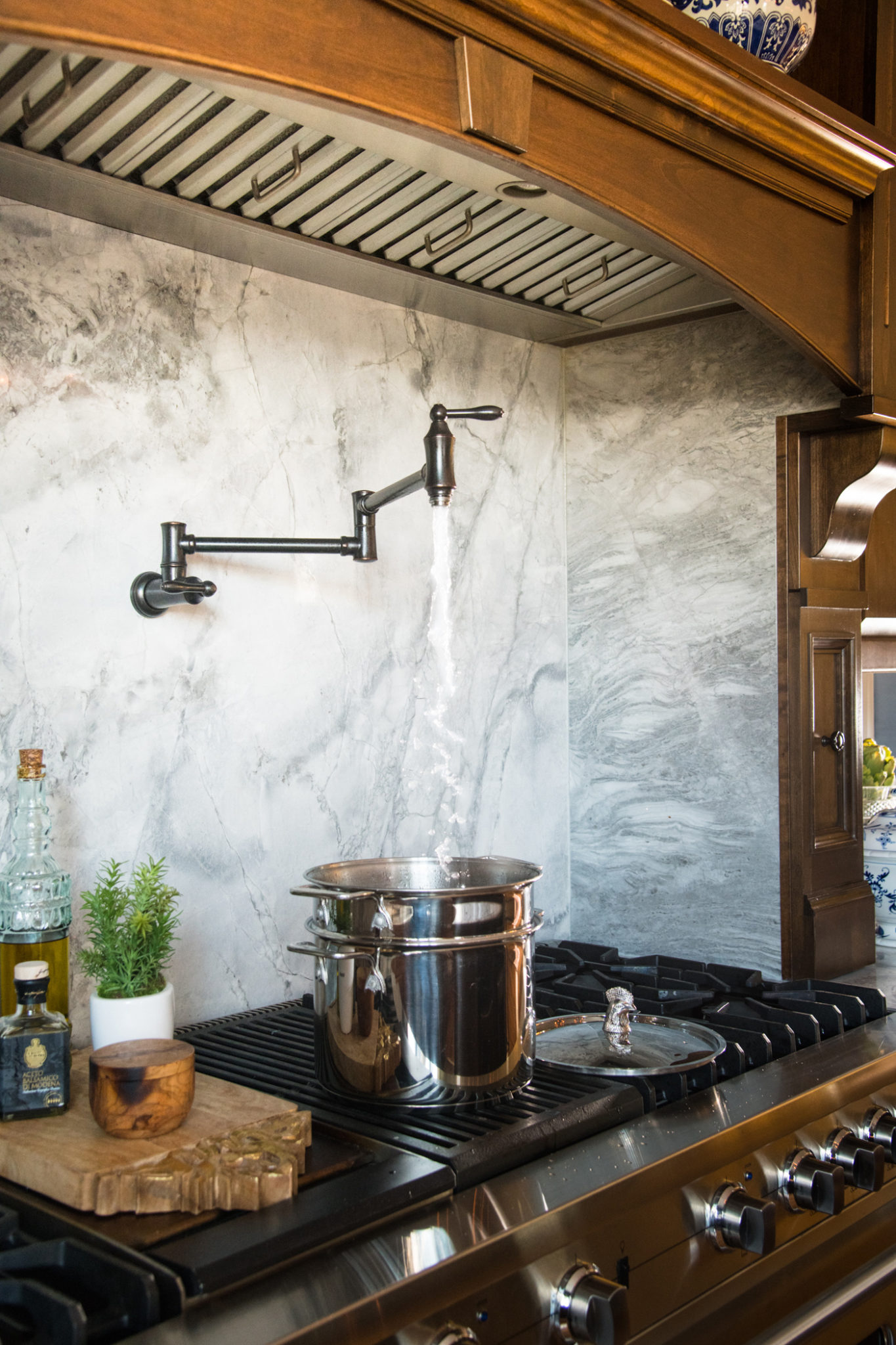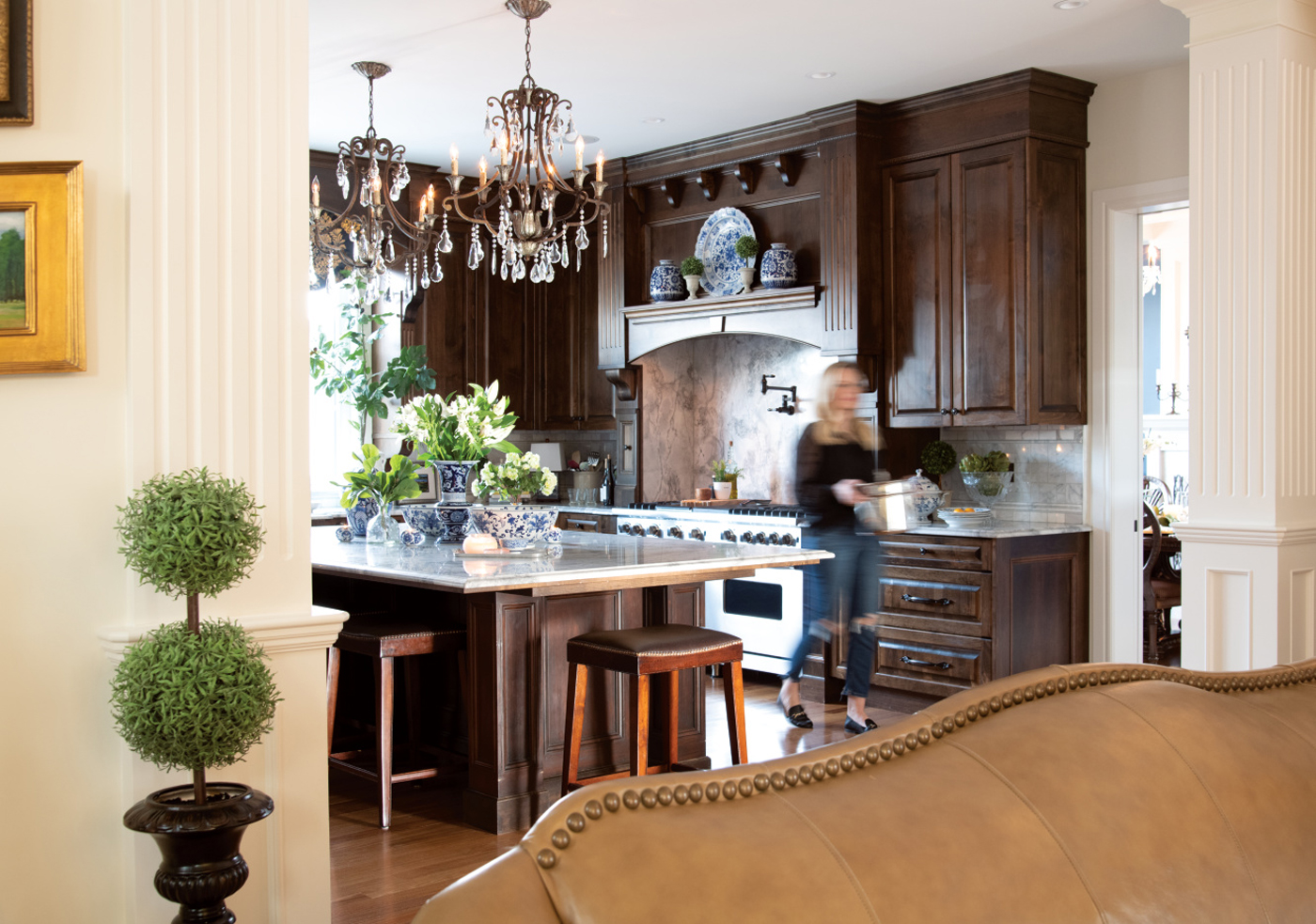 Classic chandeliers were used throughout the home, reflecting the owners' love of traditional European design.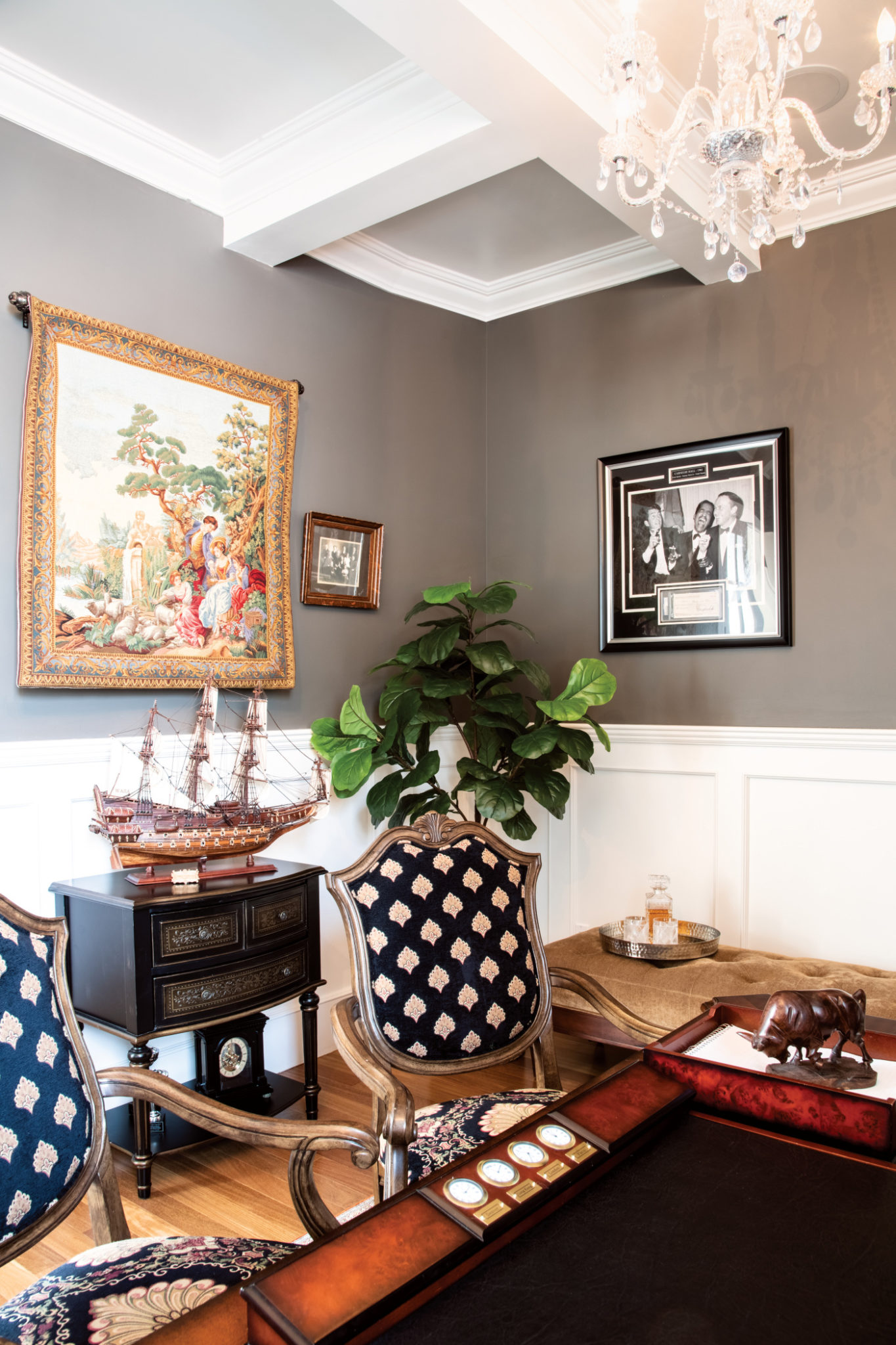 The office has many antique pieces on display, such as a model ship purchased in Hawaii.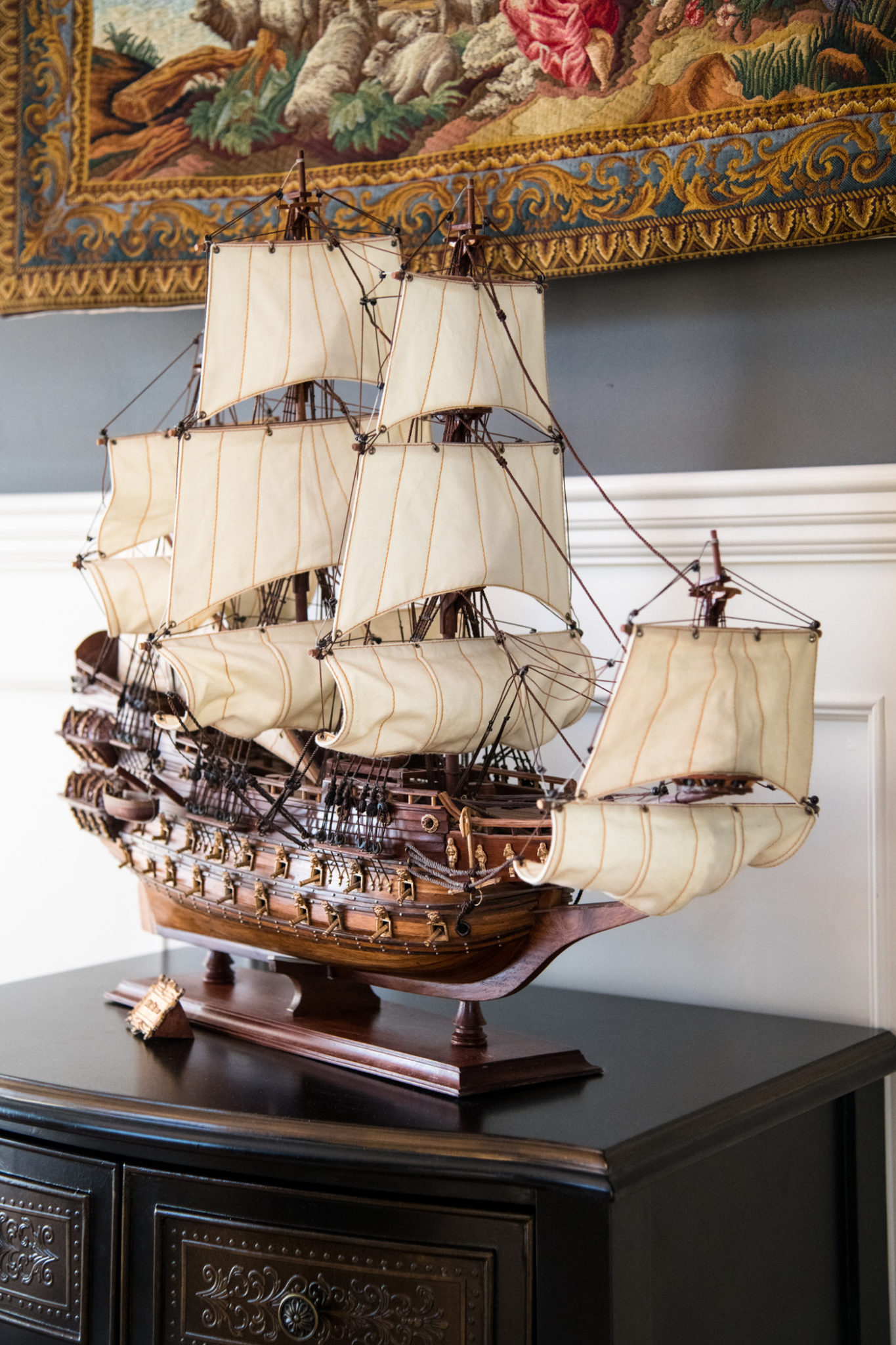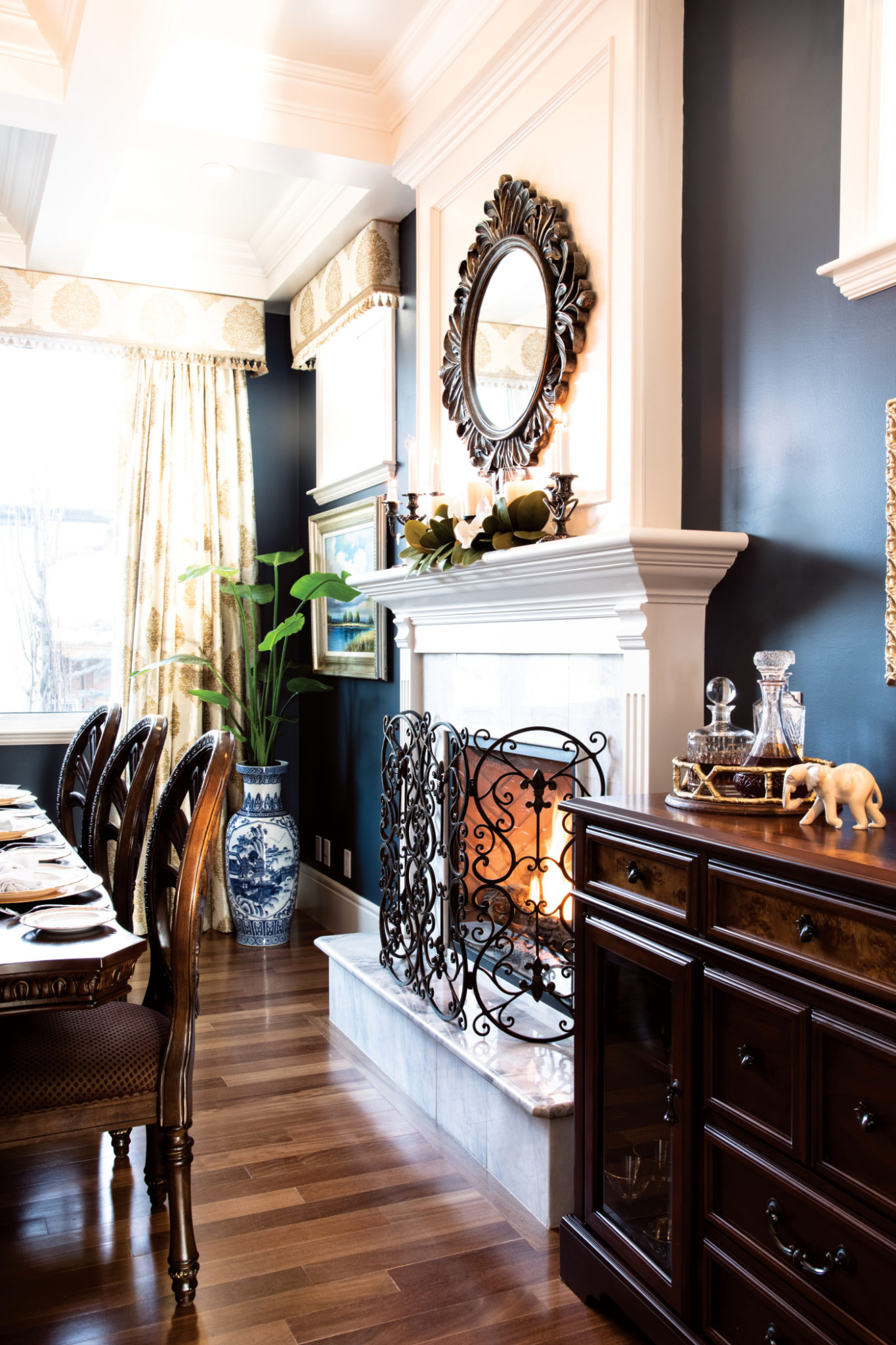 Closed off from the kitchen and living room, the formal dining room feels truly traditional.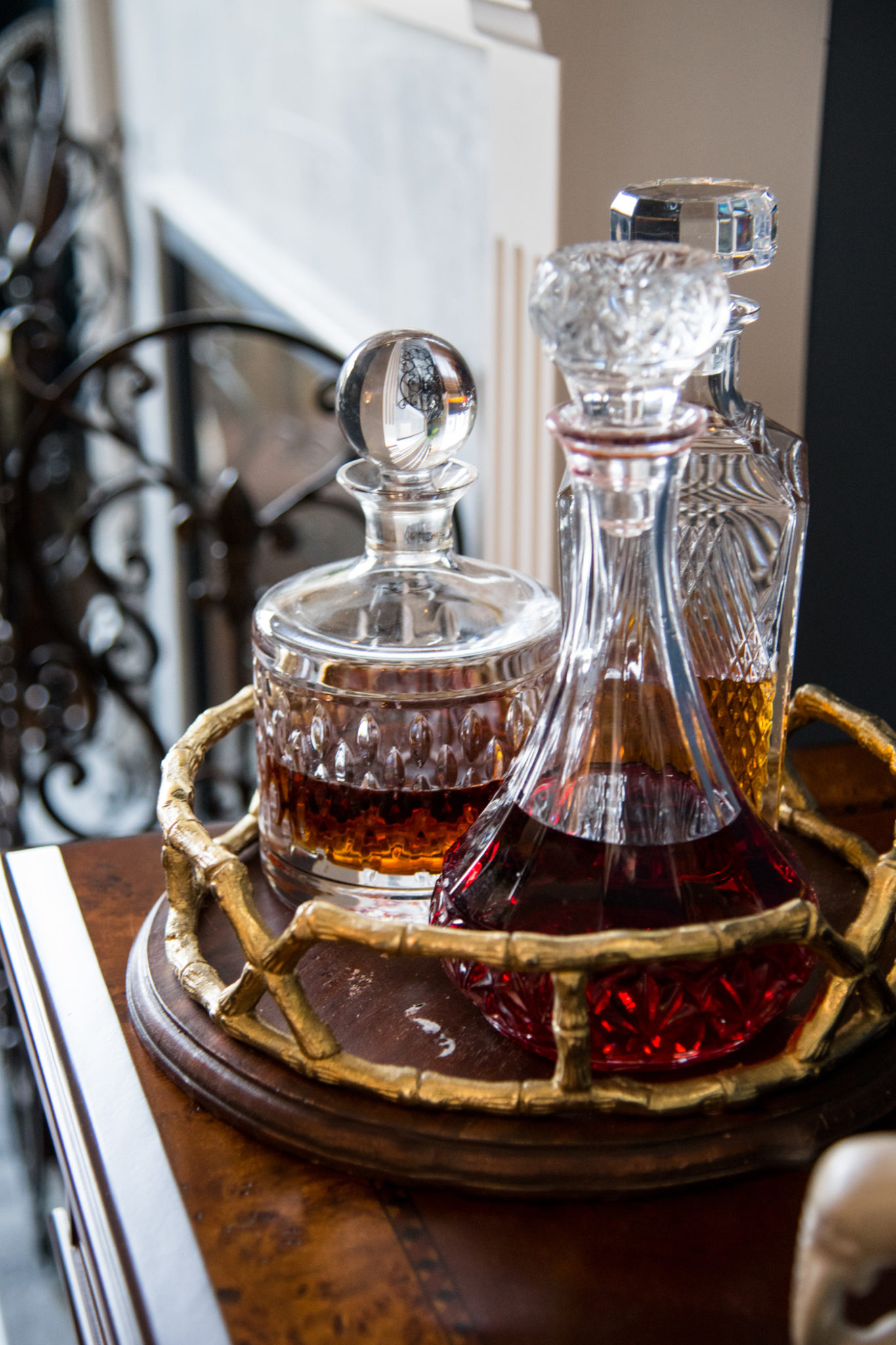 A collection of new and antique china vases in blue and white, some of which Maggie Keeper inherited from her mother, can be spotted throughout the house.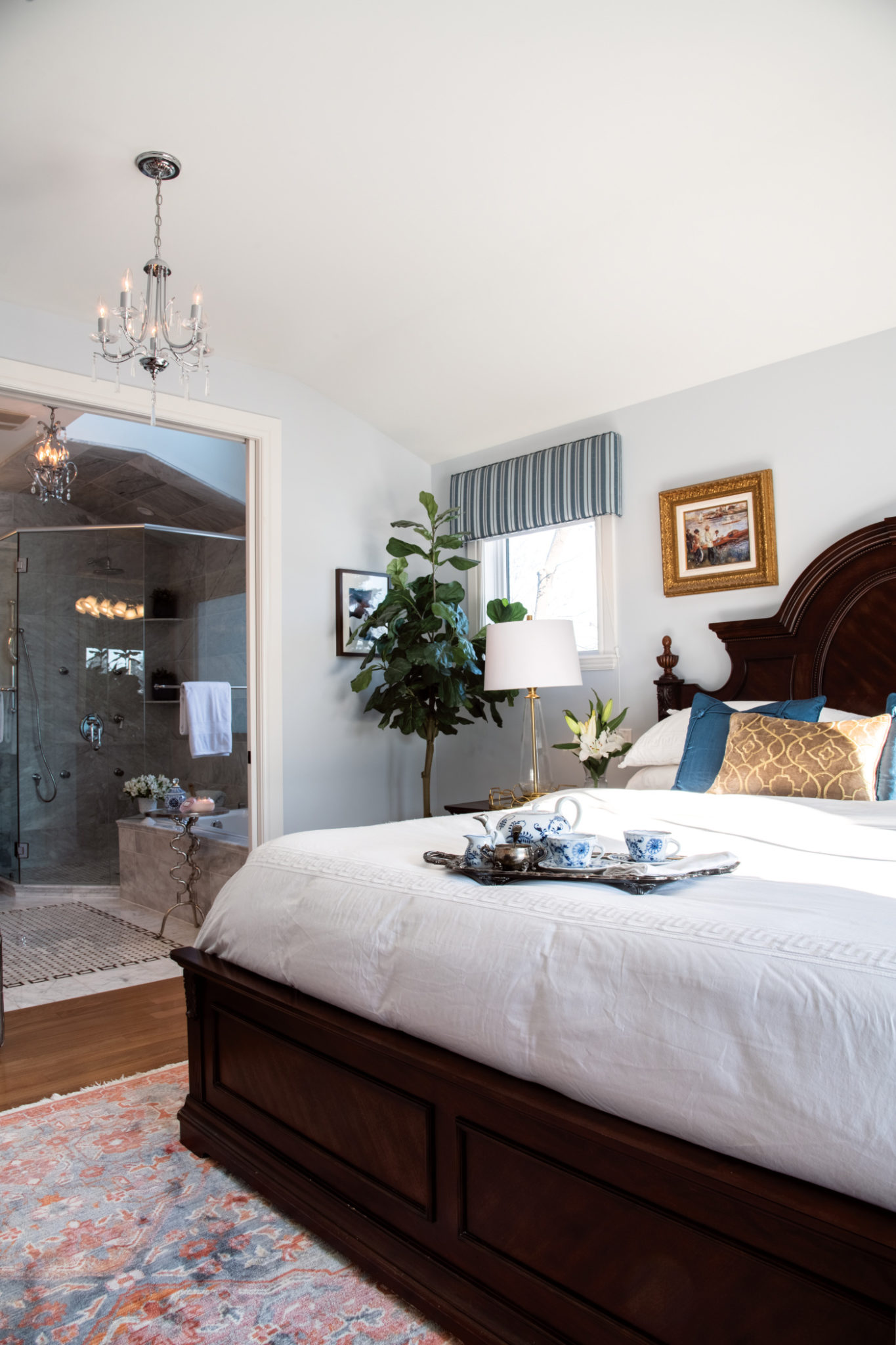 The main bedroom and ensuite bathroom are comforting spaces, serving as an escape for the homeowners from their busy lives.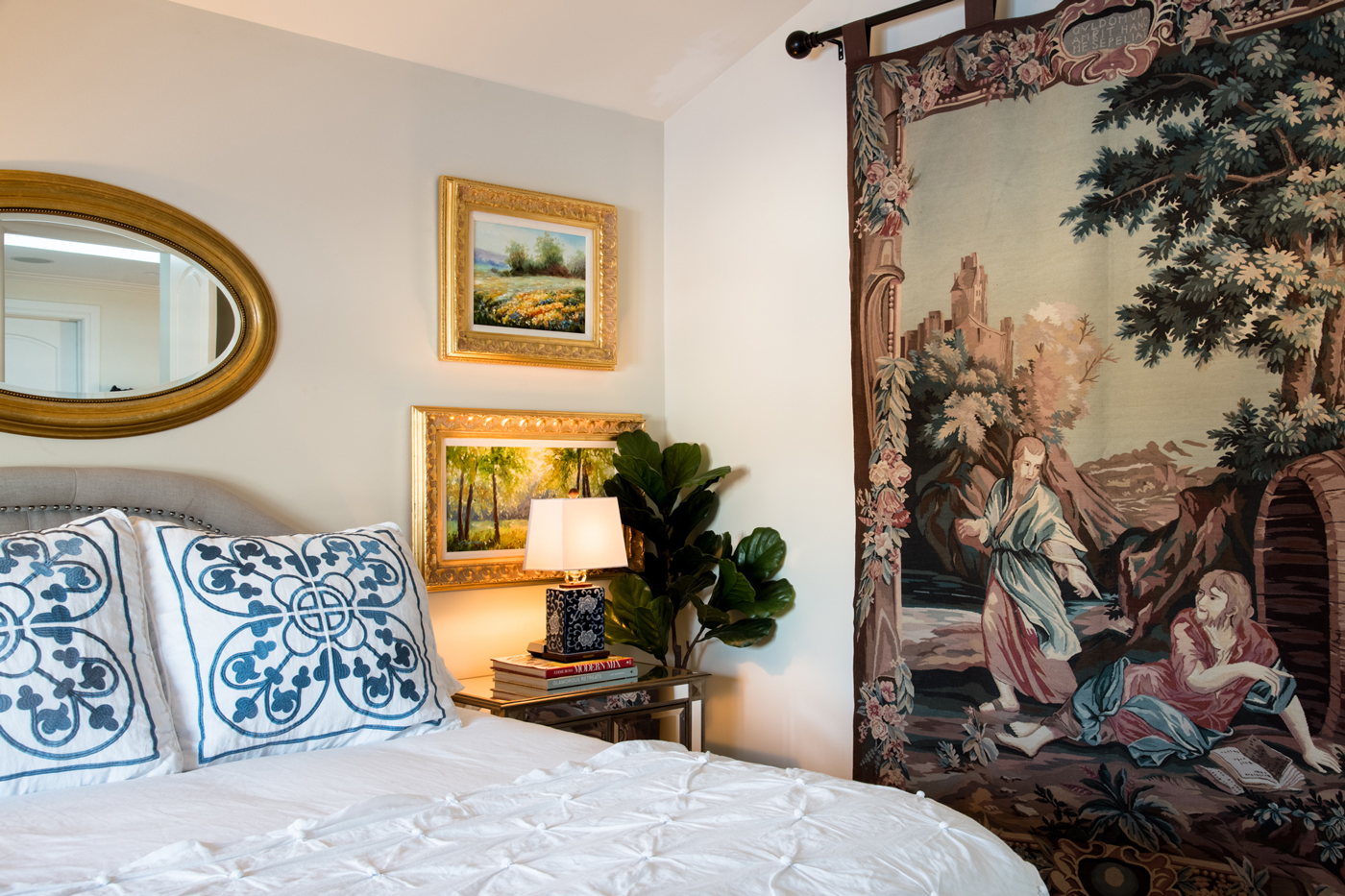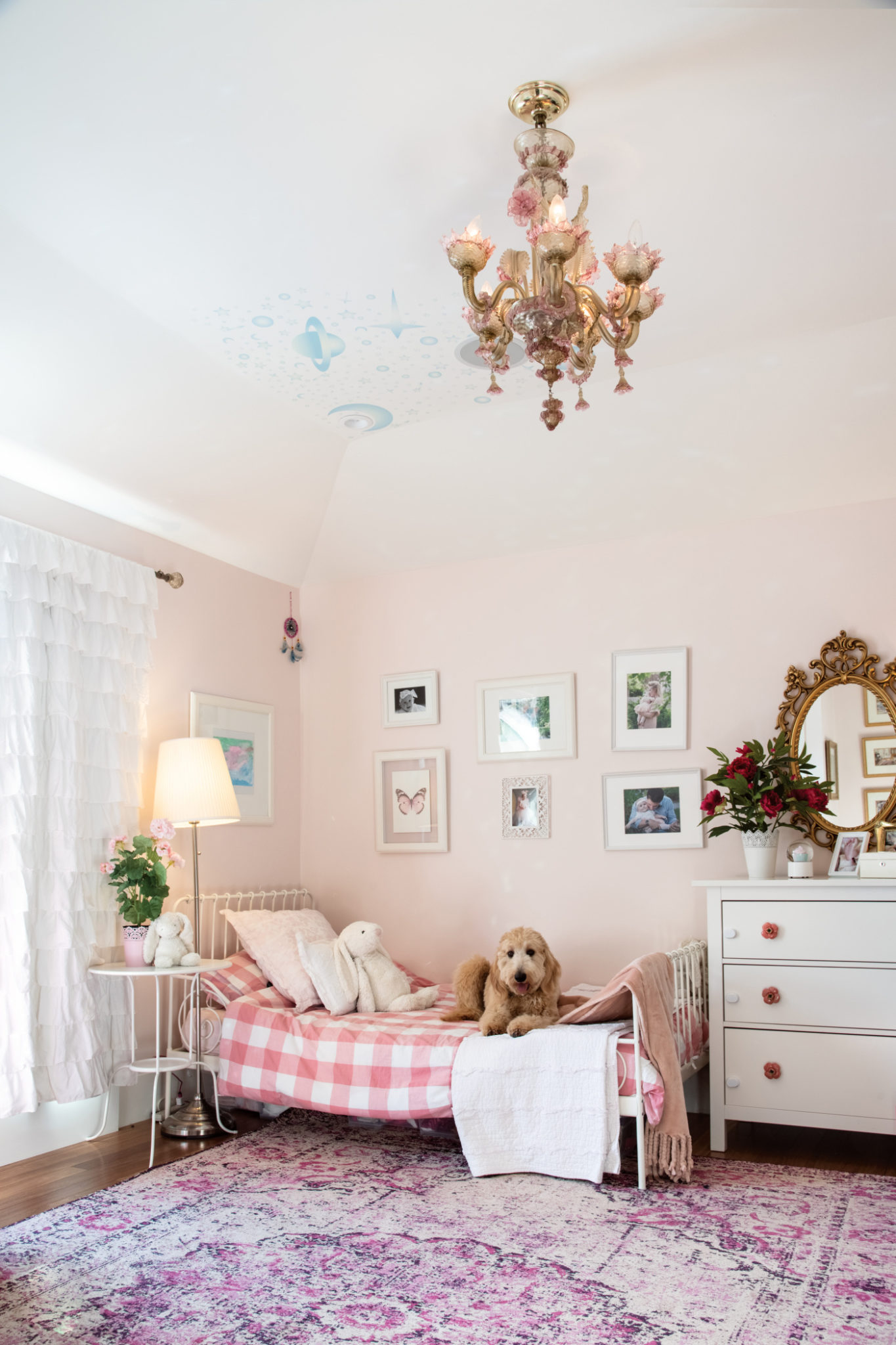 A pink and gold chandelier makes a bedroom fit for a princess.