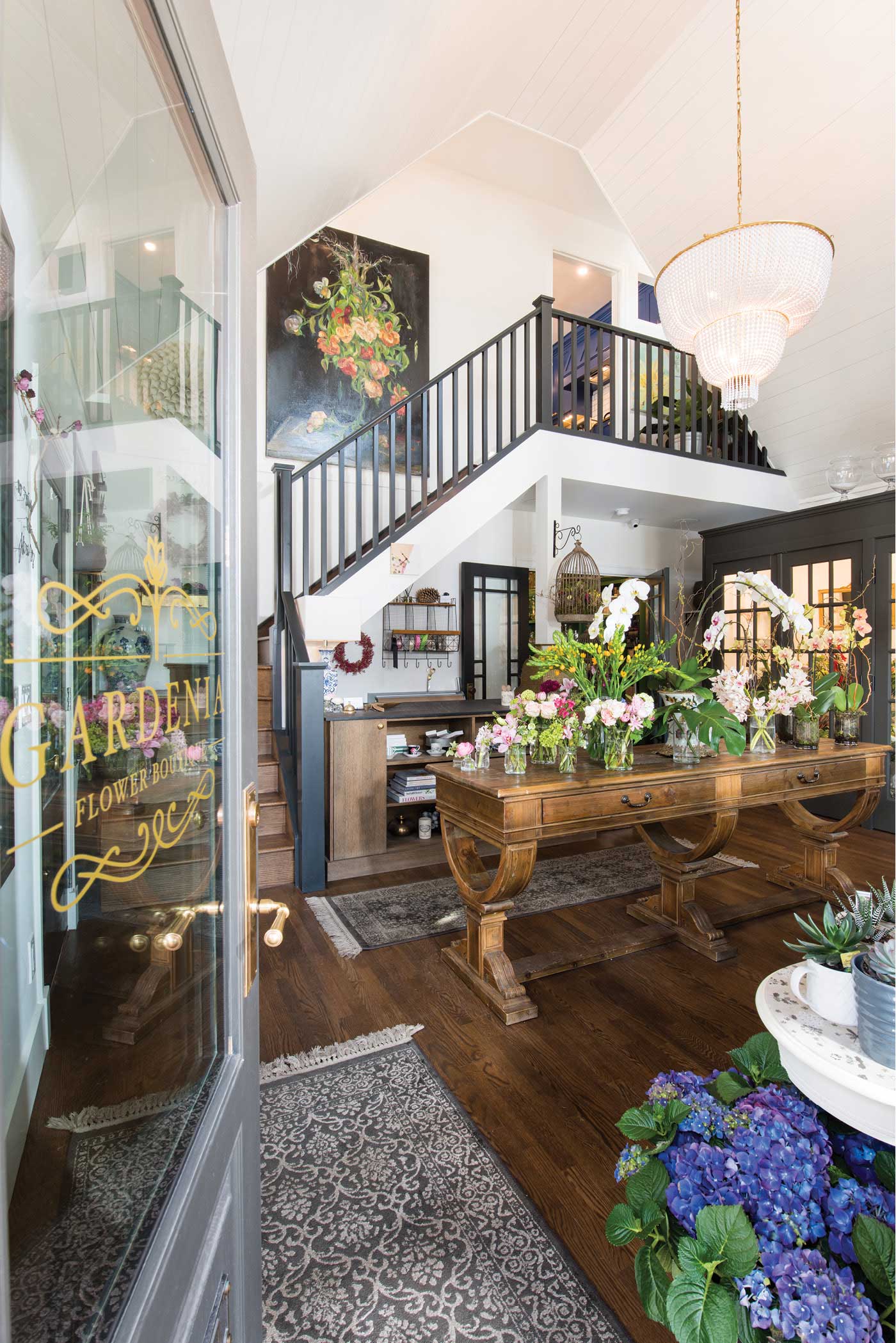 Rod Leonard of Leonard Development Group has nearly 25 years of experience as a homebuilder and interior designer. But when it came to transforming a Marda Loop bungalow into a live-work space for his mother Pamela, a florist and co-owner of the family-run business Gardenia Flower Boutique, there were unique challenges neither Leonard nor his business partner and husband Kale Bandura had encountered before. "We originally just wanted to open a flower shop with a live-work space for mom," Leonard says (he and Bandura are also partners in Gardenia). "But [the City's regulations mean] you can't do a live-work space in a family house — you can only do it in multifamily. So we had to turn it into a three-plex."
To create enough room for three apartment suites and the flower shop, Leonard and Bandura had to add more square footage, so they removed the roof and added a second storey. They then built a detached suite in the backyard that is currently being used as an office and also a downstairs Airbnb suite designed to meet the City's strict building guidelines. The process took six months of long hours and hard work — even for the design-savvy couple — but Leonard says it was worth it to preserve the original home, which was integral to their vision. "If you can keep an old character home that has been around for over a hundred years and repurpose it, I think it's way more interesting for the neighbourhood to have a mix of new and old," he says.
This philosophy of balancing modern and vintage carries through the redesign, not only in the building itself but in the decor choices. On the main floor, the boutique's white walls and charcoal accents provide a neutral canvas for the flowers that cover nearly every surface, even bursting from birdcages. A chandelier strung with white beads hangs from the vaulted farmhouse-style ceiling, lending an antique warmth. Pamela does her flower arranging in the workroom at the back of the shop, a space with an unexpected splash of colour: Leonard and Bandura chose to accent the shelving, tiles and wallpaper in shades of green and added a large antique gilded mirror for an effect that is both rustic and regal.
"We wanted it to feel like a tiny little flower shop in Europe," Leonard says.
Bandura agrees: "That's kind of what inspired it all," he says, "and it's carried through the vaulted ceiling, the workroom, the wallpaper and the colour scheme. That was the goal — to be kind of French-country."
The upstairs apartment features a modern kitchen highlighted with cornflower-blue cabinetry, gold drawer-pulls and old-fashioned lighting. The home's original claw-foot bath is now in the upstairs apartment bathroom amidst monochromatic flooring of hexagon tiles that evoke the shape of flower petals. "We made this space a bit more country up here for mom because she has a more country style," Leonard says.
A garden patio leads to the backyard office-suite that Leonard says they designed to look more contemporary. The detached building is small, but the space is used thoughtfully: there is no wasted space, yet it doesn't feel crowded. White walls lend airiness and the furniture Leonard and Bandura selected is understated, but functional. Even with a full kitchen and dining nook, the suite still feels spacious. Leonard had the sliding door custom-built, but the original frosted window panes hint at the property's signature vintage appeal. "It adds character that you just can't replicate with a new house," he says.
The build was indeed an undertaking, but Leonard and Bandura's care and attention to detail certainly paid off — the shop, apartment and office spaces each feel individual yet cohesive, and the effort to maintain the original home has created a palpably warm atmosphere. "Because it has such a charm, I think a lot of people do feel really comforted when they come in," Bandura says. "There's so much more to take in than just what we're actually selling."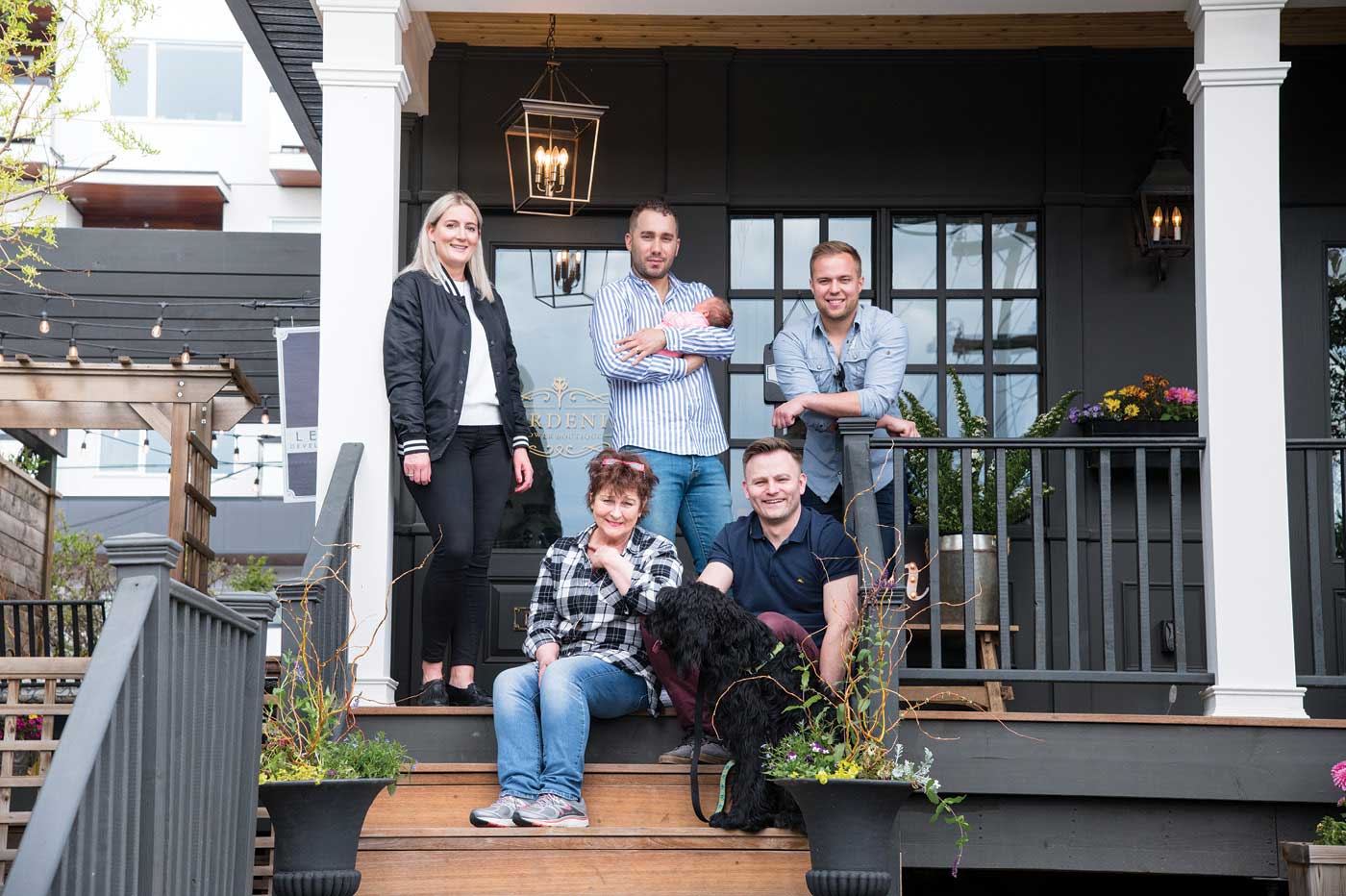 How to Create a French Country Look
Tips from Rod Leonard and Kale Bandura on creating a look that feels country, not kitschy.
Juxtapose colours and textures. Light, bright walls paired with dark moldings are a signature of this style, which embraces both rustic woodwork and delicate elements such as floral wallpaper. Don't be afraid to combine soft and bold colours from the same palette to create depth and texture.
Add rustic touches. Farmhouse sinks, claw-foot baths and hexagonal tiles easily lend a hint of country charm to bathrooms and kitchens. Likewise, shiplap ceilings can continue the theme throughout the rest of the house.
Use antiques or antique-looking statement pieces to add character. Create charming focal points with furniture featuring distressed wood, such as the bench in the centre of Gardenia Flower Boutique, and vintage accents like the large gilded mirror and chandelier.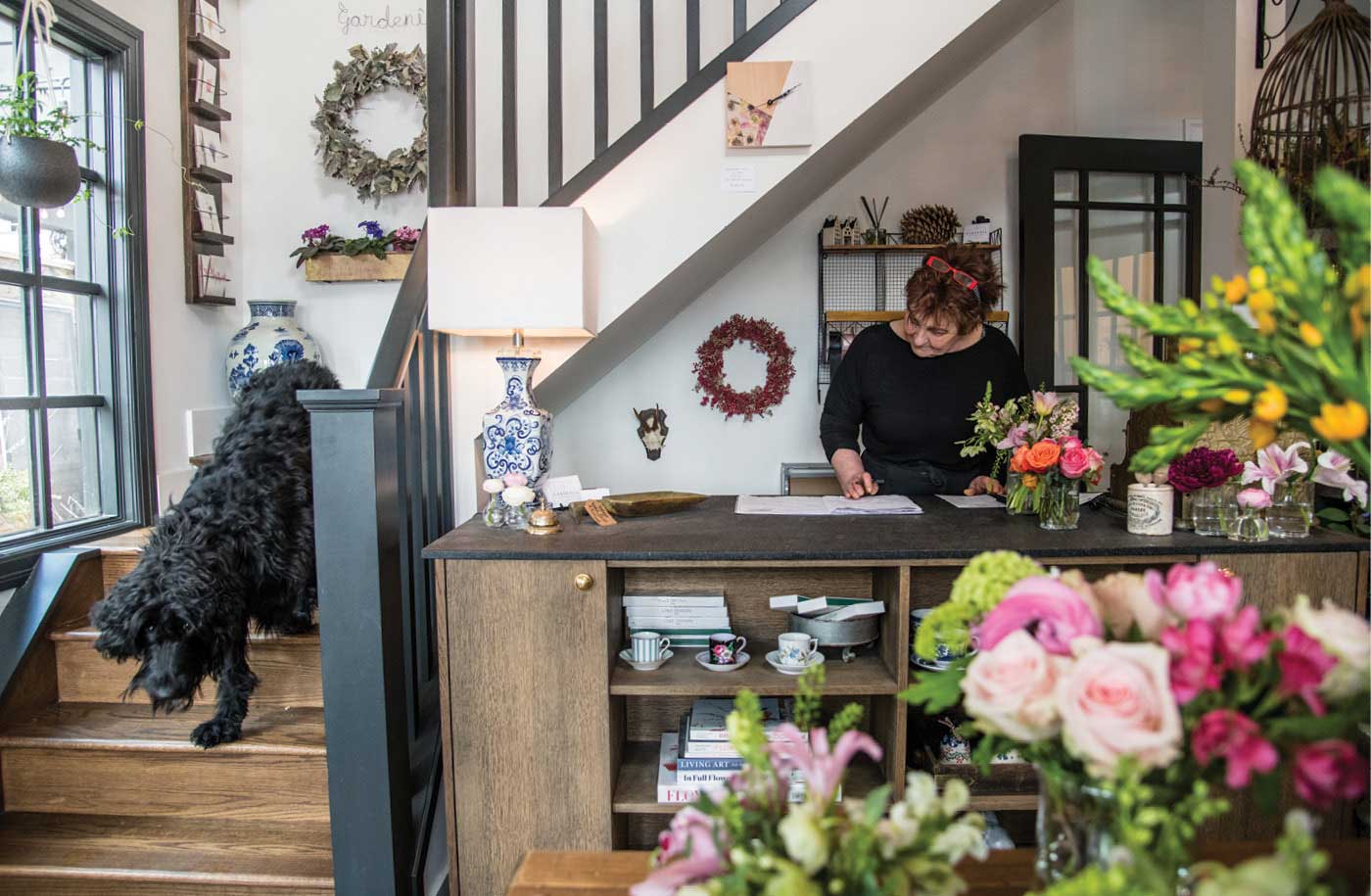 The main floor of this home in Marda Loop has been transformed into a flower boutique styled with vintage accents.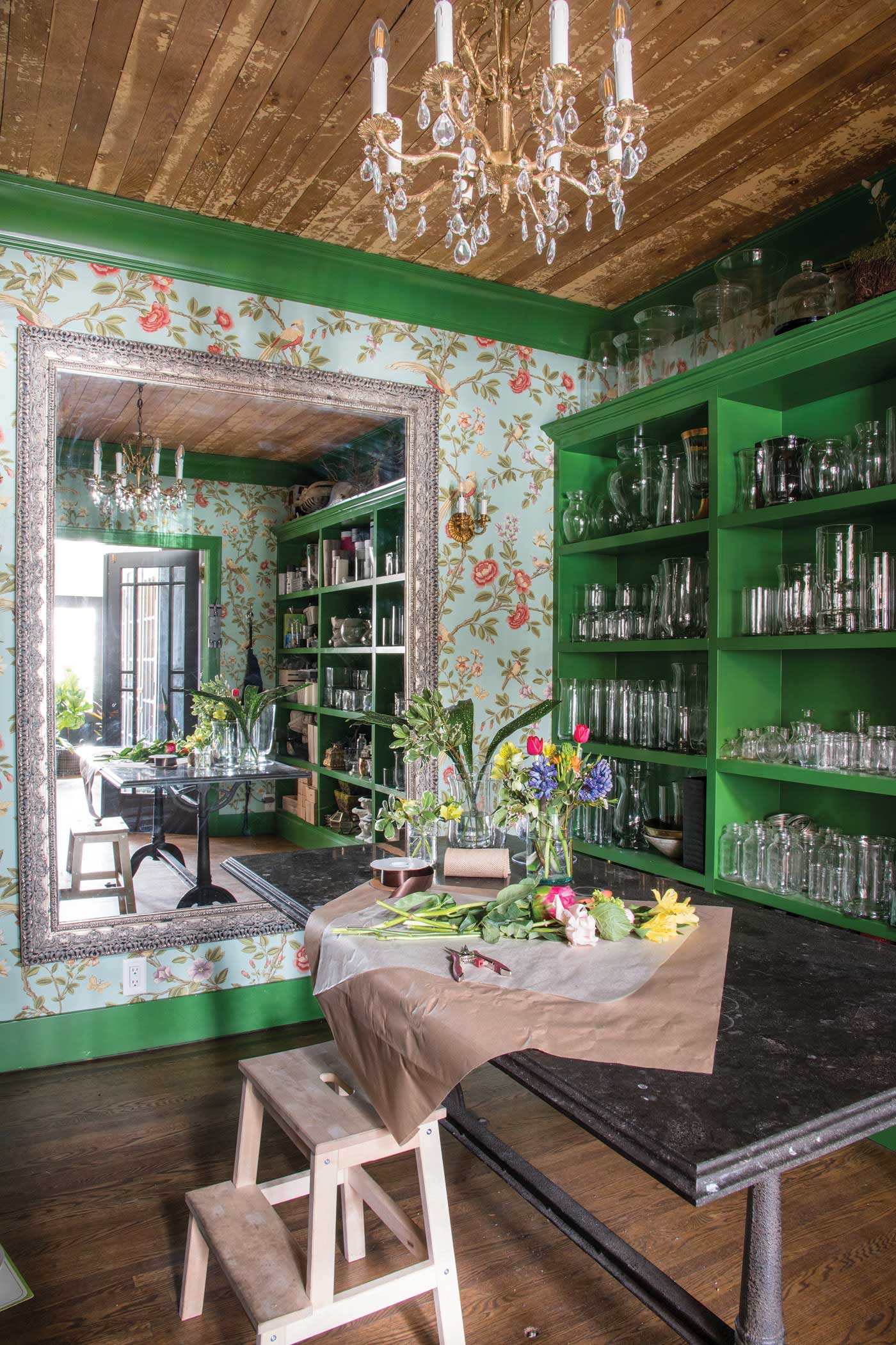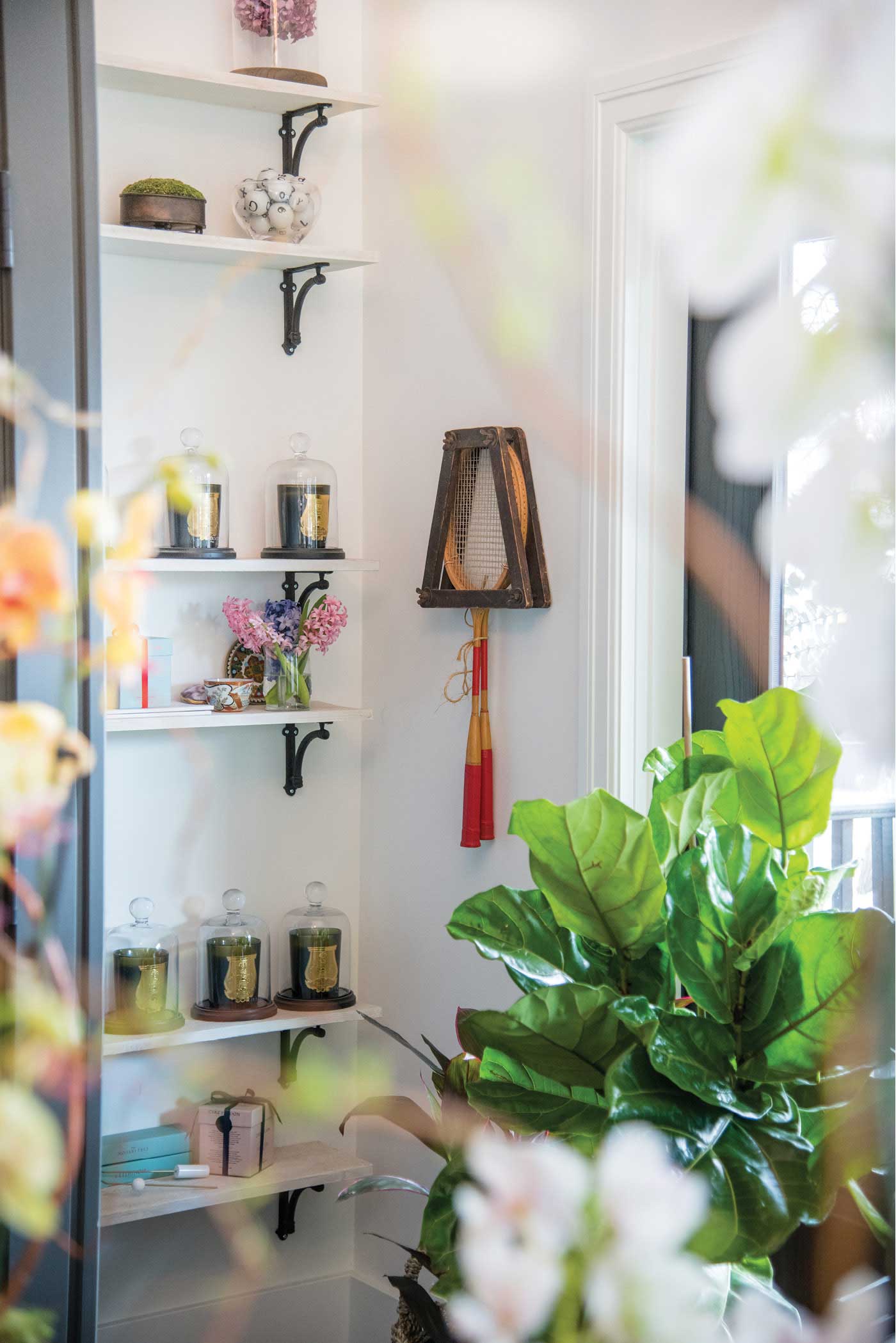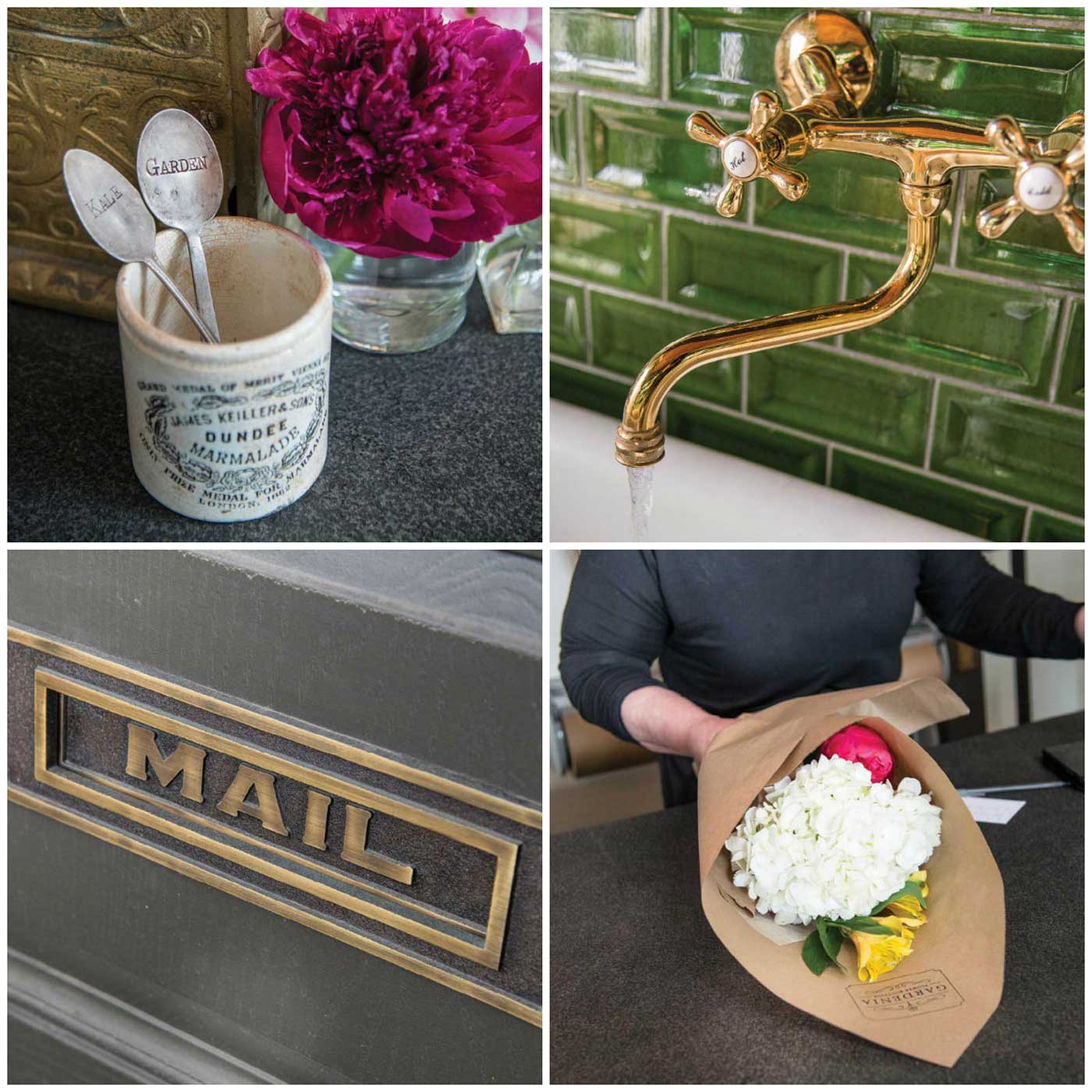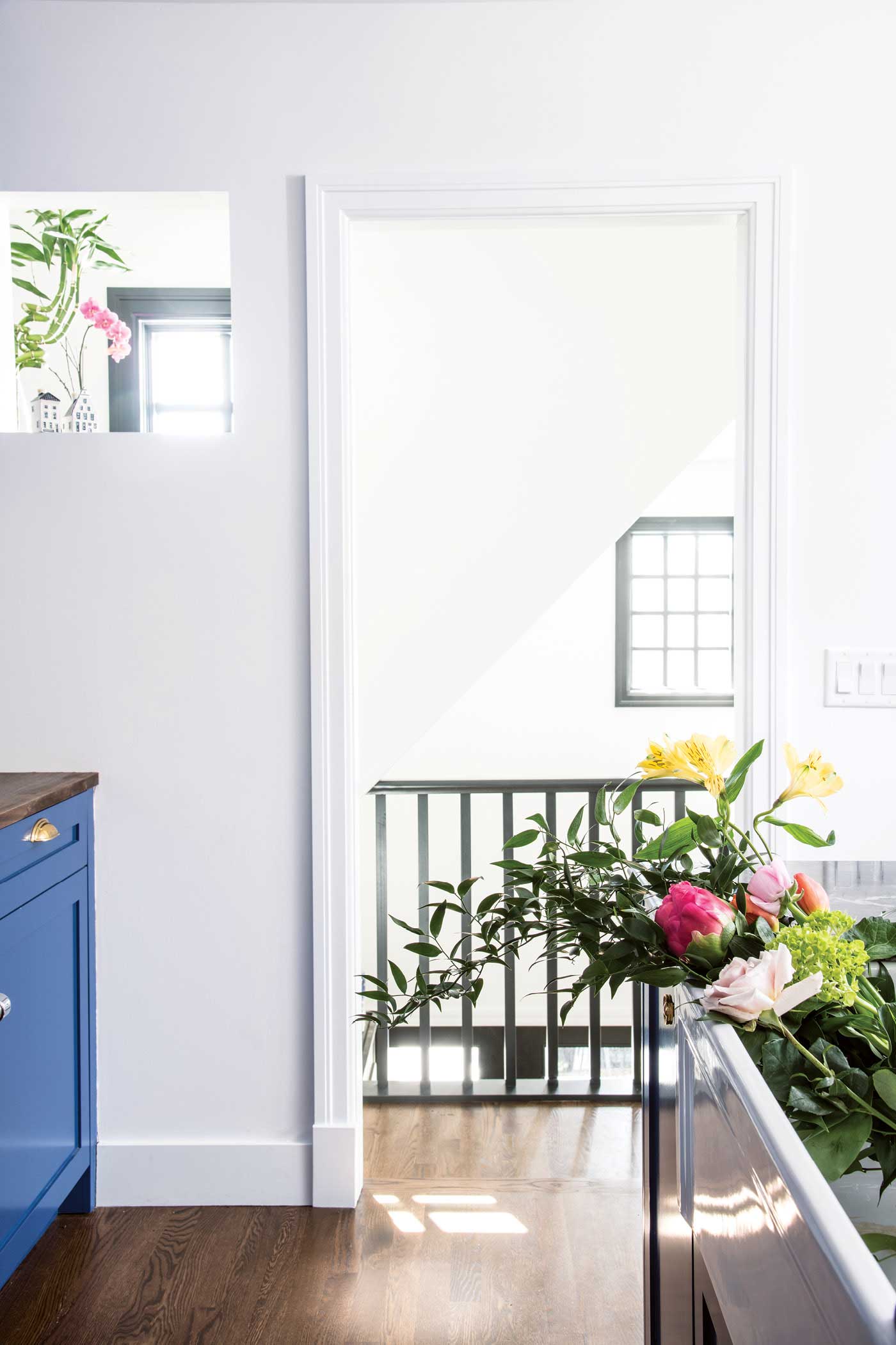 A staircase connects the upstairs home of florist Pamela Leonard to her main-floor workplace, Gardenia Flower Boutique. The open doorway is a deliberate choice to allow the fragrance of the flowers to drift upstairs.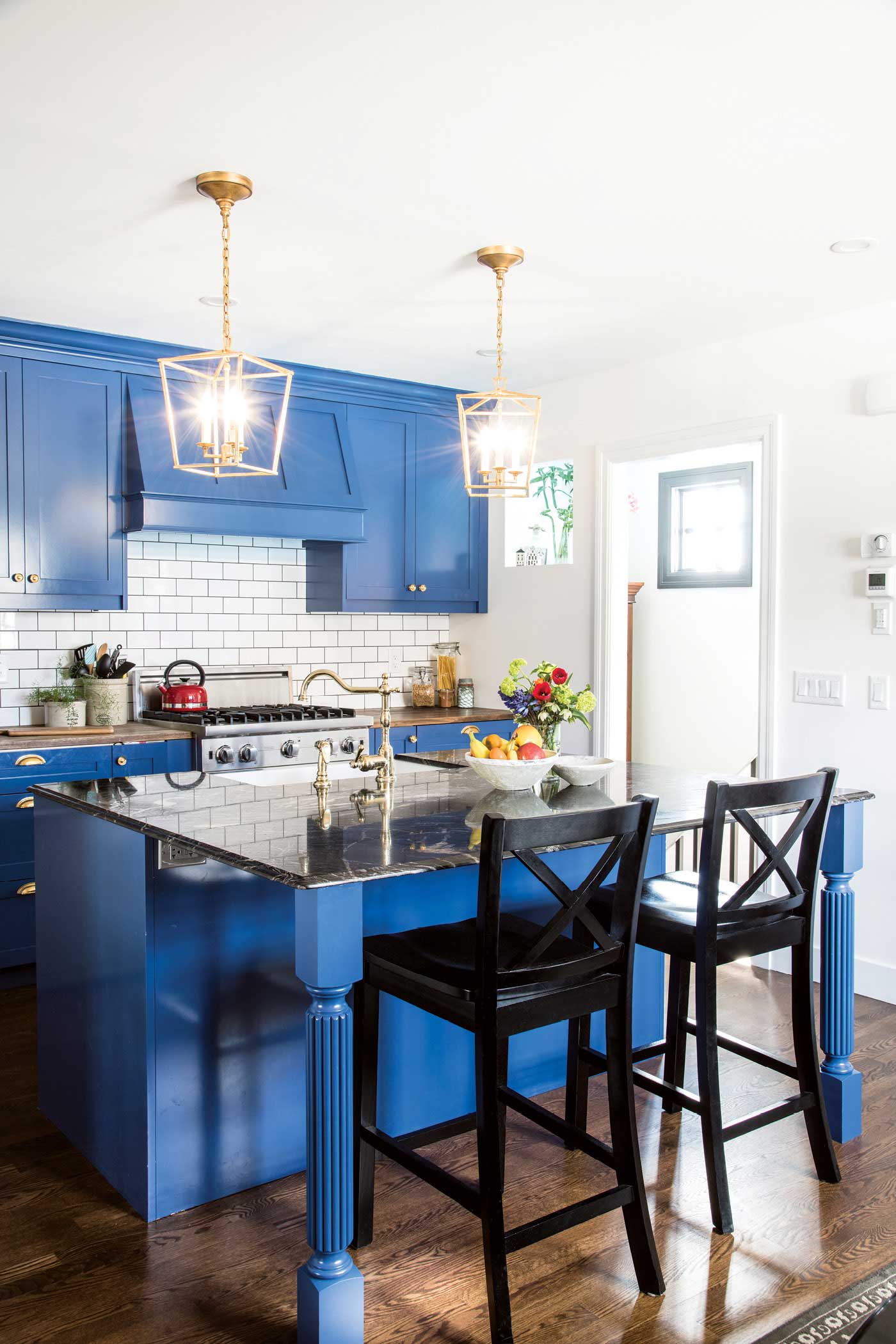 Custom cabinetry painted a vibrant blue evokes a farmhouse feel in the upstairs apartment kitchen.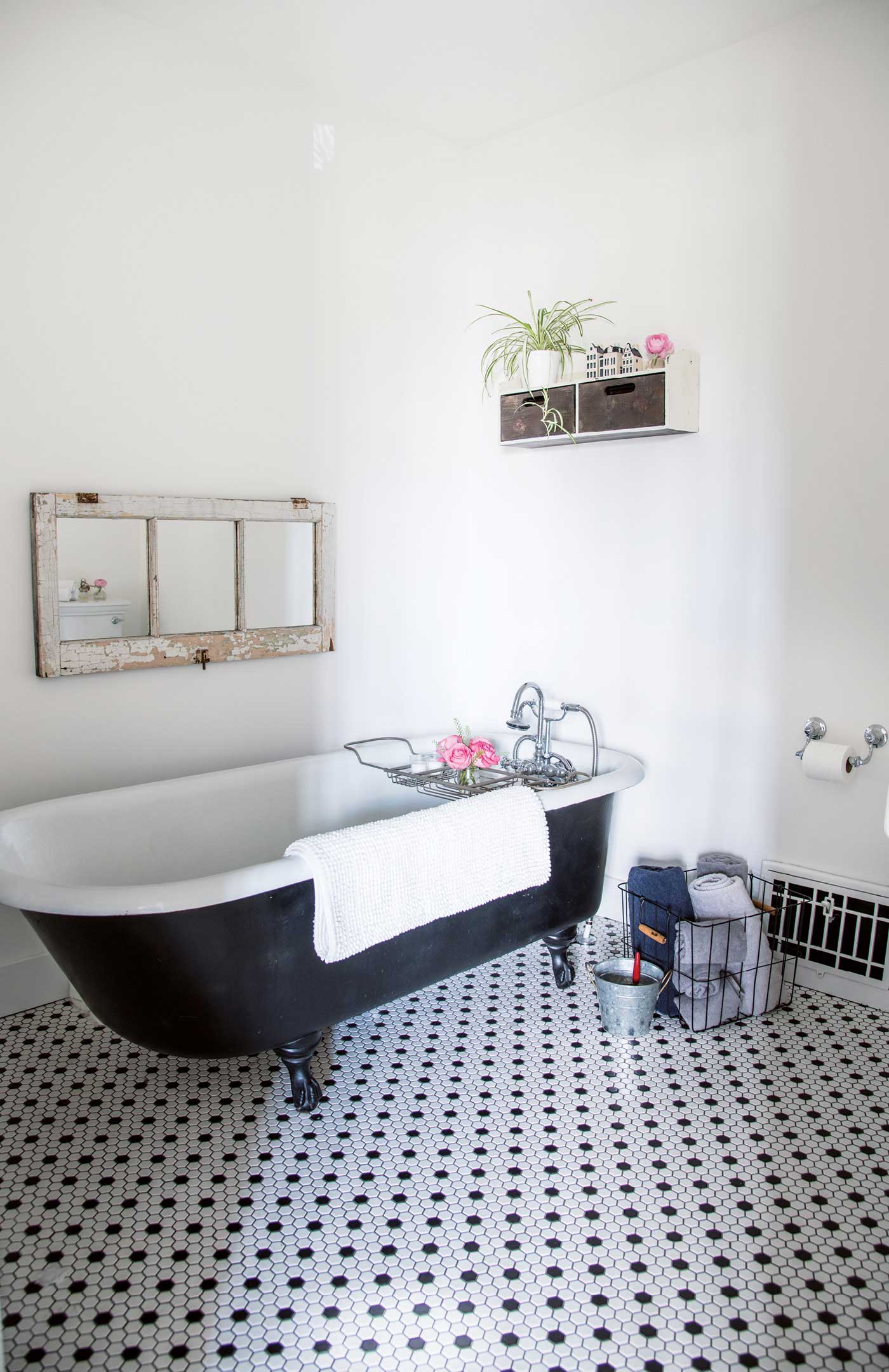 A claw-foot bathtub enhances the apartment's country aesthetic while providing a statement piece. It is one of several elements that designers Leonard and Bandura preserved from the original home.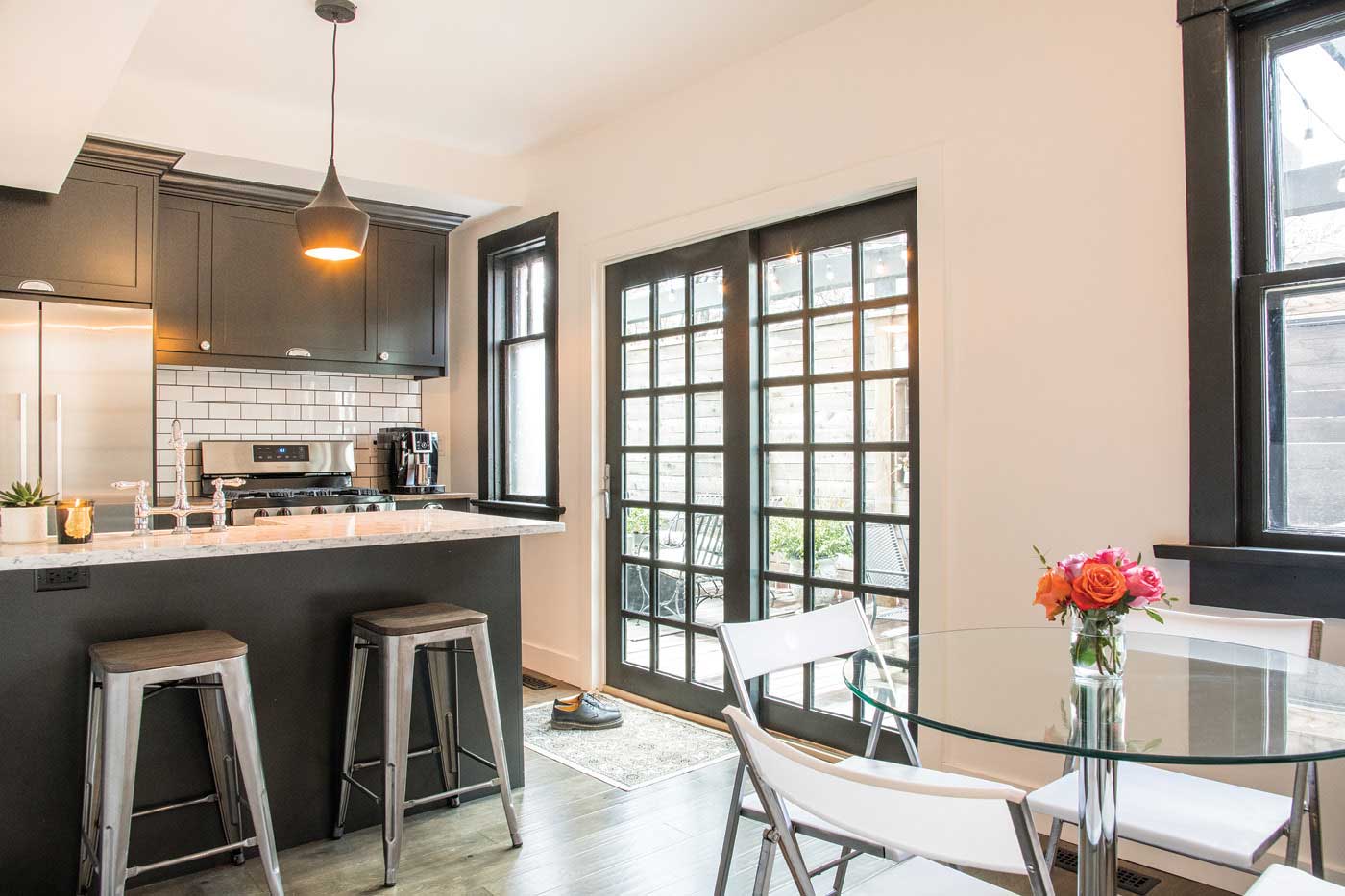 The suite in the backyard, currently being used as an office, is decidedly modern and incorporates a full kitchen with industrial bar stools, chrome appliances and contemporary lighting.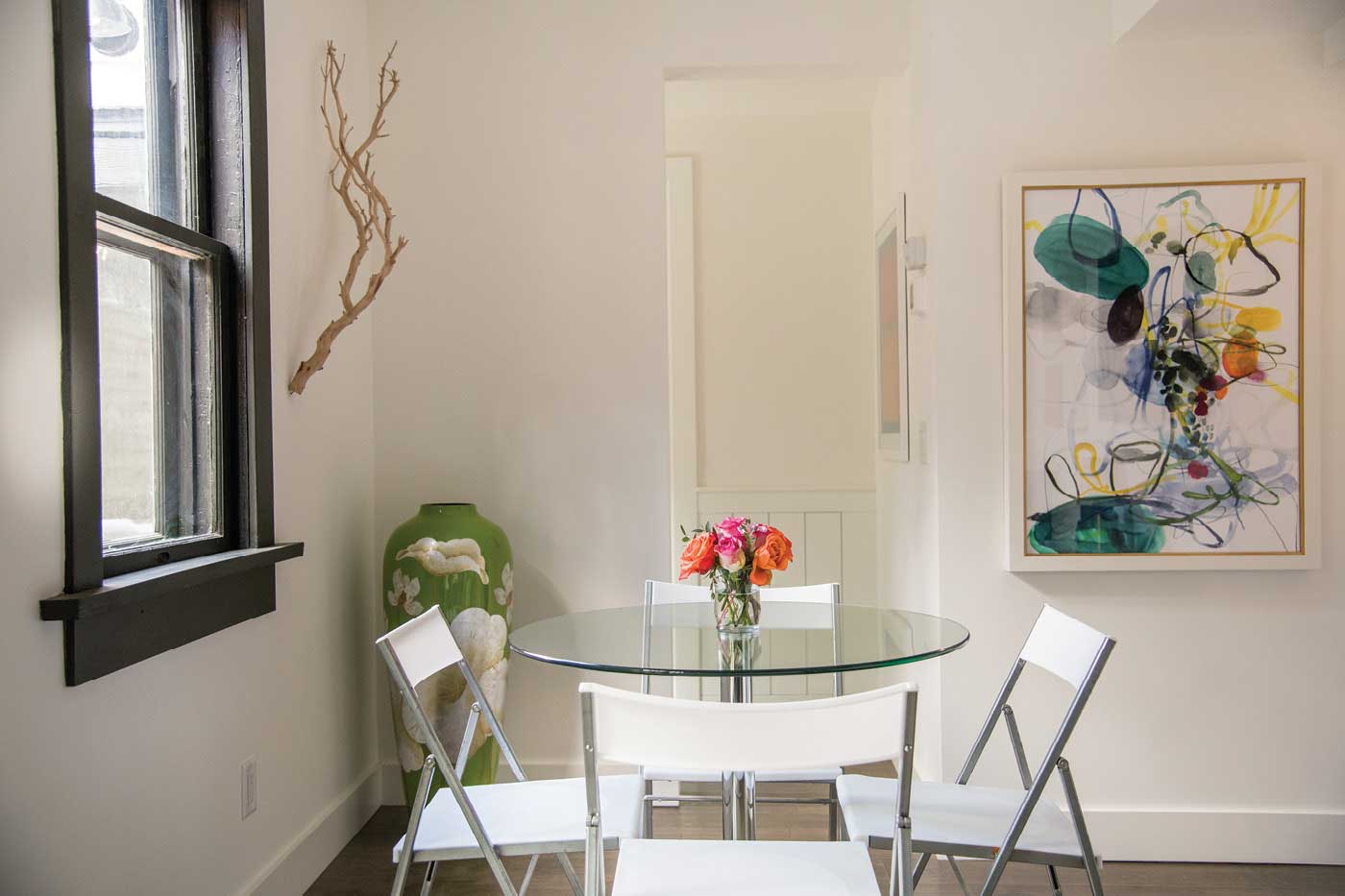 A small table by a window in the office-suite kitchen provides a sunny place to take a break, while colourful modern art contrasts with the neutral colour scheme.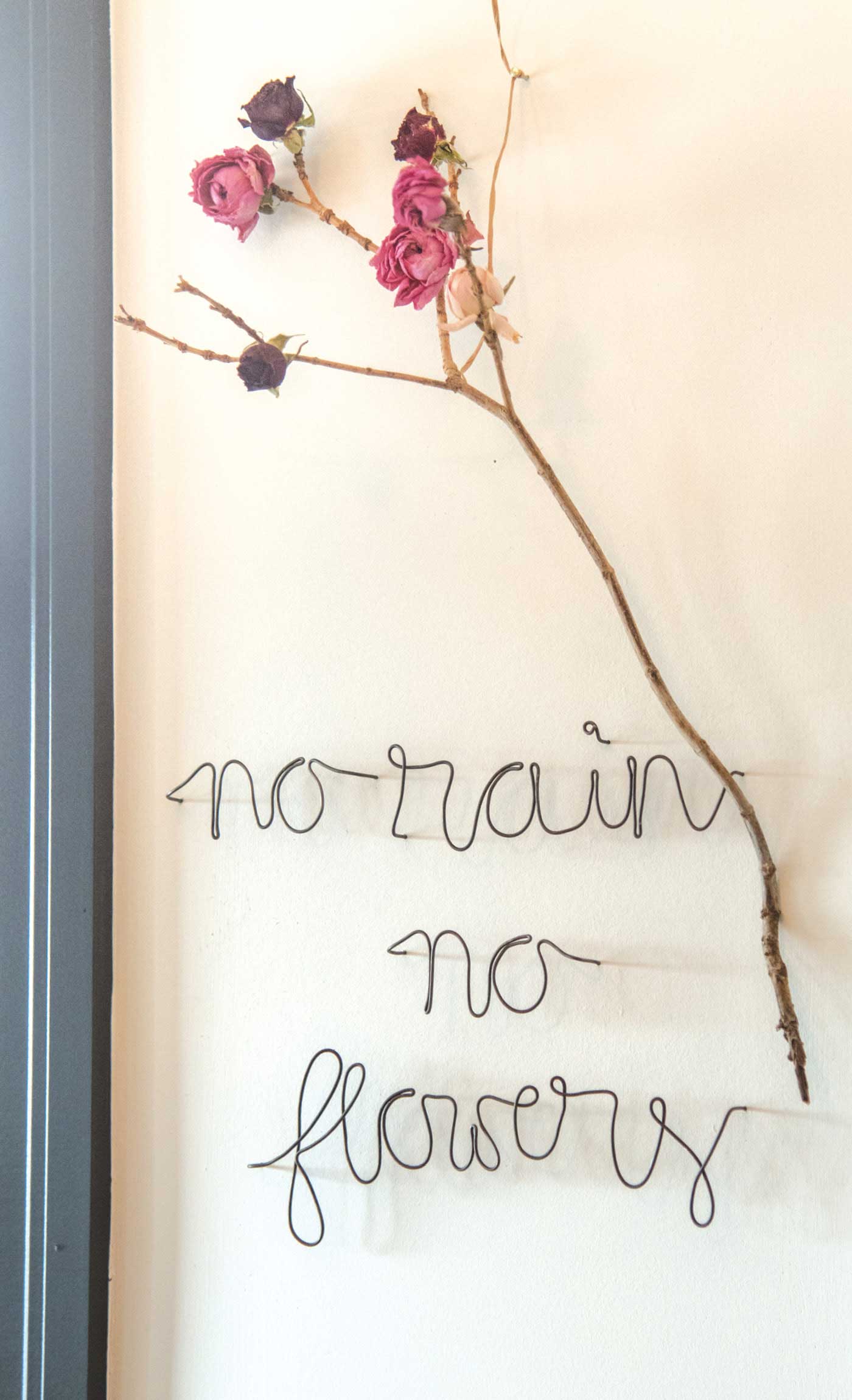 A wire decor piece created by designer and flower shop co-owner Rod Leonard is anchored directly into the wall.