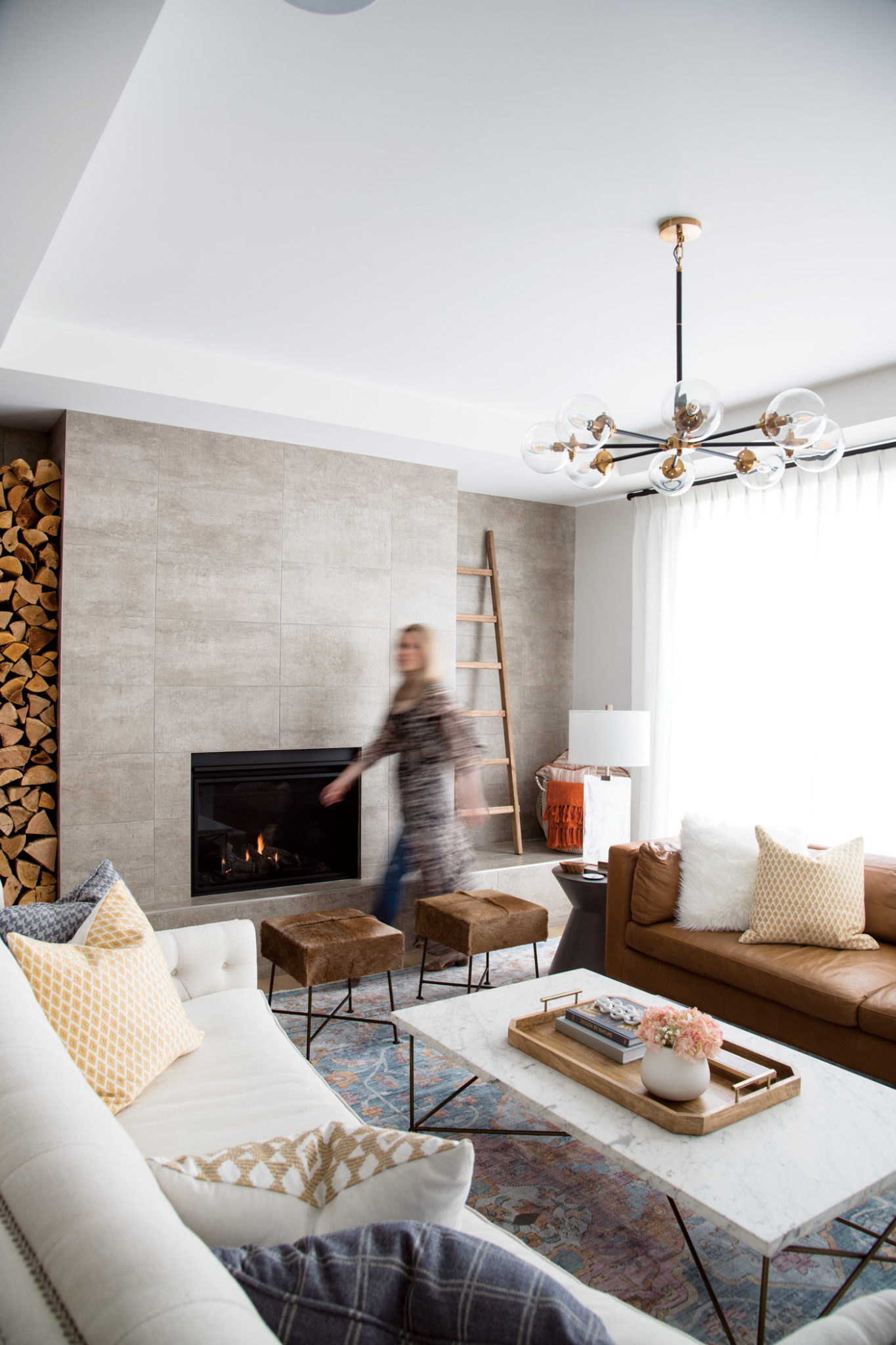 Katie and Andre Rioux first discovered the Magnolia modern farmhouse by Trickle Creek Custom Homes as a show home. Katie thought the entire home was beautiful, but the dealmaker for her was an upper-level loft space that she envisioned turning into an office for her interior-design business, DWK Interiors. The married couple enlisted Trickle Creek to build them a Magnolia home in Altadore. Naturally, Katie and her team designed the interior, with all furniture and decor sourced from DWK Interiors' suppliers. As a result, the home now functions as show space for DWK clients.
The modern-farmhouse aesthetic is currently very popular — Katie attributes that to HGTV shows such as Fixer Upper, where it's the preferred style of celebrity renovators Chip and Joanna Gaines. The look combines the clean lines and sleek design of modernism with some industrial touches and the cozy, approachable and intimate feel of a farmhouse. It was the perfect combination for Katie and Andre, whose favourite styles are modern and rustic, respectively. "The modern farmhouse felt like a perfect complement for us because we get a mix of both," Katie says.
The two couches in the main living room are an embodiment of this combination of styles: the cognac-coloured leather couch, found at a Las Vegas market, represents Andre's style, while the cream tufted couch matches Katie's. "We call them his and hers sofas," she says, laughing.
Every area of the home has natural light shining in through large windows. This is even true of the entrance, where the door and adjacent windows were intentionally left uncovered so guests can peer in and experience the home even before they come inside. "We just wanted people to feel like they were always welcome," Katie says.
In the main bedroom, soft light from the window illuminates the neutral tones of the room, and it's easy to envision enjoying a lazy Sunday lounging in bed. With the addition of blackout blinds and drapery and a barn door that closes off the ensuite bathroom, it's also the perfect place for an uninterrupted sleep.
In the ensuite, a floating tub and soft tones set the scene for relaxation. The clean lines of the cabinets and hardwood-look tile that flows uninterrupted through to the shower continue the use of modern and rustic elements found in each room.
The basement is where the home's industrial elements are most prominent. Katie had glass walls installed in the gym area to allow light from the windows to stream into the lounge and bar area. The wallpaper behind the television creates the look of an exposed foundation wall, while bold navy-blue cabinets and black subway tile in the entertaining space acknowledge Andre's Quebec City roots. (His wife refers to him as a "passionate Frenchman.")
Katie's DWK Interiors studio is ensconced in the loft space on the home's upper level. The DWK team often works and meets with clients here, just as Katie originally envisioned. Large windows on either side of the room give this space the most natural light of any room in the house, making it perfect for viewing fabric and colour samples. "I didn't want an office where it was cubicles and desks; I wanted it to feel inviting," she says.
Although it looks seamless now, deciding exactly how to design a living space, show space and office within one house certainly wasn't easy, even for a seasoned pro. "I would be lying if I said it wasn't stressful. I definitely lost some sleep over things like light fixtures," Katie says. "With this space I didn't really follow any rules. I feel like I broke every rule."
But there was one idea that contributed to making their home a truly wonderful space, she says, and it's one any homeowner can apply: "Create a space that you never want to leave."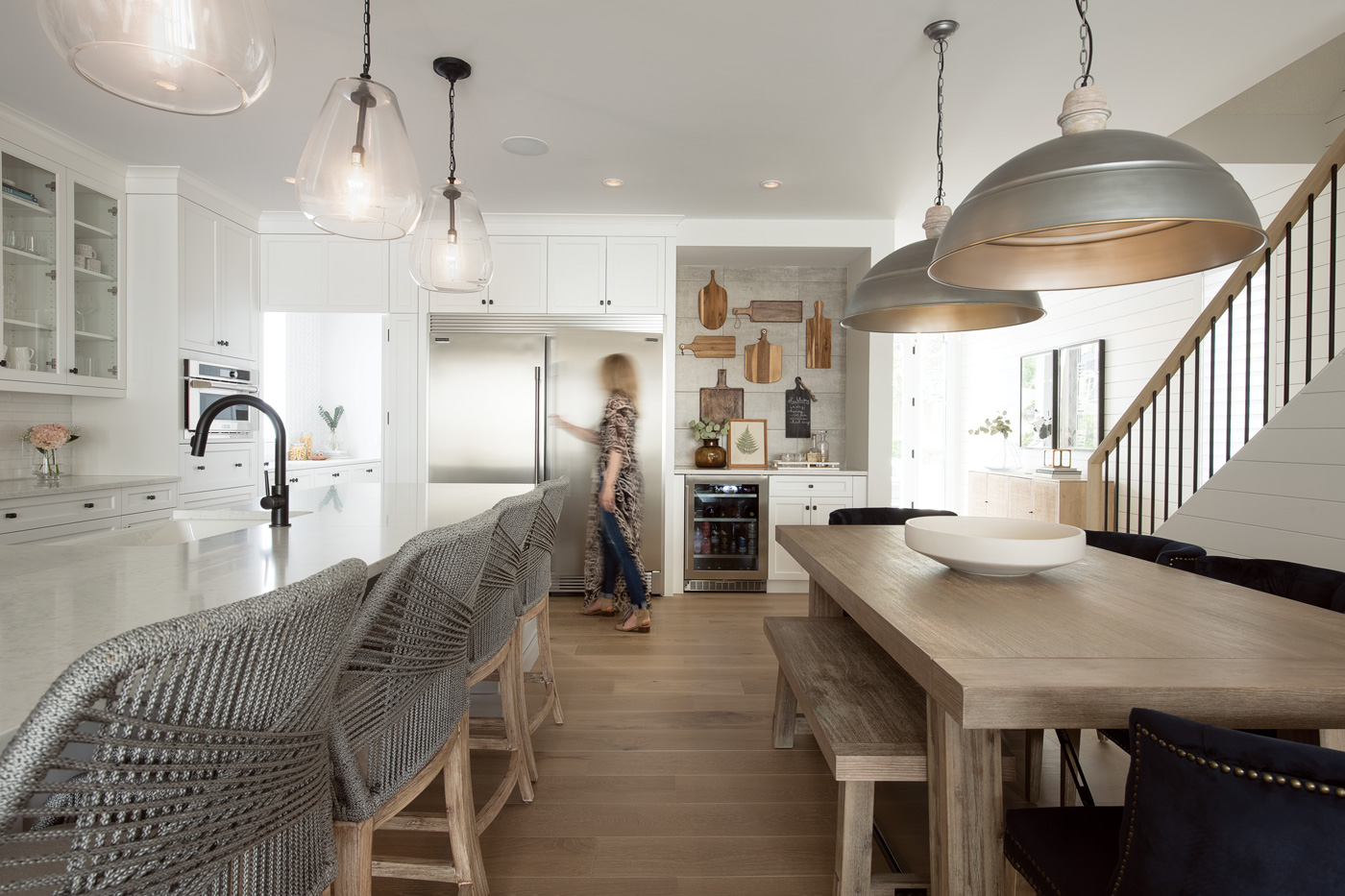 How to Focus your Design Choices
Styling a room — let alone an entire house — can be both exciting and daunting. Interior designer Katie Rioux shares her tried-and-true tips to streamline potential chaos.
Start with one thing you love. Rioux says the simplest way to envision a new space is to start with something that really clicks with you. "Every space in this house started with one piece that I loved," she says. From there, you can work around a statement piece, like a gorgeous couch or a unique wicker cabinet, and make the room fit it.
Think thematically. Don't overthink the theme of a space and overdo it. Instead, be inspired by design themes you love and choose a few pieces that fit that theme. "I knew I wanted to have in each space a modern element, a rustic element and an industrial element," Rioux says.
Design to reflect you. To make a house a home, incorporate pieces of yourself into the space, like colours you love. Rioux says she and her husband love navy blue, so that's why the bold decor colour is featured prominently in the basement. "Our whole previous house was navy blue, our wedding colours were navy blue."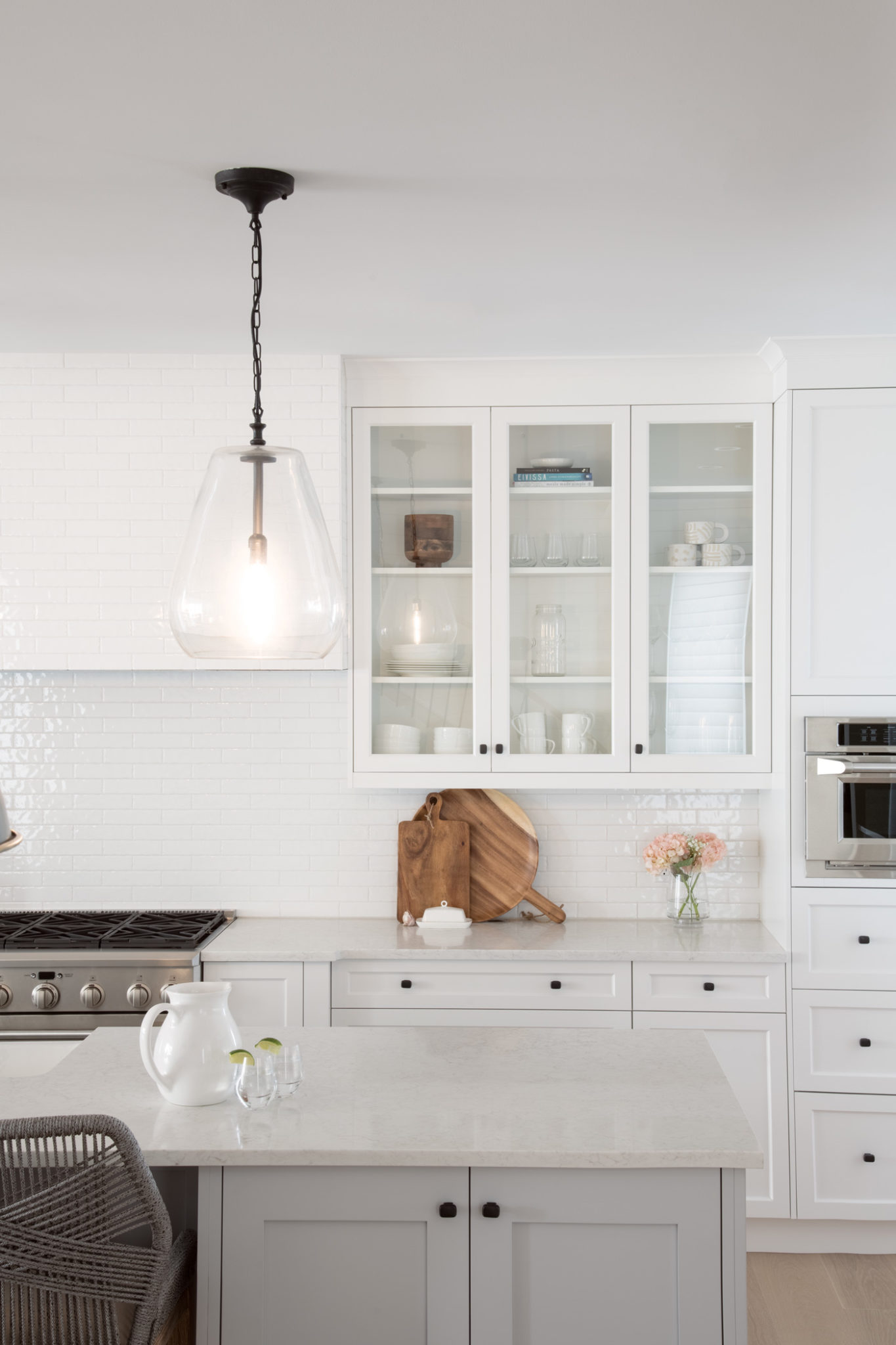 The kitchen's bright whites are paired with rustic elements such as glass-fronted cabinets and brick tiling for the backsplash.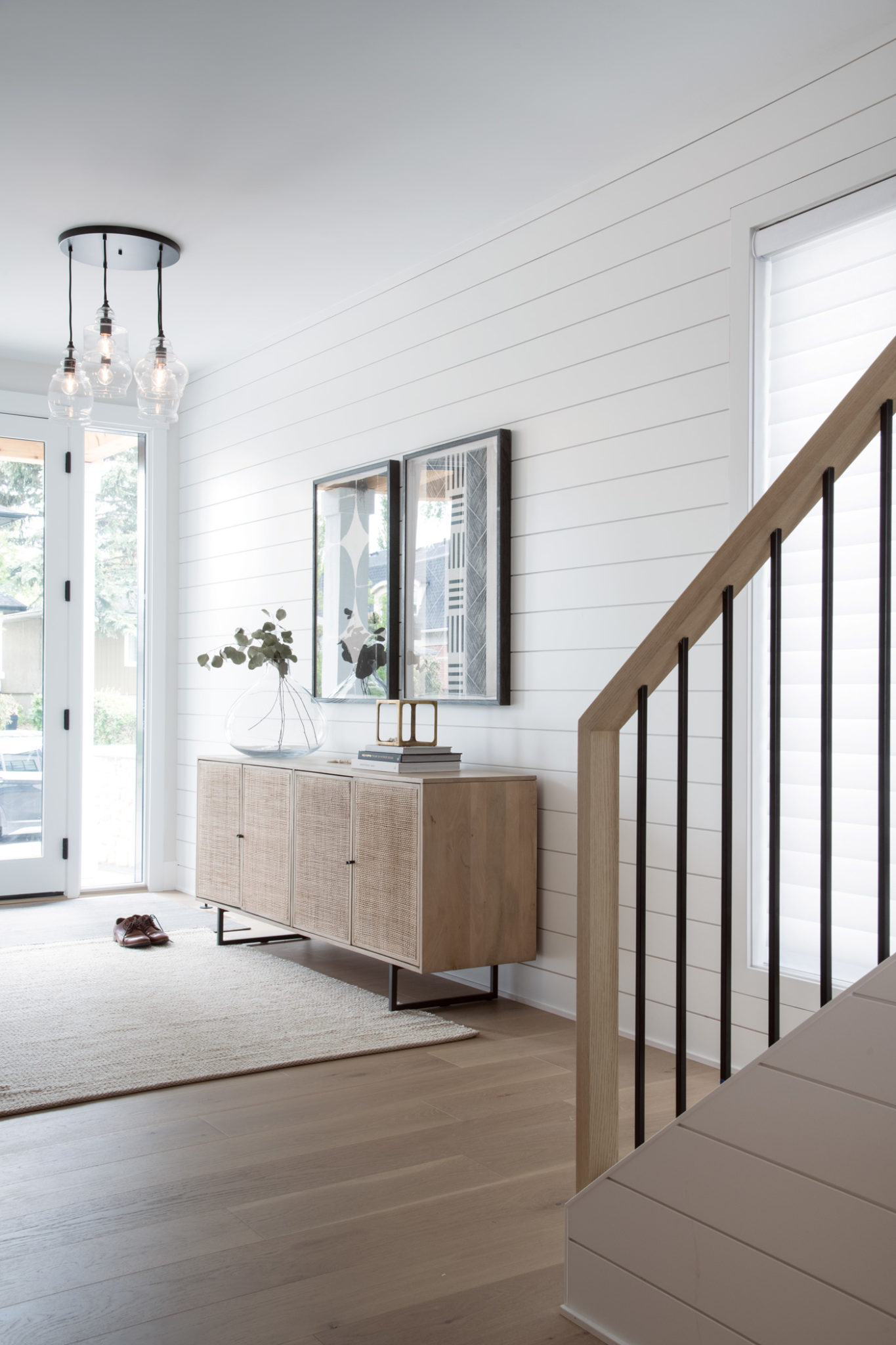 Windows left uncovered in the entrance area shed light on framed fabric artwork incorporating various patterns in the home.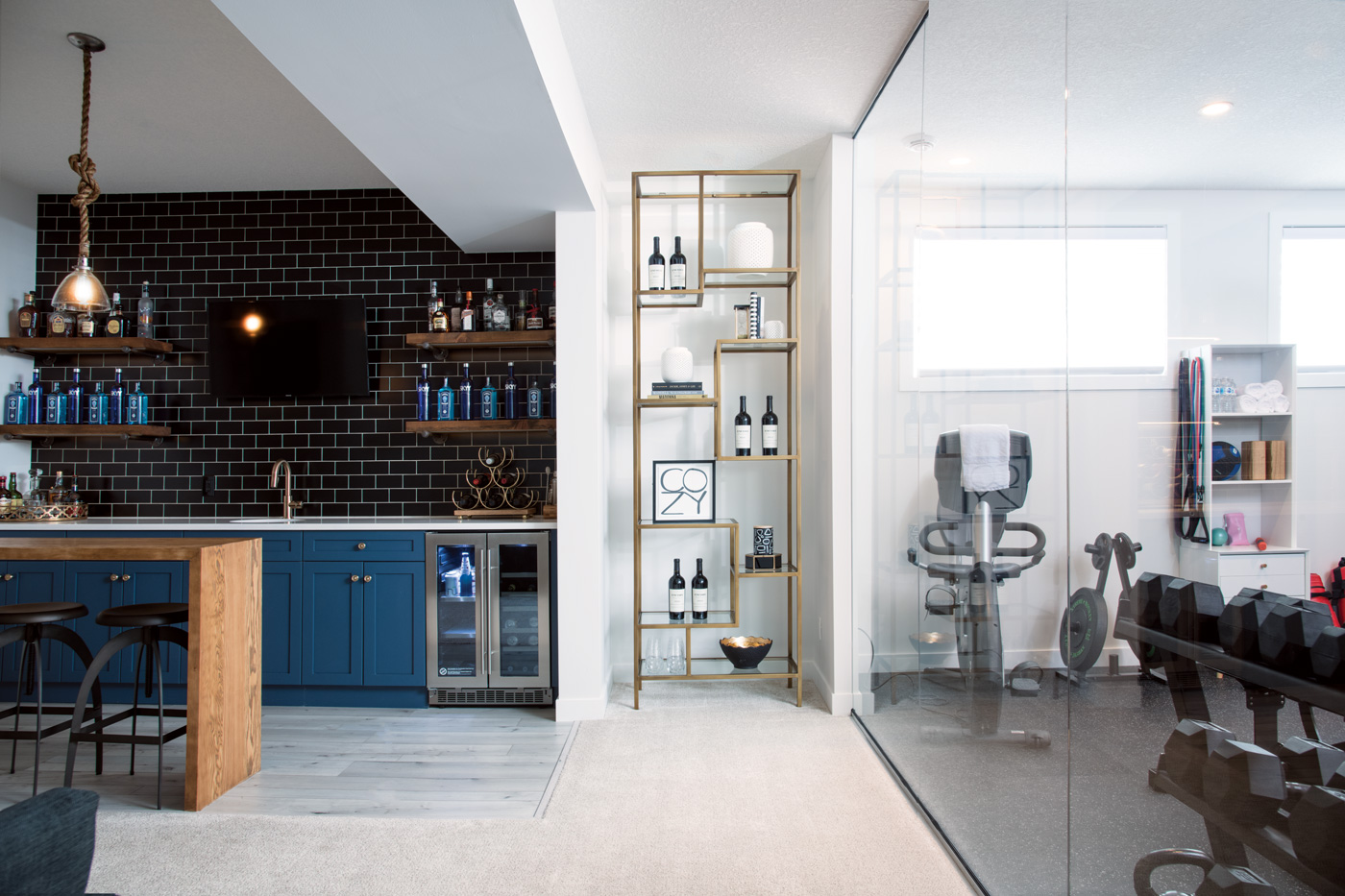 The basement bar has an industrial feel with navy blue cabinets and a black tile backsplash. The glass wall of the gym space allows light into other areas of the basement.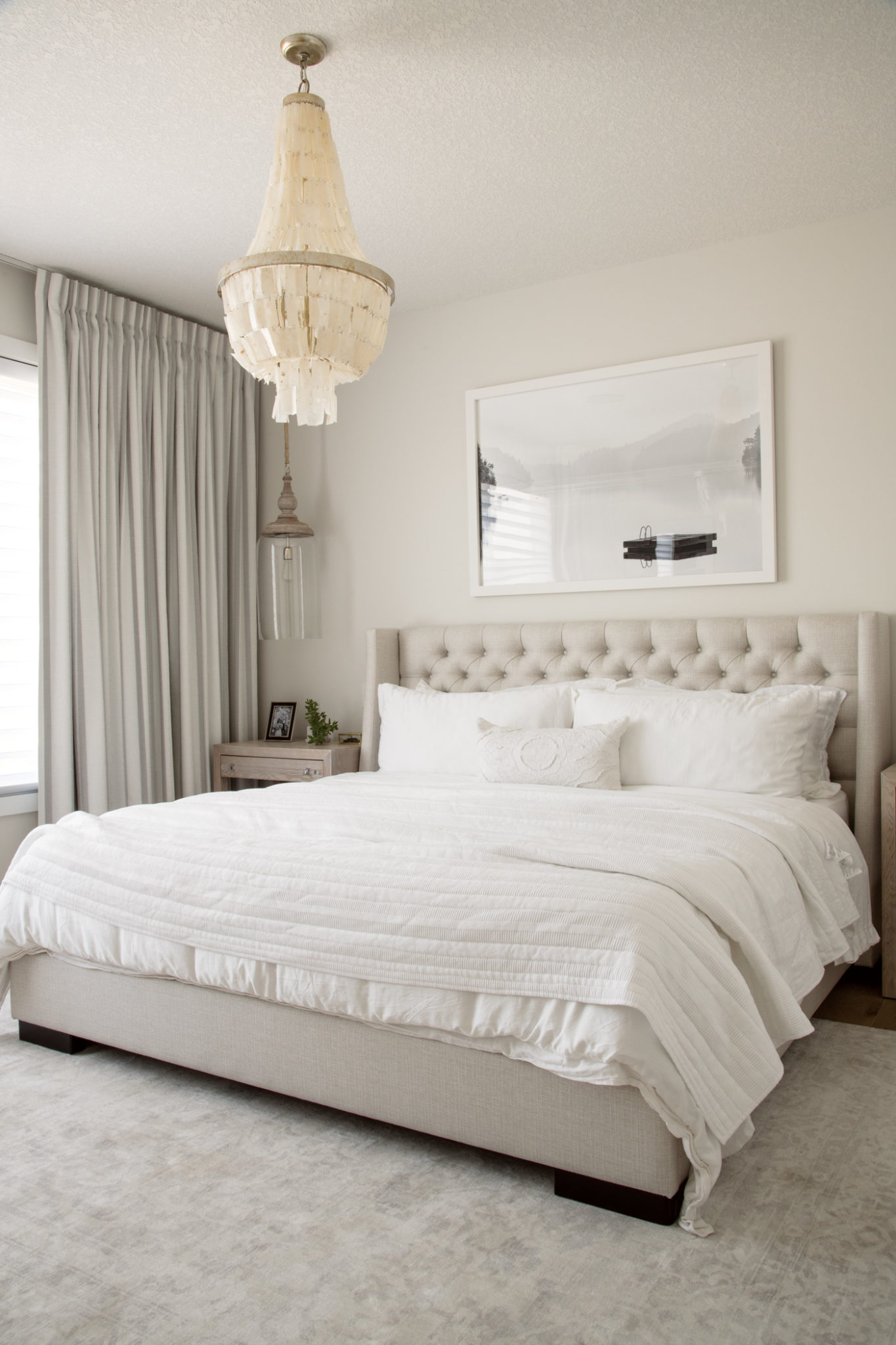 Calming neutral tones in the main bedroom exude a sense of serenity.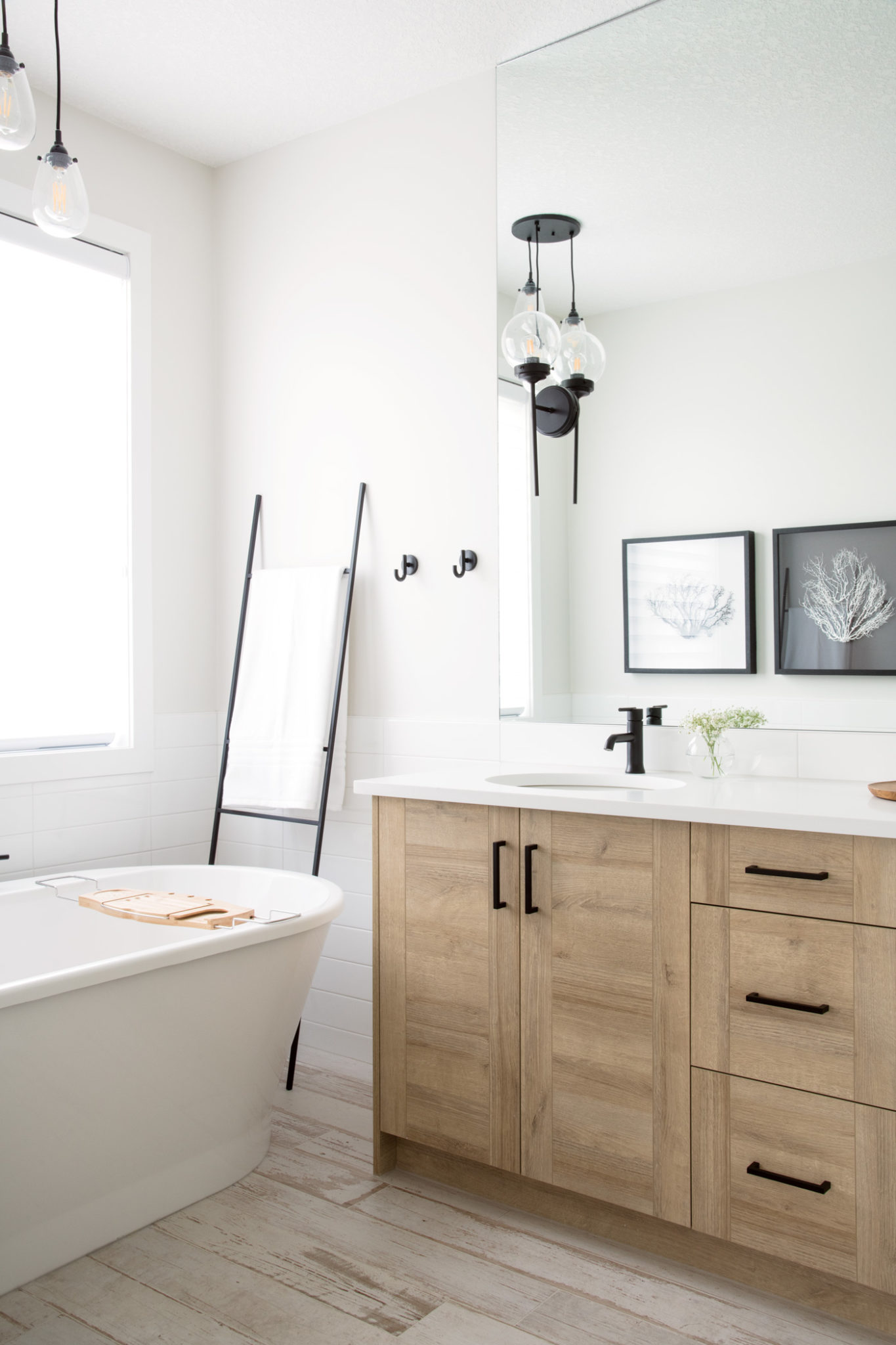 Tile resembling hardwood flooring in the main-bedroom ensuite contributes to the farmhouse feel, while the floating tub makes the space a perfect place to relax.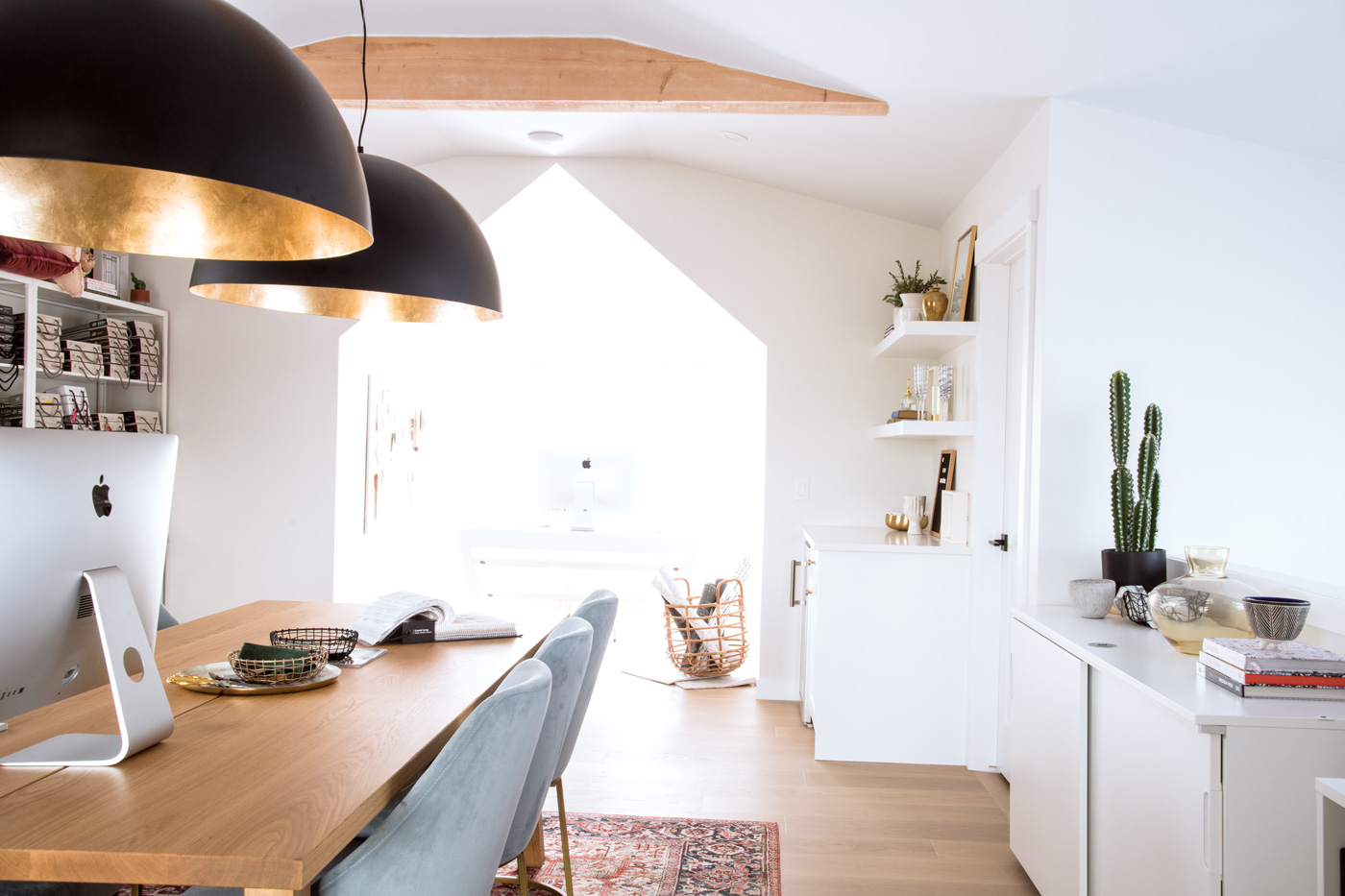 Large windows in the loft allow for natural light in the work space, an essential element for Rioux and her team to view colours and samples.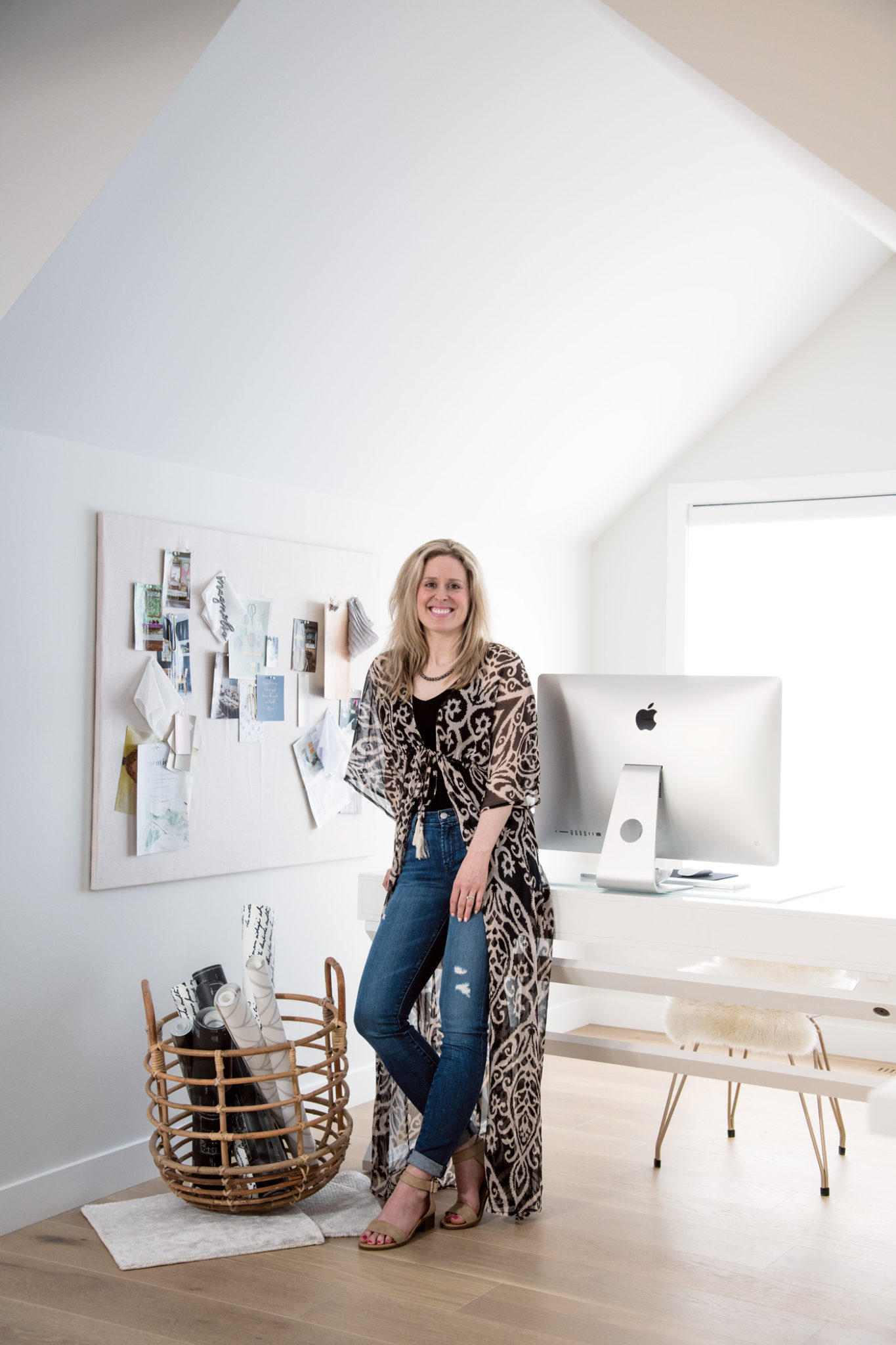 Designer and homeowner Katie Rioux in her upper-level loft office, a welcoming space for both clients and employees of her design business, DWK Interiors.