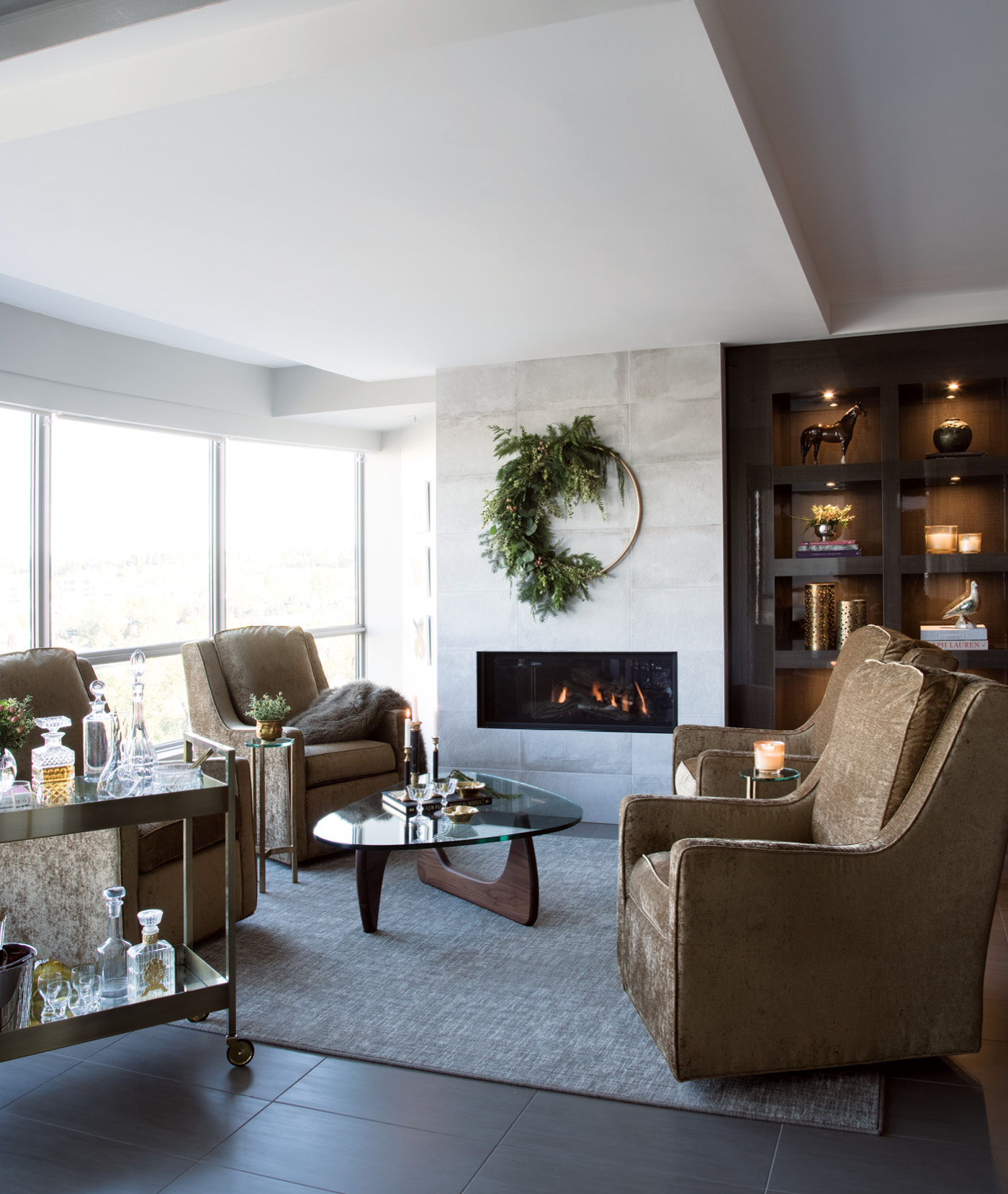 Larry and Adele Thomson spent much of their lives together in large homes, most recently a three-storey in Garrison Woods. With two children, it was exactly what they needed at the time. But when their kids moved out, a large house just didn't suit them anymore.
The couple had purchased a condo in downtown Calgary for Adele to use during business visits to the city when they lived in Fort McMurray, and then for their son and daughter to live in while attending university. Once the kids finished school and moved out of the condo, the Thomsons weren't sure what to do with it. With a life that includes travel, spending time in their vacation home in B.C. and an overall desire to no longer mow the lawn, they decided to make the condo their permanent home.
Interior designer Karen Fron, owner of Karen Fron Design, was an integral part of transforming the dated two-bedroom condo into a warm and welcoming home.
Taking cues from the Thomsons' new lifestyle and the few decor items the couple brought from their previous home, Fron determined that her priorities would be the creation of storage space, a tailored-yet-modern look, a warm and welcoming aura and highlighting the gorgeous view of the Bow River.
"My design philosophy is everybody deserves to live in a functional and beautiful home," Fron says. With the help of Adrian Moxon Renovations, Fron turned the two bedrooms into one main suite with a large walk-in closet.
Even though the Thomsons moved into a smaller space, they didn't want to give up quality time with their family. Sunday dinners and Christmas celebrations with the kids and their partners still happen in the Thomsons' home. A double oven and table with six large chairs ensure everyone is comfortable and well fed.
The renovation also created a beautiful open-concept kitchen, dining and living room, ideal for hosting family gatherings. But there are also areas for the couple to have their own space when they need it, namely a den with a television and a computer desk, and a sitting area in the bedroom. "I don't think we've compromised, or lost anything. I don't think it's been a big sacrifice," Adele says.
Fron, who opened her interior design firm in Calgary in 2009, maximized storage space in every possible way. A spacious closet, sliding doors to hide a computer and printer in the den, cupboards and drawers filling the kitchen and even a seat with purse storage in the entryway created a place for everything.
While the Thomsons' previous family home had ample room to store holiday decorations, the condo does not. Fron got around this by embellishing non-seasonal decor with natural elements such as evergreen sprays and flowers. When the holiday season is done, so are the decorations — no storage required. Fron worked with stylist Arminé Tatosian and Stephen Chapman from Blooms on 9th to assist with the seasonal decorating for the Thomsons. The gold colour palette of the table settings works well across multiple holidays, Fron says. "There's no reason why this couldn't look more like spring, with a different napkin and tulips."
Fron says her favourite part of redesigning the condo for the Thomsons was helping them transition not only their living space, but also their lives. Shiny, reflective cabinets and patterned tile backdrops weren't things they would have had in the kitchen of their previous family home, but moving into the next stage of life allowed the couple to push themselves outside of their aesthetic comfort zone. "I love designing for people that are changing a little bit, because it allows them to explore and bloom in ways they never did before," Fron says.
Even though the space is smaller, it's the perfect home for the Thomsons now. Despite going from a three-storey home to a condo, Adele says she doesn't consider it downsizing. "I think it's more like right-sizing for us."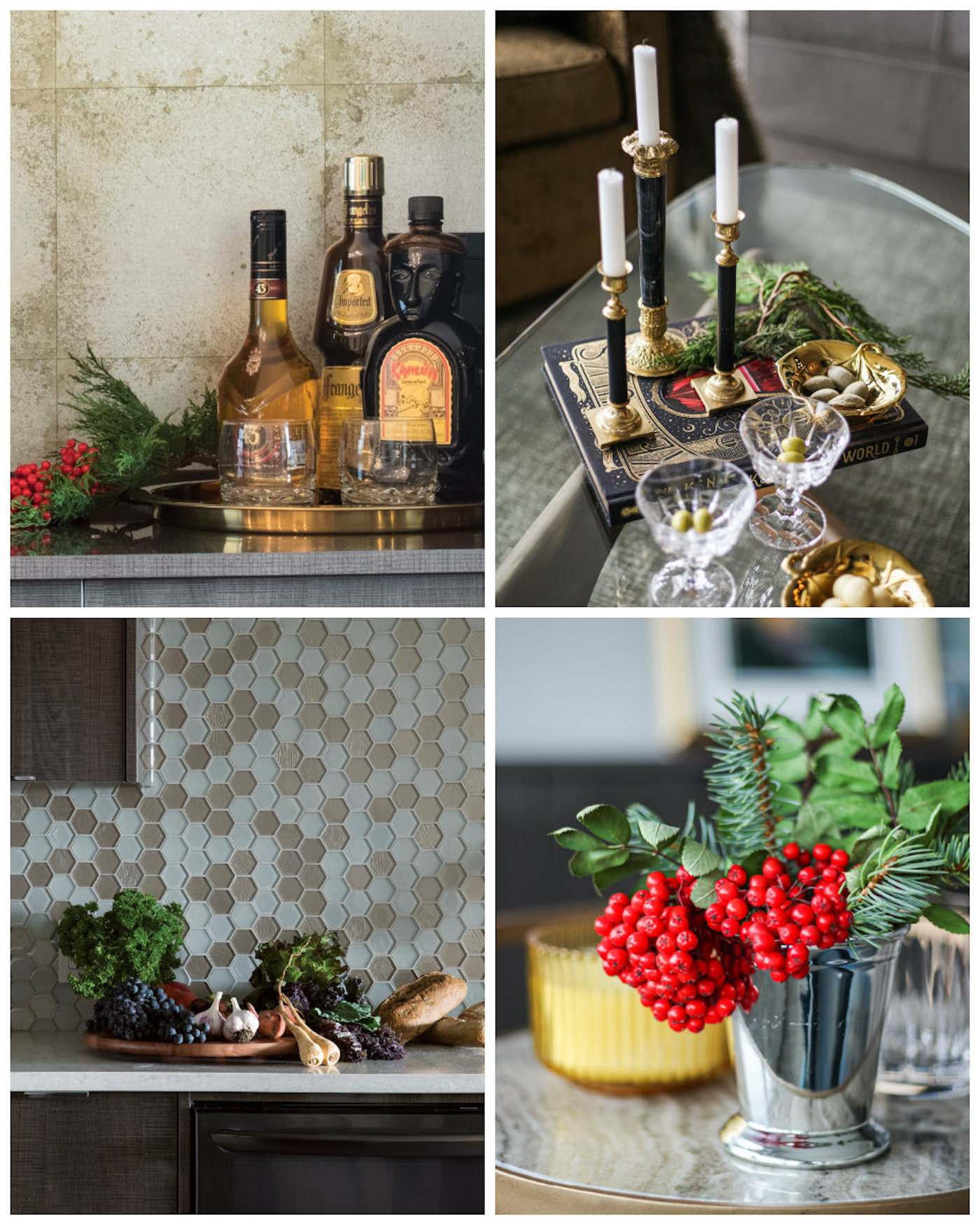 Maximize Your Space
Transitioning to a smaller home isn't easy, but if you make the right design choices, the space won't feel stifling. Here are some tips from interior designer Karen Fron.
Have a place for everything. Fron created specific storage spaces to fit the Larry and Adele Thomson's belongings so everything has a place but there isn't unused space.
Use round shapes. "When you have square shapes, it's boxier, and it appears to take up more room," Fron says. Using a round coffee table for example makes the space look bigger.
Avoid clutter. The Thomsons' dining table is attached to the kitchen counter, flowing through the space as one element. Try connecting things in the room for a less chaotic environment and more visual flow.
Get rid of what you no longer need. "We realized we really don't need camping equipment," says Adele. "We're not going tenting anytime soon."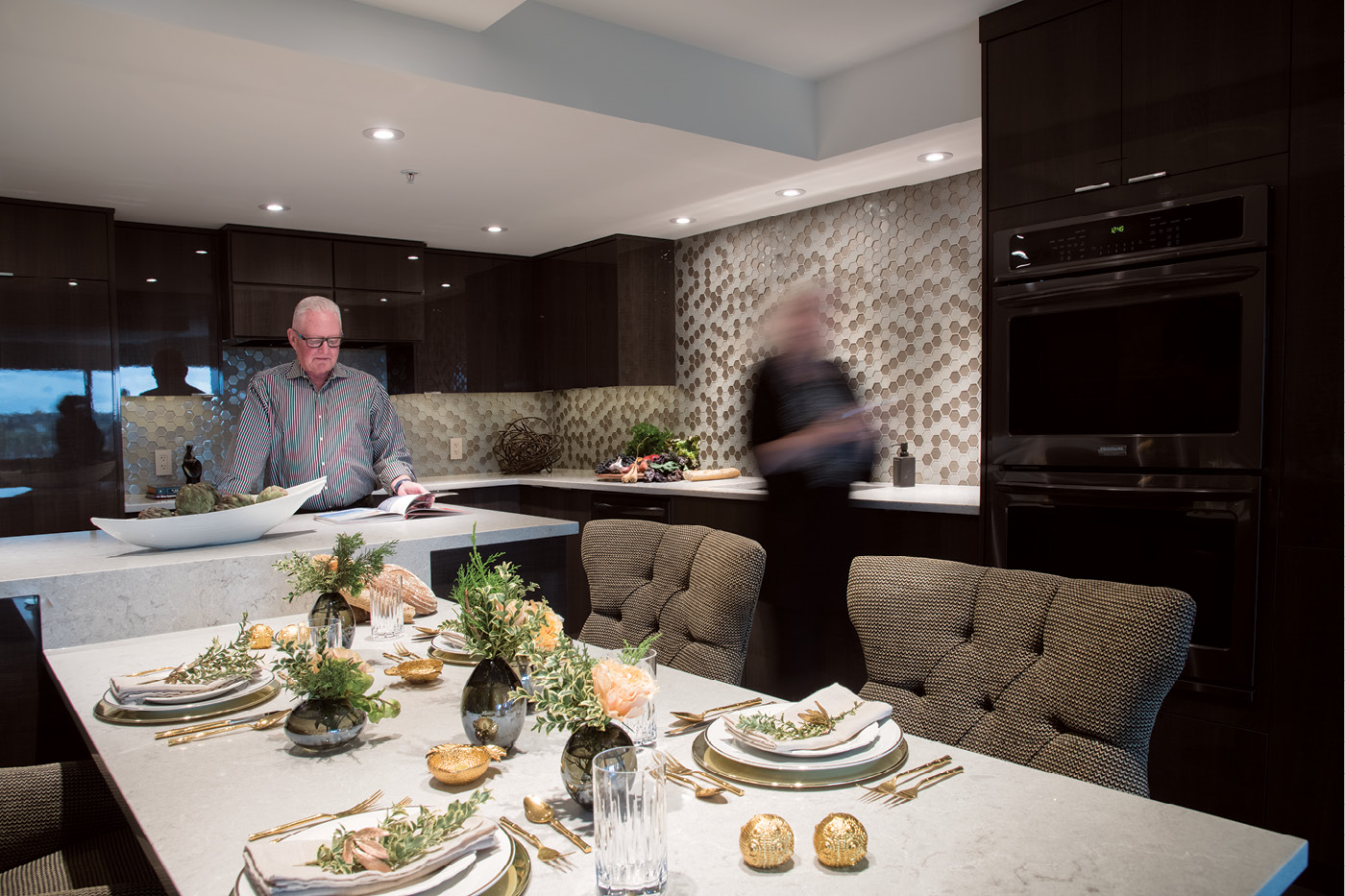 The kitchen and dining room flow smoothly into one another with the attached dining table and counters providing ample room for holiday dinners with family.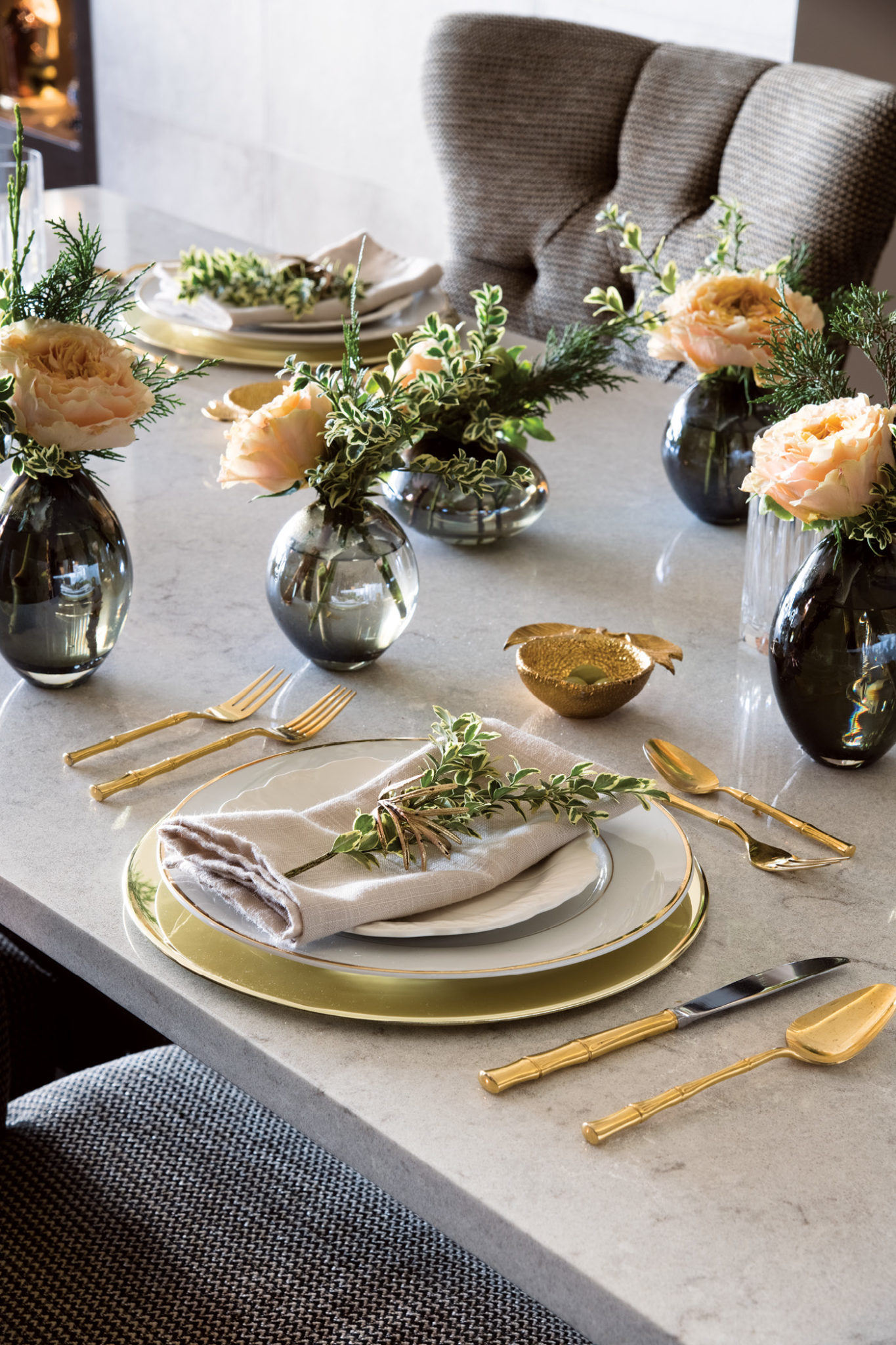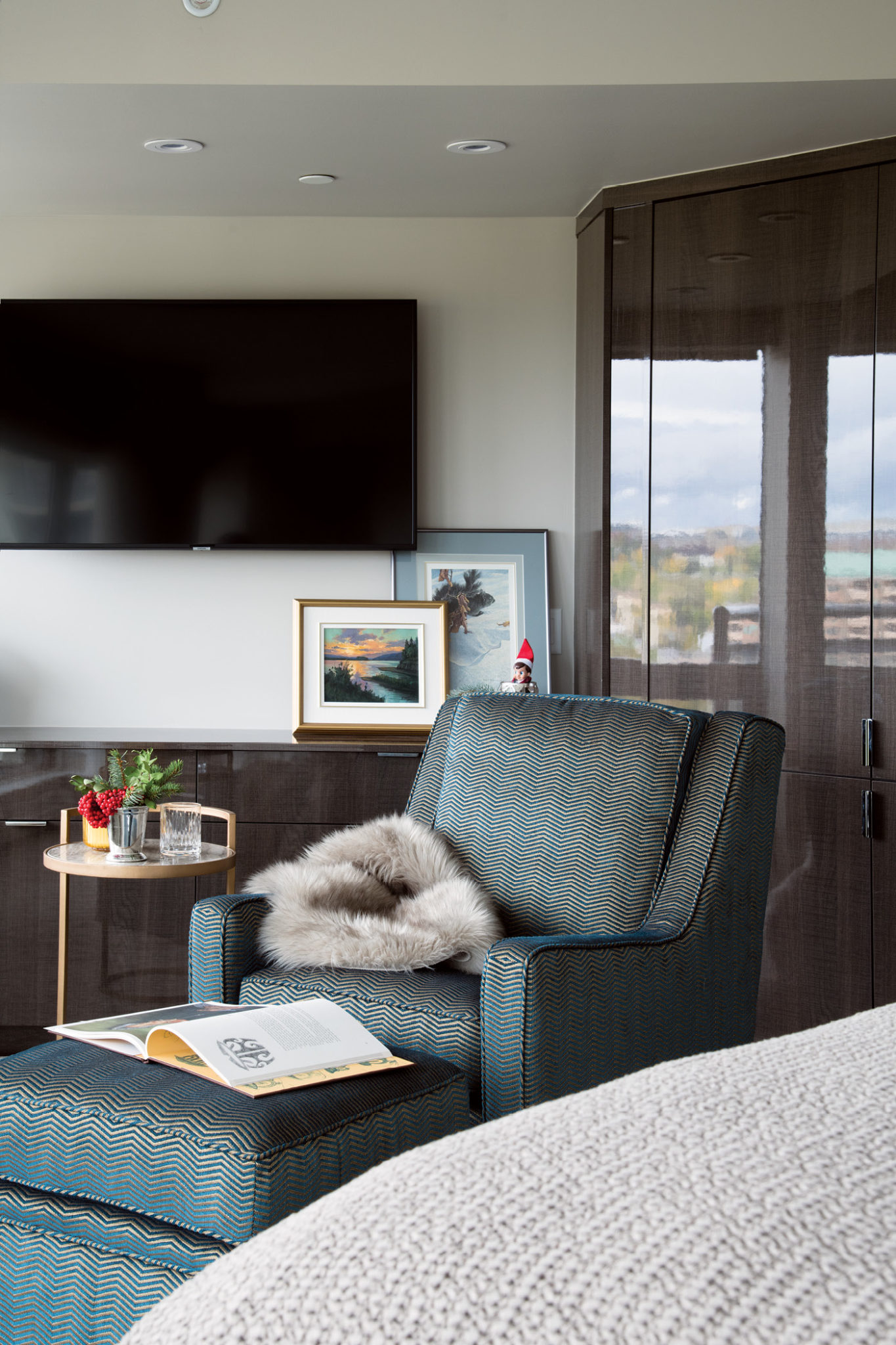 Downsizing ultimately means less space to call your own, but a den and a sitting area in the bedroom maintain private space in the Thomsons' condo.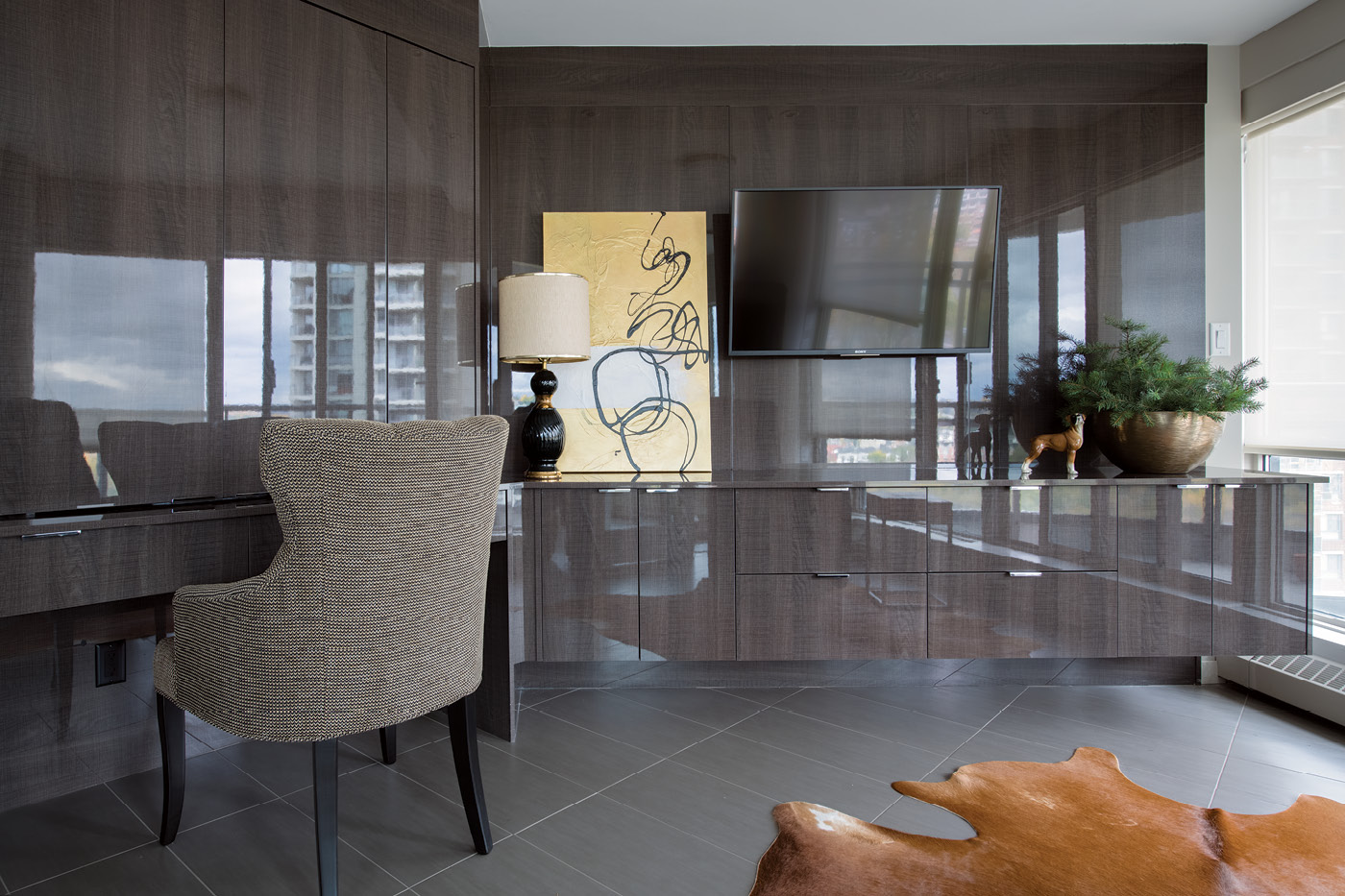 Sliding cupboard doors in the den camoflage the computer desk, allowing for a sleek and uncluttered room.