If the last few years have taught us anything, it's how unpredictable life can be. That goes double for the housing market.
Who would have thought at the onset of the pandemic that a global crisis that threatened to derail the world's economy would ultimately result in a run on real estate the likes of which this city hasn't seen in nearly a decade?
Indeed, after home prices bottomed out in the spring of 2020, when people were hoarding toilet paper and fumbling with remote work, the residential market in Calgary surged upward, reaching a benchmark detached home price of $648,500 in May 2022, a 16.6-per cent increase over the previous year. That's much higher than the kind of price gains the city saw in the seller's market of 2012 and 2013, when oil prices were last booming. So, what other forces are at play that could affect how and where we live in this city over the next 10 years?
Sadly, we don't have a crystal ball (if we did, we'd be on a yacht somewhere living off early 2000's Apple stocks). So, we sought out the next best thing: local experts to weigh in on the major factors likely to impact Calgary real estate over the next decade.
The good news is Calgary's livability, relative affordability and increasingly diversified economy should keep us headed in a positive trajectory — and relatively sheltered from any other global shocks that could be waiting in the wings. The bad news is buying a home here is likely to get more expensive. Whether you're looking to get into the market, or looking to make a move, here are 10 factors that could impact Calgary real estate in the next 10 years.
1. Supply and Demand
Yes, it's really that simple. The foundational principle of high school economics is the primary driving force in real estate markets throughout North America, and Calgary is no exception. The price of homes, and whether they rise or fall, essentially comes down to how many are on the market at any given time — and how many people want them.
Our recent rise in prices, particularly for detached houses, comes down to pent-up demand and a lack of housing stock, says Ann-Marie Lurie, chief economist at the Calgary Real Estate Board: "Right now, the market has been a little bit crazy and the issue has been supply."
However, she notes the price gains we've seen over the past two years actually signal a recovery in Calgary's housing market that was long overdue.
After energy prices crashed in 2014, demand dropped in Calgary as the financial shock to the region prompted many people to stay put and avoid the added expense of upgrading their housing, says Lurie. Record low interest rates during the pandemic, combined with early signs of economic recovery, and the desire for more space as people were stuck at home, finally led people who had been contemplating a move to take the plunge. The result was a big jump in demand for our relatively stable housing inventory, which was down to just 1.4 months of supply in April. But Lurie says she doesn't expect that to become the norm.
A major advantage Calgary has over other large Canadian cities is the ability to add more housing because we aren't hemmed in by physical barriers like Vancouver or sandwiched up against other dense municipalities à la Toronto. "We do have the ability to add on supply, it just is going to take some time," Lurie says. Just how much time it takes — and what happens to demand in the meantime — will play a major role in determining future costs of housing.
2. Interest Rates, Inflation, and Affordability
Of course, there's what people are willing to pay for housing and what they're able to pay. With inflation and interest rates on the rise, the amount of money people can save and borrow to finance their homes is about to take a hit. Since last spring, the Bank of Canada has made a series of hikes to interest rates as part of its strategy to quell inflation and cool the red-hot housing markets in many Canadian cities. That's expected to continue. "We are moving into a higher interest rate environment that is going to take some of the wind out of the sails of housing prices and housing demand," says ATB chief economist Todd Hirsch. While that may help to slow price growth and maintain the relative affordability Calgary enjoys compared to other regions in Canada, its impacts won't be evenly distributed.
First-time buyers will feel the pinch the most as it gets harder to qualify for financing, as well as pass the federal government's mortgage "stress test" that requires borrowers to prove they can afford to make payments two per cent higher than their lender's quoted rate, or the government benchmark of 5.25 per cent — whichever is higher. "That will make it tougher for some potential buyers to get into the market," Hirsch says. That, in turn, may lead to changes in the types of homes Calgary builds.

3. The Rise of Rental and the "Missing Middle"
With more people expected to be locked out of the housing market, or contending with less purchasing power, we're likely to see a growing demand for types of housing we haven't seen much of in Calgary: low-rise rental, three-bedroom apartments suitable for families; connected row and townhouses; and "cottage clusters." According to developer Alkarim Devani of RNDSQR, Calgary could become a leader in developing these so-called "missing middle" housing forms — if it plays its cards right.
"We have to look at other ways to provide affordable, accessible housing in desirable communities," Devani says. That could take many forms, from the family-focused rentals RNDSQR is developing in established communities, to including more condos, townhouses and duplexes in new suburbs. It's not just growing families and young renters that need a diversity of housing types to fill the gap between detached houses and tiny high-rise condos, Devani says. A wave of aging baby boomers may also increase demand for smaller, lower-maintenance housing forms that allow older residents to stay in their communities as they age.
It's a vision supported by current City policies, such as dense residential development near transit nodes, the downtown conversion of office towers to residential, and its 50/50 growth strategy, which aims for 50-per cent growth in existing communities and 50-per cent in new communities by 2069. It remains to be seen how well Calgarians will accept these "missing middle" homes, which could substantially change the shape of our communities. But Devani is optimistic this city can succeed where many others have failed. "We have this incredible opportunity to get this right."
4. Immigration, Migration and Shifting Demographics
Healthy population growth is vital to maintaining a healthy real estate market. At 0.08 per cent, Alberta leads the country in terms of its "natural" growth rate — the number of births minus deaths. But we won't need to rely on existing residents to procreate in order to boost our population. Projections from the provincial government show that Alberta is on track to reach 6.4 million people by 2046, up 2 million from our population in 2021. That likely means adding tens of thousands of new residents to Calgary each year, the majority of which will be new Canadians and migrants from other regions of the country.
The draw for new residents isn't the same as it was in previous generations, says Wellington Holbrook, CEO of ConnectFirst Credit Union. Looking back to the '80s and '90s, "people came here to make their fortune, often with a plan to go back home," he says, noting the city's population ebbed and flowed with the prospects of the oil and gas industry.
The city's amenities, proximity to the mountains, relative affordability and the freedoms of remote work, as well as the rise of new industries, are drawing residents who want to put down roots, Holbrook says. That comes with challenges as well as opportunities. Calgary may find itself with more of an aging population in the future as fewer people go back "home" to retire. And an influx of people used to paying a premium for real estate in larger markets may exert upward pressure on home prices.
Leading to our next point…
5. Speculation
Loosely put, speculation is the practice of treating real estate like the stock market: buying when the market is low, intending to sell (and make a profit) when the market is high, without making any substantial changes to the property. It's a high-risk, potentially high-reward practice that many experts believe has played a role in the extreme price gains some Canadian markets saw over the last decade. A 2021 report on the Canadian Housing market from business and land registry solutions provider Teranet found that multi-property investors in Ontario grew from 16 per cent to more than 25 per cent of the market between 2011 and 2021, outpacing first-time buyers. Why should Calgary care? Because speculators looking for new, more affordable areas of the country in which to invest may soon set their sights on this city.
Both Holbrook and Lurie say they have no indication speculation is playing a substantial role in Calgary's real estate market right now, but those on the ground say there are signs the practice could be on the rise.
Jared Chamberlain, realtor at Chamberlain Group, says he has noticed an influx of buyers "who made a lot of money in Toronto and Vancouver" enter the Calgary market in the past year. "What has happened is not just condos, but whole condo projects are being sold to these investors," he says. "It's this very speculative way of investing."
Ian Meredith, senior director of development for Dream Unlimited, the developer behind Alpine Park in the southwest, says he has also noticed more out-of-town buyers attracted to Calgary for the promise of affordable real estate investment. "The word is that a lot of them have … been priced out of the markets in Toronto or Vancouver, and they're thinking that this is the next market to go."
But, in the absence of qualitative data (we don't tend to track why people buy real estate in Canada), any predictions about whether this trend will continue to gain steam in the coming decade are, well, speculative at best.

6. Climate Change
From the 2013 flood and the 2020 hailstorm to last year's sizzling heat dome and waves of wildfire smoke, Calgarians are already feeling the impact of climate change. Mayor Jyoti Gondek's declaration of a climate emergency shortly after taking office in 2021 enabled the city to accelerate action on climate change, with residential buildings and transportation key targets in curbing the city's carbon footprint.
To that end, a new program set to be introduced this fall will offer homeowners financial incentives to implement energy upgrades, meaning more homes in existing communities may be retrofitted with heat pumps, tankless hot water systems and solar panels. However, the biggest strides toward greening our housing stock may be found in the suburbs.
"The truth is, our new communities are among the densest new communities probably in North America," says Matthew Sheldrake, acting manager, growth and change strategy for City of Calgary. In addition to smaller lots and tighter spacing, more developers are preparing for a low-carbon future by orienting homes toward the south so they capture more sunlight, putting in electric-vehicle charging stations and solar panels, and designing communities to encourage walking and wheeling to amenities, he says. While there is ample room for City policies to shape climate action in the residential sector, Sheldrake adds that there may be potential for stronger partnerships with developers to hasten the pace of change. ​​"We need to almost get into a virtuous cycle of innovation."
7. The Cost of Building
The same forces that have many of us feeling the pinch at the grocery store checkout are hitting the housing sector. Supply-chain issues stemming from the pandemic, the rising cost of fuel for shipping and inflation have all put developers in a squeeze. Meredith says, despite the fact home prices have gone up, the increasing cost of supplies means "nobody is making more money than they 
were before."
There are only two ways out of this problem: charge homebuyers more at a time when prices are already going up, or adapt to bring costs down. "It sounds stupid, but do you really need your front yard? Or, can we reduce your front-yard setback to the minimum possible, such that your lot is 15-per cent smaller, such that the price becomes 15-per cent less," says Meredith.
And it's not just supply-chain issues that are contributing to rising costs. All those energy-efficient building materials and climate-friendly design decisions add up. "With our goals of energy efficiency come a higher cost profile for all the homes we're building," says Meredith, noting a new federal building code to be introduced this year will mandate more energy efficiency going forward, meaning building costs will continue to rise.
"So, paradoxically, the things that we all strive for end up deteriorating affordability," he says.
The result? Smaller lots and homes could become the new normal.
8. Technology – and Not Just the Startup Kind
After years of work to attract startups to the city — and specifically to fill some of that vacant downtown office space — Calgary's attempts to woo tech companies is finally bearing fruit.
Calgary rose six points on CBRE's annual scoring of tech talent last year to No. 28 on the list, indicating the city is gaining prominence and appeal among tech employers and workers. Meanwhile, Calgary-based tech companies had a record year for investment in 2021, netting $322.2 million in funding. "When you look at the number of deals being funded for technology companies in the city of Calgary, it's actually becoming quite impressive," says Holbrook. While he notes tech isn't the only industry fuelling a diverse economic recovery — manufacturing and professional services are also in a growth phase — the publicity netted by those tech deals is helping attract new, educated talent to the city.
But, a downtown full of highly paid tech workers isn't the only force with the potential to shape the city. Technology itself may play an even bigger role. "Who could have, five years ago, anticipated that e-scooters would be such a thing?" says Josh White, the City of Calgary's director of city and regional planning, noting the ubiquitous smart vehicles have changed how the city plans for transportation downtown. And with futuristic concepts like self-driving cars getting closer to the mainstream, the City might be in for more mobility-related upheavals. Even the rise of e-commerce during the pandemic showed how relatively mundane technology can change how people function in our city, and how we determine the best use of our land. "Maybe more of our growth strategies are centred around accommodating industrial land in order to facilitate that booming sector of our economy," White says. "Those are the types of things we're thinking about.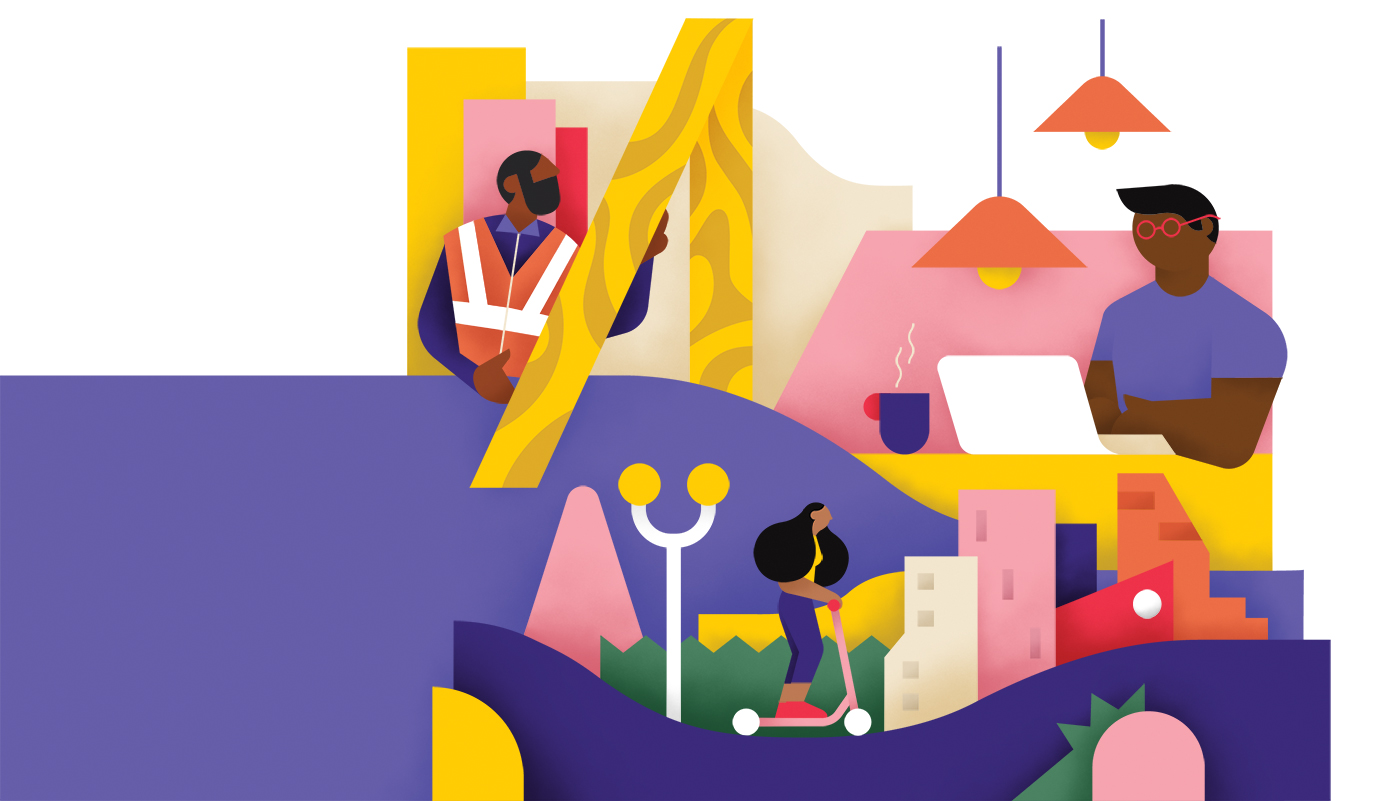 9. Working From Home
Will they, or won't they? The question of whether workers will be drawn (or forced) back into the office post-pandemic has been central to virtually every city's future planning. With Calgary already facing an excess of office vacancies downtown, a permanent shift in the way people work could drastically change our commuting habits, what we want out of our homes and how we use the city core.
Chamberlain says trends among his buyers indicate working from home has already become a permanent fixture for many Calgarians. Among his out-of-town buyers, Chamberlain has noticed a common scenario: "One of them would keep their work-at-home job, and the other one was going to find a job here." The steady stream of income from a work-from-home job makes people more open to moving across the country, he adds. In this situation, if the outside-the-home job-seeker ends up working downtown, it could mean more people commuting into offices.
However, if more families require one, or even two home offices going forward, it could also increase demand for larger homes in established communities. Chamberlain says that while there was a sense early in the pandemic that people were taking advantage of remote work to move to more rural communities, it looks like most people are opting to stay in urban centres, even if they no longer need to be close to work. "I don't think everyone wants to be out on an acreage," he says. "We want community, but we just might need more space." With space likely to come at a premium in Calgary, this could draw more people to surrounding cities like Airdrie, Cochrane and Okotoks, where they can find it for less.
10. The Changing Story of Calgary
Calgarians know this city is more than the oil and gas industry or its cycles of boom and bust. We've got a thriving arts and culture scene, great restaurants, the largest urban network of bike and walking trails in North America and a diverse population reflected in our mayor and council. Plus, we're a stone's throw from the mountains.
Getting better at telling that story is key to attracting people to Calgary and ensuring a strong housing market for years to come, says Hirsch.
"In the 21st century, young people — especially young, educated people — will move to the city that they want to live in, and then they'll figure out the job and their career and everything else after that," he says. While economists, planners and politicians have traditionally focused on hard facts like business growth and tax rates to promote Calgary to outsiders, Hirsch says it's our values that will attract people in the future. Investments like the Green Line LRT, upgrades to Arts Commons and Glenbow and more residential options downtown are important not just to improve life for local residents but to signal that Calgary is a progressive city that believes in connectivity and culture.
While the oil and gas sector will continue to be part of our economy, Hirsch says, we need to talk more about the other industries growing here that are better aligned with the priorities of environmentally conscious generations.
"It's no longer tax rates and the price of oil that are going to draw and attract and retain people," he says. "We have to pay attention in Calgary to: what kind of city are we? What kind of values are we conveying?"
When it comes to the city's housing sector, while we don't have control over some determining factors — such as interest rates, shifting demographics, or an influx of new residents with different values and expectations around housing — we do have a choice in how we respond. Where and how we build homes can help us meet our sustainability goals and adapt to changes in the way we work and navigate our city. Building new forms of housing can help meet the needs of an increasingly diverse population and maintain affordability for future generations. We may not know what Calgary will look like 10 years from now, but one thing's for sure: the only constant is change.