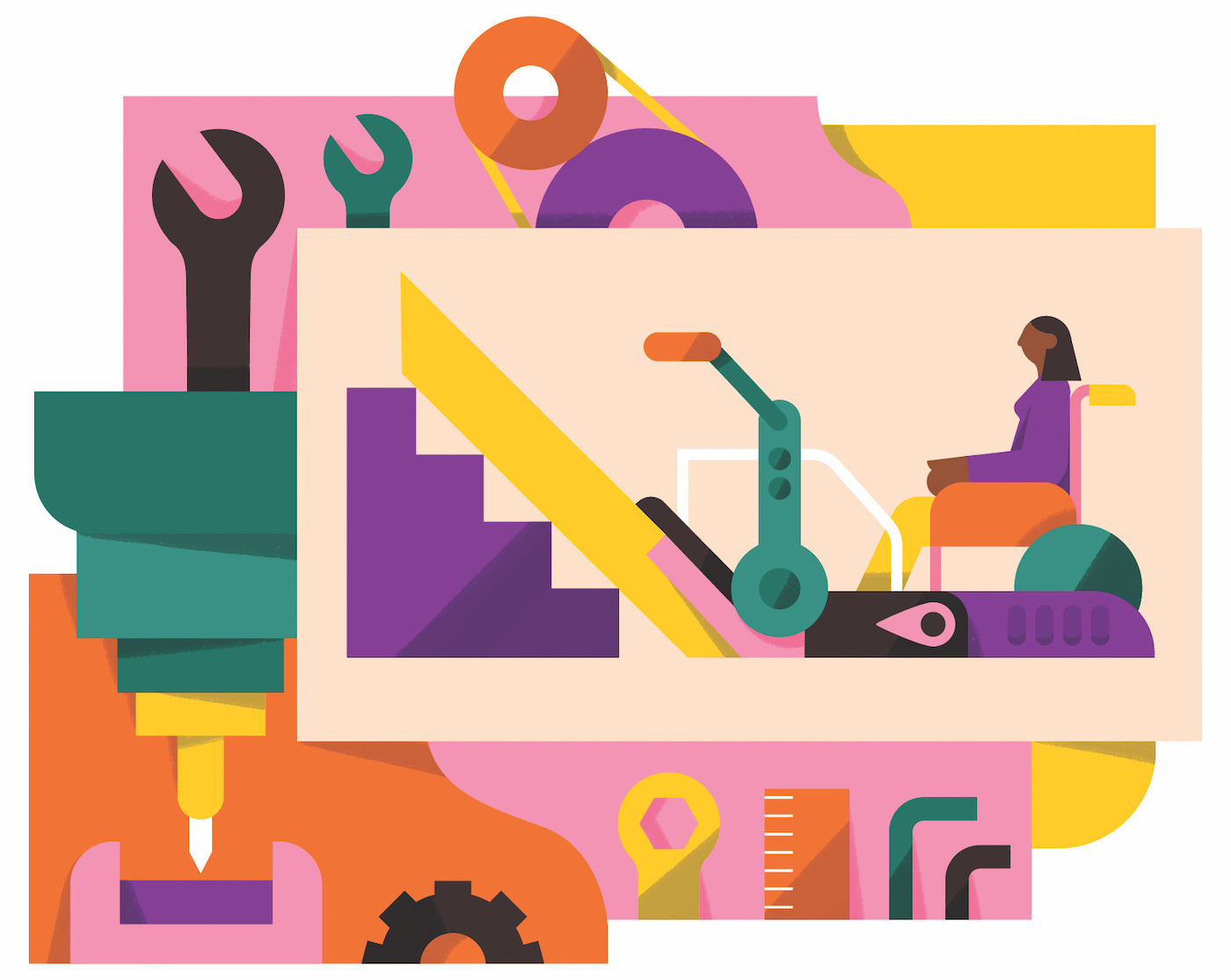 Graham Smith, president and CEO of Adaptive Engineering Inc., comes from a family of engineers. His father, the late David Smith, had always wanted to design things that would help people and create more accessible communities. Now, Smith is bringing his father's vision to life with Lift2Go — a wheelchair lift that's easily transported and installed wherever needed.
Smith started Lift2Go with business partner and key engineer John Person and engineer Caitlin Lopez, who helped Smith and Person create and develop the prototypes. The goal with Lift2Go was to create a portable mobility solution that was easy to transport and operate. "For me, it was really important to work on something like this; knowing that I was making a difference for those that needed it most," Lopez says.
The Calgary-based company has helped create accessible lifts for the airline industry, as well as Via Rail. "We saw a need to create something to help transport people with special needs. There were places that didn't have easy access, or had one or two steps, like an older building or historical sites," Smith says.
Lift2Go riders are first secured to the lift, then the rider or attendant uses a mechanical crank to raise or lower it. The lifts are fabricated and assembled here in Calgary. "We're very proud of that fact, to build, design and create it here," Smith says.
Originally, the lifts were only available to rent for a set period of time. However, in the early days of the pandemic, Smith and the team realized that the need for Lift2Go products was increasing as many clients were wanting to move out of hospitals to avoid contracting COVID and to free up bed space for incoming COVID patients.
Their response was to offer the service on a pay-what-you-can basis during peak periods of the pandemic. "The team's idea to pivot was to make this service and the equipment available for those who needed it … regardless of [whether] they could cover the fee or not," Smith says. "We were going to be there whether they needed the lift for an hour or for a day." While the pay-what-you-can service has been discontinued now that pandemic restrictions have eased, Lift2Go continues to help its users connect to their communities by getting them where they need to go.