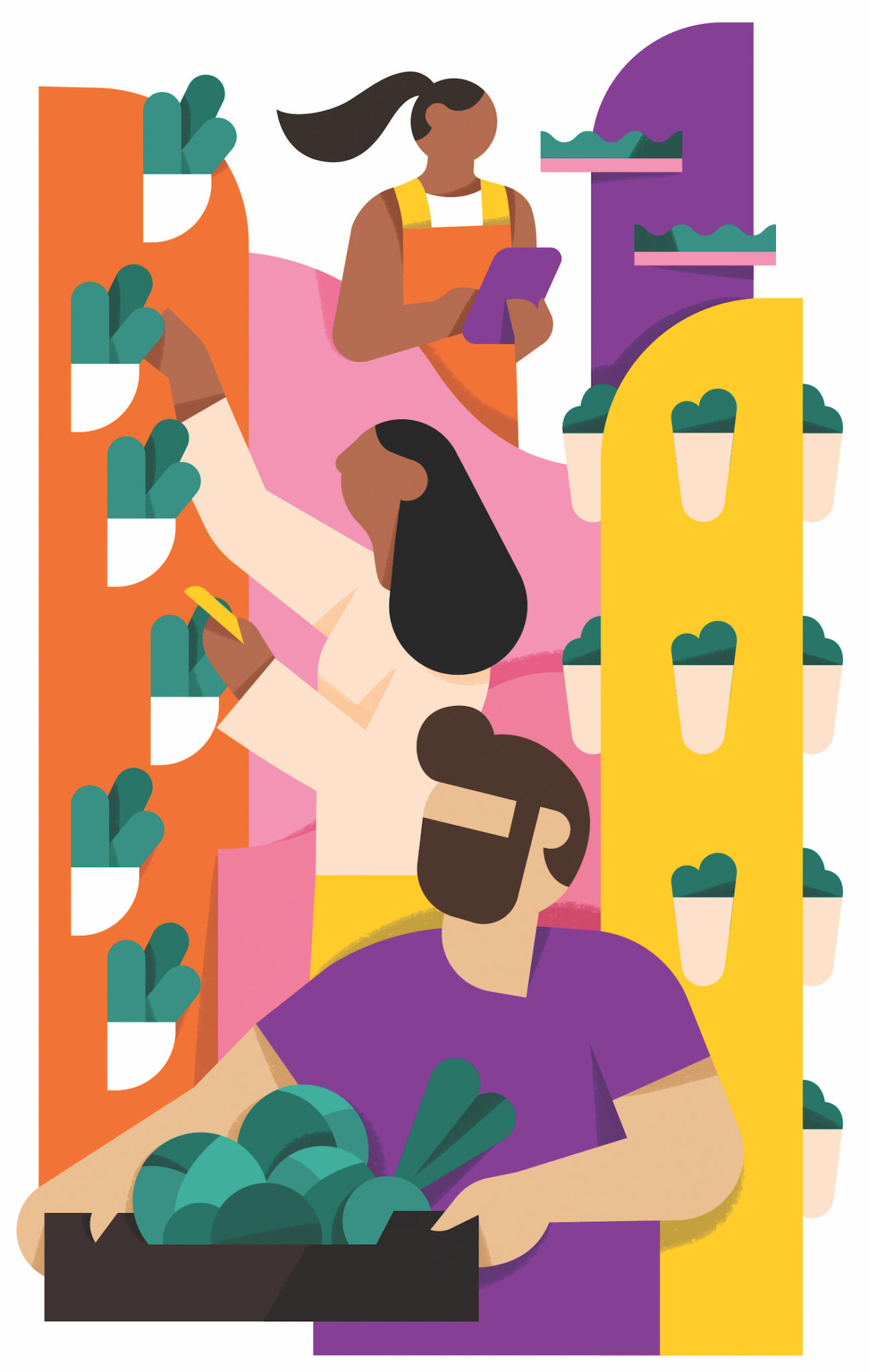 When it comes to agricultural production, Alberta is a Canadian frontrunner, second only to Saskatchewan in terms of total field crop area and ranking a respectable fourth in greenhouse capacity. However, due to harsh prairie winters, fresh produce is imported to Alberta year-round, as only 60 per cent of Alberta greenhouses operate seasonally, and the remaining 40 per cent that are open all year cannot keep up with demand.
With Canada's population growth expected to be the highest in Alberta over the next 25 years, the farming industry is looking for innovative ways to maximize crop output in a way that isn't reliant on uncontrollable variables like the weather. Enter: Vertical farming.
Vertical farming is the practice of producing crops on vertically inclined surfaces. Like traditional greenhouses, vertical farming is an example of controlled environment agriculture (CEA); a process where crops are grown in a highly conditioned indoor environment. But, while greenhouses rely on soil and sunlight, vertical farming utilizes LED lights and either hydroponics, aeroponics or aquaponics to grow produce in stackable containers.
Vertical farming was conceptualized more than 30 years ago, and the first commercial operation launched in Singapore in 2012. Ten years later, Canada is only beginning to make inroads. There are a few reasons as to why that is. It's expensive, requiring a lot of initial startup capital due to the high cost of equipment. And, unlike tiny, highly populated island nations such as Singapore, Canada has a healthy spread of arable land.
According to Ken Fry, an entomologist and professor in the horticulture program in the school of life sciences and business at Olds College, Canada actually has more greenhouse spaces per capita than the U.S. (in Fry's words, we have the potential to "punch above our weight" when it comes to CEA). Since imported and domestic produce must travel much further in Canada, than it does in the more densely populated U.S., transportation is also a bigger cost factor. While the cost of transporting imported crops isn't necessarily higher than the labour and technology costs it would take to operate a vertical farm, there are advantages that go beyond cost, such as the potential to bolster food security in northern regions and allow people in urban centres easier access to farm-to-table fresh produce. "Vertical farming tends to be scalable," says Fry. "It doesn't have to be 'go big or go home,' and that's satisfactory for limited markets."
Although vertical farming has only recently gained footing in Canada, a report by the American business consulting firm Grand View Research estimated global investments in vertical farming to be $3.1 billion as of 2019, with 32 per cent of this in North America. In Calgary, a $2.73 million grant from the Alberta government's Investment and Growth Fund is enabling Ontario-based GoodLeaf Farms to open a 74,000-square-foot indoor farm in the industrial southeast. This facility expects to produce 700,000 kilograms of food per year and provide 70 full-time positions.
While this will be the first large-scale vertical farming operation in Canada, other small-but-mighty growers have been making a name for themselves, as well. In 2016, brothers Ryan and Paul Wright, along with Dan Clayholt, were looking to take their combined 60 years of experience in the energy sector and put it towards something that would promote sustainability in the economy and national food supply. The trio decided to convert a 10,000-square-foot commercial space off Barlow Trail in Calgary's southeast into a year-round farm. It would take several years of developing prototypes and learning the best methods of engineering, but by 2021, NuLeaf, their hydroponic vertical farm, was selling produce to customers.
Today, NuLeaf's production is increasing weekly. On average, one cell comprised of several hundred eight-foot-tall growing towers will produce 40,000 to 50,000 pounds of fresh greens per year, typically culinary herbs with some leafy greens.
With a vertical farm, 40 per cent of capital costs come from lighting. Fruits, grains and staple crops take longer to grow than leafy greens, which means they require more light and, as a result, are more expensive to grow indoors. While traditional grain crops are best grown outdoors where the sun can do the heavy lifting, Ryan Wright says that vertically grown berries and peppers are on the cusp of economic viability, as lighting for these crops would comprise approximately five per cent of capital cost, but that would be the majority of operating costs. Once LED technology improves and lowers in cost, the scales will be tipped in favour of adding berries to the other varieties of produce being grown in the facility's cells.
Despite high capital costs, which Fry estimates can reach tens of millions of dollars, depending on the size of the facility, suppliers of container-style vertical farms suggest the payback period could be in the two-to-five year range. Additionally, a vertical farm can produce the equivalent of one acre of greenhouse space (over 43,000 sq. ft.) on 2,000 sq. ft. of floor space.
That said, Fry recommends that potential vertical farmers tread cautiously. "Vertical farming is like where cannabis was 10 years ago. It's the Wild West," he says. "Everybody and their dog is with venture capitalists, getting into it, thinking they can pull it off. But a number of vertical farm operations have gone into bankruptcy, [on account of the] energy consumption costs, the labour costs and the cost per unit of food sold."
So, while vertical farming might not yet have the capacity to feed large amounts of people, as prohibitive costs prevent it from being largely scalable, for now, it just might change the way Albertans think about where their food is grown and what it takes to get it to their tables. "Alberta is really well-placed in the greenhouse industry," says Fry, "and if that's the case, I don't see why we couldn't be well placed with the vertical farm industry, as well."
To Market, to Virtual Market
Vertical farming isn't the only way to access farm-fresh food in urban centres. Calgary-based CultivatR, which bills itself as a "virtual farmers' market," has over 400 products from local vendors that can be delivered to your door. These vendors are able to work outside of the international distribution channels, which are not as affected by disruptions in the supply chain, so you can always have fresh, sustainably-sourced ingredients on hand.