Avenue's favourite spots to enjoy everything from a fine alfresco feast to a stint of casual day-drinking under the sun.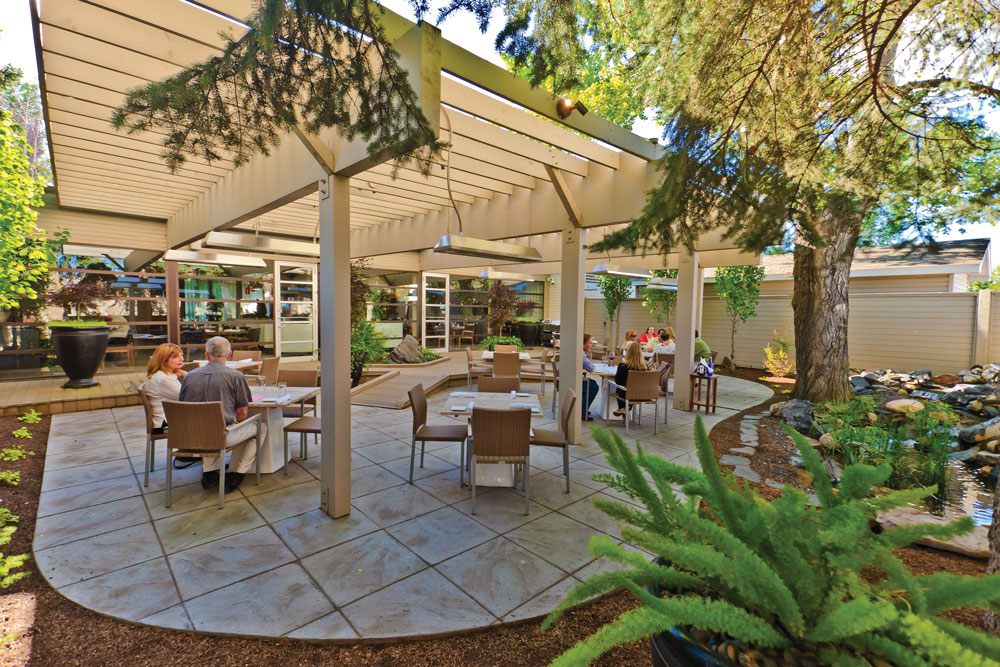 Alloy's courtyard patio is a lovely space with a stylish Northern-California vibe that'll make you forget you're in an industrial community just off Macleod Trail. The fine-dining menu fuses Mediterranean, Latin and Asian flavours to create light, bright dishes perfect for summer dining. Added bonuses are the smell of fresh-cut lumber in the air and plenty of free parking.
220 42 Ave. S.E., 403-287-9255, alloydining.com
With its lush greenery, fragrant flowers, bistro-style tables and terracotta tiles underfoot, not to mention excellent Italian cuisine, it's easy to close your eyes and imagine yourself dining in Tuscany. In fact, the patio is tucked outside the back of this long-time Beltline restaurant, making it a perfect quick escape for a lovely lunch or romantic dinner under the twinkling white lights.
1016 8 St. S.W., 403-262-8480, bonterra.ca
If people-watching, big plates of spaghetti and carafes of vino are your thing, this old-school Italian joint is just the spot. Separated from bustling 17th Avenue S.W. by only a low, decorative railing, you're as close to the action as possible, without actually being on the sidewalk. Occasional bus fumes wafting by are a small price to pay for a classic Italian experience where nobody's trying too hard.
823 17 Ave. S.W., 403-244-5522, buongiornocalgary.com
Cibo shares many of the charms of its sister restaurant, Bonterra. A high, solid fence makes it easy to forget there's a busy street and a parking lot on the other side, and the huge flower baskets bursting with colour create a decidedly summery feel. It's easy to lose track of time here, especially on weekdays from 3 to 5 p.m., when Cibo's delicious pizzas and glasses of wine are $5. Hello!
1012 17 Ave. S.W., 403-984-4755, cibocalgary.com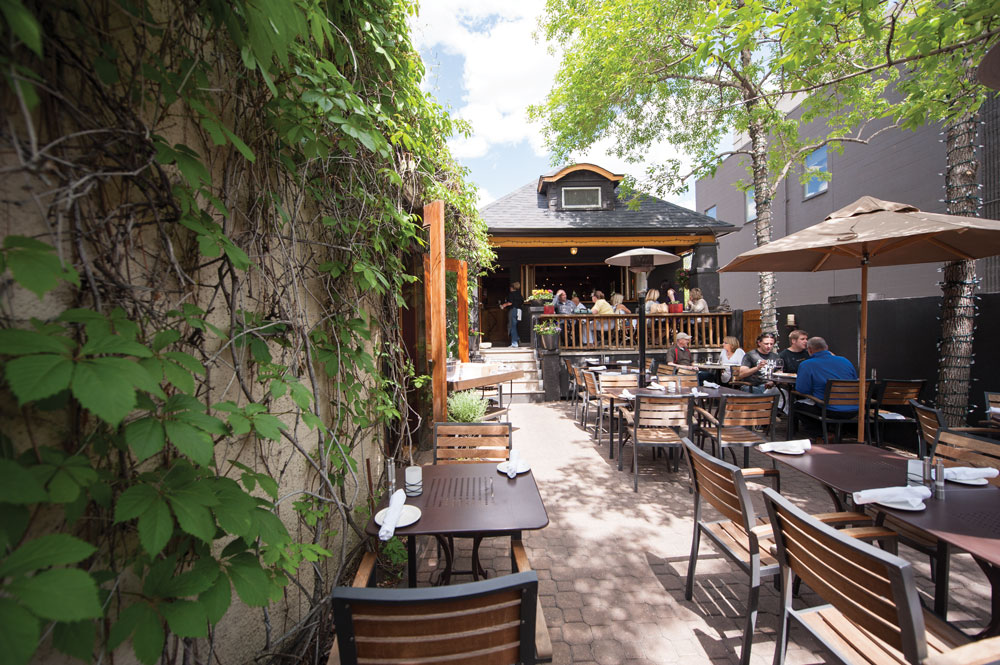 If you can score one of the few seats on the deck that overlooks the patio, you're golden, but, really, there are no bad seats on this long-standing 17th Avenue S.W. patio. With white lights in the trees overhead and Virginia Creepers on the walls, it's romantic, cozy and worlds apart from the action on the street. Cilantro's upscale casual menu and extensive wine list never disappoints, and the cocktail menu is particularly good.
338 17 Ave. S.W., 403-229-1177, cilantrocalgary.com
La Chaumiere
If the formality of fine French dining doesn't appeal to you, then La Chaumire's patio is the perfect place to experience the elegant cuisine of France in a more casual setting. Sitting in the shadow of St. Mary's Cathedral, the surroundings hint at a certain grandeur that befits the traditions of old-world France, and you can expect the same excellent service outdoors as the restaurant is known for indoors.
139 17 Ave. S.W., 403-228-5689, lachaumiere.ca
Sexy, urban and contemporary are the words that come to mind when describing the Living Room's patio. A gas fireplace on one wall casts an attractive glow on the attractive people you can expect to find here slurping on fresh oysters and sipping bubbles. Director's chairs make for more comfortable seating than the dreaded plastic patio chairs, and, while you're in one, be sure to try the steak tartare, which is assembled tableside and is among the best in the city.
514 17 Ave. S.W., 403-228-9830, livingroomrestaurant.ca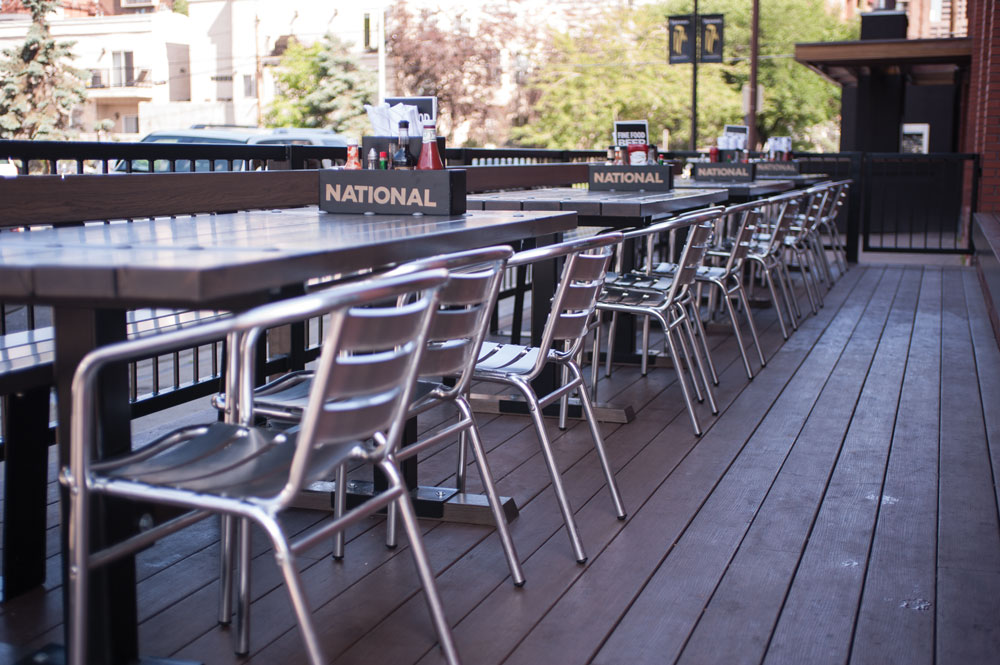 This is arguably the primo spot in the city for playing hooky on a sunny afternoon and settling in for a bunch of beers. Oil guys, hipsters and young professionals vie for space on this beer hall-style patio where it's easy to make new friends, thanks to the communal tables. Or simply watch the non-stop, occasionally sketchy action on this busy corner of 17th Avenue S.W. A selection of 72 beers on tap will keep you well-hydrated and the food quality is exceptional for a beer hall, or any restaurant, for that matter.
550 17 Ave. S.W., 403-229-0226, ntnl.ca
This is perhaps the city's best-kept secret when it comes to patios. It's less a patio than a deck, but either way, the second-storey space attached to Kensington's Oak Tree Tavern offers a fantastic view of the city skyline at sunset. Tucked up the street and overlooking the neighbourhood with pretty lights strung up, you can't help feeling like you're at an exclusive balcony party with an all-welcoming and laid-back vibe.
Level 2, 124 10 St. N.W., 403-270-3347, oaktreetavern.ca
Nothing says summer like sitting by the pool, relaxing over cocktails and enjoying a light-tasting snack or meal, and Raw Bar offers this up in spades. The menu puts a contemporary twist on traditional Vietnamese cuisine. This oasis in the Hotel Arts is as close to South Beach as you can get in Calgary, so soak it up while the sun is shining.
119 12 Ave. S.W., 403-206-9565, rawbaryyc.ca
Lunch under the umbrellas at River Caf, on Prince's Island in all its blossoming glory, is the epitome of cultured elegance. And dinner is no slouch, either. The excellent menu highlights seasonal Canadian cuisine, which is especially appealing between 4:30 and 5:30 p.m. daily, when the caf offers its early-bird dinner menu – two courses for $27. Whereas other patios transport you to a place far away, River Caf celebrates the beauty of what we have right here.
25 Prince's Island Park, 403-261-7670, river-cafe.com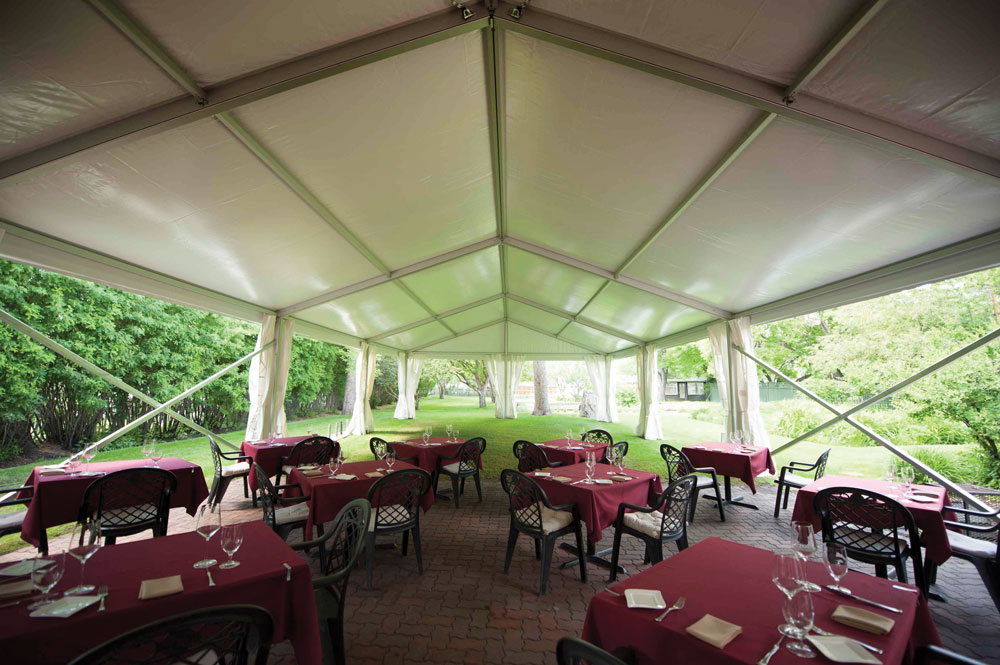 The patio at Rouge has the feel of a home's private backyard – if that yard was six city lots large, with a verdant lawn and vegetable garden and was surrounded by giant caraganas. A perennial winner in Avenue's annual restaurant awards, it almost goes without saying that the food is always first rate. With service on the patio on a sunny afternoon or a warm, clear evening, there are few places better to capture the essence of alfresco dining.
1240 8 Ave. S.E., 403-531-2767, rougecalgary.com
Located five kilometres south of Spruce Meadows, it's a bit of a drive to get to Siraia at the Sirocco Golf Club, but it's well worth it. Drink in the terrific views of where the prairies meet the mountains, while enjoying a menu that befits the beautiful surroundings with its upscale and fresh Canadian cuisine. The food is, frankly, far better than you might expect from a golf club, and the sunsets are as beautiful as they come.
210178 64 St. W., 403-201-5505, sirocco.ca
Classy it is not, but that's not to say this 17th Avenue S.W. mainstay is without its charms – relatively cheap beer and food being two of them. The Ship attracts an eclectic mix of patrons, including students, hipsters and people who went there in university and have long since graduated but still frequent it because it's the kind of place where everyone can have fun. The Ship's patio even opens in winter on those freak days that are warm and sunny, so committed are its fans to patio culture.
534 17 Ave. S.W., 403-245-333, shipandanchor.com
Hidden in plain sight, the rooftop patio at the Starbucks in Mission overlooks bustling 4th Street S.W., allowing patrons to be close to the action, but not too close. It's open from 5:30 a.m. to 10 p.m., so if it's a relaxing outdoor coffee break you're after in an uncrowded setting, this is a much nicer option than bistro tables on the sidewalk. Plus, there's free parking.
2219 4 St. S.W., 403-229-3008, starbucks.ca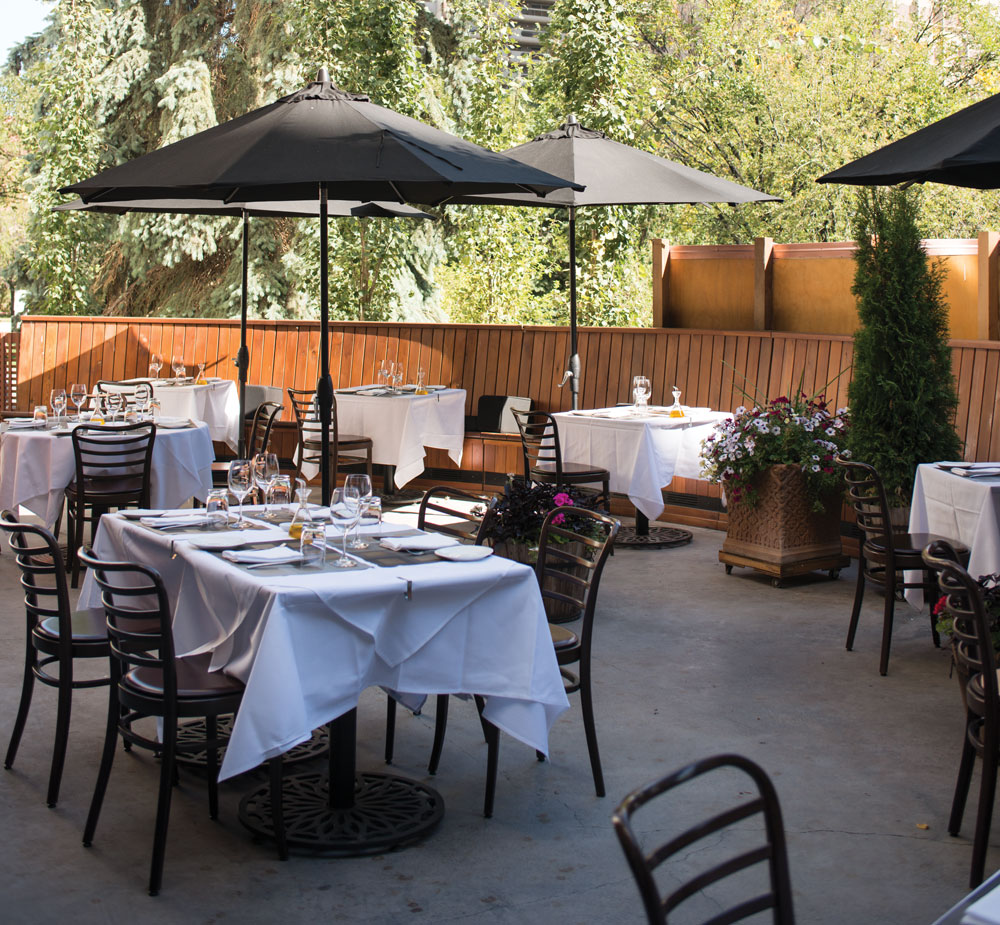 Who knew Teatro had a patio? And what a lovely patio it is, with its giant glowing white pendant hanging overhead, casting perfect soft light for an evening meal. It's intimate, located off the side of the restaurant with a solid fence separating it from adjacent Olympic Plaza, and perfect for a romantic evening or a small group get-together. A seamless extension of the elegance of Teatro's indoor space and very fine cuisine, the patio is a treasure worth discovering.
200 8 Ave. S.E., 403-290-1012, teatro.ca
Vin Room's rooftop patio is perfectly in step with the chic, stylish and playful decor inside this Mission wine bar. Serving consistently well-prepared and flavourful small plates and diverse selection of 105 wines by the glass, this is one of the city's best spots to pleasantly while away an afternoon, sipping and nibbling with friends. It's easy for afternoons to turn into evenings when the temperature dips, and Vin Room has you covered by providing heaters and blankets to take off the chill.
2310 4 St. S.W., 403-457-5522, vinroom.com
This patio has the distinct advantage of being far away from busy roads and the sounds and smells of traffic. Tucked away in the Currie Barracks, it's casual and sunny, with plentiful umbrellas and patio furniture that can be easily moved to accommodate large groups. The menu is inspired by Wild Rose's beers and, of course, features a full compliment of Wild Rose's excellent craft beer.
5505 72 Ave. S.E., 403-727-5451, wildrosebrewery.com
This article was updated on June 22, 2018.