19 New and Improved Calgary Patios
Ever more restaurants in Calgary means ever more patios opening this year – here's a look at some of the latest and greatest new and improved patios in and around town.
By Elizabeth Chorney-Booth, Jennifer Friesen and Jennifer Hamilton
The patio at Chef Roy Oh's Korean tapas joint offers the same kind of eating and drinking experience that you'll find inside the stylish restaurant. All of the modern Korean dishes that are offered on the regular menu – ranging from a tweaked Bibimbap to Oh's signature Korean fried chicken – can be eaten alfresco, along with Anju's creative Asian-inspired cocktails, as well as some special outdoor multi-portion drinks. Anju's patio sits right on the corner of busy 17th Avenue and 4th Street S.W., but the restaurant has strategically placed planter boxes and umbrellas to offer some shade and block traffic noise, and six heaters keep diners toasty on chilly evenings.
344 17 Ave. S.W., 403-460-3341, anju.ca, @anjurestaurant
Facing west and affording one of the most sweeping and impressive views of where the prairies meet the Rocky Mountains, the patio at Azuridge is well worth the 30-minute drive from downtown to Priddis. While you don't have to be a guest of the boutique hotel to enjoy the patio, you do need to have a reservation when the entire estate is booked privately. The patio is open daily from noon to 9 p.m. and offers a full-service lunch and dinner menu, which tends toward fine dining, but also offers gourmet burgers or cheese and charcuterie if you're just looking to graze. In the evenings, you'll find many a guest relaxing with a digestif while gazing at the stars.
178057 272 St. W., Priddis, 403-931-0100, azuridge.ca, @azuridgeestate
Southern barbecue and seafood seem to taste even better when eaten outdoors, which makes Bookers' patio, just a stone's throw from the Bow River, pretty much the perfect spot to enjoy a plate of ribs or a big crab and shrimp boil. Facing the street from the front of the 100-year-old brick warehouse that houses the restaurant, sitting at the big communal patio tables just makes the jambalaya and po'boy sandwiches taste that much more authentic. Bright lights at night keep the place jumping after dark, especially on Friday and Saturday nights as live blues music pours out from the stage inside the restaurant.
316 3 St. S.E., 403-264-6419, bookersbbq.com, @bookersbbq
The large wraparound veranda on the historic ranch house located in Fish Creek Provincial Park is among the most idyllic places in the city to enjoy a fine meal in the great outdoors. Formerly operated by CRMR as The Ranche, the restaurant is now run by Great Events Catering, which has carried on the tradition of serving very fine, locally sourced Canadian cuisine. So sit back and admire the impeccably maintained grounds and the fine restoration of the building and put yourself in the hands of the attentive service staff who will see to it your brunch, lunch or dinner is worthy of the surroundings.
15979 Bow Bottom Tr. S.E. (Fish Creek Provincial Park), 403-476-1310, bvrrestaurant.com, @rancheyyc
The latest addition to the restaurant portfolio that includes Blue Star Diner and Dairy Lane Caf, Cannibale opened this spring, and its patio is already a hit among Bridgelanders. The 30-seat patio space, enclosed by six-foot walls, features an outdoor black-brick fireplace with a cedar pergola, giving it a warm and intimate feel. The unfussy menu features quality sandwiches, soups, salads and bar snacks, plus a refined but casual cocktail, beer and wine program. This is a bona fide neighbourhood bar (with an attached barbershop!) and a welcome addition to the 1st Avenue N.E. strip that is fast becoming a dining destination.
831 1 Ave. N.E., 403-454-5808, cannibale.ca, @cannibale_yyc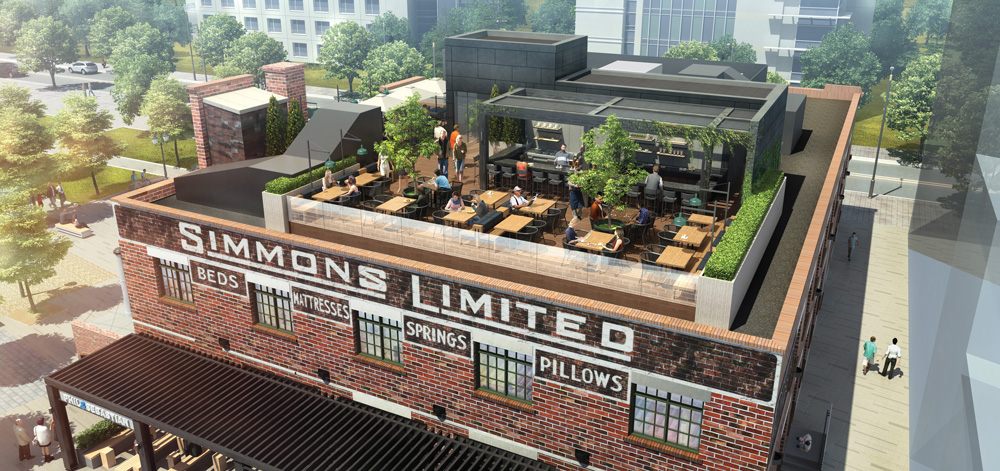 When the Charcut team started developing the old Simmons Building in the East Village, they made a point of capitalizing on the historic warehouse's riverside location. Charbar's expansive rooftop patio promises every patron will be able to enjoy a full view of the river, as well as a glimpse of the downtown skyline. The rooftop area is elevator-accessible (and has its own set of restrooms) and features a full bar, a small raw bar, a wood-fired Argentine grill and seats more than 100. There's also a separate seating area facing St. Patrick's Island, where guests can gather around a large gas fireplace. Downstairs you'll find a ground-level patio area with both licensed and unlicensed seating options, also facing the river. That patio is shared with the two other Simmons Building hotspots: Phil & Sebastian's Coffee and Sidewalk Citizen. The restaurant is expected to open late June 2015.
618 Confluence Way S.E., 403-452-3115, charbar.ca, @charbar_yyc
Cleaver's freshly revamped outdoor space lets guests revel in the action of 17th Avenue S.W., with a bit of seclusion provided by some greenery on either end of the long sidewalk patio. Open for dinner, as well as weekend brunch, this hot spot specializes in modern takes on Irish classics and is known for its meat-friendly menu. What better place to down a few creative and colourful cocktails alongside a chicken plank meal or a plate of duck and waffles than on one of Cleaver's imported Italian benches, while watching people stroll along one of Calgary's liveliest blocks? The patio's retractable awning makes it a good bet, even on rainy days.
524 17 Ave. S.W., 403-452-1211, cleavercalgary.com, @cleavercalgary
Hitting the dance floor at a live show or DJ set at Commonwealth is sweaty business – which makes the patio an absolute must on hot summer nights. Open to the public on Fridays and Saturdays, as well as on show nights, the patio is surrounded by a cedar fence
that blocks out street noise, while still allowing for a partial city view. In addition to providing a quiet(er) space for Commonwealth regulars to sit and hang out, the patio can be booked for special events, during which special food and drink services like custom cocktails and barbecues can be arranged.
731 10 Ave. S.W., 403-247-4663, commonwealthbar.ca, @commonwealthyyc
The spacious, multi-tiered patio is one of Corbeaux's biggest perks, but the ultra-popular bakery/restaurant is only starting to take advantage of the approximately 130-seat extension of its space now that the weather is warm. The open patio means wait times to be seated are greatly reduced, thanks to a combination of full-service tables and spots to sit down to enjoy a treat from the bakery case. The bar-style seating along the rail offers one of the best people-watching opportunities on 17th Avenue S.W., made all the more fun as you sip on a cup of coffee or cocktail and dig into one of Corbeaux's lemon curd-laden pastries, a personalized charcuterie plate or warm comfort food from the kitchen.
730 17 Ave. S.W., 403-474-9214, corbeaux.com, @corbeauxbake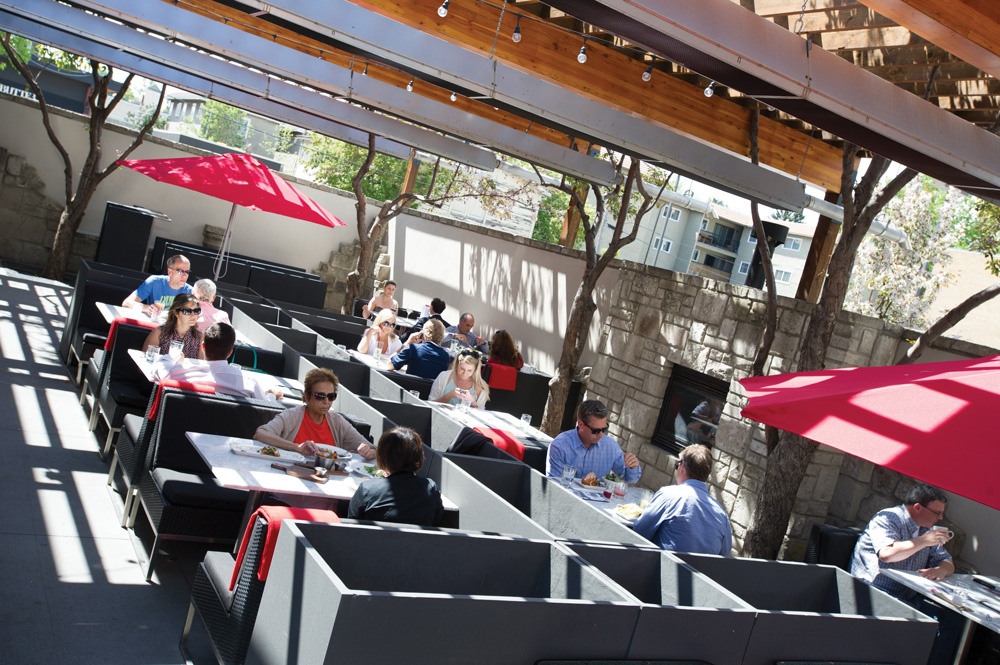 The 2013 flood necessitated that Earl's Tin Palace renovate. And renovate it did, updating not only the interior of the restaurant, but also the restaurant patio area out back. The result is a refined, comfortable space that features mostly booth seating with an outdoor stone fireplace along one of the outside walls. Much attention is paid to the flowers and greenery, so the patio has a lovely garden feel, which is walled off from the adjacent parking lot so you never know it's there. White lights twinkle overhead at night, suspended from the pergola, making the whole atmosphere just so pretty. Earl's Tin Palace also has a patio for its lounge side that faces out onto 4th Street S.W.
2410 4 St. S.W., 403-228-4141, earls.ca, @earlstin
If you're going to relish a "farm-to-glass" spirit at the Eau Claire Distillery's new tasting room, you may as well be able to breathe in Turner Valley's fresh prairie air as you sip. The Distillery's tasting room's street-level patio is decorated with distillery accoutrements like whisky barrels, copper flowerpots and horsewagon equipment. Go for a tour of the Distillery or stop in for a tasting of Eau Claire's products, including its signature Parlour Gin and Three Point Vodka, then relax on the patio outside of the reclaimed 1929 movie theatre in the heart of cowboy country while indulging in some additional cocktails and select appetizers.
113 Sunset Blvd. N.W., Turner Valley, 403-933-5404, eauclairedistillery.ca, @eauclairecraft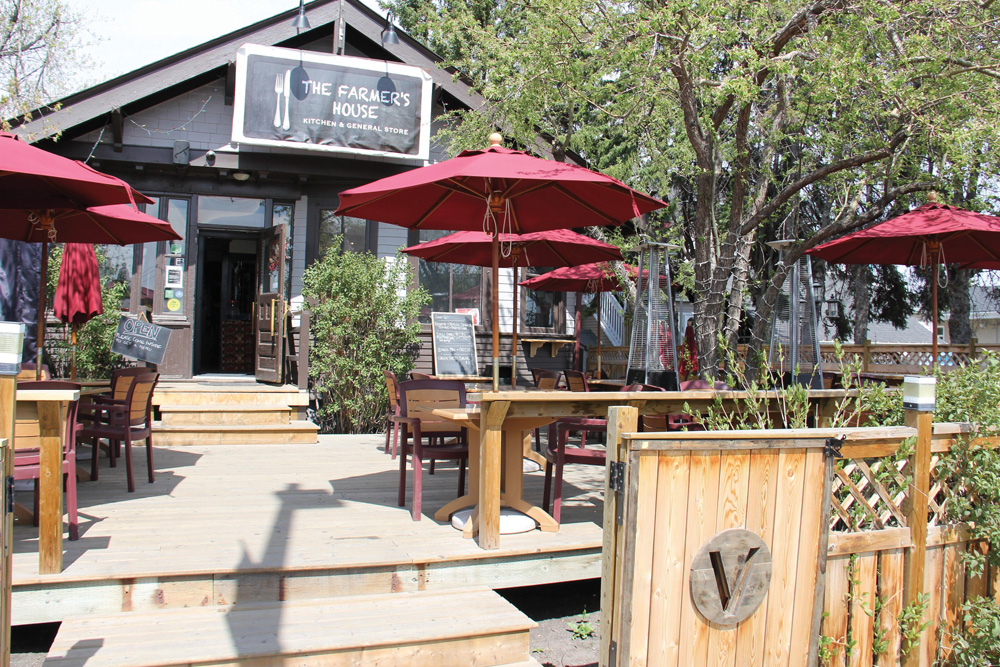 This funky heritage space in Marda Loop was taken over last August by Margie Hope, who used to run the Blamwich food truck. Hope, in turn, brought in executive chef Jody Barned, who formerly operated JoJo's BBQ. The charming front porch is nicely shaded by large trees, which also do a good job muffling the traffic noises from 33rd Avenue S.W. The menu is short and sweet, and the focus is on fresh, local food like the ploughman's lunch share plate with meats, cheese, homemade pickles, chutney and baguette.
2138 33 Ave. S.W., 403-727-1188, farmershouse.ca, @mardaloopfarm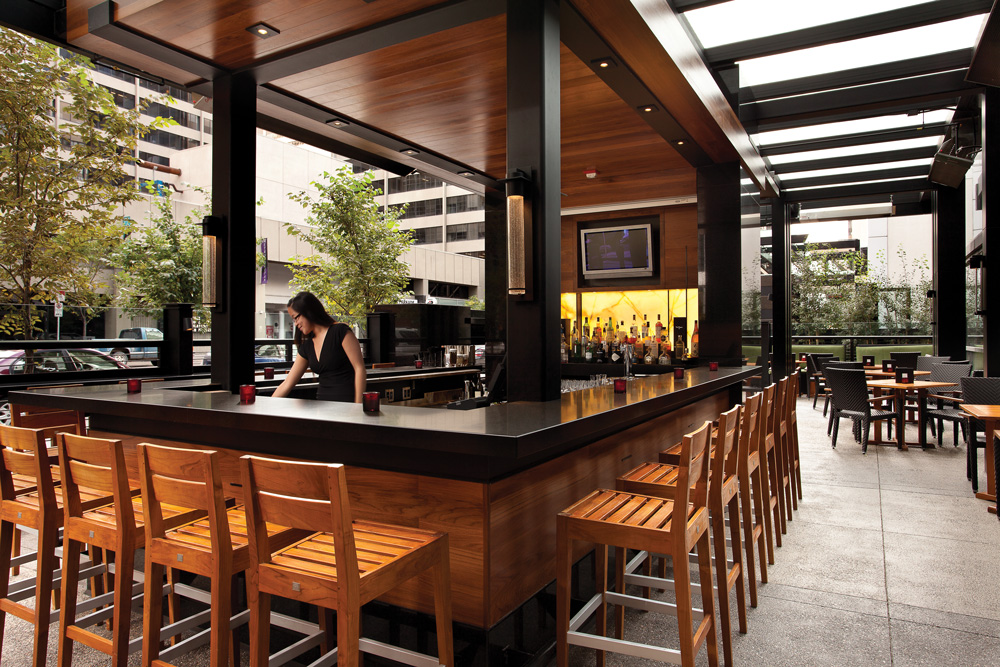 Serving up some of the most refined sushi in the city, Ki also has one of the most elegant patios in Calgary's downtown and the only one that's covered. There's a large outdoor bar in the centre of the patio with seating for 18 people and surrounding tables seating a maximum of 44 people. A mixture of teak and iron accents gives this contemporary patio an outdoor living space feel and the trees on the periphery provide a welcome buffer from busy 4th Avenue S.W.
308 4 Ave. S.W., 403-264-1133, kijapanese.com, @kijapanese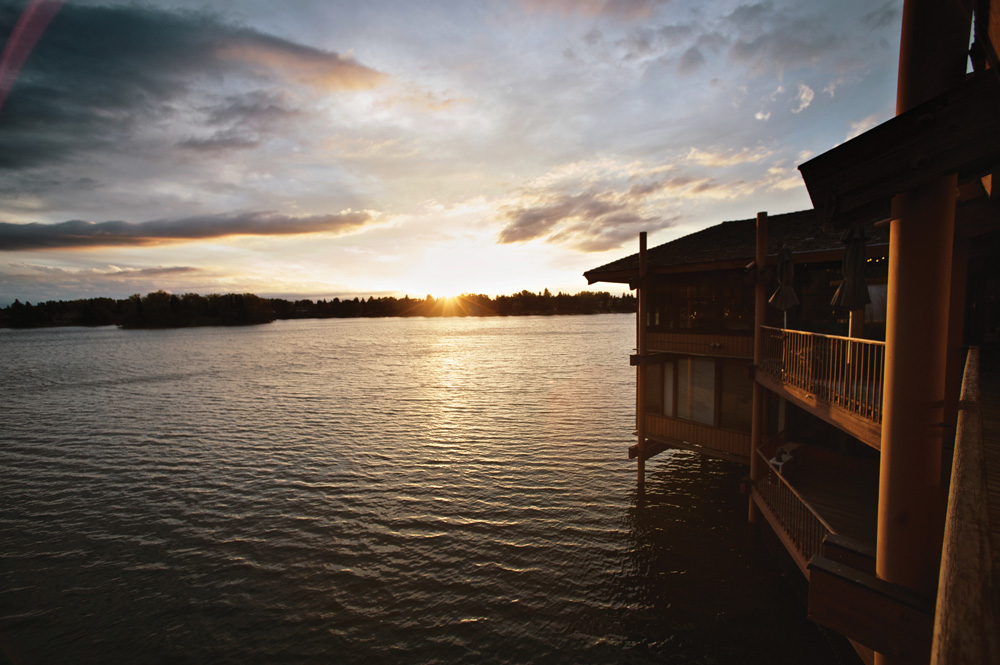 The best thing about the patio at The Lake House is it has the feel of lounging on a private deck at a cottage on a lake, but with access to one of the city's best menus for fine Rocky Mountain cuisine and a stellar cocktail program to boot. You could go for one of the hearty main dishes or, if you want to do it more picnic-style, opt for some oysters and a glass of bubbles to start and then nibble away on the charcuterie board, which is loaded with interesting meats and pickled things.
747 Lake Bonavista Dr. S.E., 403-225-3939, lakehousecalgary.com, @thelakehouseyyc
Part of the fun of National on 10th is that the giant beer hall has so many nooks and crannies, with each space within the complex having its own flavour. The patio is no exception, extending the liveliness of the spacious main hall to the building's bright rooftop. There's a full bar up there, stocked with 24 taps of craft beer, plus a full array of upscale bar food so that you can indulge in duck nuggets, beer cheese spread and the National's unusually tempting tater tots while basking in the sun. The patio is open late and is decked out with strings of lights so you can raise a cold one well into the night.
341 10 Ave. S.W., 403-474-2739, ntnl.ca, @ntnl10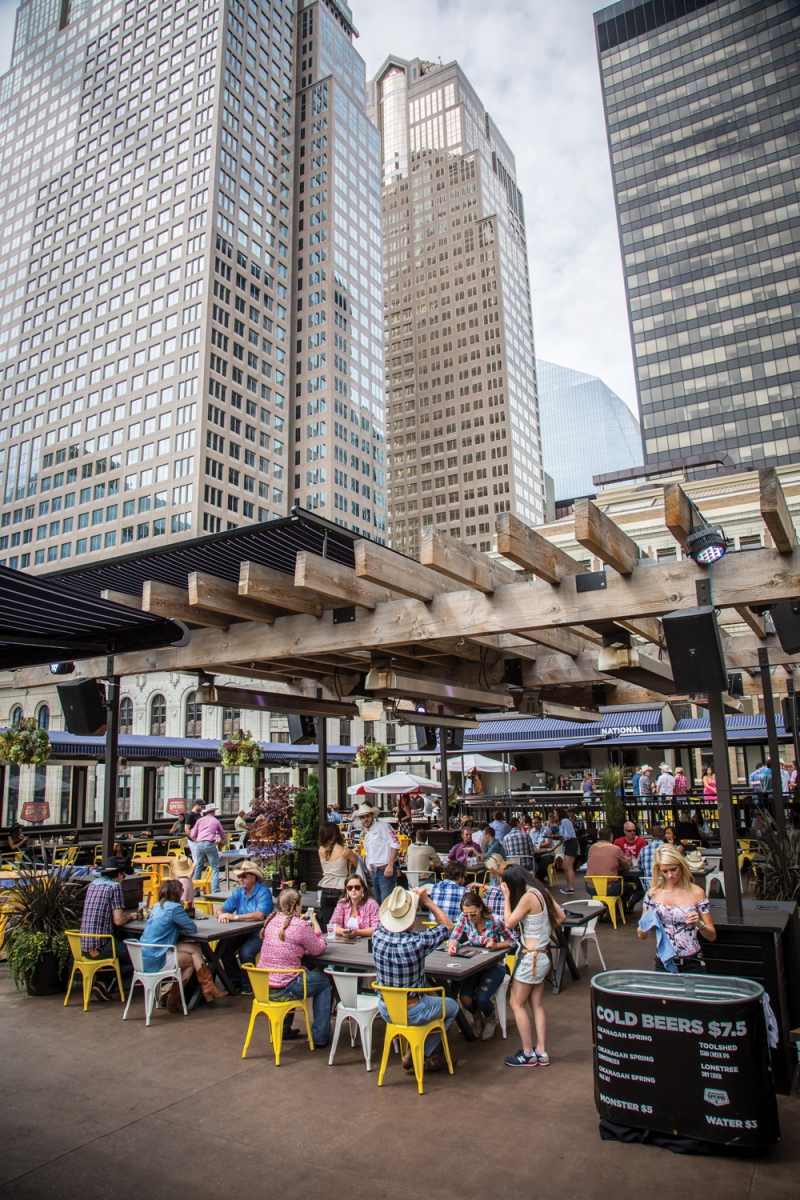 What's more fun than a beer garden? A beer garden on a rooftop! And that's just what you get at National on 8th – a very social atmosphere with communal tables, a games area with ping-pong and a vast selection of beer on tap. Located on the third storey of the Scotia Centre downtown, this patio caters to a diverse clientele with its come-one-come-all vibe (even kids are allowed before 9 p.m.). Look for $5 beer specials between 3 and 6 p.m. and Buck-a-Shuck Tuesdays when oysters are $1. And it serves brunch on Saturdays until 3 p.m.
225 8 Ave. S.W., 403-237-5556, ntnl.ca, @ntnl8
The laid-back vibe at all three of Redwater's Calgary locations extends to each restaurant's welcoming patio. Each location has its own feel: the Aspen Estates Redwater patio is a secluded little oasis, facing a pretty little pond rather than the parking lot of the shopping centre and features a fireplace to lounge around; the slightly larger Macleod Trail patio is glassed-in and covered with a pergola for shade and a sense of coziness; and the Stadium location is well-shaded and runs parallel to 16th Avenue N.W., giving it some added bustle. All three are well-decorated with plants and flowers and offer Redwater's full menu of comfort-food classics and more modern fare, with selections like lobster tacos, stone-baked flatbreads and juicy steaks topped with Redwater's signature sauces. And watch for $20 wine specials on Tuesdays.
Redwater Rustic Grille Aspen
326 Aspen Glen Landing S.W., 403-686-6731, aspenestates.redwatergrille.com, @redwateryyc
Redwater Rustic Grille Macleod
9223 Macleod Tr. S., 403-253-4266, macleodtrail.redwatergrille.com, @redwateryyc
Redwater Rustic Grille Stadium
1935 Uxbridge Dr. N.W., 403-220-0222, stadium.redwatergrille.com, @redwateryyc
The dining room at Symons Roadhouse sets the tone for the restaurant's upscale Western feel, and the patio follows those same cowboy-chic cues. Decorated with hay bales, wagon wheels and whisky barrels, this east-facing patio gets plenty of sun for the morning-brunch crowd, offers outstanding views of Symons Valley throughout the day and allows guests to dine or sip on a seasonal cocktail around the firepit under the sparkle of the starry Alberta sky on warm summer evenings. The roadhouse smoker fills the air with a constant aroma of mesquite smoked pork, brisket and chicken, while a nearby hitching post gives more adventurous cowpokes the opportunity to ride right to the patio to pop in for some grub.
14555 Symons Valley Rd. N.W., 587-296-4986, symonsroadhouse.com, @symonsroadhouse
There is much to recommend Vin Room West's patio. Decor-wise, the 50-seat patio is an extension of the restaurant's cool, chic interior, with stone and marble accents. The view is to the west, making it a wonderful place to watch the sun go down while you sip from the excellent wine list and sample the various shared plates. There are drink features from 4 to 7 p.m. daily, which usually highlight unique and hard-to-find wines, and, if you continue into the night and things get chilly, there are cozy blankets to snuggle up with and the responsible folks at Vin Room will even drive you home in your car ($20 for the first five kilometres, $2 per additional kilometre).
8561 8A Ave. S.W., 587-353-8812, vinroom.com, @vinroom