7 Items In Peggy Perry's Pantry
Food aficionado Peggy Perry shows us her must-have kitchen staples for holiday entertaining and shares her recipe for her go-to biscotti.
By Jennifer Hamilton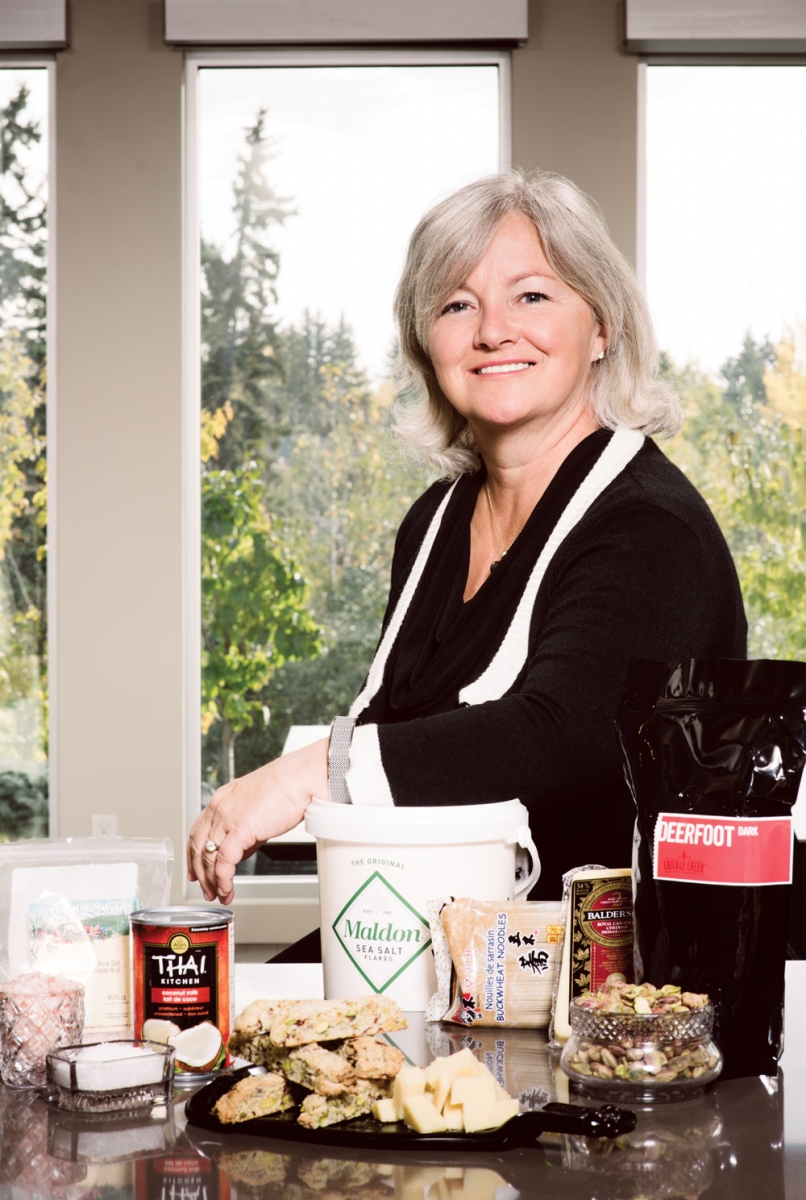 photograph by jared sych
Peggy Perry has been the vice president of purchasing and marketing for Willow Park Wines & Spirits since it opened in 1994, so she knows a few things about good taste. Not surprisingly, her entertaining style tends toward food and wine pairings, but simply and cleanly. "I always have frozen shrimp and scallops in the freezer. Sear the scallops, sprinkle with pink salt, and serve with Champagne. Or toss them on top of soba noodles with a fresh veg like grated carrot, and now you have a main course," she says. Perry also has some very practical hosting advice: "Keep the lights low, light some candles and don't worry that you haven't dusted."
Himalayan rock salt
"It's very delicate and looks perfect against white flesh like white fish or poached chicken. I mix it with pink peppercorns and it looks so pretty."
Coconut milk
"If you have coconut milk, you can make anything. People love Thai food."
Maldon sea salt
"I really like finishing salt. I don't like to cook with it, but I like the sheen and crunch of it on a grilled duck breast or steak. It's not too salty a salt."
Soba noodles
"I'm addicted to them. I feel very comfortable when I have cooked soba noodles in the fridge. You can make a quick salad with honey, soy sauce, rice vinegar and sesame oil, and serve with a steely dry Chablis, riesling, Champagne or a beer if you make it spicy."
Balderson cheddar
"That's to keep my husband happy. And the parmigiano reggiano is for me. I don't think you can live life without at least two cheeses in the fridge, but five is better."
"The coffee is amazing – it's the best dark roasted coffee in the city. It's based in Priddis and it's delivered to your door every Thursday."
Pistachios
"I made pistachio biscotti for the first time in 1990. At the time, I had to oven-dry the cranberries myself because you couldn't buy them. Now I make 12 to 16 dozen every Christmas for guests who expect it."
Peggy Perry's Cranberry Pistachio Biscotti Recipe
1 3/4 cup flour
3/4 cup white sugar
1/2 tsp. baking powder
1/2 tsp. salt
1/4 cup butter, cut into six to eight pieces
1 tsp. vanilla
3 eggs
1 1/2 cup pistachios
1/2 cup cranberries, dried (unsweetened is best)
Using a food processor, pulse together the first four dry ingredients. Add butter and vanilla and pulse until the mixture looks like coarse cornmeal. Add remaining ingredients. Pulse five times, scrape down sides and pulse until all is moistened.
Dump out onto lightly floured wooded surface and knead gently. Divide into three and shape into logs 15 centimetres by five centimetres.
Bake for 25 minutes at 350F. Remove from oven and, while still warm, cut into finger-width slices. Return to the oven, and bake again for five minutes, then turn over and bake five more minutes. Take the biscotti out of the oven and cool on a wire rack.
Leave the finished biscotti out at room temperature for a day to dry them a bit more, then store in a tin for up to two weeks.