8 Californian Red Blends to Pair with Meat Dishes
If fruit-forward and bold are your jam, look no further than California's bodacious blended wines
By Tom Firth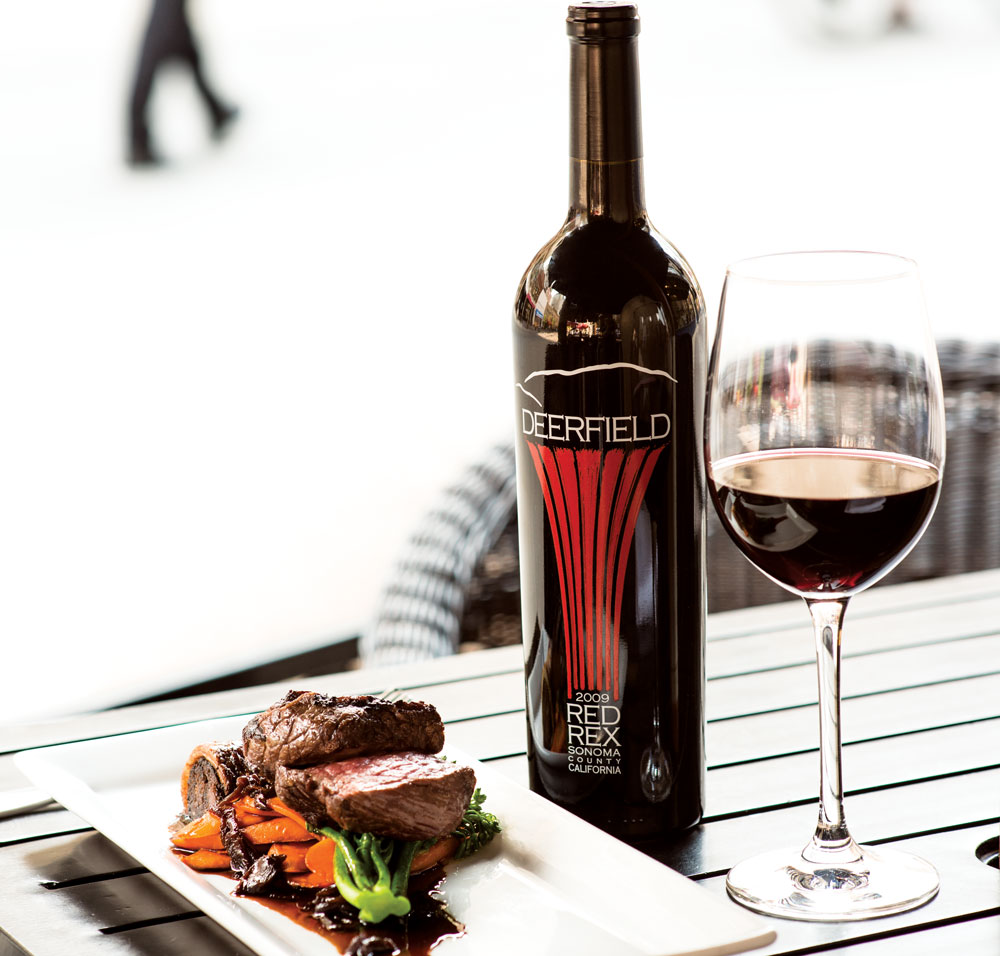 photograph by jared sych
Beef and elk and modern red at The Trib on 8th Avenue.
Did you know that California produces about 90 per cent of all the wine made in the United States? You might be wondering, hmm, I thought it would be higher, but virtually every state in the union grows grapes and makes wine. But, as they say, everything's bigger in California. No, wait, that's Texas. Anyway ...
Californian red blends
California has the perfect climate for grape production, and the varied terrain, soils and weather patterns such as the Bay fog mean that almost any grape can find a perfect home in the Bear Flag state. Wine has been made in California since about 1770, and, since then, winemaking in the state has had a few ups and downs including Prohibition, a gold rush and the Great Depression. The state has also been the home to some tremendous investment in agriculture and viticulture. Simply put, it's a great place to grow grapes and they have the tools and the talent to turn it into great wine.
With a few notable exceptions, such as pinot noir, almost all red wines produced in California could be considered blends. While most reputable wine-making countries have laws about what can go in the bottle versus what is on the label, there is a surprising amount of wiggle room in the United States. For example, if a wine has an American Viticultural Area (AVA) listed on the label, only 85 per cent of the grapes must come from that AVA. If a grape variety is on the label, only 75 per cent of the wine inside has to actually come from that grape. The reasoning for this is varied and, for the most part, helps to account for vintage variation, to add balance to the wine and to mitigate for some shortcomings that using a single grape variety might bring.
Understanding the "Meritage"
The term "Meritage," which often appears on Cali blends, is a certification that helps identify quality American wine blends that, because they're not made with 75 per cent of a single grape variety, can't use the variety name on the label. Meritage wine must use at least two of the Bordeaux varietals -cabernet sauvignon, merlot, petit verdot, cabernet franc, malbec and carmnre for red wines – and must be a blend with no more than 90 per cent of the wine coming from one grape. The Meritage Association's real influence on wine was that it created a tier of high-quality wine, meant to evoke the quality and tradition of Bordeaux. (But not the pronunciation of the French. "Meritage" rhymes with "heritage," not garage.)
There is also a new blend in town, the perfect counterpoint to the traditional blends found in European wines. These wines can be blends using zinfandel, syrah or anything, really. They are usually created to bring plenty of rounder or riper flavours or intense fruits along with big tannins, but without bitterness or too much earthiness.
Many wine experts decry the recent "Apothic" phenomenon brought about by the E. & J. Gallo winery. Trendy label, all those berry fruits and pretty well the No. 1 selling wine out there, it's almost everything serious wine drinkers hate. But what the Gallo family did that not many other wineries were doing was listen to what very occasional wine drinkers wanted and make that wine exactly the way they wanted it. Fruit? Check. Chocolate? Check. Soft tannins and some sweetness? Check. Should look cool on the table? Done.
These wines are typically off-dry, even sweet, tannins are there but silky smooth, and to call them fruit-forward would be an understatement. These modern blends can be made to be "cheap and cheerful" but also come in styles and price points to be cellared or enjoyed at special occasions.
Choosing a red blend
Recommending a time period to cellar a California red blend is difficult without knowing a few details about it, but a few simple guidelines will help. If it's sweeter, or inexpensive, it's most likely already at its best-before date and more time in the cellar won't improve the wine. Bordeaux-style blends – whether they say Meritage on the label or not – can and do improve with age. I'd have no problem keeping a Meritage five to 10 years after the vintage date, and higher-priced examples can go much longer. As for the non-traditional blends, I think they are best when they still have a lot of fruit presence and generally best upon release and up to five years later.
As for what to enjoy with these wines, I usually pair food against the leading grape variety in the bottle. Zinfandel-based blends work very well with protein-rich foods that also have a bit of fat. Syrah can handle spice and earthy flavours such as mushrooms or dry rubs. And those classic Meritage blends? Anything from duck to game to some great beef.
3 local pairings
The Trib: Beef and elk and modern red
The Trib on 8th Avenue still delivers a great experience when it comes to meat and red wine. Try pairing the Red Rex from Deerfield Ranch ($59) with the beef and elk, where the cherry Wellington brings out the finer nuances of this blend of Bordeaux varietals with a little syrah and zin.
The Bears Den: Bison strip loin and a merlot-based blend
I'm such a fan of this dynamic duo: the rich, earthy flavours of a bison strip loin with wild mushroom pastry matched up with a full-bodied blend such as the Blackbird "Arise" ($120). Merlot-based, it has a healthy amount of cabernet franc for spice and a little cabernet sauvignon for backbone.
Redwater Rustic Grille (Macleod Trail): Braised short rib and classic cab blend
Not like I need an excuse to eat some short ribs, but I'm fully on board with the ones at Redwater Grill. Match them up with the biodynamic Benziger Tribute ($151) and it's a beautiful thing. Based around cabernet sauvignon, it handles all the wonderful layers of flavour from braising.
8 red blends from California
PB Hein Vineyards 2011 Trailblazer Red, North Coast, California

Cabernet sauvignon provides the backbone of this blend (40 per cent) with equal parts syrah and petite syrah. There are bright cherry fruits on the nose with currants, spice and a little alcohol heat. In the mouth you get lush fruits with earthy tones and more spice with balanced tannins start to finish. $30.
Frank Family Vineyards 2011 Zinfandel, Napa Valley, California

Blended with 11 per cent petite syrah, this zinfandel has all the brambly fruits I like from zin with floral character, charred cherries, smoke and rich jamminess. Drink now or soon with meaty lasagnas, stews or even pizza. $45.
Exitus 2011 Red Wine, California

Mainly syrah with 31 per cent merlot and nine per cent cab, this medium-bodied blend shows soft tannins and a touch of oak. In the mouth, the 14.1 per cent alcohol warms the palate and balances the ripeness of the fruit. How do you like your steak? With wine. $26.
Conundrum 2011 Red, California

While the exact blend is a closely held secret, it most likely contains most of the major red grapes found in California and is probably based around cabernet. Cherry and currant fruits with coffee and cocoa lead the way, with tart cherry fruits taking over on the palate. Fresh and very easy to enjoy. $27.
Fancy Pants 2011 Red, California

A fun, very casual glass of wine, which is blended around zinfandel, cabernet and merlot. It sports bright cherry and field berry fruits with a touch of oak and spice – an off-dry wine with bright jammy fruits. $15.
Treana 2008 Red, Paso Robles, California

From Hope family wines, this is a blend of cabernet sauvignon with 30 per cent syrah. The fruit definitely leads the way, but the real charm comes from plenty of cocoa bean, spice and good tannin balance. Oh, and it cellars really well. $48.
Cameron Hughes Lot 394 2011 Meritage Dry Creek, California

Based around merlot, the plum and cherry fruits are generous with tannins that are firm, but not aggressive, making for a wine that's good to go now or for planning ahead for your next party. Cameron Hughes is a ngociant who specializes in sourcing premium grapes and wines for re-blending into small "lots," and the result is high-quality, great-value wines. $23.
Gnarly Head 2012 Authentic Red, Lodi California

(G)named after old vines which take on a gnarled appearance, this juicy blend is anchored by zinfandel with the addition of syrah and merlot, meaning fruit and spice take the lead flavour-wise. It's very easy to drink and can handle a little fat and sweetness with ease – think meaty dishes with plenty of barbecue sauces or glazes. $19.