8 Holiday Desserts to Buy
When it comes to holiday baking and candy-making, sometimes it's best to leave it to the pros.
By Dan Clapson
Jelly Modern's holiday doughnuts are almost too cute to eat. Almost.
Save the candy canes for the Christmas trees. Here are eight hand-crafted desserts in Calgary that will impress friends and co-workers much more than a standard box of candies or chocolates.
Vanilla cheesecake filling combined with Brle's homemade brownie batter makes for a brownie of epic proportions. Needless to say, you'll be the bell of the ball at whatever party you show up to with these in your hands.
722 11 Ave. S.W., 403-261-3064, brulee.ca, @bruleecalgary
Coppeneur Green Tea and Mango Chocolate Bar
For something a little different, opt for a few of these small bars, made with white chocolate, tropical fruit flavours (passionfruit and mango) and earthy green tea. They're as delicious as they are conversational.
105 8 Ave. S.W., 403-457-4210, coppeneurchocolate.com, @coppeneur
Is there anything better than the combination of shortbread, salted caramel and chocolate ganache? No, there is not. If you are looking for something a little more sparkly and festive from Crave, try the red velvet cookies too.
various locations, cravecupcakes.ca, @craveyyc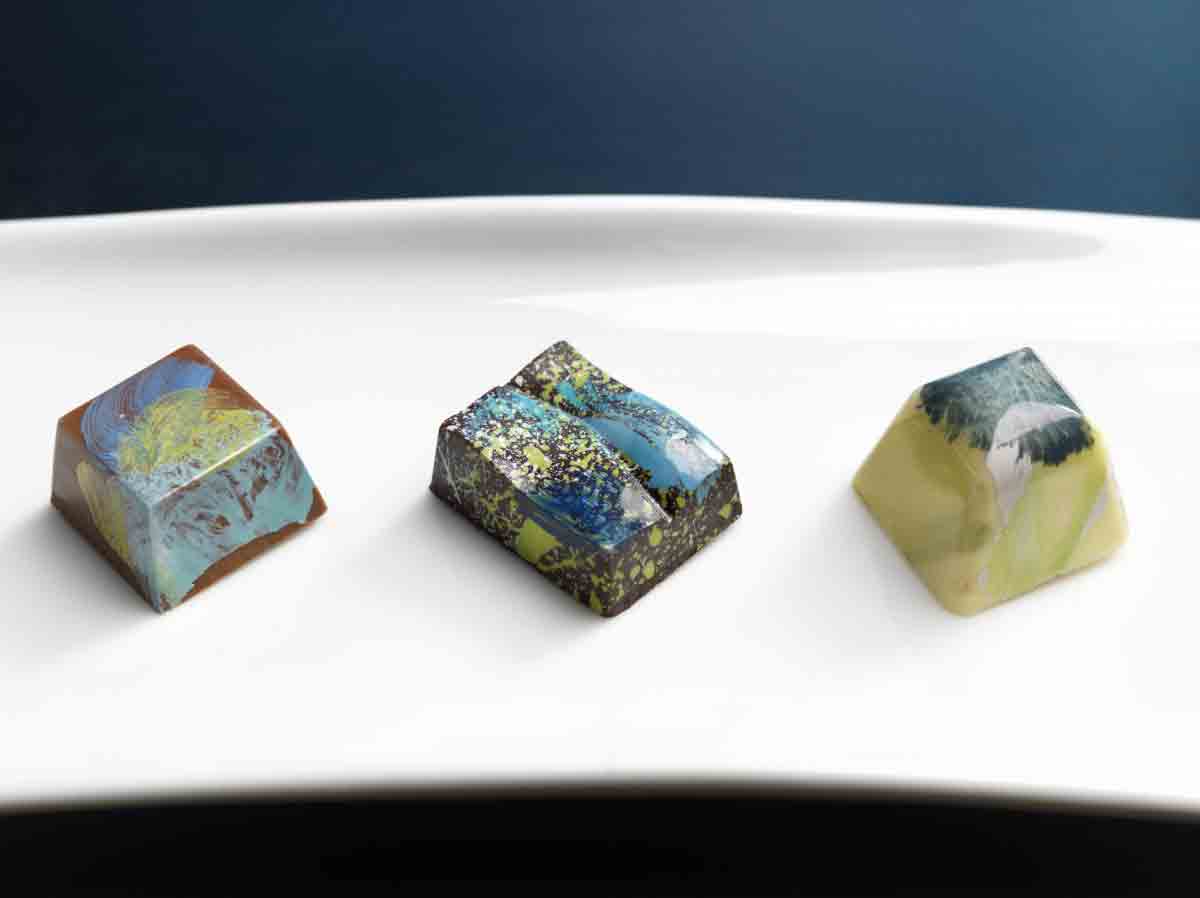 Karine Moulin's hand-painted truffles make for a perfect office gift or stocking stuffer.
Hotel Arts Hand-painted Truffles
Always available on Yellow Door Bistro and Raw Bar's dessert menus, Hotel Arts is packaging up Karine Moulin's hand-painted truffles for the month of December. Flavours change daily, so just give the hotel a ring to see what kinds it happens to be boxing up today.
119 12 Ave. S.W., 403-266-4611, hotelarts.ca, @hotelartsyyc
Leave it to Jelly to create some of the cutest edibles for the holiday season. Swing by to pick up a few of the buttercream doughnuts, topped with a little edible snowman. Sorry Frosty, but we've got to eat you before you melt.
various locations, jellymoderndoughnuts.com, @jellymodern
This top tier chocolatier never fails to impress, so pop one of the shops to pick up a box of perfectly chewy salted caramels, coated in a layer of dark chocolate.
various locations, papachocolat.ca, @papachocolatmmm
Did you just scream, "I want this!" really loudly inside your head? Good for about 10 people, this chocolate cake from one of the city's top bakers is finished with Baileys cream cheese icing and chocolate shavings. Pairs perfectly with coffee and Baileys. Go figure.
338 10 St. N.W., 403-460-9065, sidewalkcitizenbakery.com, @sunny_sidewalk
Hot boozy drinks are a classic go-to at this time of year, so it's always nice to see them as the inspiration for a dessert. This patisserie in Mission whips up some of the best macarons you can find in the city and makes sure to package them up all pretty-like so the person you're giving them to will be impressed from the box right down to the final bite.
329 23 Ave. S.W., 403-244-8091, yannboutique.com, @yannboutique