A Brief Recent History of Calgary's Big Farmers' Markets
Over the last decade, Calgary's farmers' markets have gained ground – figuratively and literally
By John Gilchrist
Photography by Jared Sych
On December 23, 2010, Calgary's food scene changed.
At 5 p.m., the Calgary Farmers' Market (CFM), the original one, in the old airplane hangar on Currie Barracks, closed its doors. It had been a remarkable run since it had opened six-and-a-half years earlier, elevating food shopping in Calgary to a whole new, producer-driven level.
Now, almost four years later, with the CFM comfortably ensconced in its new abode off Blackfoot Trail, it's time to take the pulse of Calgary's year-round markets – CFM, Market on Macleod (formerly Kingsland Farmers' Market), Crossroads Market and Symons Valley Ranch Farmers' Market (SVR).
But first, a little look back.
Farmers' markets – or public markets – have a long history in Calgary. Until the late 1950s, a large public market occupied the downtown space where the W.R. Castell Central Library now stands. But then snazzy new supermarkets captured the consumers' eye with their convenience, flashy promotions and long hours. Small farmers' markets lived on but were relegated to dusty alleys and parking lots.
Then, as the city continued to grow, Charlie Gow opened the seasonal Farmers' Own Farmers' Market (a.k.a. The Blackfoot Market) near Blackfoot Trail. It built a following over the 1990s and into the early 2000s.
It was at the Blackfoot market that many of the CFM vendors first met and sold their wares. In 2003, they formed the ABC Farmers' Market Society and shifted into the Currie Barracks location a year later. (Blackfoot became more of a swap meet and lasted a few more years.) One of the vendors' major concerns prior to opening CFM was whether anyone would come to the new location.
But they came. In droves.
The second case of mad cow disease in Canada had been confirmed just a year earlier (the first was in 1993), and many people wanted to know more about their food – where it came from, who grew it, how it was treated. Farmers' markets became a cool destination. CFM was perfectly timed.
But, after five years, CFM's lease ran out, was extended twice, and then landlord Canada Lands finally showed them the door – Currie Barracks had always been earmarked for redevelopment. A new space was found in the former Heritage Flea Market building off Blackfoot Trail, but a schism formed in the ranks of the vendors over the future direction of the market and the costs of relocation. A group of vendors split off to form their own market.
---
Market on Macleod (formerly the Kingsland Farmers' Market)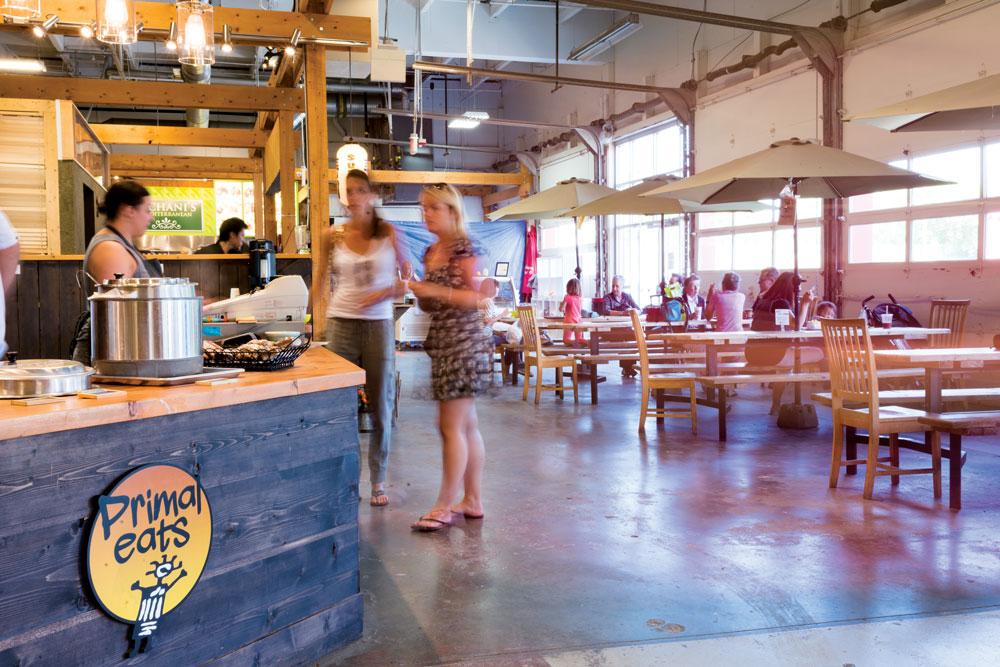 The CFM break-off group, led by Tim Hoven of Hoven Farms and Gert Lund of Lund's Organic Farm, joined with Gary Wilkes of Community Natural Foods to lease the former McKay Pontiac dealership on Macleod Trail. Other vendors such as Jackson Meats, Rustic Sourdough Bakery and Prairie Farms joined them and new vendors like Broxburn Farms came in, too. Some vendors such as Spragg Meats, The Cucumber Man and Sylvan Star Cheese opted to join both what was then the Kingsland Farmers' Market and the new CFM.
Ultimately, more than 50 vendors filled the old salesroom and grease pits, with a focus on grower-direct sales. Opening prior to the closure of the Currie Barracks CFM, Kingsland had a jump on the market. But, when the new CFM opened in the spring of 2011, the customer base was effectively split. All the eggs weren't in one basket anymore. Vendors who were expecting the same traffic as the old market were challenged.
It wasn't easy.
"You have to promote yourself," says Margaret Nemeth, owner of Primal Soup Co. at Market on Macleod. "You're dead in the water if you don't. The market can't do it all for you."
Vendors came and went, some thriving, others not. Nemeth, with 30 years experience in the service industry, explains her philosophy: "People don't buy what you sell. They buy who you are."
It was a struggle for Kingsland, and, earlier this year, the group behind the market defaulted on the lease, ceding control to landlord Bob McKay. The seasoned car salesman rebranded it as the Market on Macleod and immediately set about attracting a new bank of vendors. McKay talks of growing relationships with the community, adding more personalization to the market and increasing return business. As he says, "It's easy to sell a car to someone once. It's a lot harder to sell them a car a second time."
As for Hoven and Lund and the Kingsland group, they're disappointed their plan to someday own the market is gone. But Hoven remains as a vendor (Lund has since decamped to CFM) and the silver lining is they don't have to run the business anymore; they can go back to being just farmers.
As for the market, it sits on valuable Macleod Trail land near the Heritage LRT Station. It's not unreasonable to imagine that land converted into residential housing in the not-too-distant future. Whether there's room for a farmers' market in that development is no doubt a question many would like answered.
Great Vendors at Market on Macleod
7711 Macleod Tr. S.W., 403-255-3276
We may not grow grapes in Alberta, but we grow loads of berries that make great fruit wines. Field Stone's are among the best anywhere – they're not sweet! (Also at CFM)
Pre-packaged or cut to order, Tim Hoven's premium organic beef – and other organic Alberta meats – are ready for the grill.
Kaffir Lime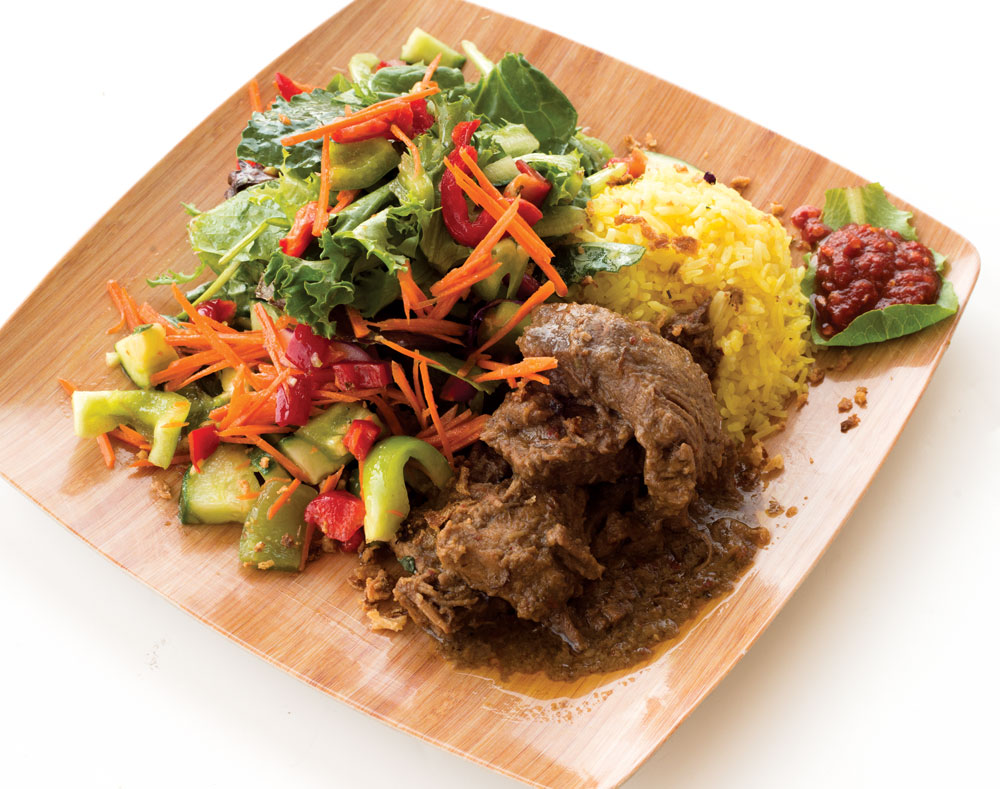 Lush gado gado, beef rendang and spicy satays are ready-to-go at this tiny Indonesian kiosk.
Margaret Nemeth presides over a wealth of fresh and frozen soups and makes one of the best – and biggest – carrot cakes in town.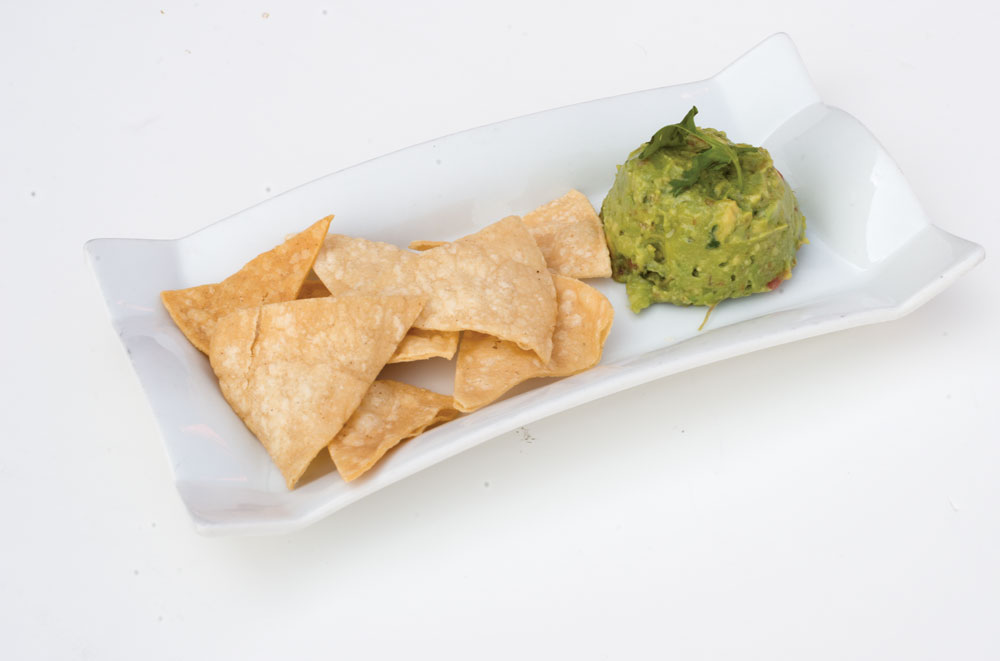 Pair still-hot taco chips with a battery of creative salsas from creamy guacamole to eye-watering habanero for a Mexican treat. (Also at SVR)
Jan and Janny Schalkwijk brought their gouda-making skills from Holland to Alberta in the 1990s and now make award-winning cheeses like their Grizzly Gouda. (Also at CFM and SVR)
---
It cost more to build and took longer to open than planned, and the first year was a bit rocky, but CFM has settled into a comfortable space.
The market's new home in a renovated former flea market off Blackfoot Trail is packed with 82 vendors, with a waiting list for any spaces that might open up. Long-time vendors like The Cherry Pit, Gull Valley Greenhouses, Innisfail Growers and Margarita's Dishes continue to be draws, and newer vendors such as Fratello Analog, Blu Seafood and Soffritto have added colour.
But, in the early days, crowds were thin, especially on Thursdays. Many vendors hoped their Currie Barracks customers would follow them to their new space and that they could add new ones, too. But growth was slow. The move was more like starting from scratch, but this time without the benefit of being a hot, new commodity.
The old Currie Barracks CFM hit its stride quickly and peaked in the 2006 to 2008 period, at times generating an estimated 30,000 to 40,000 visitors on summer weekends. Many of those were tire-kickers or one-time visitors checking out the latest trend. Then the recession hit. By the time the market closed in 2010, the numbers were in steep decline. These days, a good weekend draws 20,000 customers to the new CFM. But, on the plus side, with the "trendy" factor passed, the bulk of those numbers are shoppers.
It's a little out of the way for some of the old customers, but the new CFM has an oddball charm and an airy, warehousey tone that appeals. (Nothing can ever compare to the woody confines of the old airplane hangar.) Hedging their bets, a number of vendors – Field Stone Fruit Wines, Sylvan Star Cheese, The Cucumber Man, to name a few – leased space in both Kingsland and CFM. For most, sales have been stronger at CFM.
And, earlier this year, in a hell-must-have-frozen-over moment, Lund, one of the primary founders of the competing Kingsland market, took over a booth in CFM to sell his organic vegetables. He saw potential sales driving past his Kingsland outlet to the new CFM and wanted back in. It's been a good move all around.
Other vendors have seen solid growth since the move. Brian Plunkett of Blu Seafood says his booth sees more and more return traffic each week. Plunkett was concerned his shop on Macleod Trail south of Heritage would suffer when the market opened only a few kilometres away – and he did see a decrease there at first – but lately that's turned around, with traffic increasing at his store, as well as at CFM.
With solid vendors and management and community events ongoing, CFM looks to be on firm ground for the future.
Great Vendors at Calgary Farmers' Market
510 77 Ave. S.E., 403-240-9113, calgaryfarmersmarket.ca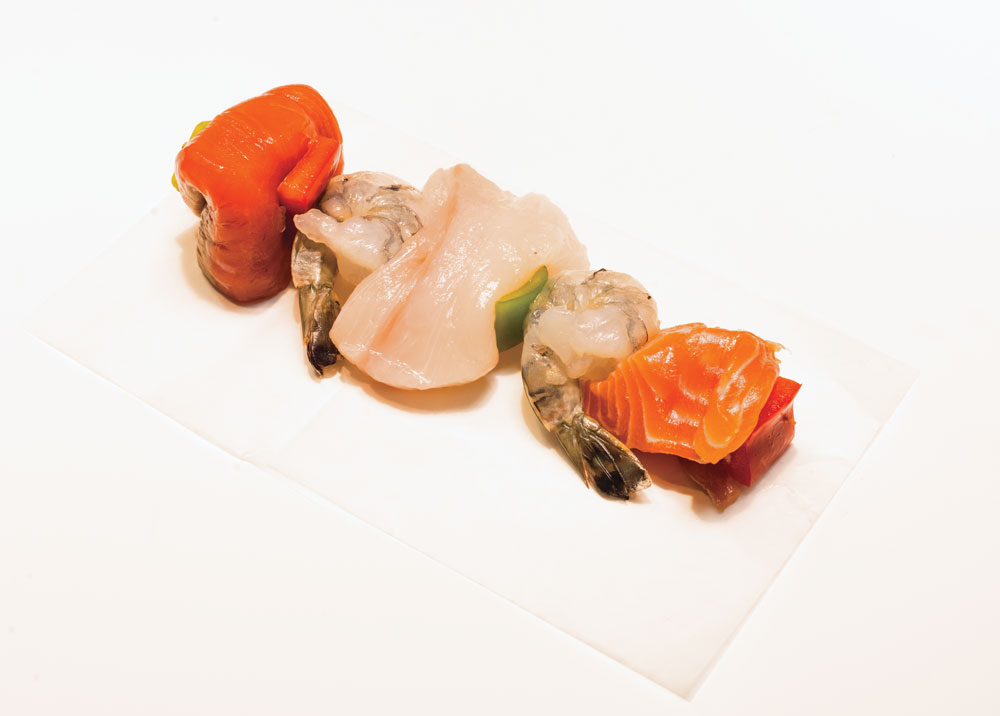 Brian and Mary Plunkett slice and dice excellent seafood, laying out fresh halibut filets, shrimp brochettes, salmon cakes and an ocean-ful of fishy delights.
The lineup moves quickly at Analog as regulars wait (some with morning jitters) for their lattes and steaming cups of joe.
For more than 20 years, Gull Valley has produced top-quality tomatoes, beans, lettuce and peppers on an almost year-round basis.
Margarita's Dishes
Margarita Korduner's Ukrainian heritage brings traditional, hearty recipes for borscht, blintzes and chicken schnitzel to CFM. Her fresh-squeezed lemonade is a treat, too.
Five Central Alberta family farms roll out fresh asparagus, pickled beets, rhubarb pies, stems of Brussels sprouts and outstanding carrots.
Gert Lund is known for his crisp, tasty carrots and his fresh, organic vegetable juices. His parsnips and Purple Viking potatoes are great, too.
---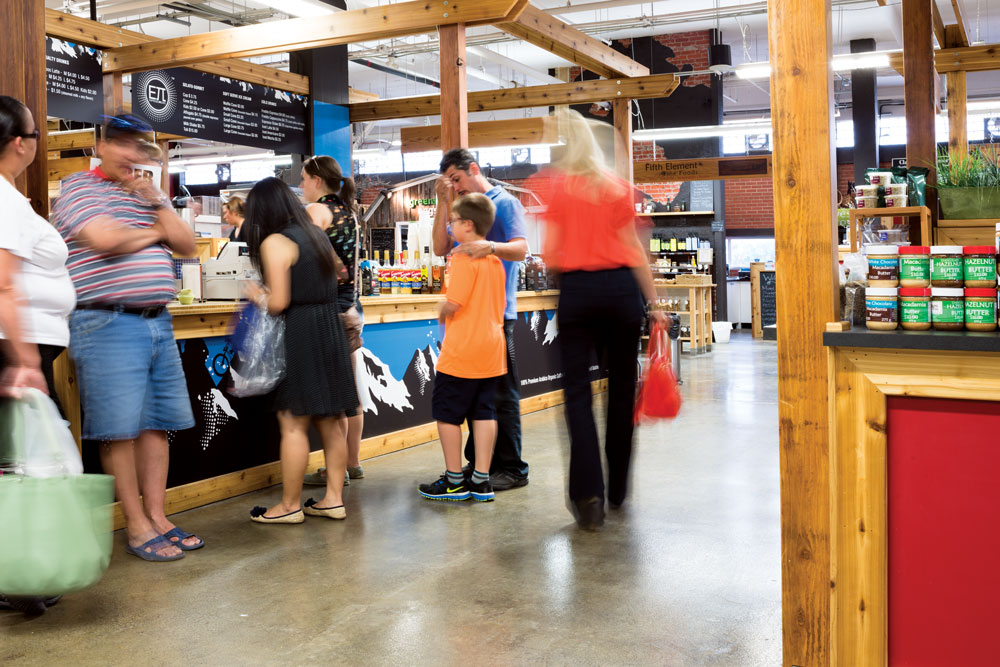 Founded in 1978 as a flea market on 16th Avenue N.E., next door to what is now the Clarion Hotel, Crossroads Market is the old dog in town and continues to draw a diverse crowd to its Blackfoot Trail-Ogden Road location in the former Burns packing plant.
Over the past few years, founder Gerry Kendall has passed control of Crossroads to sons Bob and Colin and partner Matthew McDonald. When CFM split and moved in 2010, the partners bided their time, watching to see how things evolved.
There had always been a farmers' market element to Crossroads, but, by 2013, the owners had determined they wanted a bigger share of that customer base. So they converted one section of the flea market into new vendor stalls, adding 30 new vendors to the 26 food vendors that are there year-round. (An additional 30 seasonal vendors round out Crossroads' food selections in summer.) Some of the new vendors include Broxburn Vegetables, Espresso Pi Caf by Big Mountain Coffee and Greens, Eggs & Ham; some of the long-time vendors are Simple Simon Pies, Say Cheese Fromagerie and Chongo's.
The new additions have helped bring a broader demographic to Crossroads, but the market still suffers from the stigma of being a "flea" market, although it is both an asset and a liability. Many customers come to sift through the collectibles of almost 50 vendors in what Crossroads calls the Boutique Market. Some of them have taken to shopping in the farmers' market section – and vice versa – with each side of Crossroads helping the other.
Benefitting from both are Jim and Cathy Rockwell of Rocky's Burgers. The big red burger bus had been planted deeper in the southeast for years but had to move earlier this year. The spot they chose is directly outside Crossroads' east doors. The bus gives Crossroads more exposure during the week, and the market brings more customers to Rocky's during the weekends when business in the previous location was slower.
The key to Crossroads' success, according to Bob Kendall, is that the partners manage the market but stay out of the business of the vendors. That way, they have no conflict; they're just the landlord.
Next on Crossroads' list is an upgrade of the food court. Some of the food is very good, but the setting is dreary. That's going
to change soon.
And the partners have recently purchased a three-acre piece of land along 26th Avenue S.E. They're still in the planning stages for this land – will it become a stand-alone flea market, leaving the bigger space for more food vendors? That decision is yet to be made.
Great Vendors at Crossroads Market
1235 26 Ave. S.E., 403-291-5208, crossroadsmarket.ca
From the springtime asparagus and strawberries to autumnal squashes and year-round tomatoes, Lethbridge's Broxburn provides outstanding vegetables. (Also at Market on Macleod and SVR)
Wade Semograd roasts his Big Mountain beans and sells them along with fresh-brewed cups and fresh-churned gelato.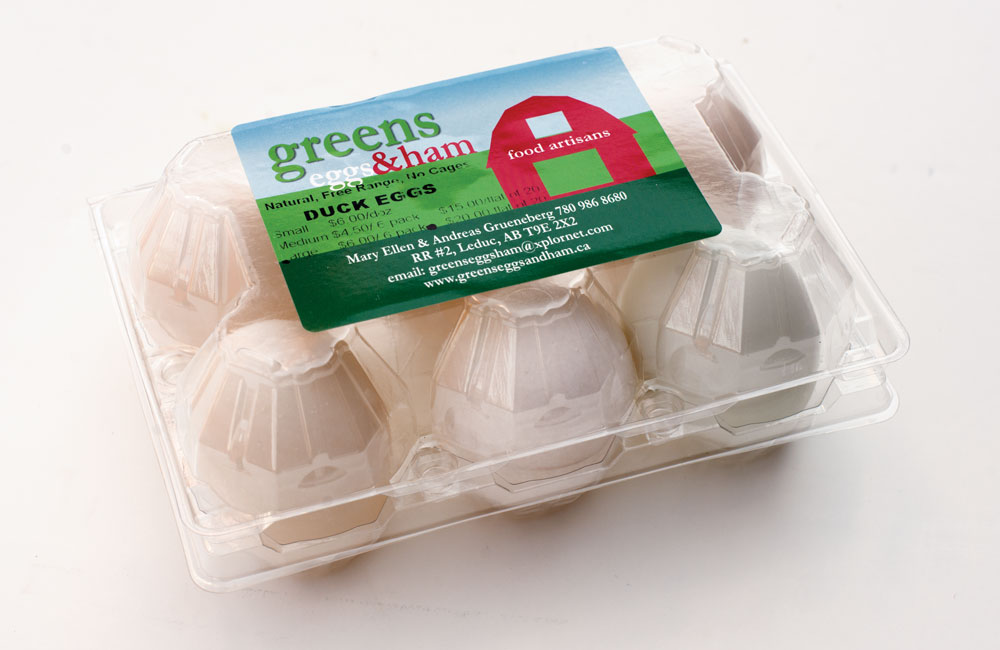 Mary Ellen and Andreas Grueneberg offer the products of their Leduc-area farm – duck eggs, heritage vegetables, mustard greens, Jerusalem artichokes – to add variety to our tables. (Also at SVR.)
Try saskatoons in all their glory – spreads, syrups, pies, tarts – or melded with other berries and fruits like chokecherries and rhubarb for a real taste of the prairies.
With more than 300 international cheeses, Nancy Brown's shop is a key destination for local cheeseheads searching for everything from appenzeller to vacherin.
---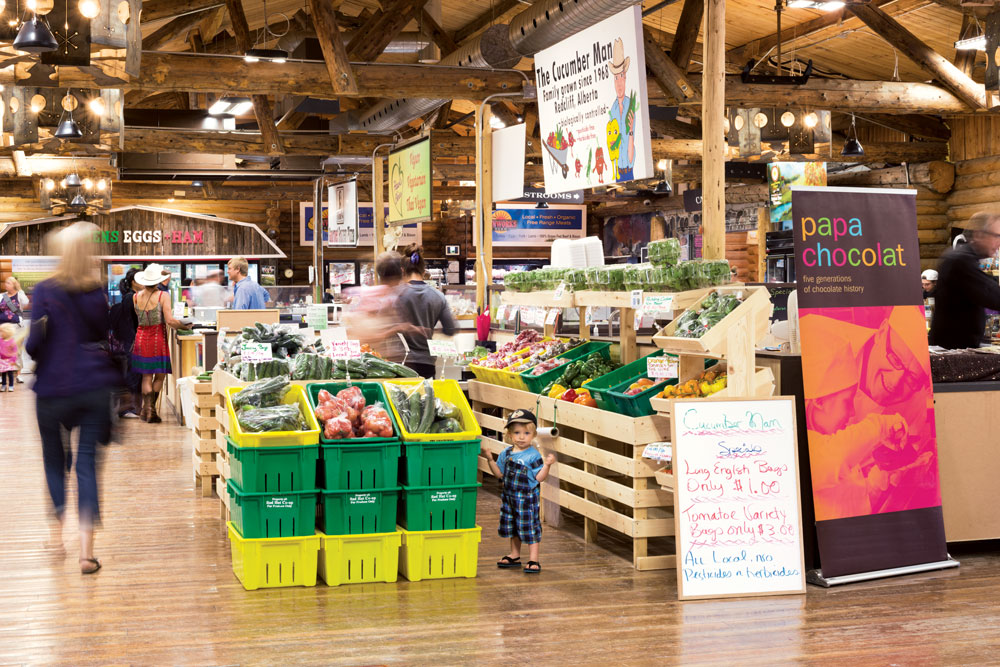 The cries for a good, year-round indoor market in the north have been loud and long over the years. With all due respect to the seasonal, outdoor Hillhurst-Sunnyside Farmers' Market, the Bearspaw Lions Farmers' Market and the Grassroots Northland Farmers' Market, the north has needed such a place.
So, when Durum Properties purchased Symons Valley Ranch at Symons Valley Road and 144th Avenue N.W., it decided to open a farmers' market in the site's largest building. More than 40 vendors have moved in since SVR opened in 2013, and seasonal vendors are added in the summer. The former restaurant was reopened as Symons Roadhouse by Durum in partnership with chef Kevin Turner who had helmed the kitchen at Brava Bistro for more than a decade.
SVR breaks the mould of big-box stores and chain outlets for the new communities of the north. It's an area that's still finding its identity, and SVR hopes to become a big part of that.
Lyle Campbell, owner and chef behind The Spicy Jamakin, says the market has given him a chance to bring his food to a broader market; Campbell started with little and has grown his Jamaican food business there.
That's an asset of all the markets. They act as incubators that allow small businesses to try things out and, hopefully, succeed. Of course, there are those who fail and others who find that they or their businesses are not suited to farmers' markets. On the success side, local coffee roaster Phil & Sebastian is a great example. It took a small booth at CFM in its early years and has grown into a nationally respected company. But, sticking to its roots, Phil & Sebastian has opened a booth at SVR.
SVR manager Christie Simmons is looking to the future, planting gardens and working with vendor Greens, Eggs & Ham on a "farmer-in-residence" program. In addition, using the design talents of seasoned Calgary restaurateur Witold Twardowski, she is buffing the look of the market (Twardowski designed Symons Roadhouse) and repurposing other buildings onsite. Much will depend on how the community around SVR decides to grow and change.
As Bob Whitworth, the man behind Simple Simon Pies (with outlets at SVR, CFM and Crossroads) says: "It comes down to quality. All the markets are doing fine. As long as we keep working hard, keep promoting ourselves and keep the quality up, we'll be fine."
Great Vendors at Symons Valley Ranch
14555 Symons Valley Rd. N.W., 403-774-7246, symonsvalleyranch.com
The longest-serving vendor in Calgary's farmers' market scene, The Cucumber Man has provided hot-house vegetables since 1968. (Also at Market on Macleod and CFM)
Phil & Sebastian Coffee Roasters
Phil Robertson and Sebastian Sztabzyb have returned to their roots by opening a coffee kiosk featuring their fresh-roasted brews in SVR.
His pies are everywhere – CFM, Crossroads, Market on Macleod and even Calgary Co-op – but that doesn't stop Bob Whitworth from being one of the top marketers (and personalities) in the local market scene.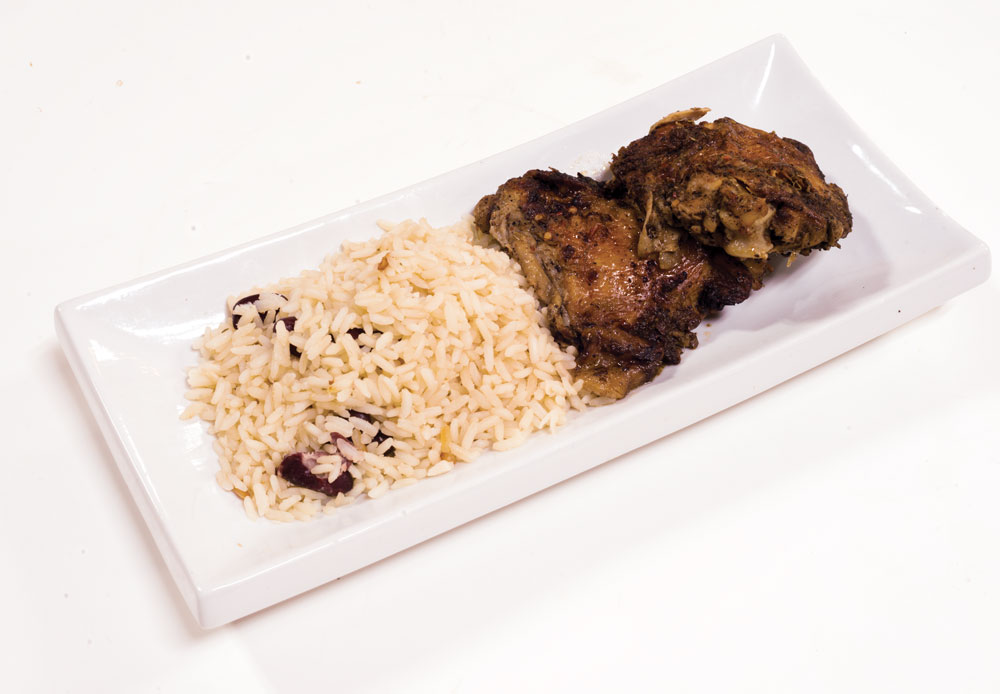 From his spicy peanuts and his banana bread French toast to his jerk pork, Lyle Campbell's cooking brings the Caribbean to life at SVR.
Top-notch pork from his new Rosemary processing plant – and Bowden chicken, too – is available at Gregg Spragg's shop. (Also at CFM and Market on Macleod)
[Editor's Note: This story was written in late 2014. The vendors mentioned at each farmers' market were accurate at the time of publishing. Vendors come and go, change ownership and alter the products they carry. For an up-to-date list of vendors, visit each market's website.]