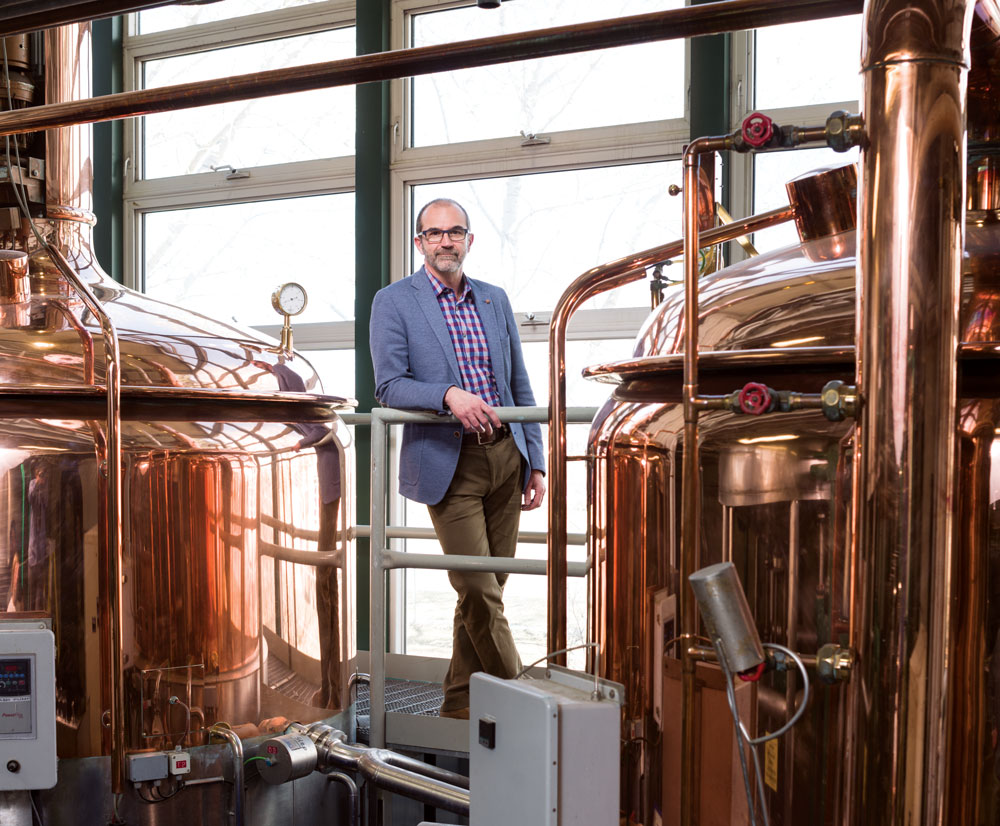 Photography by Jared Sych
At 30 years old, Big Rock Brewery is the grandfather of Alberta craft breweries. But this grandpa is a decidedly hip one. With the slogan "deliberately different beer," Big Rock has set out to be the most innovative craft brewer in Canada.
Founder Ed McNally began Big Rock's tradition of creating inventive brews when, in 1984, disappointed with the beer selection in Calgary, he decided to brew his own.
"He brewed beers for himself, and then effectively the rest of Canada caught up," says president and CEO Robert Sartor. McNally's Traditional Ale is still part of the brewery's stable today.
Named after the glacial erratic rock in Okotoks, the brewery caught a few lucky breaks during its early years, including the opportunity to open a beer tent on Stephen Avenue during the 1988 Winter Olympics.
In the mid- to late-2000s, Big Rock began competing with bigger commercial breweries, and Sartor says it lost its direction. "We chased volume and copied what the big breweries were doing. They come out with a diet beer, we came out with one, and on and on," Sartor says. "All of these beers had the craft beer community scratching their heads."
When Sartor joined the company in 2012, his goal was to bring the brewery back to its craft roots. He gave his brewmaster free rein, with the caveat that all Big Rock beers be unpasteurized, all-natural and 100-per cent adjunct- and preservative-free. Besides its eight core beers – think Grasshopper and Warthog – 24 seasonal, limited-edition brews are available this year, too. The seasonals include red and white wine-infused collaborations with Therapy Vineyards from British Columbia, and a honey-based spiced beer called a braggot.
Like any good grandpa, Big Rock nurtures its community. Besides donating money to local charities, it donates time. It organized last summer's Suds for Floods fundraising event that, together with Wild Rose, Village Brewery, Brew Brothers and Tool Shed, helped raise funds for Albertans affected by the flood. This summer, the Big Rock Eddie Awards celebrates its 21st year challenging local creative types to produce Big Rock-themed film and print advertisements, with ticket proceeds going to local charities.
Now, the brewery is expanding beyond Alberta. A Big Rock brewery opened on (appropriately enough) Alberta Street in Vancouver, B.C., this spring, and another one is scheduled to open in Ontario in 2015.
"We want to be a local brewery wherever we are," Sartor says. "Effectively, we want to be Canada's local, national brewer."
---
Incorporated In
1984
The Beers
Grasshopper Wheat Ale, Honey Brown Lager, IPA India Pale Ale, McNally's Extra, Saaz Republic Pilz, Scottish Heavy Ale, Traditional Ale, Warthog English Style, plus seasonals.
Visit the Brewery
5555 76 Ave. S.E., 403-720-3239, bigrockbeer.com
Tours
Afternoon and evening tours Tuesday through Thursday and Saturday.
Eat There
Yes. Enjoy old-world European-inspired pub fare at the Big Rock Grill.
Buy It
At major liquor stores across Alberta.
Find It
At most pubs and restaurants around the city, including Craft Beer Market, Bottlescrew Bill's and National Beer Hall.