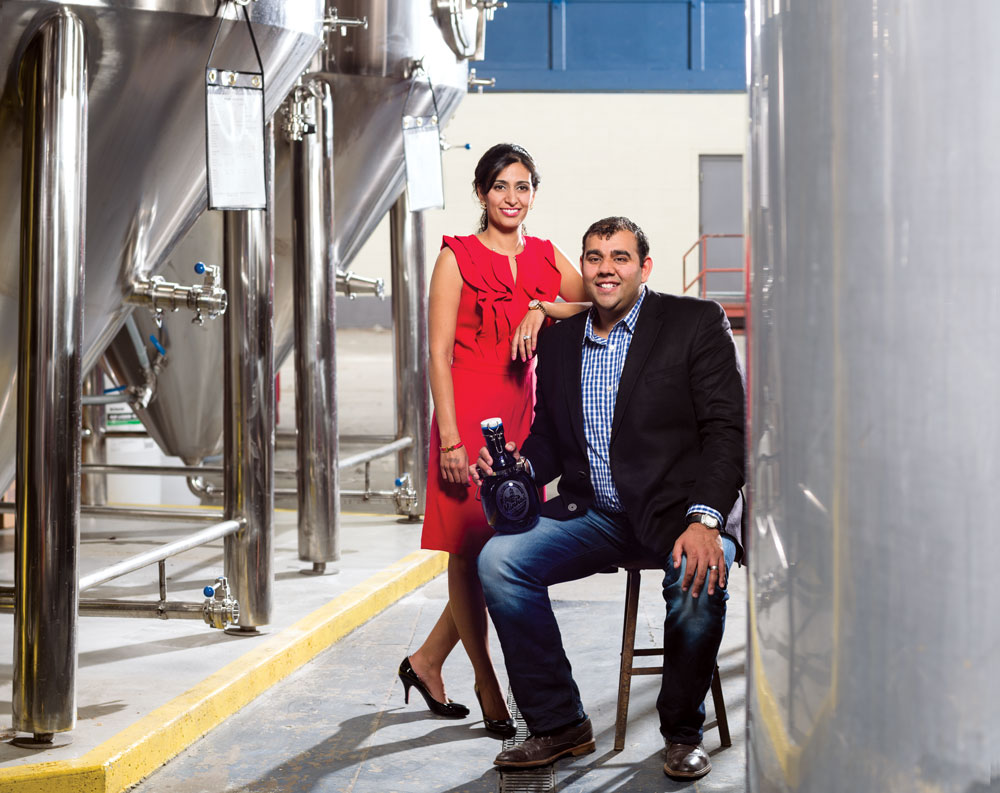 Photo by Jared Sych.
You might not automatically associate premium craft beer with Minhas Brewery.
It is the 10th-largest brewery in North America, but it's thanks to Minhas's success selling its discounted Boxer Lager, in addition to Mountain Crest, that it began producing the beers co-founder Ravinder Minhas was crazy about – small-batch brews made with locally sourced Alberta ingredients, two benchmarks of craft beer.
Minhas and his older sister, Manjit, founded Mountain Crest Liquors in 1999 when they were 18 and 19, respectively, and both on track to become engineers. "Growing up, our parents owned retail liquor stores," Minhas says, "We had a sense of the business and we saw an opportunity. We wanted to offer liquor at a deal while keeping the quality really high."
The siblings took their business plan to a bank, but, with no assets or experience, they were declined a small business loan. Undeterred, Manjit sold her purple Toyota, which gave them money to get started. They began importing bulk spirits and eventually bought a distillery in Wisconsin to bottle their own line.
In 2002, they added beer to their portfolio and incorporated the Mountain Crest Brewing Co. Four years later, they purchased a brewery, also in Wisconsin – the second-oldest in America – renamed it Minhas Craft Brewery and secured lucrative deals with American retailers.
"We discovered an opportunity for craft beer on the east and west coasts of America, and we embedded ourselves in chains like Walgreens and Trader Joes." Ravinder says. "We actually sell more craft beer than discounted beer; people in Alberta don't realize that."
Part of the brewing opera-tions came home in 2012 when Minhas Micro Brewery opened in Calgary. Located in the northeast, it primarily brews the Lazy Mutt line of craft beers. It offers daily brewery tours and beer tastings and features a pizza joint that sources local ingredients.
"We're in the beer business and we want to play," Ravinder says. "We thought creating a brewery, restaurant and offering tours was the best way to experiment and have an outlet to sell."
Minhas produces 110 different beers, including 30 limited seasonal offerings in flavours like hazelnut dark and chocolate cherry stout. It produces 200 bottles a minute – Molson/Labatt churns out 1,500 to 2,000 per minute.
"Starbucks doesn't make just a drip coffee. It's the same with beer. Everybody has their own palate," Ravinder says. "Sometimes when you experiment, it doesn't work, and you have to admit you made a mistake. But we're always producing something, so that gives us the freedom to create new beers."
---
Incorporated In:
2002
The Beers
Lazy Mutt premium craft beer made in Calgary: Lazy Mutt Alberta Wheat Ale, Alberta Red Ale, Alberta Brown Ale and Authentic IPA. Plus seasonal and limited-edition brews.
Visit
1314 44 Ave. N.E., 403-398-9463, minhasbrewery.com
Tours
Tuesday to Saturday, three times a day.
Eat There
Yes. Enjoy pizza and beer at the restaurant Pizza Brew.
Buy It
At major liquor stores across Calgary, including Real Canadian Liquor Store, Liquor Depot and Sobeys.
Find It
Craft Beer Market, Black Bull, Bottlescrew Bill's and the Barley Mill.