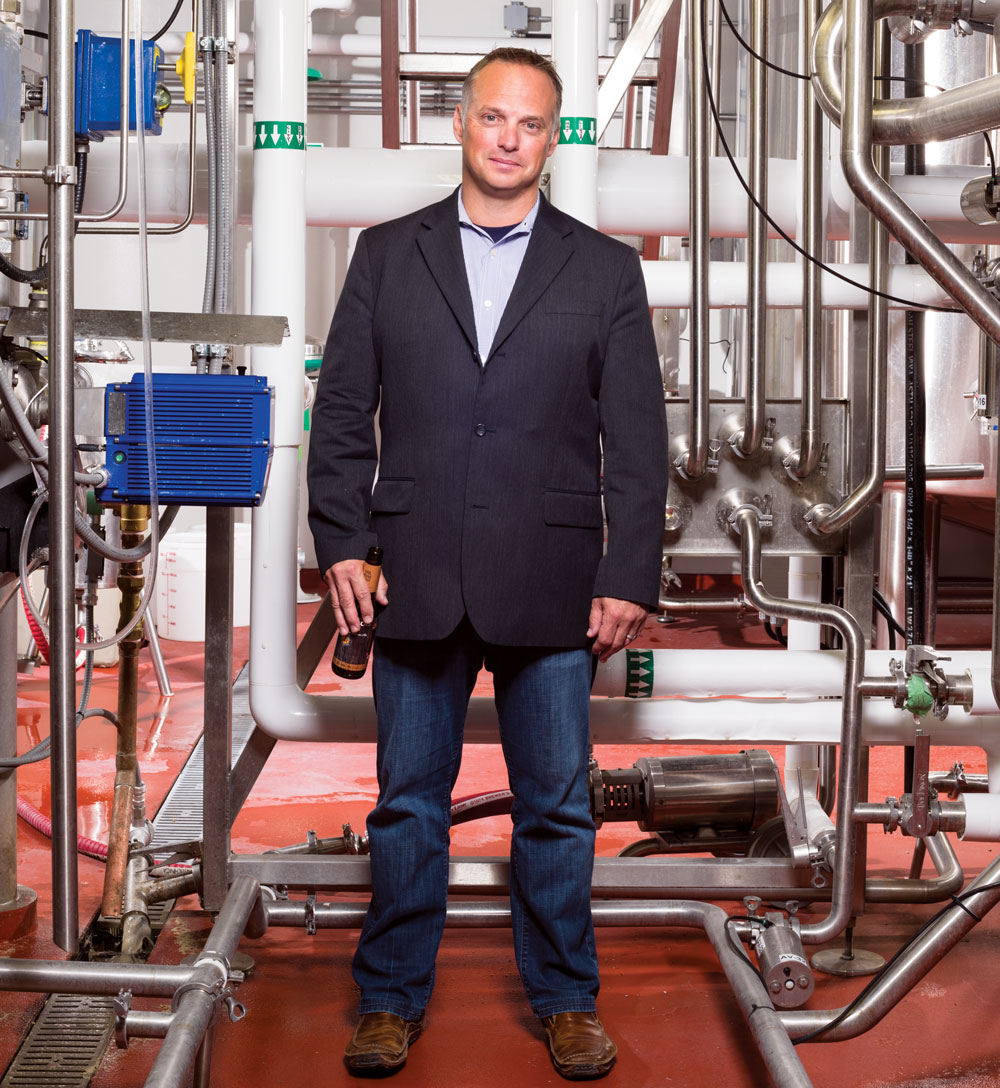 Photo by Jared Sych
Wild Rose Brewery is serious about crafting high-quality, small-batch beer.
"We take our beers very seriously," says president and CEO Bill McKenzie. "But beer is a fun product, so we don't take ourselves too seriously."
For eight years, Wild Rose's signature suds, including Velvet Fog, an unfiltered wheat beer, were brewed out of an 8,000-square-foot space on Currie Barracks. In early 2014, Wild Rose relocated the majority of its brewing operations into a 40,000-sq.-ft. facility in Foothills Industrial Park. Production will gradually increase from roughly 8,400 hectolitres a year to more than 30,000.
"Before we opened up the new facility, we struggled to meet demand," McKenzie says. "We needed to say 'no' to many opportunities to grow our business because we didn't have the capacity. Now we have a new brewery and we're happy to be able to provide the beer our customers have been asking for."
As part of the move, the brewery overhauled its branding and introduced Electric Avenue,a golden lager, to its stable of beers available by the bottle and on tap at Alberta pubs. The name is a salute to Calgary's infamous club alley of the 1980s and early '90s.
"We want our consumers to rediscover our beer," McKenzie says. "To stand out, you have to be noticeable, and we know once people try it, they'll come back."
Founded 18 years ago by Calgary beer fans Mike Tymchuk and Alan Yule, Wild Rose will come full circle with the new brewing space. Tymchuk and Yule brewed their first kegs in a small space in Foothills Industrial in 1996. Wild Rose moved to Currie Barracks in 2006.
The landscape of Currie Barracks has changed dramatically over the years, including the departure of the Calgary Farmers' Market, but Wild Rose's taproom and restaurant, which wasn't relocated, has endured. It features a welcoming indoor dining space and large outdoor patio that's packed, especially on hot summer days, with diners and suds sippers.
The taproom's beer-of-the-month charity pint program means that, for every pint sold, 25 cents go to local charity, and Wild Rose is the official sponsor of the Calgary Marathon's 50th race this summer.
McKenzie says he's working closely with Canada Lands Co., which is overseeing redevelopment of Currie Barracks, and he's hopeful there'll be a home there for the taproom beyond 2015 when its lease expires.
"We'd like to stay in this area because it really is home for us." McKenzie says. "Ideally, the restaurant with a brewery will stay, no matter where we end up. We want to showcase our beers, and we're equally proud of what comes out of our kitchen."
---
Incorporated In:
1996
The Beers
Barracks Brown, Electric Avenue, IPA, Natural Born Keller, Velvet Fog, Wraspberry Ale, plus seasonal and limited-edition brews. (Alberta Crude, Wred Wheat and SOB only available on tap.)
Visit
4580 Quesnay Wood Dr. S.W., 403-720-2733, wildrosebrewery.com
Tours
Drop in at Currie Barracks on Saturday afternoons – specialty beers are still brewed there. (There are no tours of the new facility yet.)
Eat There
Yes. Beer-infused pub food at the taproom.
Buy It
At major liquor stores across Calgary, including Highlander Wines & Spirits and Safeway Wines & Spirits.
Find It
At many pubs and rest-aurants around the city, including 1410 Beer House, Charcut Roast House and National Beer Hall.