With files from John Gilchrist, Elizabeth Chorney-Booth, Alyssa Quirico and Jaelyn Molyneux
It's the happiest hour of the day. Or the happiest couple of hours. Maybe even a bit more.
Since 2016, bars and restaurants in Alberta can offer happy hour deals any time, day or night. They can present deals as low as $2.75 for an ounce of spirits, $1.75 for a five-ounce glass of wine, $2.75 for a 12-ounce bottle or can of beer or $3.20 for a 20-ounce pint. (The old two-for-one specials are verboten.)
It would be great to see that pricing occasionally – especially $1.75 for a good cabernet – but seldom do bar owners go that far in the discounts. Drawing customers with deep-discount drinks is frowned upon in the industry. Instead, we see a few bucks off drinks at happy hour and often some food specials. (Wednesday wing night, anyone?)
But where to spend those precious hours? Happy hour is all over the map, both literally and figuratively. So, to help you find your happy place, we've put together a list of some of our favourite happy hour haunts.
When: Weekdays from 3 to 6 p.m
1410 Bier Haus offers local draft beer, highballs and six-ounce glasses of house wine for just $5 on weekdays from 3 to 6 p.m. The kettle chips are free and there are also half-price appetizers.
1410 17 Ave. S.W., 403-229-1410, 1410bierhaus.ca
When: Every day from 3 to 5 p.m. and 9 p.m. until close
More than a hundred tequilas lining the back bar give a less-than-subtle hint that Aejo might be a good place for a margarita or a straight shot of high-end agave juice. Drop that price (for the margarita, anyway) to $6 during daily "halfy hour," add half-price tacos and the party is on.
2116 4 St. S.W., 587-353-2656, anejo.ca
When: All day on Sundays
Calgary's classic pub and restaurant with a sunny, rambling, near-year-round patio, rolls out a different daily beer special for $5. On Sundays, an all-day happy hour includes all local draft pints, Caesars and five-ounce glasses of wine also for $5. Feel like staying a while (and calling a cab)? There are highballs for $4.
140 10 Ave. S.W., 403-264-6959, bottlescrewbill.com
When: 4 to 6 p.m. from Sunday to Thursday and 3 to 6 p.m. on Friday and Saturday
Cannibale is one of the most popular spots in Bridgeland to go for a cocktail (and a shave in the attached barbershop). During its daily happy hour, cocktails are $8 and you can choose between an old fashioned, daiquiri, Jungle Bird or ask the bartender about the rotating happy hour cocktail. There's also select beer, wine (red and white), and bourbon for $6.
831 1 Ave. N.E., 403-454-5808, cannibale.ca
When: (17th Avenue location) 3 to 5 p.m. from Monday to Saturday; 9.pm. until close from Monday to Thursday; 10 p.m. until close on Friday and Saturday
(Centre Street location) 2:30 to 4:30 p.m. and from 9 to 10 p.m., from Monday to Saturday
house wine 14 ounce draft
Cibo, the lively, casual, Italian joint, has $5 pizzas, $4 scodellina, and $4 house wine and draft beer during its afternoon and late-night happy hourd at both locations.
1012 17 Ave. S.W., 403-984-4755; 2220 Centre St. N.E., 403-276-2030, cibocalgary.com
When: Before 7 p.m. and after 9 p.m. from Sunday to Thursday
Cleaver's happy hour covers a lot of hours. Before 7 p.m. and after 9 p.m. from Sunday through Thursday, you can get $3.50 sliders and $7 wine, beer and cocktails.
102, 524 17 Ave. S.W., 403-452-1211, cleavercalgary.com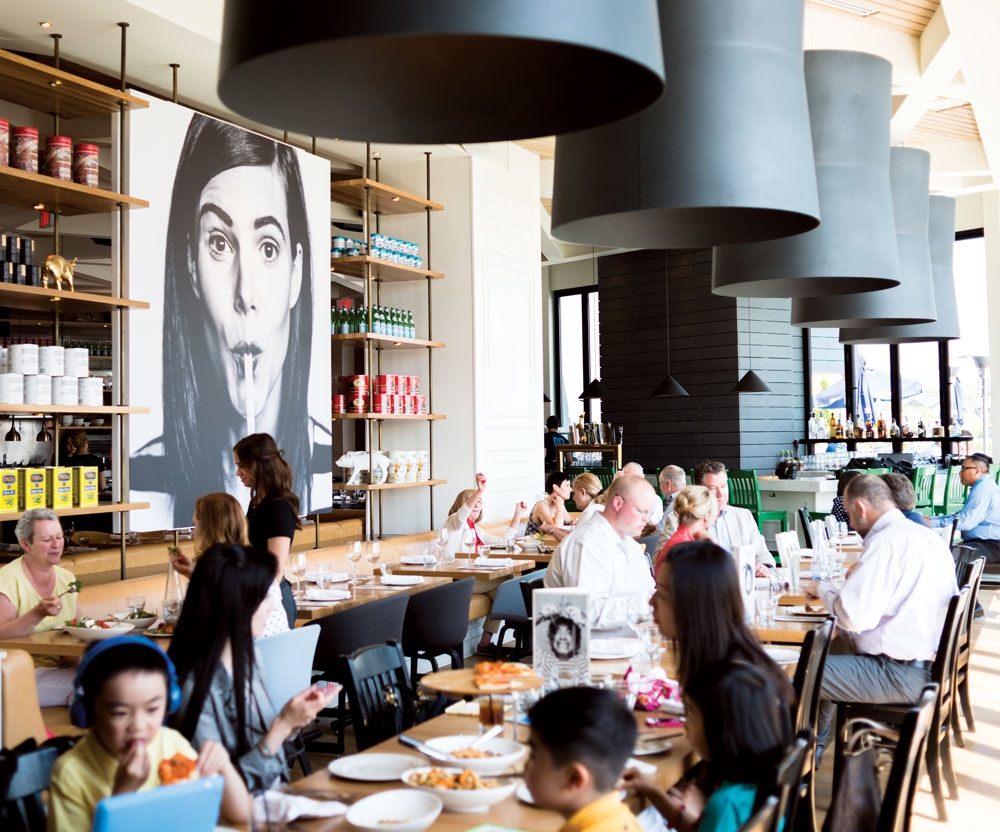 When: Weekdays from 3 to 6 p.m
Nothing beats pizza after a hard day's work, except maybe a pizza with a $5 glass of wine, craft beer, bubbles and bar snacks.
Chinook Centre, 6455 Macleod Tr. S.W. 403-457-7677, doublezeropizza.ca
When: Weekdays from 3 to 6 p.m.
Its handy downtown mall location makes Goro + Gun an ideal spot for a post-work tipple, and the Japanese restaurant's $5 happy hour menu has turned Goro into a particularly hot spot on weekday afternoons. Wine, sake, Sapporo beer and an Omakase cocktail are all on deck, but the happy-hour highlight is a long list of $5 appetizers including favourites such as sushi rolls, sashimi, takoyaki and other tasty Japanese snacks.
Scotia Centre, 225 7 Ave. S.W., 403-237-5596, goroandgun.ca
When: Before 7 p.m. and after 9 p.m. from Sunday to Thursday
Cleaver's Latin sister restaurant and next-door neighbour has the same happy hour hours but offers $3 tacos and $5.50 cocktails. There's also live music here every Sunday from 6 to 9 p.m.
101, 524 17 Ave. S.W., 403-474-1411, gringost.com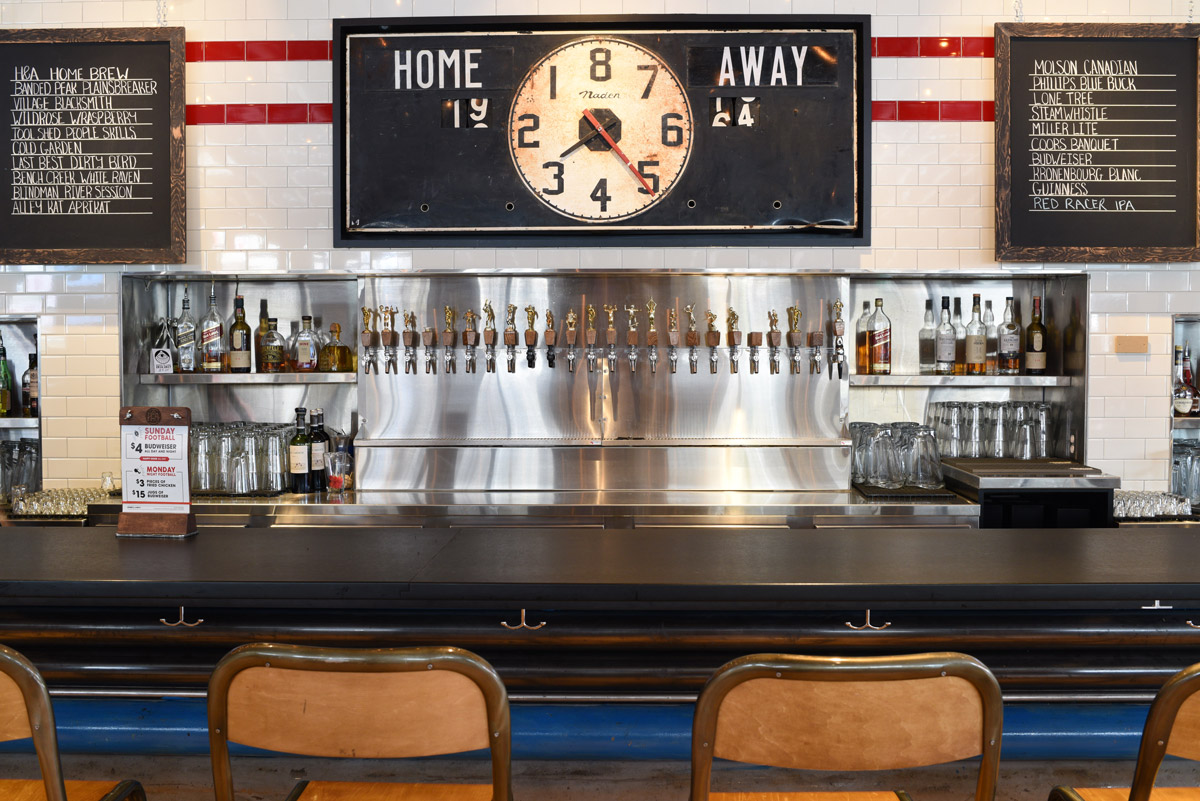 When: 3 to 6 p.m. from Monday to Friday and all day Sunday
A sports bar loved even by those who aren't into sports, Home and Away not only offers one of the best hot dogs in town, but a weekday-afternoon "pre-game" happy hour with beer, wine and well drinks at $4 a pop. On Fridays and for the all-day Sunday happy hour, guests can also enjoy free Skeeball and Pop-a-Shot games.
1331 17 Ave. S.W., 403-455-9789, homeandawayyyc.com
When: Noon to 7 p.m. from Monday to Saturday and all day on Sundays
Situated in Inglewood's Fire Hall #3, which was built in 1907, the Hose & Hound can douse your thirst with $4.95 domestic beers and premium well highballs.
1030 9 Ave. S.E., 403-234-0508, thehose.ca
When: Weekdays from 3 p.m. to 7 p.m.
During happy hour at Hy's, sparkling wines are 40 percent off, feature cocktails are 50 percent off, draft beer is $5, highballs are $5.25 and featured red and white wine is $8 a glass. Highlights from the food menu include cheese toast ($5.95), a prime beef burger ($14.95) and oysters ($1.50 each). This spot also has a nice big patio.
The Core, 8 Avenue and 3 Street, 403-663-3363, hyssteakhouse.com
When: Every day from 4 p.m. to 7 p.m
The Kensington Pub, or K-Pub as it's known to regulars, offers $1 off pints and 10 percent off highballs and wine daily (including Sundays). The English-themed, Kensington-area pub offers daily food features to go along with the drinks, too.
207 10A St. N.W., 403-270-4505, kensingtonpub.com
When: 3 p.m. to 6 p.m. from Tuesday to Friday
The result of a partnership between executive chef James Waters and "cocktail curator" Christina Mah, Klein/Harris is half restaurant, half lounge (quite literally – the room is bisected into two sections, just like the name). The Tuesday to Friday "happiest hour" offers discounts on wine and beer (both $5) as well as buckets of duck wings with spicy maple garlic sauce ($14).
110 8 Ave. S.W., 403-262-8100, kleinharris.com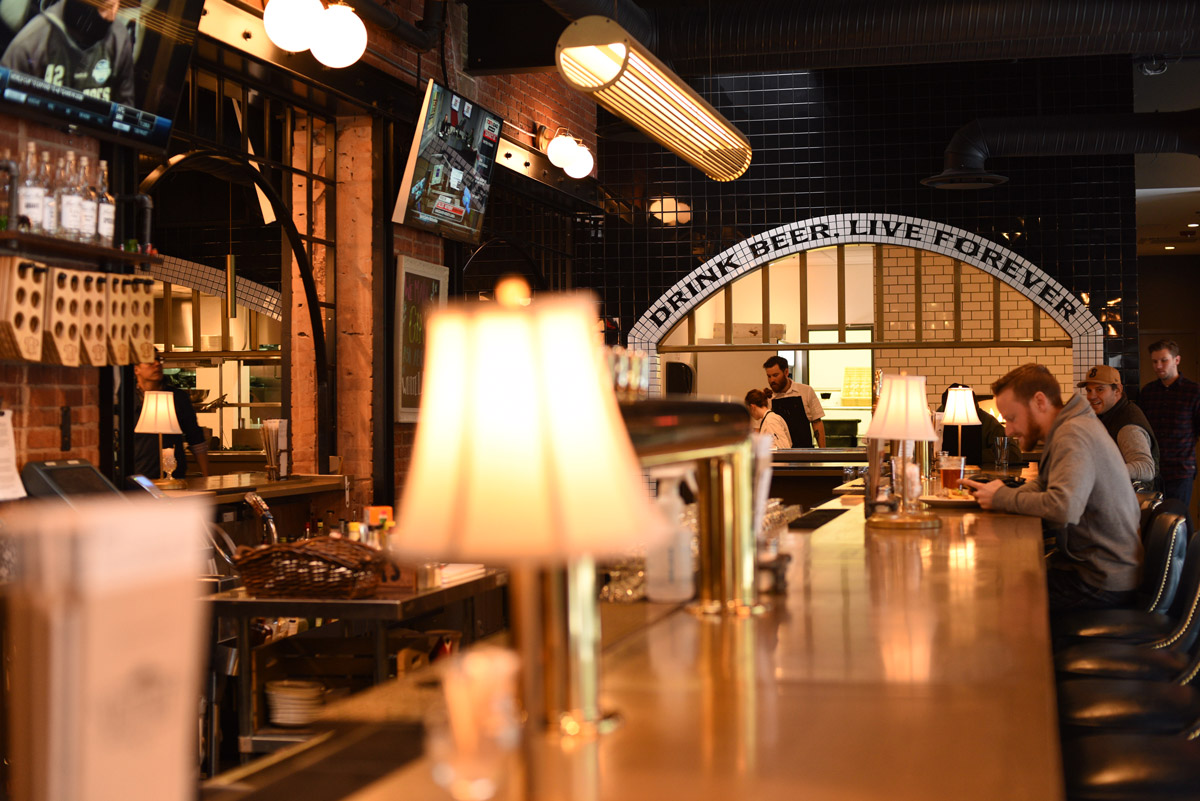 When: Every day from 2 p.m. to 6 p.m.
Last Best's wide selection of house brews are consistently flavourful and go especially well with upscale bar snacks like grilled bison fry bread and beef fat fries. The daily happy hour features specials on both food and drink (including nine ounces of beer for just $2), best enjoyed if you belly up to a padded stool at Last Best's long and brassy bar.
607 11 Ave. S.W., 587-353-7387, lastbestbrewing.com
When: Every day from 4 p.m. to 6 p.m.
The Living Room's happy hour is pretty straight forward. All wine and small plates are half price and there's also a $5 feature beer and cocktail. When possible, grab a table on the restaurant's newly re-designed front patio. The street-facing bar top is best for people-watching in the afternoon.
514 17 Ave. S.W., 403-228-9830, livingroomrestaurant.ca
When: Every day from 3 p.m. to 5 p.m.
During Market's daily happy hour, there are $8 glasses of wine, $5 beer and $5 highballs made with homemade bar syrups. But most importantly, there is $10 pricing on some of Market's most popular appetizers. Don't miss the poutine made with your choice of Brome Lake duck confit or Spragg's pulled pork.
718 17 Ave. S.W., 403-474-4414, marketcalgary.ca
When: Tuesday through Saturday, 4 to 7 p.m.
Charlene and Clint Pellerin serve up some of the best wings in the city (Wednesdays and Fridays, $8.75 a pound) to go along with $4.95 bottles of domestic beer or highballs, Tuesday through Saturday. Try the dill pickle or the ginger wings.
2808 Ogden Rd. S.E., 403-264-4441, mugshotzofficial.wixsite.com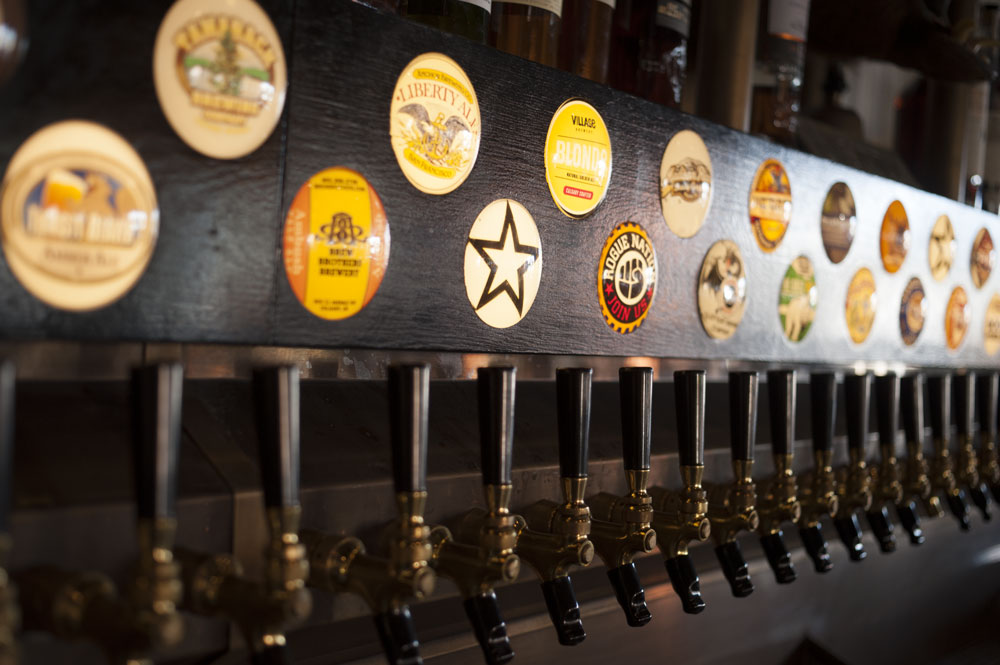 When: All day on Mondays and from 3 p.m. to 6 p.m. from Tuesday through Sunday.
National's four locations (8th Avenue, 10th Avenue, 17th Avenue and Westhills) offer a lively come-one, come-all atmosphere and daily happy hour deals. Beer is 25 cents per ounce ($5 for 20 ounces and $3.50 for 14 ounces) and oysters are $1.50 each.
Various locations, ntnl.ca
When: Weekdays from 3 p.m. to 6 p.m.
Plates of street-style tacos are most people's go-to order at Native Tongues, but the contemporary Mexican restaurant's daily happy hour offerings give customers a chance to explore some other food options (plus a few standard drinks) on the cheap. The happy hour menu is small but mighty, featuring esquites (Mexican corn salad), chilaquiles (tortillas topped with salsa and your choice of meat) and a hamburger that goes above and beyond what you'd typically find at a Mexican restaurant.
235 12 Ave. S.W., 403-263-9444, nativetongues.ca
When: Weekdays from 2 p.m. to 6 p.m
At both locations (Connaught and downtown), The Pig & Duke rounds out its menu with $5 happy hour on weekdays. Get pints of Royal Lager and locally brewed Tool Shed's Cow Killa, tall cans of Village Brewery's Reservoir Pigs Pilsner, domestic bottles, highballs and house wine. Balance that with a personal plate of pulled pork nachos for $5 (add pork belly for $4 more) or indulge in daily food specials in this casual neighbourhood pub.
1312 12 Ave. S.W., 403-245-8487 and 503 4 Ave S.W., 403-452-0539, pigandduke.com
When: Weekdays from 4 p.m. to 6 p.m
Attached to its big brother Bonterra, Posto pours half-price wine and $5 pints on weekdays, along with appetizer snacks like perogies and meatballs for $2.50 each. The location, just a short stroll south of the tracks from downtown offices, is a plus, too.
1014 8 St. S.W., 403-263-4876, posto.ca
When: 4 p.m. to 7 p.m from Tuesday through Sunday and all night on Mondays (4 p.m. to 1 a.m.)
One of Calgary's most cosmopolitan cocktail bars, Proof takes the art of the mixed drink very seriously, and the lounge's daily happy hour lets patrons enjoy an uncompromised level of quality on the (relative) cheap. Spend your early evenings gazing upon the impressive and elegantly arranged wall of liquor behind the bar while sipping on $7 glasses of wine, $5 beers, $8 classic rum cocktails or a specially prepared feature rum cocktail for $8 that switches out every week.
1302 1 St. S.W., 403-246-2414, proofyyc.com
When: 3 p.m. to 5 p.m. from Tuesday to Friday
This is a prime patio in Calgary, tucked into a shady corner of Central Memorial Park. Its happy hour menu includes Aperol spritzes for $5 and a featured red and white wine for $7 a glass. In the cooler months, the lodge-style dining room inside is super cozy and romantic.
340 13 Ave. S.W., 403-263-0766, provisionyyc.ca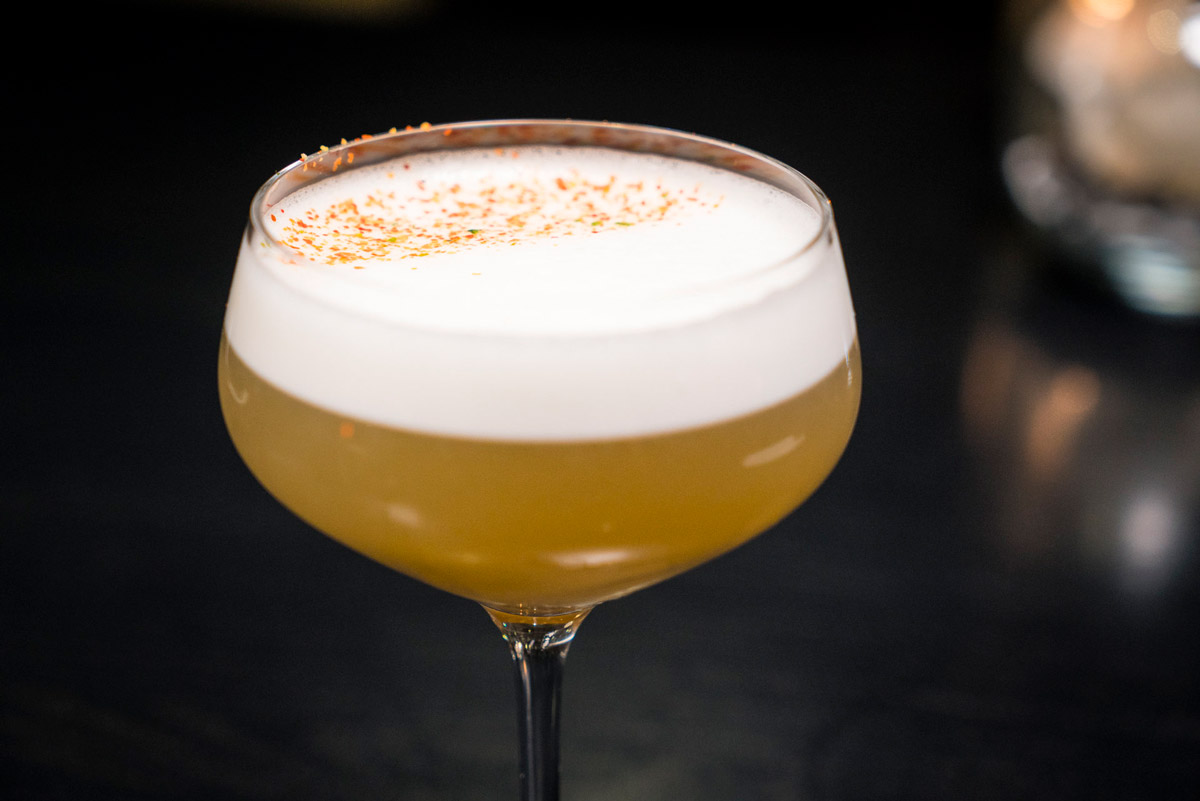 When: Tuesday through Saturday from 4 to 6 p.m. and Fridays from 4 to 7 p.m at the Hotel Arts Pool (seasonal)
Bask by the Hotel Arts pool (in warmer weather) and enjoy Raw Bar's Friday specials from 4 p.m. to 7 p.m featuring $4.99 glasses of prosecco and pints and $1 oysters. Or slip inside to the cozy confines of Raw Bar itself Tuesday through Saturday from 4 to 6 p.m. for half-price small plates and $5 house wine, draft beer and classic cocktails (choose from a Martini, Old Fashioned, Manhattan, Negroni, Margarita or Moscow Mule).
Hotel Arts, 119 12 Ave. S.W., 403-206-9565, rawbaryyc.ca
When: Monday through Saturday from 2 p.m. to 6 p.m. and Sundays from 10 a.m. to 8 p.m.
Schooners rings in happy hour early with a 2 p.m. start Monday through Saturday (10 a.m. on Sundays). During these hours, selected domestic pints, bottled beer and well highballs are an enticing $4.50 and glasses of wine are $5.25. The nautically themed Schooners also has daily food specials, including half-price wings on Sundays.
6416 Old Banff Coach Rd. S.W., 403-240-2424, schoonerspub.com
When: Weekdays from 4 p.m. to 7 p.m., Saturday from 6 p.m. to 8 p.m. and Sunday from 3 to 6 p.m.
Charming, engaging and casual, the Ship & Anchor's status as a Calgary landmark includes daily happy hour deals featuring discounted draft beer and tall boys (prices vary) and $4.05 highballs.
534 17 Ave. S.W., 403-245-3333, shipandanchor.com
When: Weekdays from 4 p.m. to 6 p.m.
As Irish as it comes, St. James Corner counts down the seconds to the next St Patrick's Day. You can help knock off two hours on weekdays with select beer, wine and highballs for $4.
1219 1 St. S.W., 403-262-1157, stjamescorner.ca
When: Thursdays from 6 p.m. to 7 p.m. and 11 p.m. until midnight
Tea House is a cool cocktail bar in the basement of Two Penny Chinese in Victoria Park. Even though its happy hour is only during the first and last hour of service, it's worth it if you're going for the weekly live comedy on Thursdays at 7 p.m. – which is also a steal of a deal at just $10. During Tea House's "Bao Down" happy hour, the four kinds of bao buns are just $2.50 each and drinks are $5.
1213 1 St. S.W., 403-474-7766, teahouseyyc.com
When: Weekdays from 3 p.m. to 6 p.m.
Prime yourself for the theatre or a concert with a pre-show visit to Teatro. Enjoy half-off the light bar menu while sipping on a Peroni beer or a highball for $5 or house wine for $7.
200 Stephen Ave. S.E., 403-290-1012, teatro.ca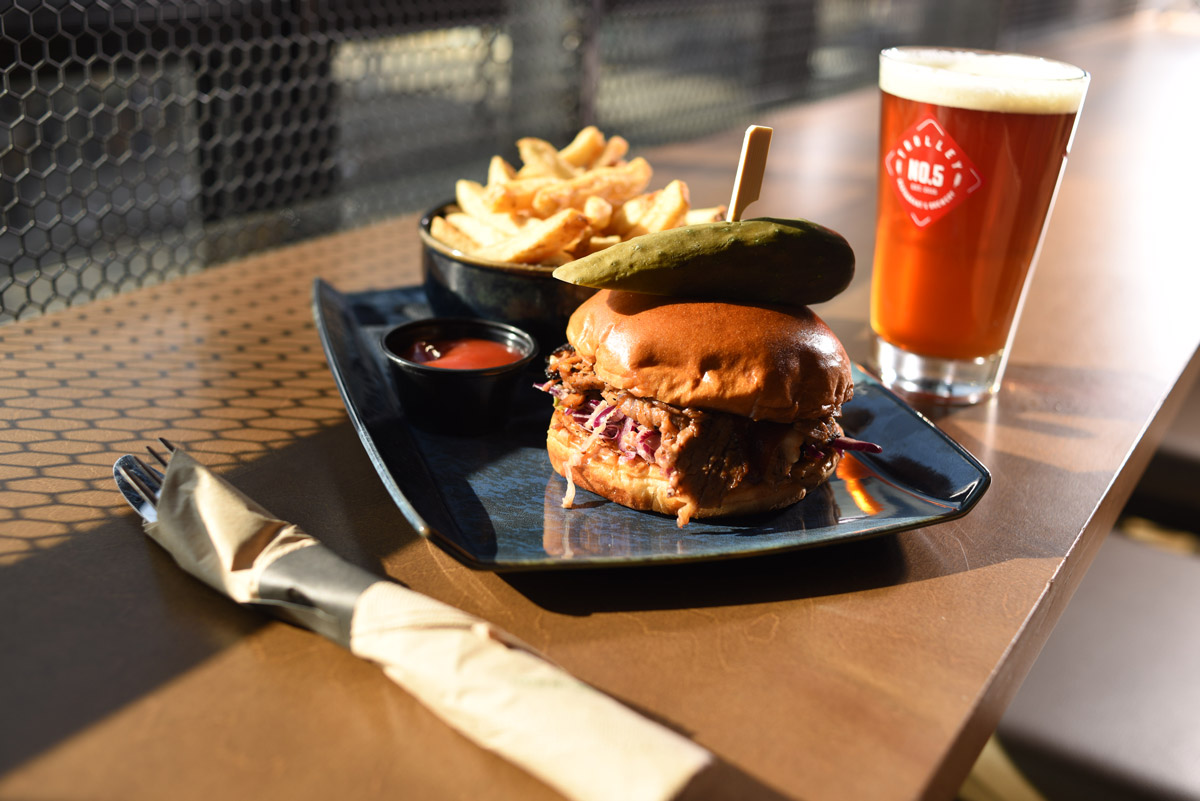 When: Every day from 3 p.m. to 6 p.m.
Trolley 5's daily happy hour features killer deals on all of its in-house brews, as well as house wines and highballs for $4. If you're feeling peckish, there are daily food specials on the brew pub's versions of pizza, barbecue, wings and other dishes.
728 17 Ave. S.W., 403-454-3731, trolley5.com
When: Every day from 3 p.m. to 6 p.m. and 9 p.m. until close
Like to lighten the day with a little vino? Check out Vin Room's "Twice as Nice" happy hour for $7 wine and $5 tapas, daily. There's also $5 prosecco and truffle popcorn all day on Tuesdays. As an added bonus, your dog can join you on the front patio at the 4th Street location and on the whole patio at the 85th Street location.
2310 4 St. S.W., 403-457-5522 and 8561 8A Ave. SW, 587-353-8812, vinroom.com
When: Weekdays from 3 p.m. to 6 p.m.
Because it's a classy joint with retro flair, the lounge at Vintage Chophouse calls its daily late-afternoon specials a "social hour," which suits the room's refined atmosphere. Wine and scotch are 25 percent off and there's a special menu of pre-steak appies that includes duck wings ($12) and charcuterie ($15).
320 11 Ave. S.W., 403-262-7262, vintagechophouse.com
When: Everyday from 3 to 6 p.m. and all day Mondays
Wurst, a Mission anchor with a Bavarian tone, rolls out half-litre steins of domestic and import brew for $5, half-litres of draft wine for $12 and half-price appetizers.
2437 4 St. S.W., 403-245-2345, wurst.ca
[This article was last updated on July 30, 2018]