Chef Profile: Michael Allemeier
He was born in South Africa and worked in 27 places across three continents, including leading Teatro's kitchen, now Michael Allemeier is an instructor at SAIT.
By Andrew Guilbert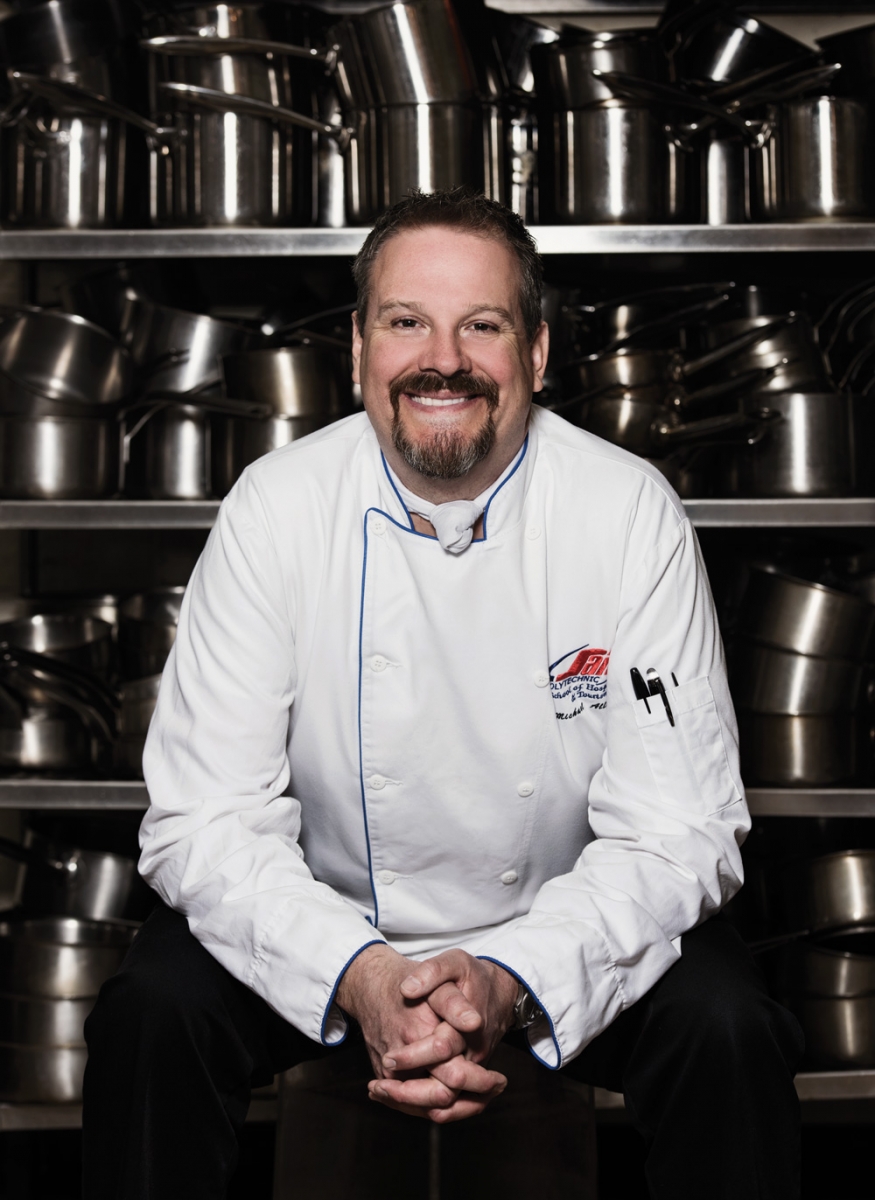 Photograph by James May
Chef Michael Allemeier is sitting at a dining table in SAIT Polytechnic's Highwood restaurant as his students mill about, prepping tables for the night's guests. "I'm very fortunate," he says. "I'm 47 years old and I've had 27 addresses on three continents. How great is that?"
Born in South Africa in 1967, Allemeier has drawn inspiration from each of those 27 addresses. From the local food markets of Hong Kong to the burgeoning sustainable food scene on the west coast of Canada, this is one well-travelled chef who's learned what food shouldn't be.
"We need to be more aware about where food comes from, its carbon footprint and the conditions of people who produce it," Allemeier says.
"If we all ate in season, supported local producers and adopted awareness programs like Ocean Wise, our food chain would be a little healthier."
This love of quality, local ingredients is one Allemeier has had from an early age, and it's something he's eager to pass on to the next generation. In his current position as a culinary instructor with SAIT, he makes a point to send students out to the campus garden for fresh herbs and produce, something he believes connects the students to their food.
"They're so used to reading a label on the box, and suddenly they're thrown into this wonderfully active world," says Allemeier. "When you get that aha! moment, it's pretty rewarding."
Prior to signing up with SAIT in 2009, Allemeier had worked in cities including Winnipeg, Montreal and Vancouver. Eventually, he found his way to Calgary when Sal Howell, now owner of River Cafe, convinced him to leave Whistler's Fairmont Chateau and take the reins of Teatro in 1998. In 2003, he left to work at West Bank's (now West Kelowna's) Mission Hill Family Estate Winery, which under his direction came to be recognized by Travel & Leisure magazine as one of the top five winery restaurants in the world, one of many accolades the certified chef de cuisine has garnered in his 30-year career.
Though he's now settled into a "normal" job, the hectic pace of the culinary lifestyle hasn't left Allemeier, who is currently pursuing his Certified Master Chef certification, teaching full-time and still finding time to work on the occasional collaborative menu with local restaurants.
"The key to this business – to anything – is, you have to love it, pure and simple," he says.
---
Chef Allemeier's favourites
Vacation spot
"Anywhere in the Canadian Rockies, or any mountain range, for that matter."
Bar tool
"Muddler. Best way to release extra flavour into cocktails."
Local restaurant
"This is a hard question, and to pick one restaurant is impossible. I love going to Tamarind for Indian food, Shiki Menya for ramen, Posto for the potato pizza and Market Restaurant for cocktails and some of the best-crafted contemporary food."
Ingredient
"Duck fat. Perfect flavour medium for frying eggs, mushrooms, potatoes, pasta and many other dishes. It adds an unbelievable level of deliciousness!"
Perfect pairing
"Burgundy and mushrooms. Try it some time. It's a real aha! moment."
Guilty pleasure
"Chocolate. I eat it every day. Just a small taste to keep it special."
Thing about Calgary
"People still say hello to each other. This city has a great sense of community."