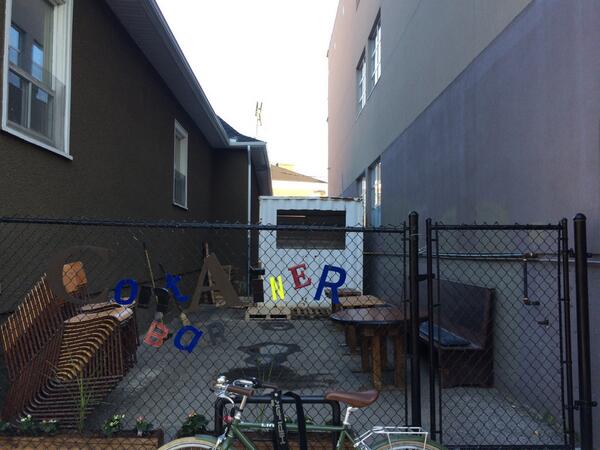 Photo courtesy of Container Bar.
If you've walked down Kensington Road recently, you might have noticed an alleyway that isn't like any other alleyway in the city. It's filled with recycled furniture, it's covered with an awning, and most notably, there's a shipping container smack-dab in the middle of it.
This is Container Bar, the only bar like it in the city – and quite possibly the country.
We caught up with Cam Dobranski and Matt Leslie, the owners of Kensington's newest bar (as well as Winebar and Brasserie) to learn why everyone in Calgary will want to have a Hennessy in a Kensington alley this summer.
Where the idea for Container Bar came from
According to Leslie, Container Bar was born out of a desire to "expand without actually expanding." Currently, it's difficult for Winebar and Brasserie to be considered a competitor in the area during the summer months, simply because there's no patio.
Over a brainstorming session, Leslie and Dobranski thought about their travels and the places they'd visited that were most memorable to them. Leslie has worked in Melbourne, Australia and Bali, Indonesia (among other places) while Dobranski has travelled around Europe and Southeast Asia. Like the places that stuck out in their memories during their adventures, the two hoped to create a place here in Calgary that would stick in both travellers' and locals' minds.
And they've done it. It's unique creation that Leslie says, "was a bastardization of lots of ideas, but it's probably inspired mostly by places in Chicago and Melbourne."
Building Container Bar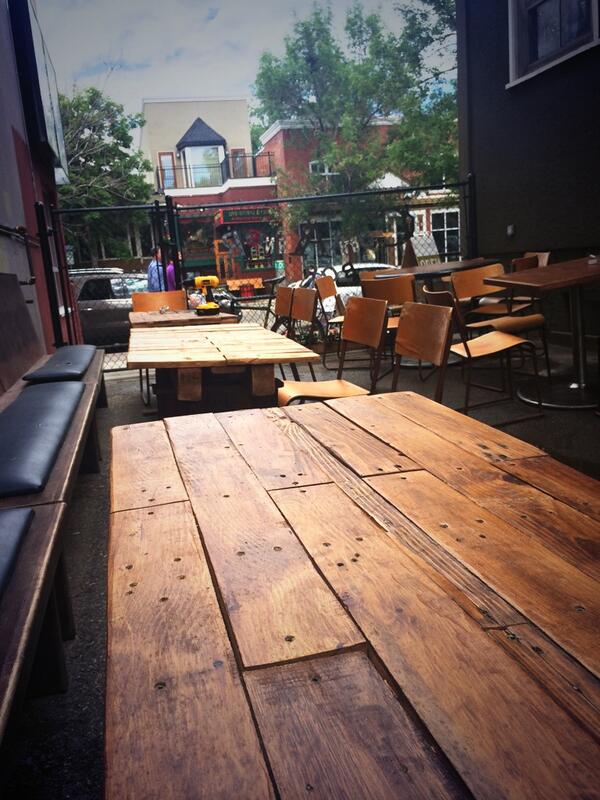 Photo courtesy of Container Bar
The building of the bar began with a trip to Calgary's southwest to EconoPro to buy the shipping container, but the work was far from over after the purchase. Dobranski and Leslie have been working on Container Bar for nine months now and it's been just as involved as building a brick-and-mortar restaurant from scratch. Leslie explains that the project was never just Dobranski and himself. He says, "To meet city regulations, we also needed the help of an architect and a structural engineer – and other volunteers too – to get this project off the ground."
And it's not only the bar itself that's recycled: the entire seating area is recycled. Patrons can expect to sit on old church pews, stackable chairs like the ones you sat on during high school assemblies and furniture made from pallets. Even the neighbours got involved: Pulcinella and Muse both donated tables to Container Bar.
How it's going to work
Leslie explains that this is dependent on a few factors still being ironed out, like how many people the space can sit. Right now, Leslie and Dobranski are visualizing the bar having one bartender and possibly one server, and working something like Vendome Caf.
Why you're going to want to visit
If you're not already intrigued, here are a few additional reasons to venture down Kensington Road at the beginning of July to visit the Container Bar:
Container Bar will offer a condensed menu with a few dishes from Brasserie, including sandwiches and fresh salads.
There's direct sun in the alleyway during lunchtime, so you can work on your tan as you relax in the middle of the day.
There will be classic drinks available, but the menu will likely have a focus on cognac.
The only thing that Dobranski and Leslie bought new was the awning. Everything else used to construct the bar is recycled.
The bar will be decorated with LED fairy lights at night, giving the venue an enchanting glow.
Dobranski and Leslie laugh that it's "rustic-chic." The bar is an extension of both of their personalities and, according to Leslie, "embraces what's weird and different about us both."
Want to feel like you're in Melbourne or Bali? Container Bar was designed to make you feel as though you've gone on a brief trip out of Calgary. It's comfortable and inexpensive, not unlike a beach house bar.
How to find out more
Dobranski and Leslie are hoping that Container Bar's grand opening will take place in the first week of July. Get there quick – there are no reservations here.
To stay up-to-date with the bar's latest advances, follow @Container_Bar on Twitter.