At age 27, Parker Morrison isn't what you might expect of a food truck owner. He works 10 days on, 10 days off as an engineer in the energy sector. He's not a chef, and he didn't aspire to be an entrepreneur. But he did grow up appreciating the culinary business he's now part of.
"My dad runs a pub in Ottawa, so I've been around the food industry for a while," he says. "But my fiancée can tell you, I'm not a super skilled cook at all."
Morrison first considered starting his own food truck after a 2016 visit to a skateboard lot in London, England. A parked food truck, covered in stickers and playing music, struck him as a business that contributed to the easygoing atmosphere. And he thought, I want to do that.
He solidified the idea over the next two to three months, and while contemplating the menu, found himself gravitating towards fare that he'd always loved: fried chicken.
"I figured … if I kept the menu really simple, I could [become] good at one thing," he says. "So I wound up cooking Nashville hot chicken once a week for a year."
He eventually launched Zilford's Fried Chicken in March 2017. For Morrison, it's meant changing his routine — he now starts work before sunrise.
5:30 a.m.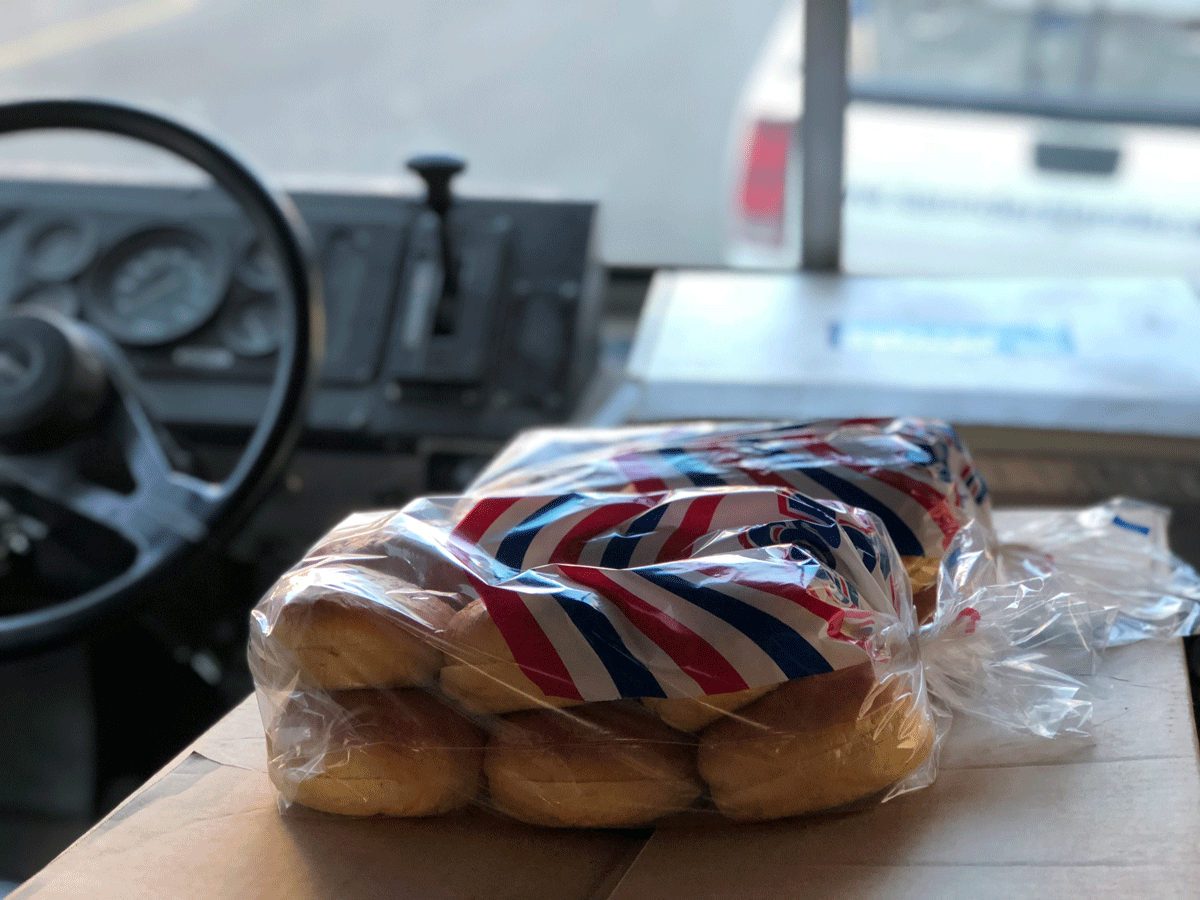 Bread sits on piled boxes in Parker Morrison's food truck as day breaks.
It's 5:30 a.m. and Morrison is loading coleslaw and honeyed butter from the tiny corner of an industrial bay into his food truck.
"One of my employees keeps saying I should get a headlamp," he says as he bustles around the back of the van in darkness, illuminated only by a small flashlight.
The guts of the truck are narrow and industrial, filled with three deep fryers and aluminum counter space. Boxes of bread and flats of pop are stacked in piles, which Morrison maneuvers around quickly. Other food trucks, he says, will be jockeying for real estate around the downtown core; to get a good parking spot, he has to beat them there.
Today's goal is a parking space in front of Eau Claire Tower. He's making good time, but you never know, Morrison says. "Yesterday we got there at 6:05 [a.m.] and the spot was gone."
He climbs into the front seat and slides the metal door shut. Revving the engine and pulling out of the dark lot, he warns, "Don't be surprised if you hear a crash and bang while we're driving." His words are immediately punctuated by the clang of something toppling to the floor in the back.
Morrison says he found the sky-blue truck, now playfully emblazoned with the words "Zilford's Fried Chicken" in black and red lettering, on Kijiji; a couple from Okotoks was selling it.
"I'm finally getting used to [driving it]," he says of the truck. "It's pretty sturdy."
It does not feel "pretty sturdy." Slim and tall, the truck trundles down the road, the engine more a roar than a hum. But Morrison steers it comfortably through the constricted streets of downtown.
"I've only had one incident. There's a bridge going into Ramsay. It was pitch-black and … I would have lost the top if I had gone on [it]," he laughs. "I had to do the most embarrassing 18-point turn in my life."
As we approach Eau Claire Tower, he slows. Another food truck is parked out front — but only one. He pulls in along the curb, careful to leave enough room for another truck to park behind him. This might seem oddly thoughtful, but parking rivalries aside, Morrison says Calgary food trucks are bound by camaraderie; the hours, the business and the experience turn them into trench mates.
"It's a friendly competition," he says warmly. "The other guys are great."
6 a.m.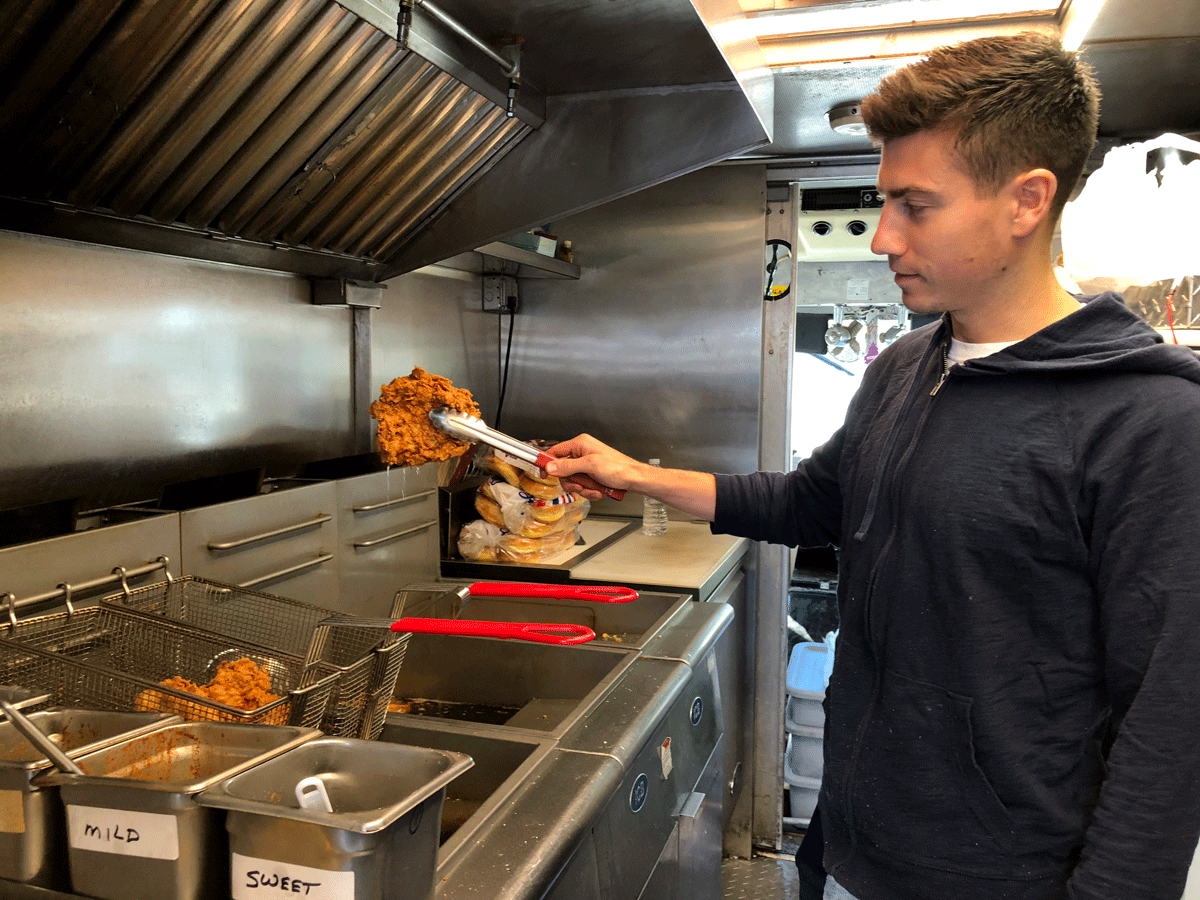 Morrison says his regular consumption of breaded fried chicken thighs keeps him in the gym.
By now it's about 6 a.m., and Morrison wanders to Stephen Avenue to get a coffee. He updates the Street Food App to alert Calgarians of Zilford's presence at Eau Claire Tower. His fiancée Kat gets the go-ahead to post an Instagram photo citing the truck's location. He'll spend the next two hours in the gym, but not just because he grew up athletic — he also maintains a steady diet of fried chicken now.
8:30 a.m.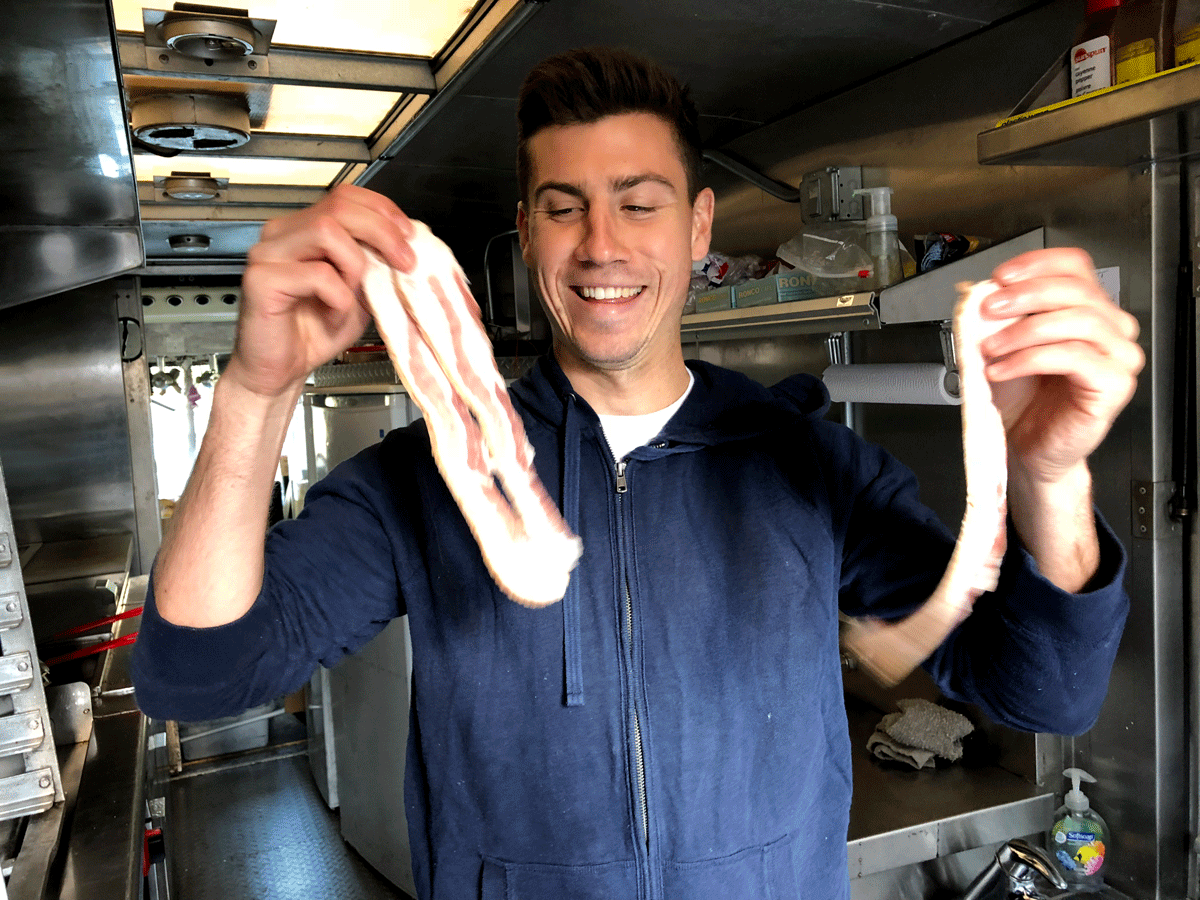 Morrison happily displays bacon destined for Zilford's mac n' cheese.
At 8:30 a.m. Morrison heads back to the truck, starts the generator, climbs into the back and begins mac n' cheese prep. Sticks of butter and bags of weighted cheddar appear on the counter. A pot is filled with water and put on the range. With childlike joy, Morrison pulls pieces of thick-cut bacon apart, holding it up with a Christmas smile before laying it down on the flattop.
One of his cooks, Alex Snowdon-Anderson, arrives. He immediately begins dredging boneless skin-on chicken thighs through seasoned flour, while Morrison butters brioche buns. They move nimbly in a food truck waltz, trying to keep from tripping the other into a burner.
As Alex finishes prepping the thighs, one can't help noticing that the fried chicken looks, well, huge.
"I think my favourite part is when you hand someone a sandwich and they didn't realize what they were getting," Snowdon-Anderson says about the generous portion. "Their face lights up. It's just a really satisfying feeling."
For owner Morrison, the highlight is how social the business is. He gets to roll around Calgary and be a part of the community. And what he looks forward to most, he says, are festivals and events.
"Those are the days you really enjoy going to work," he says.
10:30 a.m.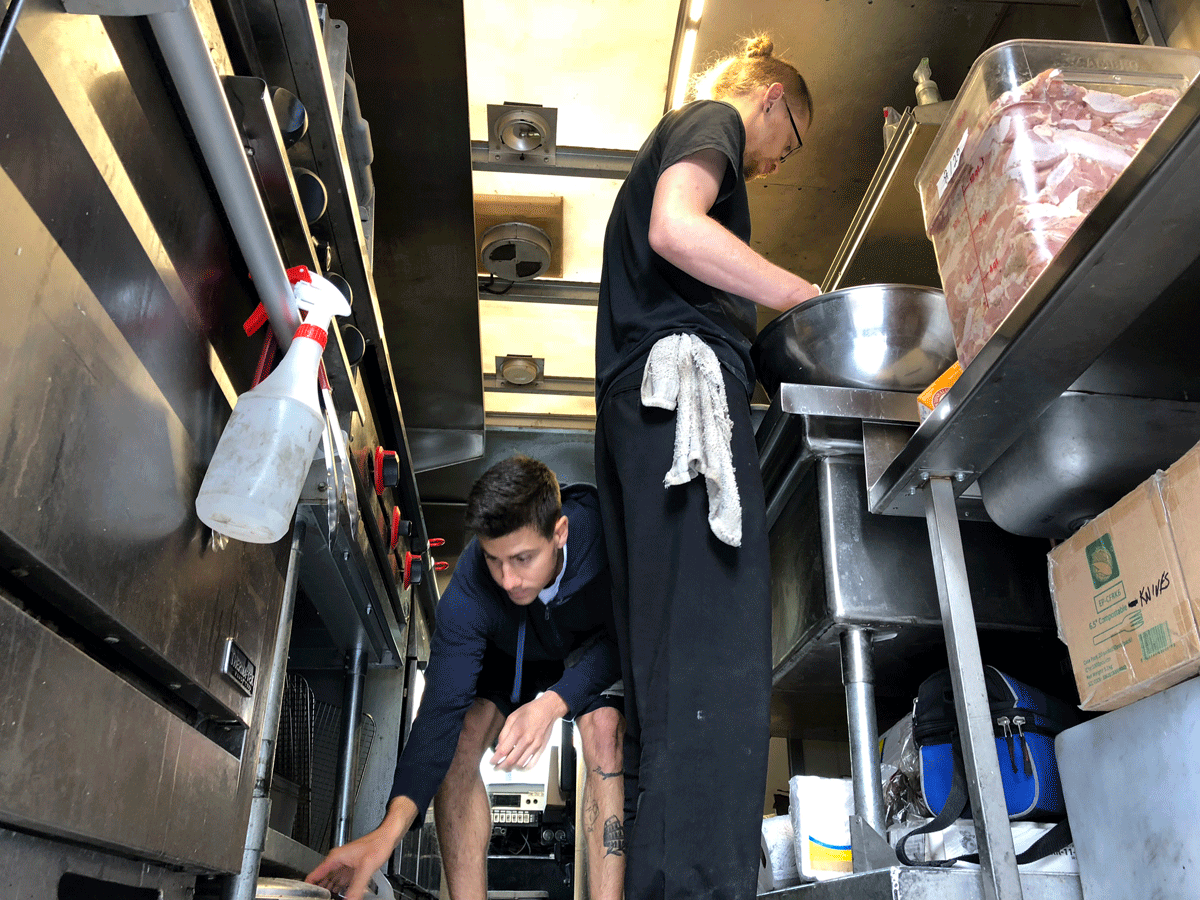 Morrison (left) and Snowdon-Anderson (right) squeeze around each other while cooking in the food truck.
The truck already seems too full to accommodate more people, but cashier Tobi Ogata arrives around 10:30 a.m. to turn on the old Casio register and boot up the debit machines. He stays relatively faithful to one side of the truck, leaving room for Morrison and Snowdon-Anderson to cook on the other.
While some might find it difficult to work in such close quarters, Ogata says the friendship between them makes it easier. "It's all about building each other up," he says with an unwavering grin. "We're just having fun."
Their dynamic makes it easy to assume that Morrison recruited his friends to work for him or that they'd at least known each other before Zilford's launch. Surprisingly, this isn't the case; the trio met after Ogata and Snowdon-Anderson responded to an ad Morrison had posted on Kijiji. They just happened to get along as well as they do.
"I always want the staff to be having a good time," Morrison says of the relaxed atmosphere. "Just making sure that the food's fun and not taking ourselves too seriously."
11 a.m.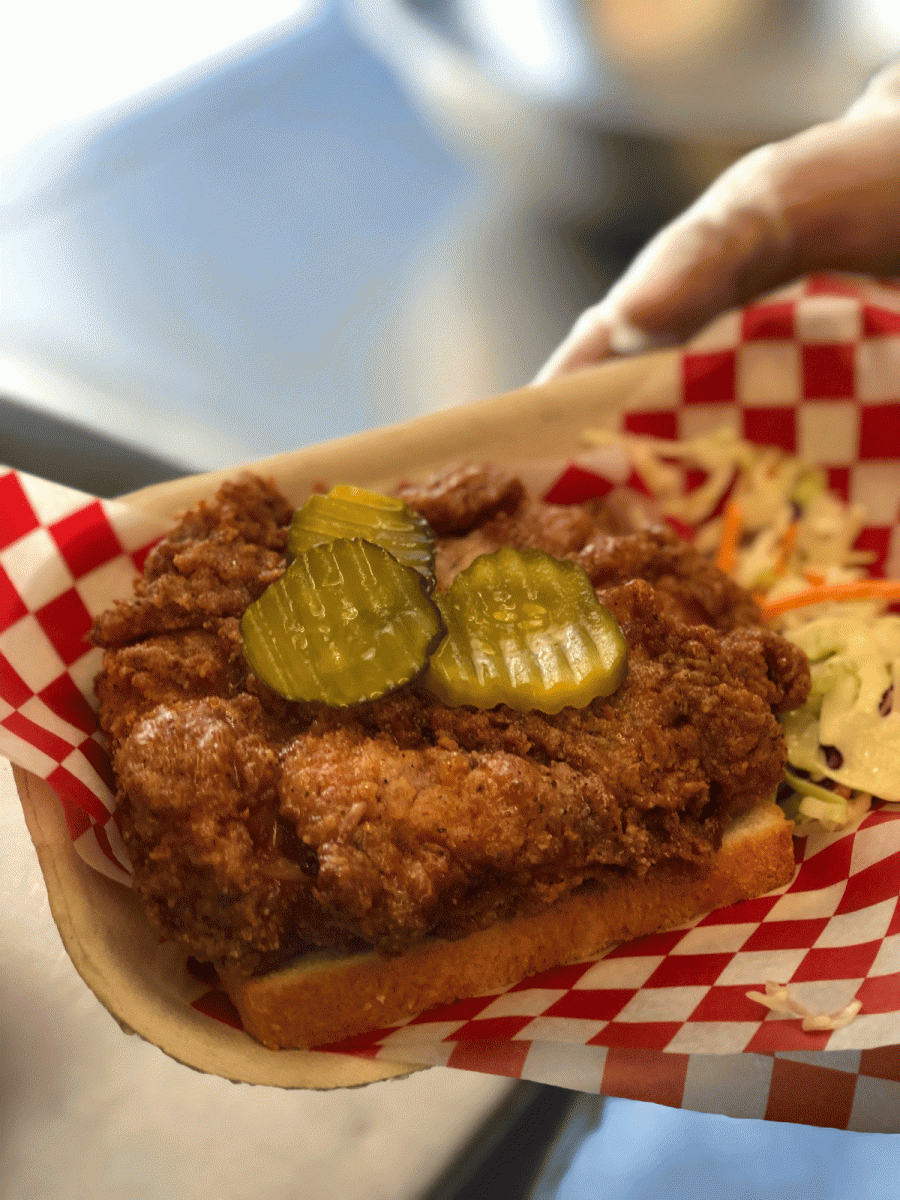 A Nashville Sammie ready for consumption.
At 11 a.m., Zilford's Fried Chicken is open for business. Almost as soon as the shutter on the truck opens, there's a line of customers. There's a flurry of activity inside the truck too: Ogata​ takes orders and payments and prepares to-go boxes, Snowdon-Anderson pulls chicken thighs from the fryer and brushes them with hot sauce and Morrison prepares the sandwiches, dressing the buns with coleslaw and pickles and ranch. They run out of chicken twice, and Ogata darts from his post at the window, scurrying to bread more.
While you might expect it to be frenetic, it's not. Everyone knows their role and their steps. It's still a waltz.
1 p.m.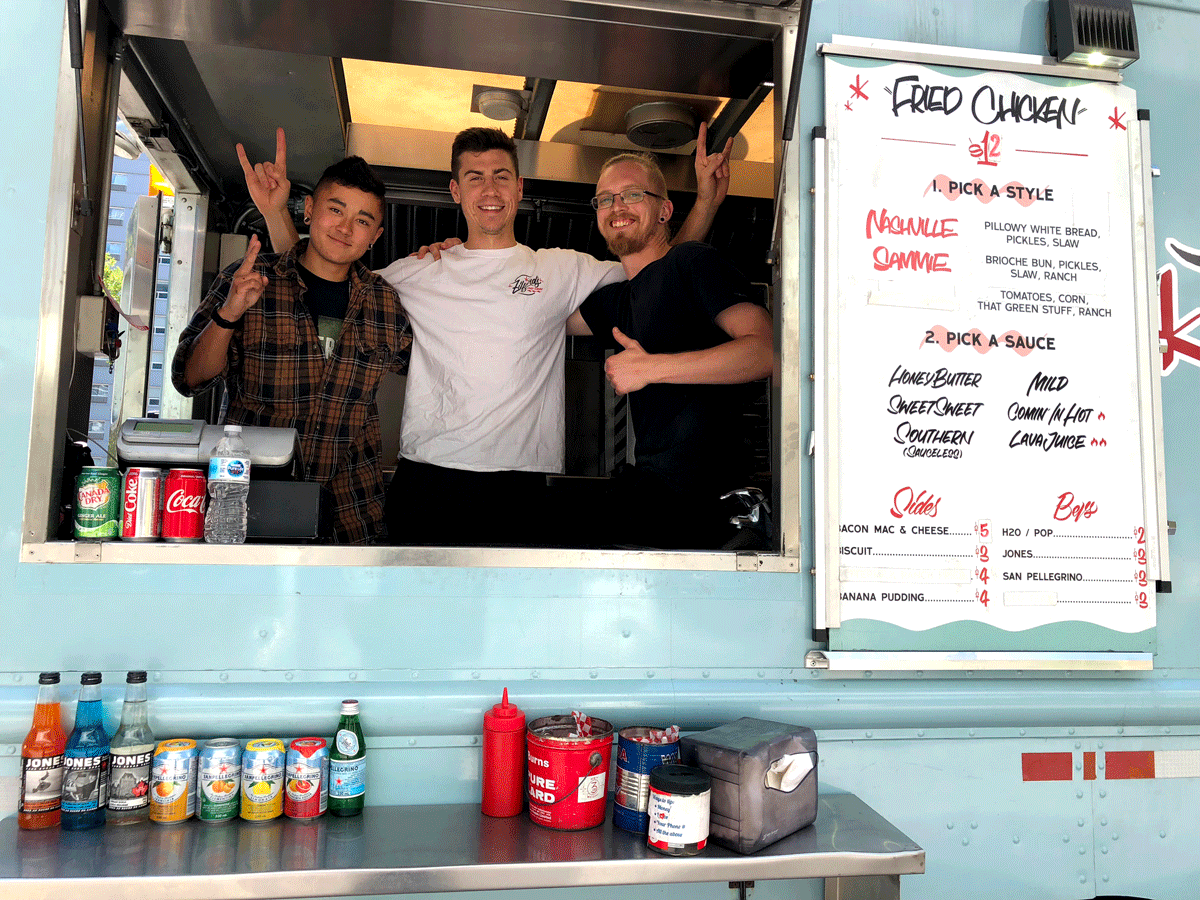 From left: Tobi Ogata, Parker Morrison and Alex Snowdon-Anderson smile after food service.
By 1 p.m. they're sold out of chicken and are forced to turn away a few would-be customers. Not a bad day for the food truck, now being scrubbed clean by the three friends.
"It's just such a fun adventure," Morrison says. "[I'm] learning so much from it and [am] really thankful that I've had the opportunity."
Not a bad day, at all.