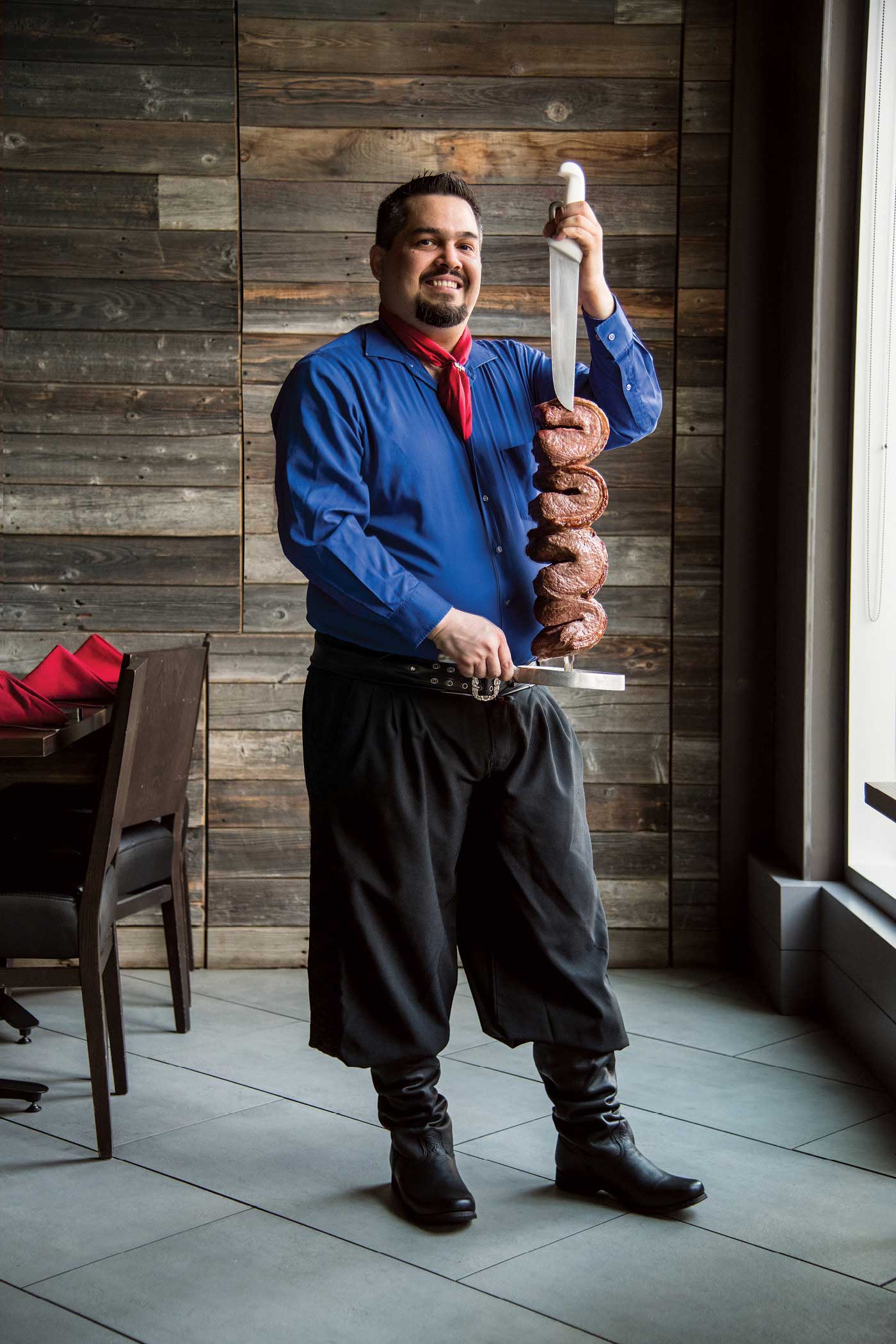 We tend to think of cowboy culture as a uniquely North American phenomenon, but that's not true. Brazil, along with its neighbours, Argentina and Uruguay, has a rich cowboy tradition built around gauchos — skilled horsemen with a reputation for courage, fierce independence and of course, a wild side.
With cowboy culture comes a taste for grilled meat, so it's hardly surprising 
that Brazil is also known for its steak houses, or churrascarias, and especially for the dining experience known as rodizio, in which passadores (carvers) circulate among the tables with all sorts of tasty meats on a skewer.
Rodizio became popular throughout Brazil in the 1970s, especially with truckers. Tin-roofed shacks along the roadside offered skewers of charcoal-grilled meat to hungry truckers who could settle into plastic chairs and eat their fill. From these humble beginnings, a phenomenon was born.
These days, you can find rodizio in just about any major city, and Calgary is no exception. Though it has moved from the roadside into the dining room, the essence of the cuisine remains the same: a variety of meats served in their purest form, grilled and simply seasoned, often with just sea salt. If you're a true carnivore, you can't do much better. And did we mention it's all-you-can-eat? Carvers pass by your table with huge churrasco-style skewers of steak, chicken, pork, and 
lamb, and they'll keep coming until you flip over the red card on your table telling them to stop.
So, are you ready to get your meat sweat on, gaucho?
Opened back in 2007, Bolero was first on the Calgary scene. Come hungry, because with 16 different kinds of charcoal-grilled meat, you've got a lot to get through. They also offer a salad and sides bar with fresh-cut vegetables, imported cheeses, cured meats and traditional Brazilian dishes.
6290 Macleod Tr. S., 403-259-3119, bolerocalgary.com
Make sure to try the top sirloin (alcatra) and rump steak (picanha), plus at least one type of chicken, lamb and pork. Oh, and the sausage, as well. You know what? Just try everything. But don't forget to save enough room for veggies, salads and sides.
5920 Macleod Tr. S.W., 403-454-9119; and 629 Main St., Canmore, 403-678-9886, brazilianbbq.ca
The churrasco menu has a wide selection of meats, but don't pass up the grilled pineapple (abacaxi), especially if you're sampling one of the many savoury slices of pork. Sides include Brazilian cornbread, palm heart salad and feijoada, a meat and bean stew served with rice, kale and farofa.
136 2 St. S.W., 403-454-2550, minassteakhouse.com
The full rodízio gets you access to all the meats, plus the hot and cold salad bar. Come for the chimichurri-basted striploin, stay for the bacon-wrapped chicken thighs.
521 10 Ave. S.W., 587-354-3441, pampasteakhouse.com
Plus, 10 Beef Dishes From Around the World
Argentina
Carne asada
Grilled and sliced steak, usually marinated skirt or sirloin, often served with chimichurri.
Try it at: Charbar
Belgium
Steak frites
Steak. Fries. What more do you need?
Try it at: Cassis Bistro
China
Ginger beef
Deep-fried strips of beef in a dark, sweet sauce.
Try it at: Silver Inn
France
Beef bourguignon
Stew braised in red wine (traditionally Burgundy).
Try it at: The Eden Bistro
India
Beef vindaloo
Very hot curry marinated in wine and garlic.
Try it at: Moti Mahal
Italy
Bistecca alla Fiorentina
A really, really big T-bone, traditionally grilled over wood or charcoal.
Try it at: Mercato
Japan
Beef tataki
Very rare steak seared on the outside and served thinly sliced.
Try it at: Ke Charcoal Grill
UK
Beef Wellington
Tenderloin coated in pâté and wrapped in puff pastry.
Try it at: Wellington's
USA
Philly cheese steak thinly sliced beef with melted cheese on a hoagie, sometimes with sautéed peppers.
Try it at: Cowtown Beef Shack
Vietnam
Pho
Soup with rice noodles and thinly sliced beef added raw and cooked by the broth.
Try it at: Lemongrass West