The historic de Waal Block in Bridgeland is now home to a new, casual eatery called Jin Bar from well-known chef Jinhee Lee. You may know Lee from her time at Foreign Concept and Raw Bar, her numerous award wins or stints on the Food Network competing on Top Chef Canada and judging on Wall of Chefs. Somewhat surprisingly, Jin Bar is the first restaurant she has ever owned.
Lee is originally from South Korea and recently spent some time there to receive treatment for back problems and visit with family. During her stay, she noticed the food scene was trending in a casual direction — quick-to-make, satisfying dishes like pizza and fried chicken ruled the roost. Less than a year after returning to Calgary, she's channeled that inspiration and her passion for excellent food into the menu at Jin Bar.
With all due respect to the many other dishes on Jin Bar's menu, the fried chicken is the star of the show here. The chicken is marinated in herbs, spices and oil for 12 hours before being coated in a multi-flour mixture and then double fried for extra crispiness. All chicken is boneless and each order comes with three pieces. Choose between original (no glaze), honey garlic butter, jalapeño soy, Korean chili glaze or buldak, a.k.a. dragon's breath, a mix of extra-hot dry and wet ingredients. You can also try the buldak on a sandwich, in slider-form or on pizza.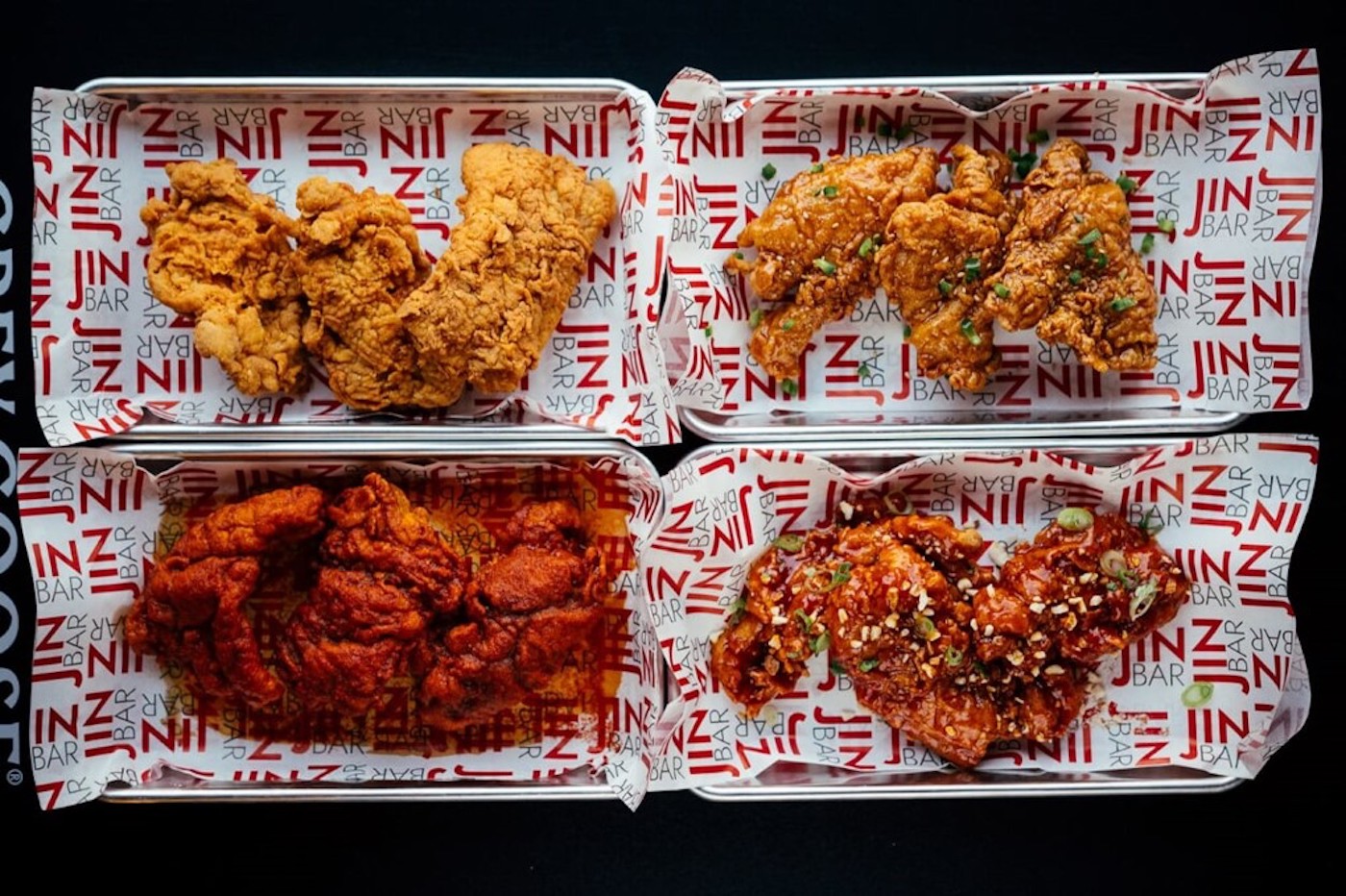 Speaking of pizza, Jin Bar's offerings include four different thin-crust pizzas made with Korean ingredients. Most of them overlap in flavour profile with sauces used for the chicken, so a smart move is to pair a sweet and creamier pizza with a spicier order of chicken, or vice-versa. The bulgogi pizza, in particular, works well with any flavour of chicken.
Beer is the most common alcoholic beverage to pair with fried chicken and pizza, and you have 10 mostly local options to choose from. Lee also developed a wine list based on these flavours — she says Joie Farm's gamay is great with jalapeño soy chicken — and offers a range of cocktails that help soothe spice impact. The K-pop is a Suntory Toki-based riff on the Japanese highball and the Busan Beach Bod brings tiki fun with its pineapple soju and candied lime garnish.
There are also numerous sides (like crispy chicken skin, pork belly tacos and kimchi mac and cheese) and side sauces to round out your meal. For dessert, you can order soft serve in various forms or try the rotating Dwarf Stars chocolate bonbons.
Jin Bar opened late in November of this year and has barriers between each table for your safety. Reservations can be made by phone or through Open Table, and though the restaurant isn't working with any delivery services yet, you can call in and order for takeout after 4 p.m. on any day of the week.
24 4 St. N.E., 587-349-9008, jinbar.ca