In the restaurant world, it takes courage to introduce a new food to the market or take an opposite tack to what you know already works. But that's exactly what restaurateurs Jesse Johnson and Angelo Contrada of Without Papers Pizza and the now-closed Sugo have done with Pow Pizza, a new takeout joint serving hearty Detroit-inspired pizza in Renfrew.
The pair wanted to try and serve a different but equally delicious pizza to the Neapolitan-inspired thin crust served at the popular Without Papers. They also wanted to try their hands at the reduced-overhead world of a take home only (well, mostly — Pow does have two seats) service model.
That meant research. So Johnson, Contrada and a few other team members headed to the honourary home of thick crust and deep dish-style pizza: the American Midwest. Their research began in Chicago, but it wasn't until they reached Detroit that inspiration really took hold. Detroit-style pizza is said to have been invented in 1946 in a shop called Buddy's Rendezvous (later renamed Buddy's Pizza) when Gus and Anna Guerra interpreted a Sicilian dough recipe in the most Motor City way possible — baking it in a thick, rectangular steel pan said to have been used to hold spare parts in a car manufacturing facility.
Johnson and Contrada were fascinated, but wanted to try it their own way. The result is the "Detroit spirited pizza" cooked up in the tiny 48-square-foot kitchen on Russet Road near Edmonton Trail and 16 Avenue N.E. The largely residential area is where chef Contrada lives. He spent the first month of operations hand-delivering free pizzas to his neighbours to get the word out. This not-so-subtle approach matches Pow's branding, a vintage comic book explosion of speech bubbles in vibrant red, yellow and orange.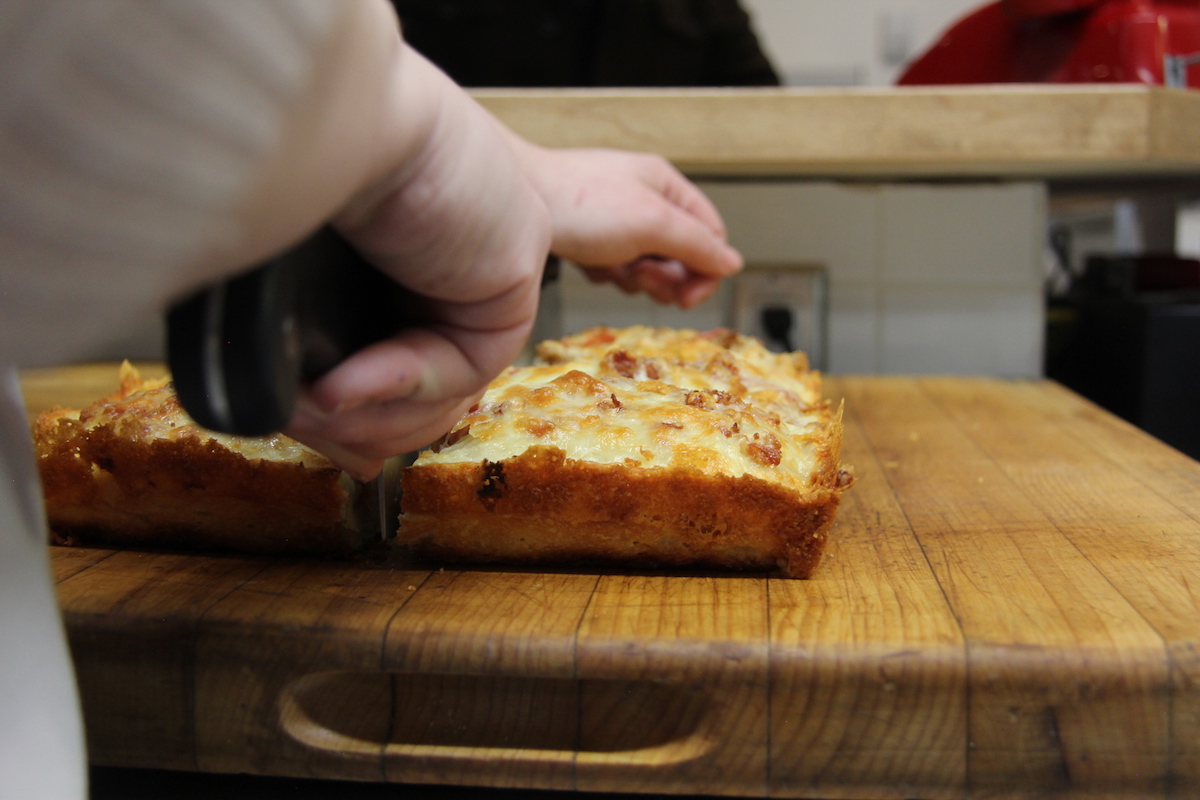 While construction of the rectangular pizzas varies among the unique creations at Pow, most of its pizzas stick to the Detroit tradition of massive, spongy crust, toppings buried beneath a mountain of cheese and tomato sauce doled out on top after the baking process is completed. The benefits of this method are three-fold: the tomato sauce isn't overcooked in the extended bake, the molten cheese crisps into a secondary crust encasing the perimeter of the pies and the chewy dough will satiate you within a slice or two.
Pies are available in small and large sizes and, as of writing, only 100 doughs are prepped per day. Styles range from elevated classics like the Wagyu beef Classic Pepperoni, to unexpected ingenuity like a curry and yogourt pizza and the Haute Renfrew (see what they did there?), which has potato, bacon and sour cream. Contrada also dreams up a new chef's specialty each week.
Right now, Pow feels like a hidden gem. You can't order delivery and it won't cross your path on a stumble home from 17th Avenue on a Saturday night. Potential plans include adding delivery, creating a community gathering space at the adjacent parklet and maybe even expanding next door in order to offer sit-down service. If that's something you'd like to see, make sure to order early and order often.
1025 Russet Rd. N.E., 403-263-1115, powpizza.ca