The North: Rajas and richness
Northern Indian food is strongly influenced by the 300-year rule of the Mughal Empire, which was founded in 1526. Butter and cream, chilies and saffron run like rivers through the food. Meats are slow-cooked in rich sauces or grilled in tandoor ovens, wheat breads are baked, fried or stuffed, sweets and kulfis (Indian ice creams) rule supreme like Akbar the Great. Common northern dishes that we see in restaurants in Calgary include naan bread, rotis, samosas, curries such as palak paneer (spinach and cheese) and aloo gobi (potato and cauliflower). Garam masala is the predominant spice mixture used.
Dine-in
Try the paneer pakoras.
Bay 309, 4600 130 Ave. S.E., 403-257-4977, karmacalgary.com
Owner Jesse Mann's favourite dish is the papaya prawn curry.
1805 14 St. S.W., 403-228-9990, motimahal.ca
Belly up to the Nirvana buffet then take home some pistachio burfi (fudge) from Bombay.
700, 5075 Falconridge Blvd. N.E., 403-590-9797, nirvanacalgary.com  
Take out
Freshly marinated chicken, lamb, goat and fish masalas for your grill.
129, 7171 80 Ave. N.E., 403-764-4455 and 5075 Falconridge Blvd, N.E., 403-568-4455, apnadesimeatmasala.com
Outstanding tandoori chicken marinated in yogurt and spices.
912, 10 Discovery Ridge Hill S.W., 403-246-0080, maharajahrestaurant.com
Try the sizzling, hot-off-the-skewer Mirchi kebab.
825 12 Ave. S.W., 403-245-3663, mirchirestaurant.ca
The South: Coconuts and Chilies
Southern Indian cuisines, which are the cuisines of the five southern states in India, feature an abundance of coconut and spices with generous use of vibrant green and sultry red chilies. Rice, lentils and stews feature prominently on menus, and vegetarian meals are the norm in the region. Dosas — thin, large pancakes made from fermented rice and lentils — are a staple, and are typically stuffed with a potato mixture and served with a selection of sauces. Southern dishes tend to be spicier than northern ones, likely owing to the hotter climate.
The cuisine from the Chettinad region of Tamil Nadu state is renowned for being elaborate, vibrant and complex. Chettinad dishes are especially good here.
175A 52 St. S.E., 403-455-4957, madrascafe.ca
The dosa plates come with satisfying sambhar (lentil stew) and coconut and tomato chutneys.
33A 4604 37 St. S.W., 403-460-4535, masalabhavan.com
The Malabar and Goan curries, fragrant Hyderabadi dum biryanis and dosas as long as your table are top picks here.
Four locations, rajpalace.ca
The East: Fish and Finesse
Bengal is a northeastern region of the Indian subcontinent. Located within the Ganges delta, and thusly veined with rivers, it's hardly surprising that fish is the dominant protein in Bengali cuisine.
Go for the Bengali fish, marinated and roasted whole and pair it with the "crushable" gin and tonic.
340 17 Ave. S.W., 403-719-1555, calcuttacricketclub.com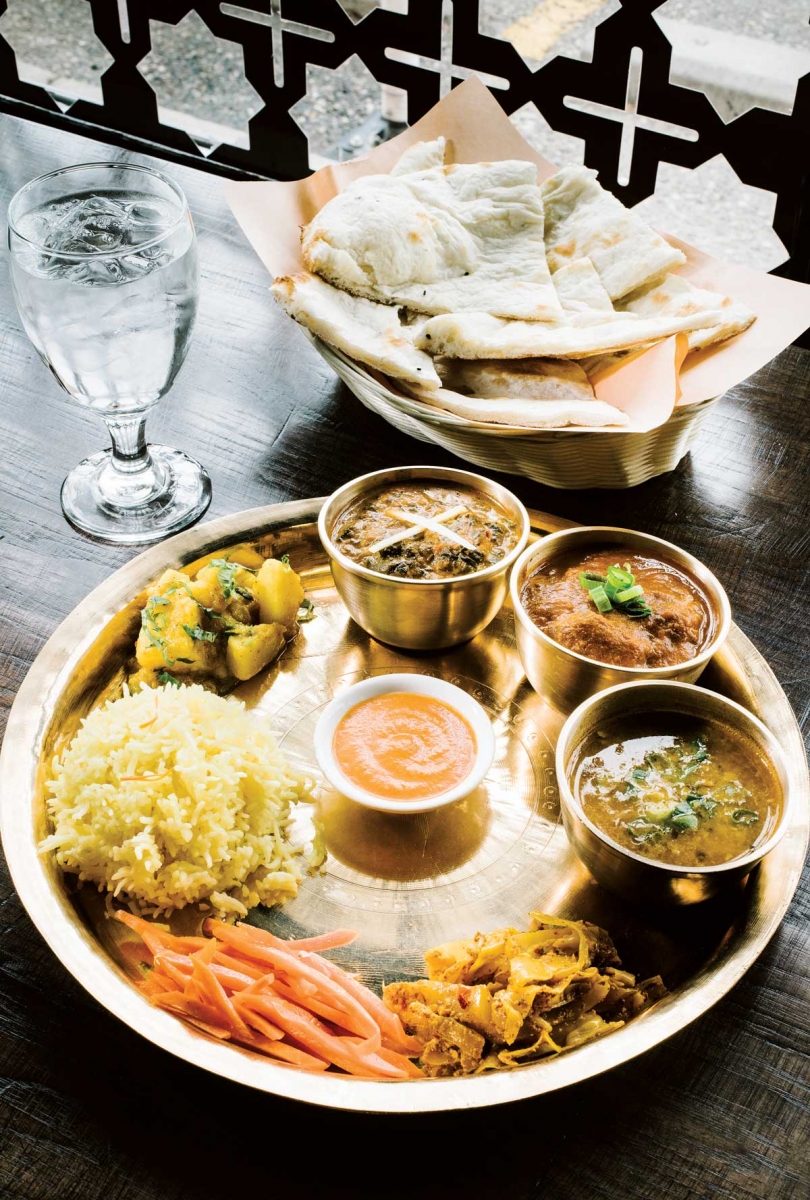 India Adjacent
The cuisine of Nepal, bordered by India to the east, south and west, shares many similarities with Indian cuisine, but it also shows Chinese and Tibetan influences in the popularity of noodles, bamboo shoots and momos (dumplings).
Dal bhat, which consists of steamed rice, lentil soup and various condiments, is ubiquitous in Nepal. Try it here, but also don't be afraid to plunge into the rest of the menu.
3218 17 Ave. S.W., 403-984-3384, himalayancuisine.ca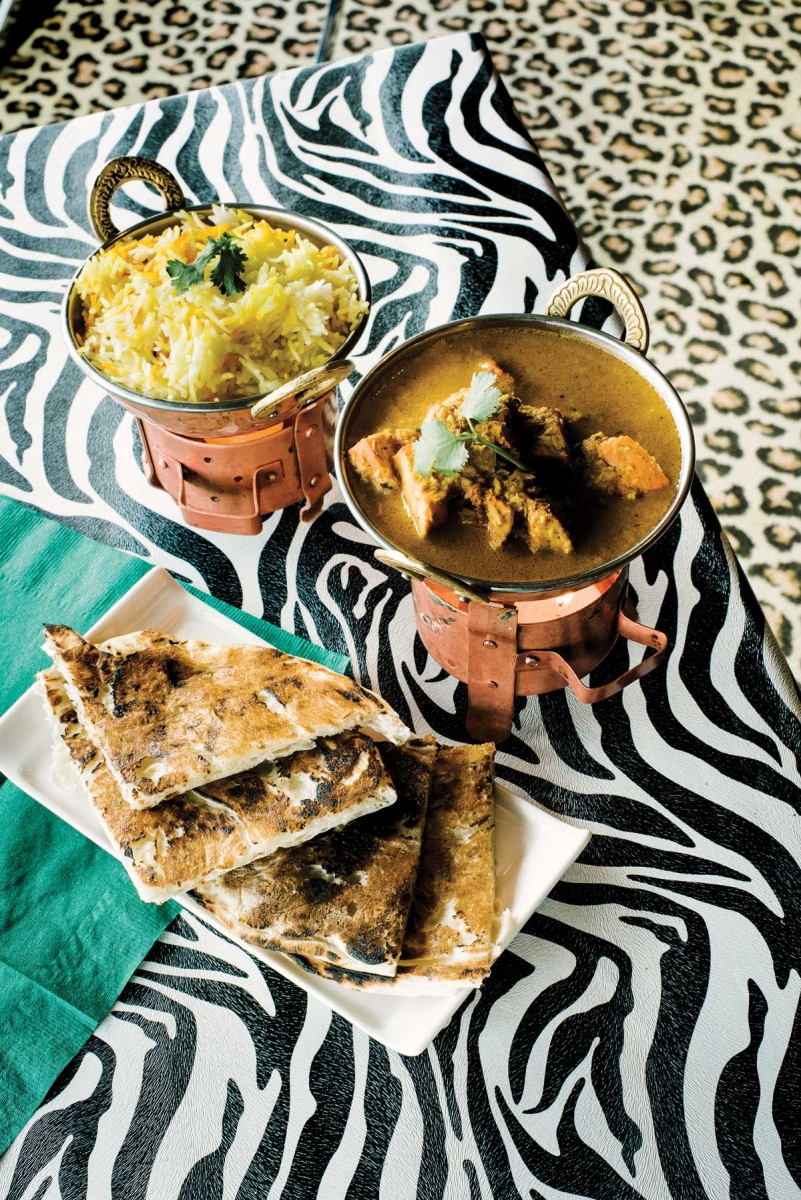 Gujarati Indian via East Africa
Gujarat Ismaili Muslim Indians migrated to East Africa in the 1920s and from there to Canada in the 1970s, bringing with them a cuisine that's a fusion of flavours.
Safari Grill
Order the kuka paka, a bone-in chicken dish with a spiced coconut sauce, to experience Gujarati flavours for yourself.
100, 255 28 St. S.E. (Short Pants Plaza), 403-235-6655, safarigrillcalgary.com
Confused about Curry?
Curry is a slippery banana-peel-of-a-word. Landing on it, we fall back on using it to describe any Indian dish set before us. But the word's origins point to its proper use. The Dutch were among the first to visit South India's Malabar coast to trade for spices. This is the area of India where the king and queen of spices, pepper and cardamom, originated and still flourish. The locals fed the Dutch traders dishes laced with spicy gravies. Karee is the Dutch word for gravy so these dishes became karees, and karee, to the English ear, became "curry." Non-gravy dishes are simply called masalas (spice mixtures).