Everything You Ever Wanted to Know About Winter Spices
Cold-weather spices will warm you better than a chili pepper down your long johns
By Pierre Lamielle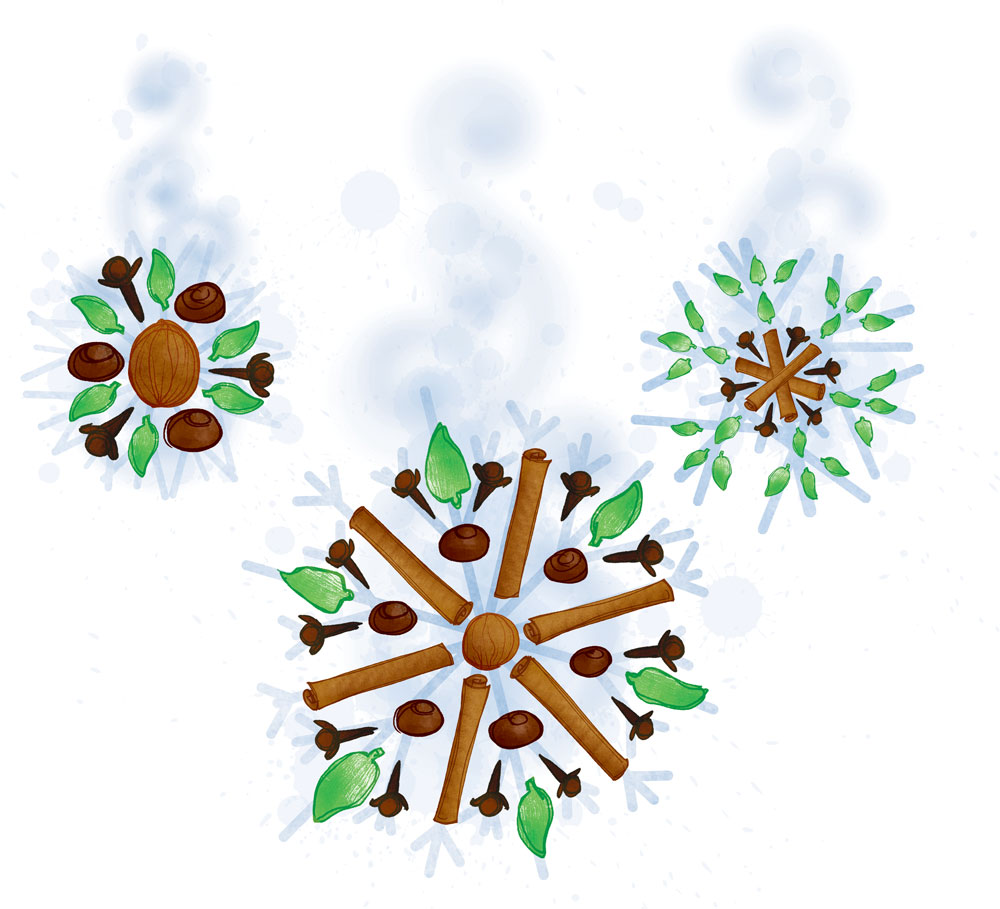 illustration by pierre lamielle
Weave an aromatic blanket of winter spices into your cooking to warm your frozen existence. The core group of winter spices typically includes the affable cinnamon, ambrosial cardamom, heady nutmeg, assertive clove and well-rounded allspice.
True cinnamon, native to Sri Lanka, is rare and also not very good. Cassia cinnamon, which isn't technically cinnamon, has a much bigger cinematic-cinnamon aroma and is the predominant spice typically sold as cinnamon. For a more intense cinnamon-heart heat, use Vietnamese cinnamon.
Try rubbing two cinnamon sticks together to start a fire or make some sweet heat by stirring up a Sex on Fire cocktail using cinnamon-flavoured Fireball whisky, orange juice and cranberry. The smell of cinnamon has the added bonus of prolonging erections, which makes walking past the alluring smell of a Cinnabon even more challenging.
The history of the spices we love
Cinnamon is readily available nowadays, but, in the wayback, ancient Arab spice traders tried to keep prices high on their coveted stash by concocting elaborate stories about harvesting the bark from the cliffside nests of giant screeching eye-gouging bats. Prices have since dropped, along with the veil of lies.
Cardamom is billed as one of the top three most-expensive spices behind saffron and vanilla. The green pod is home to several tiny black seeds that emit an intoxicatingly complex aroma with warm ginger notes, bright citrus and hints of pine.
To use cardamom, bust it open and discard the green pod, using only the black aromatic seeds inside. It's a bit of manual work, but the flavourful seeds are worth the fiddling. Steep the seeds with milky sweet tea or along with your ground coffee to get a very alluring and aphrodisiacal smell.
Stories of these winter spices
Cleopatra would burn cardamom to make her palace smell good for sexytime with Mark Antony. Even Vikings trading goods in Constantinople liked it enough to make it a favourite in Scandinavia and a must-have in kardemummabrd (cardamom bread) at Christmas.
Nutmeg, in very high doses, is a hallucinogen. But fear not the brown dragon; a fresh grating of nutmeg in your bchamel sauce or on your eggnog won't make you see brown fairies.
"Peter Piper picked a peck of pickled peppers" may be a nursery rhyme about a tenacious French botany thief named Pierre Poivre, who stole nutmeg, clove and other coveted seeds from the fierce Dutch spice gangs of the Moluccas (better known as the Spice Islands).
The Dutch guarded their monopoly on spices by sterilizing seeds before export, burning excess harvests to keep prices high and publicly executing seed thieves.
The sneaky Poivre managed to pilfer more than 3,000 (a peck) nutmeg plants (once known as pepper) and other seeds from the island and sell them to the highest bidder.
Poivre also stole clove. Cloves contain eugenol, a really awesome oil that is anti-fungal, antibiotic, anti-viral and anti-everything awful. It's also a numbing agent and was used before, during and after dental surgery in the good old days of butcher dentists.
Chewing a clove will freshen your breath. It'll have the opposite effect if you smoke clove cigarettes called kreteks.
You can use cloves to stud a big baked ham or an orange to wear around your neck to ward off the miasma of the black plague (you'll thank me when that one makes a comeback).
Allspice, contrary to popular belief, is not a blend of all the spice bits that fall through the grates. These well-rounded berries have many flavour notes like ginger, clove, nutmeg and cinnamon, making them a great all around spice. They originate from Jamaica and are a key ingredient in Guinness punch, a popular concoction of Guinness stout mixed with condensed milk and a good pinch of allspice. Having a Guinness punch in the dead of winter will make you feel warm and toasted and transported to a tropical island paradise.
Use these winter spices to bring a little bit of exotic heat to your house and warm your cockles. If these spices don't warm you, drop a chili pepper down your long johns.
Flavour pairings
Mulled wine or cider
Wrap a bundle of spices in a piece of cheesecloth or a tea ball and dunk it into a pot of gently simmering red wine or apple cider. Infuse it for five to 15 minutes to your taste and remove it before it over-steeps and gets bitter.
Pumpkin pie soup
Winter spices are responsible for the wonderful aromas you might expect to smell in a pumpkin pie. If you add some of these warm spices to a pured pumpkin or butternut squash, they will make you feel warm and fuzzy, from your nose to your toes.
Gingerbread women
Everyone knows little girls are made of sugar and spice and everything nice, so make some gingerbread women by adding cardamom, cloves and allspice to the usual ginger, cinnamon and nutmeg. Your gingerbread men will thank you.
How to make pain d'pice (spiced cake)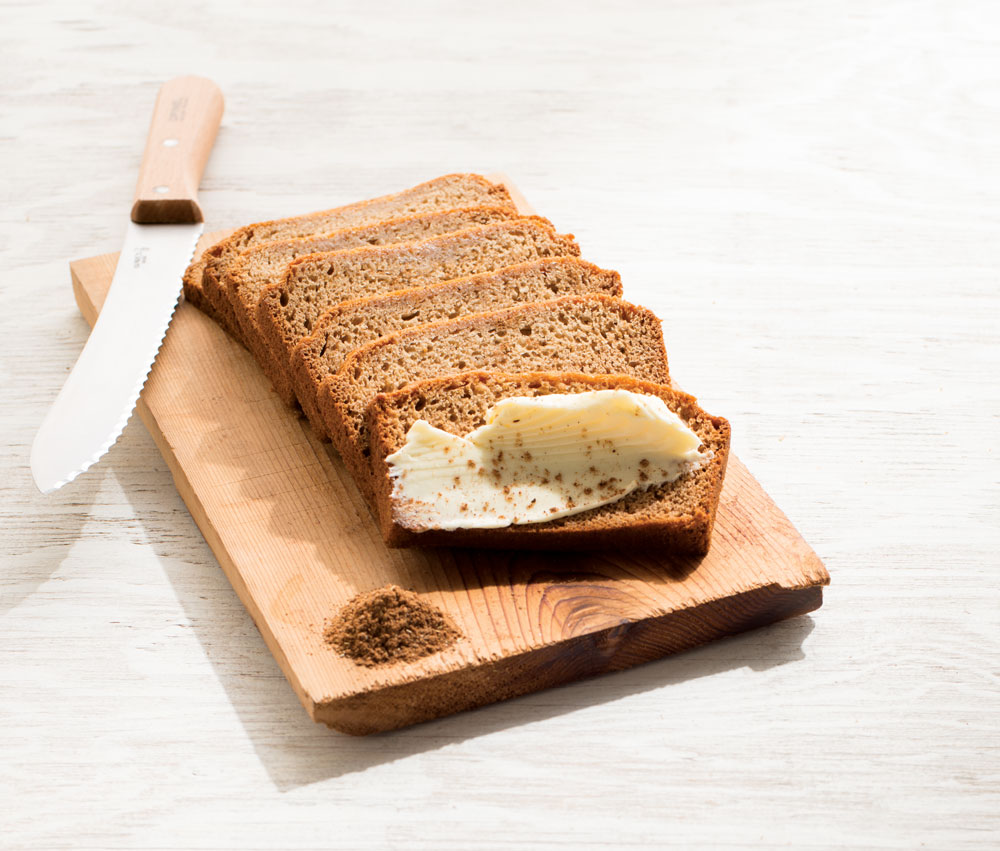 photograph by jared sych
Pain d'pice is a heady, heavily spiced loaf with a million variations. It is lovely served warm from the oven with gobs of salty butter, but, if you wait a day or two, it makes spectacular French toast, especially with a lobe of seared foie gras and some finely diced apple sauted in the residual foie gras pan drippings.
Liquid ingredients
250 ml liquid honey
2 eggs
100 ml milk
Dry ingredients
2 cups flour
1/2 cup white sugar
1 tsp. baking powder
3 sticks cinnamon
20 allspice berries
20 cardamom pods
1/2 nutmeg seed, grated
15 cloves
1 tsp. salt
butter and flour for lining the loaf pan
Procedure
Preheat oven to 350F.
Thoroughly grease your loaf pan with butter and dust the inside with flour.
First, you must gently warm your spices before you grind them. Begin by placing a large frying pan over medium-low heat. Crack the cinnamon into pieces by hand. Open the cardamom pods to release the black seeds and discard the green parts. Next, grate the nutmeg on a zester or kitchen rasp. Place all the spices, including the whole allspice and cloves, into the pan. Keep the pan moving steadily until the spices begin to emit a lovely aroma. Transfer everything into your spice grinder and pulse until there are no big chunks left. You can sift the spices for extra refinement.
Combine the dry ingredients into the bowl of a stand-up mixer. Turn it on to low speed to combine everything.
Place the eggs and milk in a bowl and whisk slightly.
Heat your honey over low heat until it is nice and liquid. Pour the honey into the mixer on low. Be careful with the hot liquid honey.
Immediately add the milk and eggs and increase the speed to medium for 20 seconds.
Stop the mixer. Use a spatula to get all the batter into the loaf pan.
Bake for 50 minutes. Remove the pan and let it cool for 20 minutes before turning it out. Slice a big chunk and slather with butter.
Keep the leftovers out to dry for a day or two to make perfect French toast.