Everything You Need To Know About Pineapple
It's a pine cone. It's an apple. It's actually a pineapple
By Pierre Lamielle
Illustration by Pierre Lamielle
Pineapple is the fruit of hospitality. Spanish explorers first encountered the pineapple in the Caribbean in the 1490s. When they brought some back to Europe, which was largely devoid of sweets, pineapples quickly became a status symbol, prized for their sweet flesh and exotic, striking appearance.
In the 1600s, King Charles II of England posed for an official portrait while receiving a pineapple as a gift, which was the first pineapple grown in England. In colonial America, hostesses would feature a pineapple as a table centrepiece, the gesture considered to be the warmest welcome a hostess could extend to her guests.
Where pineapples come from
Pineapples don't grow on pine trees, or apple trees, or any tree at all. Rather, they spring forth from a pedestal stem surrounded by a frondy bush of pointy leaves, much like the crown they wear on their head. The fruit is the bulbous engorged placenta cluster and the object of our culinary attentions.
The hummingbird may be the world's best pineapple pollinator. But pollination causes seeds to grow in the fruit, which is bad for commercial pineapple. That's why hummingbirds are strictly forbidden in Hawaii, the state having once been responsible for growing 80 per cent of the world's pineapples.
By withholding the relief of pollination, the fruit becomes sexually starved and very engorged. To artificially stimulate ripening, the plants are exposed to a Viagra-like dose of ethylene gas to make them think it's time to get busy.
Each one of these sexually frantic plants takes 12 to 20 months to grow and produce one fruit, and only one. That's a lot of botanical tension to hold on to.
Finding the perfect pineapple
All those tricks we use to test if a pineapple is ripe are quite useless, like pulling a leaf or checking for yellowing flesh. If picked unripe, a pineapple will never get riper.
In 1973, the Pineapple Research Institute of Hawaii was founded in Maui. Botany experts were brought together to build the world's most perfect pineapple. They had the technology to make pineapple better than it was before. Bigger, sweeter, tastier.
The 114th variety was deemed the best – the right balance of sweetness and acidity with a pleasing yellow flesh. It travels well, making it the perfect pineapple to take over the world.
Pineapples across the globe
The pineapple, though native to South America, has huge cultural significance in Hawaii. It was introduced about 150 years ago, possibly brought over with Capt. Cook. His offering of hospitality included shoes, bibles and pineapple.
In Britain, before canning was perfected, horticulturists built pineapple pits to mimic the warm, humid climate needed to cultivate the fickle plant. The three-chambered structure was a big pain in the butt and required two chambers to be constantly reloaded with fresh manure and doused with horse urine. The manure generated enough artificial heat to grow the pineapple, but it probably made them taste like crap.
Hawaii is no longer the big kahuna in global pineapple production – land is too expensive for it to be profitable – but tourists are still allowed to bring them home. And the Haliimaile Distilling Co. that makes Pau Maui pineapple vodka is going strong. The vodka doesn't taste like pineapple, but it sure goes great in a Mai Tai. So if you are going to be hospitable, it wouldn't hurt to bring a pineapple and a bottle of vodka on your next trip home from Maui.
Perfect flavour pairings
Coconut
If you like pia coladas, here is the best way to make them without watering them down with ice cubes. Pour your coconut milk into ice cube trays and freeze them solid. Also, freeze your pineapple in chunks until frozen. Blend one part coconut ice cubes with two parts frozen pineapple chunks in a blender. Add white rum to taste and serve with a mini umbrella.
I didn't say pour it out of the blender.
Cottage cheese
Nothing reminds me more of my long-gone nana than a bowl of cottage cheese topped with canned pineapple chunks and a pinch of salt. I thought it was just my nana who combined these ingredients, but it turns out lots of people are all about the pineapple and cottage cheese.
Ham
Ham and pineapple is one of those couples that make you wince a little bit because it is over-the-top dclass. But, when you see pineapple rings on a ham or a Hawaiian pizza, you can't help but recognize just how happy they make each other and you want to be around them because they are tons of fun.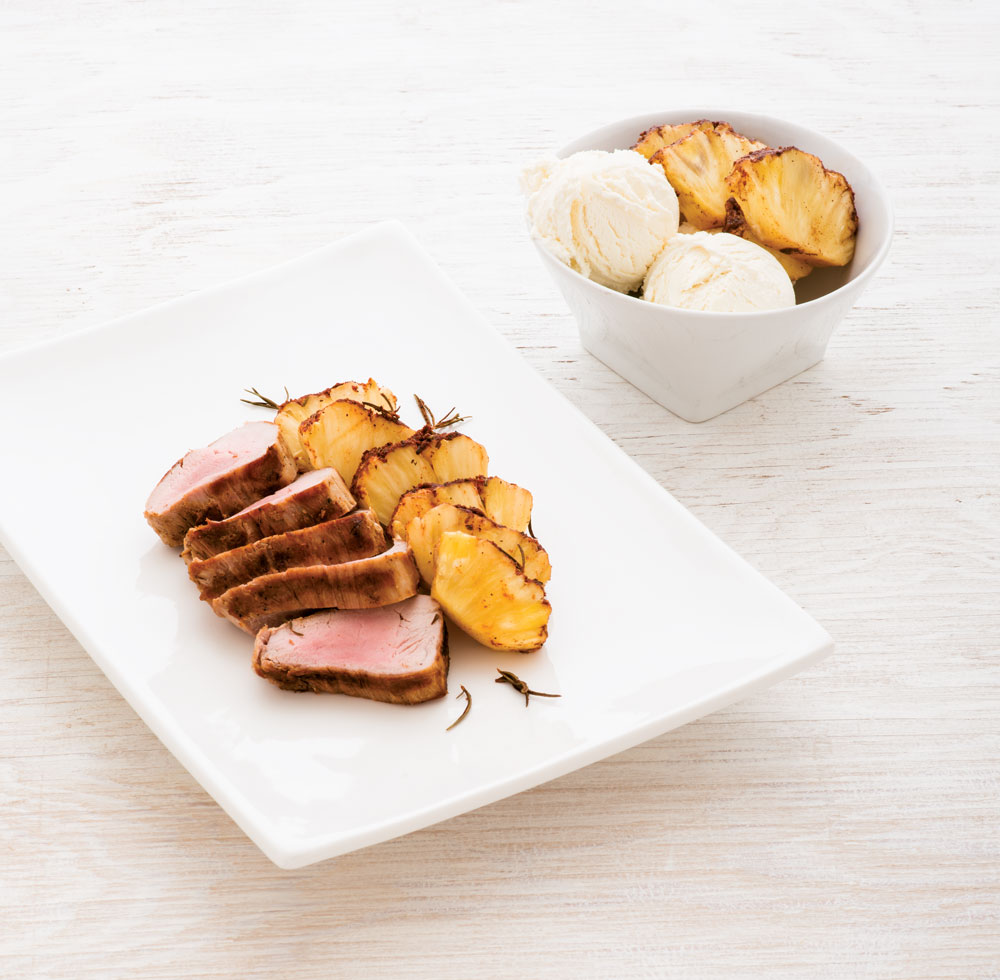 photography by jared sych
How to make sweet or savoury roast pineapple
Serve roast pineapple as a sweet or savoury accompaniment.
Ingredients
Sweet
1 tsp. ground cinnamon
1/2 tsp. ground clove
1/4 tsp. ground nutmeg
1 tsp. salt
2 tbsp brown sugar
Serve with coconut ice cream for a sweet and spicy dessert
Savoury
3 sprigs rosemary leaves
2 tsp. chili powder
1 tsp. smoked paprika
1 tsp. sweet paprika
1/4 tsp. cayenne pepper (optional)
2 tsp. salt
Fresh cracked black pepper
Serve with juicy roast pork for a sweet and spicy main course
Procedure
Preheat your oven to 350F.
In a large bowl combine the spices; use a spoon or whisk to distribute evenly. The procedure is the same for the sweet as for the savoury versions.
To peel your pineapple, cut off the top and bottom of the pineapple. Use your large chef knife to peel the thick skin. Make long cuts from top to bottom along the contour of the pineapple.
Now cut the pineapple into quarters, lengthwise. You can opt to trim the core off the quarters or leave them on. I like crunching on the hard core as a snack.
Sprinkle all of the spice mixture evenly over the long pineapple pieces and press it into the fruit.
Place the pineapple quarters on a parchment-lined baking sheet and put it in the oven for 45 minutes. Roast until
beautiful and golden brown. Let the pineapple rest for about 10 minutes before eating, as it will be screaming hot.