Nowadays, much of the best food comes with a story — and at Canmore restaurant Sauvage, chef and owner Tracy Little takes her story to the next level with the Ice Fishing Adventure dinner.
The idea for the dinner came to Little during a fishing trip with her partner. She was charging glow-in-the-dark fishing lures with UV light (a helpful trick when trying to catch fish that live in deeper water) when it struck her that it would be fun to create a tasting menu that would react to UV light, as well. Knowing that she could make use of an ice fishing shelter that had been purchased by the restaurant during the pandemic to provide patrons with a private dining space, Little got to work creating her Ice Fishing Adventure menu, reaching back to her memories of ice fishing with her father and grandfather.
"The [Ice Fishing Adventure] is my way of engaging diners, bringing them into a world a lot of people would never get to be in," says Little. The menu is a nod to the ice fishing adventures she had with her family as a child, as well as her favourite food memories. Plus, the ingredients and dishes were all carefully chosen for their ability to glow under black light.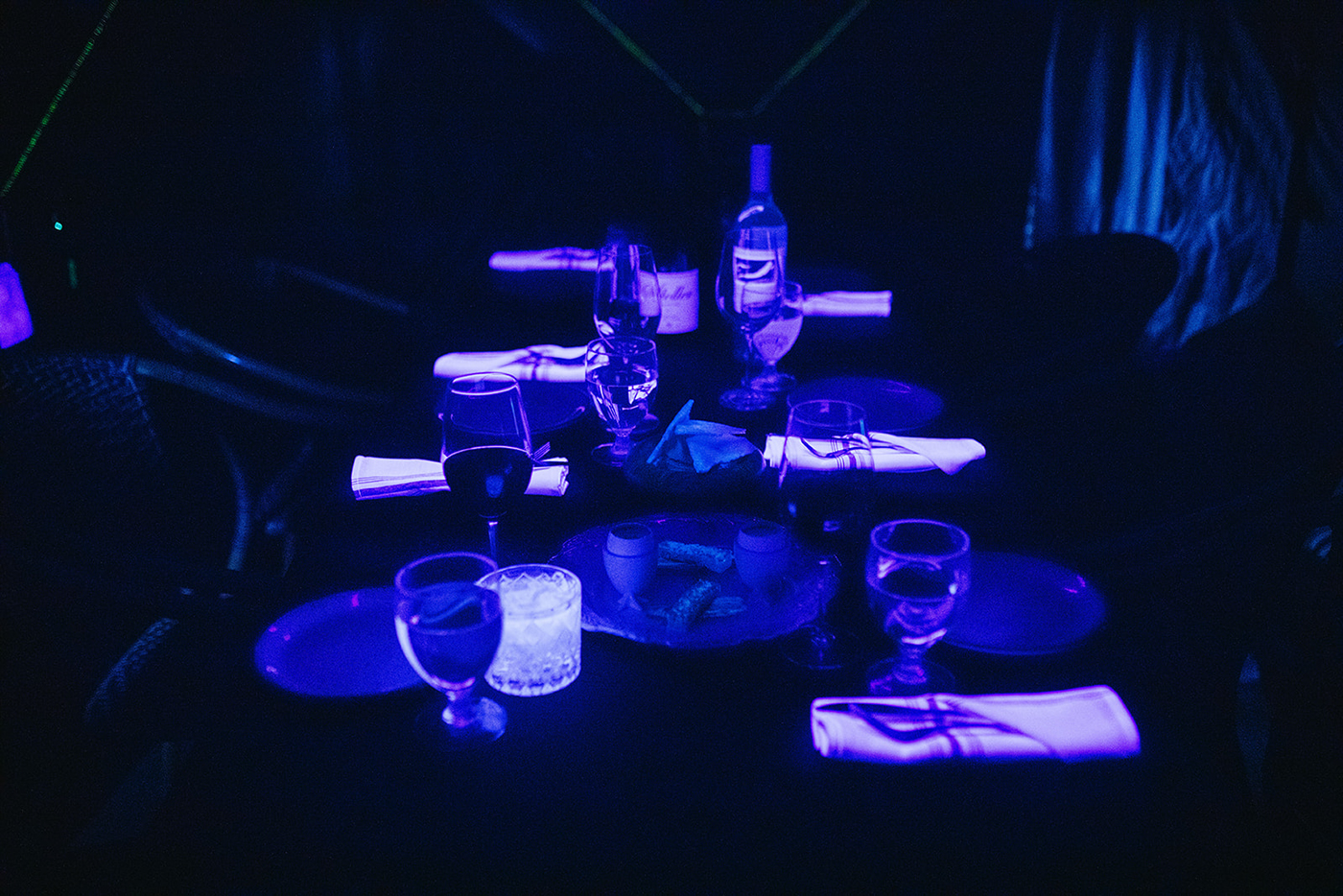 The eight courses that make up the unique dining experience symbolize aspects of a full day of ice fishing. The first course, called the Bait, is an oyster dish based on Little's memory of leaving bait outside the front door so as not to forget it when heading out for the day. The next dish, the Tackle Box, is a charcuterie course: "It's a mix of everything, all set up and organized the night before," explains Little.
The rest of the dinner follows a similar formula. Breakfast in the Dark is an egg custard, served in the shell (the egg shells glow well in the UV light). And the inspiration for the fish course, called the Catch, comes from stories of Little's first kitchen job at a fishing lodge. 
"The other chefs and I would go fishing and make a shore lunch with beans, potatoes and whatever the catch of the day was," says Little. "I still didn't know much about what kind of fish were in that lake, so I would always ask if they caught any halibut, not really knowing that it was only found in salt water." The Catch is a nod to that memory, featuring halibut, bean cassoulet and house-made potato chips.
To experience the entire dinner for yourself, book your reservation at Sauvage in Canmore online. A minimum of four and a maximum of eight people are required for the dinner, which all takes place in the heated ice fishing tent set up on Sauvage's patio. Tickets are $175 per person.
633 10 St., Canmore, 403-609-0583, sauvagerestaurant.ca