New Restaurant: Starbelly
Seton in the deep south gets a new restaurant that easily compares to its downtown contemporaries.
By Dan Clapson
Starbelly's unique take on calamari sees scored squid tossed in a fragrant cilantro sauce and chili beurre blanc.
Normally, when we're talking about the deep south in the food world, we're talking about chicken and waffles, grits and collard greens. But, when it comes to Calgary's deep south, we're talking Starbelly.
I'd like to think that if you picked Starbelly up and plunked it right in the middle of 17th Avenue S.W. it could easily hold its own with its more central contemporaries, but being in Seton, the establishment is in a world all its own. This casual fine-dining style restaurant is both remarkably removed from the core (it's easily a 30 minutes drive from downtown) and not a chain (other examples like Notable, The Block or Bistro Rouge are only about 10 minutes away). Needless to say, it's a bit of a gamble for an independent restaurateur to open in an area that's still developing.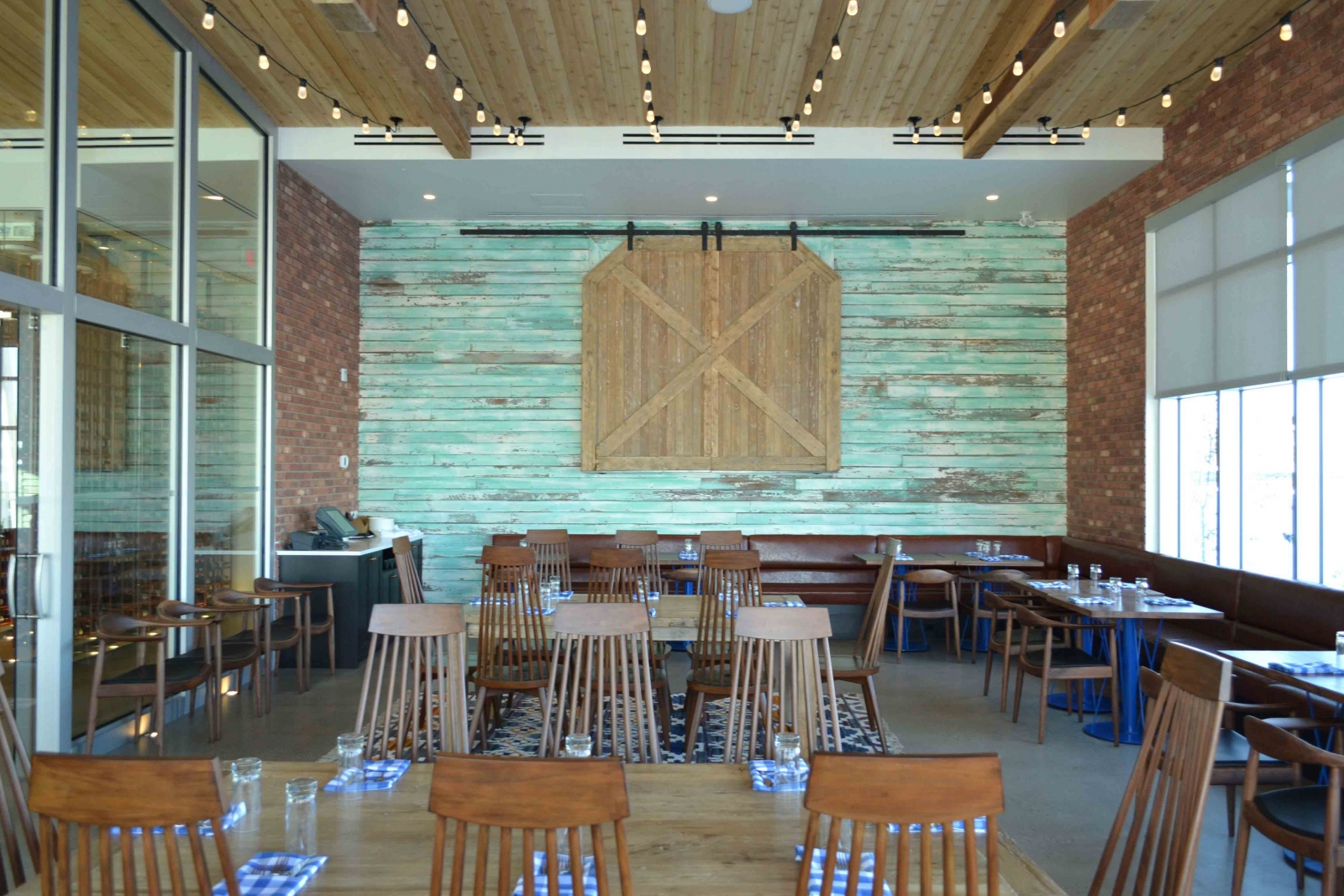 Starbelly's private dining room is equipped with a cleverly hidden screen perfect for AV presentations.
The design of the room is big and open room with a mix of brick, light wood paneling and white accents, with high ceilings and a central bar area that also doubles as a finishing kitchen equipped with an custom, ornate charcoal grill. The bright and airy playfulness (there's a line of wooden chairs mounted on the south wall and rows of wooden spoons hanging on another) of the room may be an ode to the restaurant's name itself, which comes from the Dr. Seuss book of the same title. In the back, you'll find a large private room with distressed teal-coloured farmhouse wood serving as an accent wall that has a sliding door mounted against it hiding a large screen, making it ideal for large functions or meetings requiring video or visual presentations.
One of the downfalls of the room, though, is that the view beyond the large windows leave a little bit to be desired since it faces a shopping complex on one side and a suburban freeway on another. There are blinds on the windows that can be lowered to obstruct the view somewhat.
To start with some sipping, the eatery offers a small craft cocktail menu including a signature caesar garnished with maple bacon that's made in-house as well as a nice selection of wine and a custom brew aptly titled Starbrew (courtesy of Big Rock Brewery) that boasts notes of star anise, sarsaparilla, toasted oak and vanilla. It really is a perfect winter beer.
Chef Trevor Ross originally started with a more basic menu when the restaurant soft-opened in early December and once the hectic-ness of the holidays were over, redesigned some of his fare in January, as well as launched Starbelly's new "grazing menu." Somewhere between a family-style dinner and a chef's tasting menu, this "grazing" sees highlights of the menu laid out on the table for everyone to dig into. Whether you decide to go this way or la carte, there are a lot of plates that will hit the table that you'll enjoy.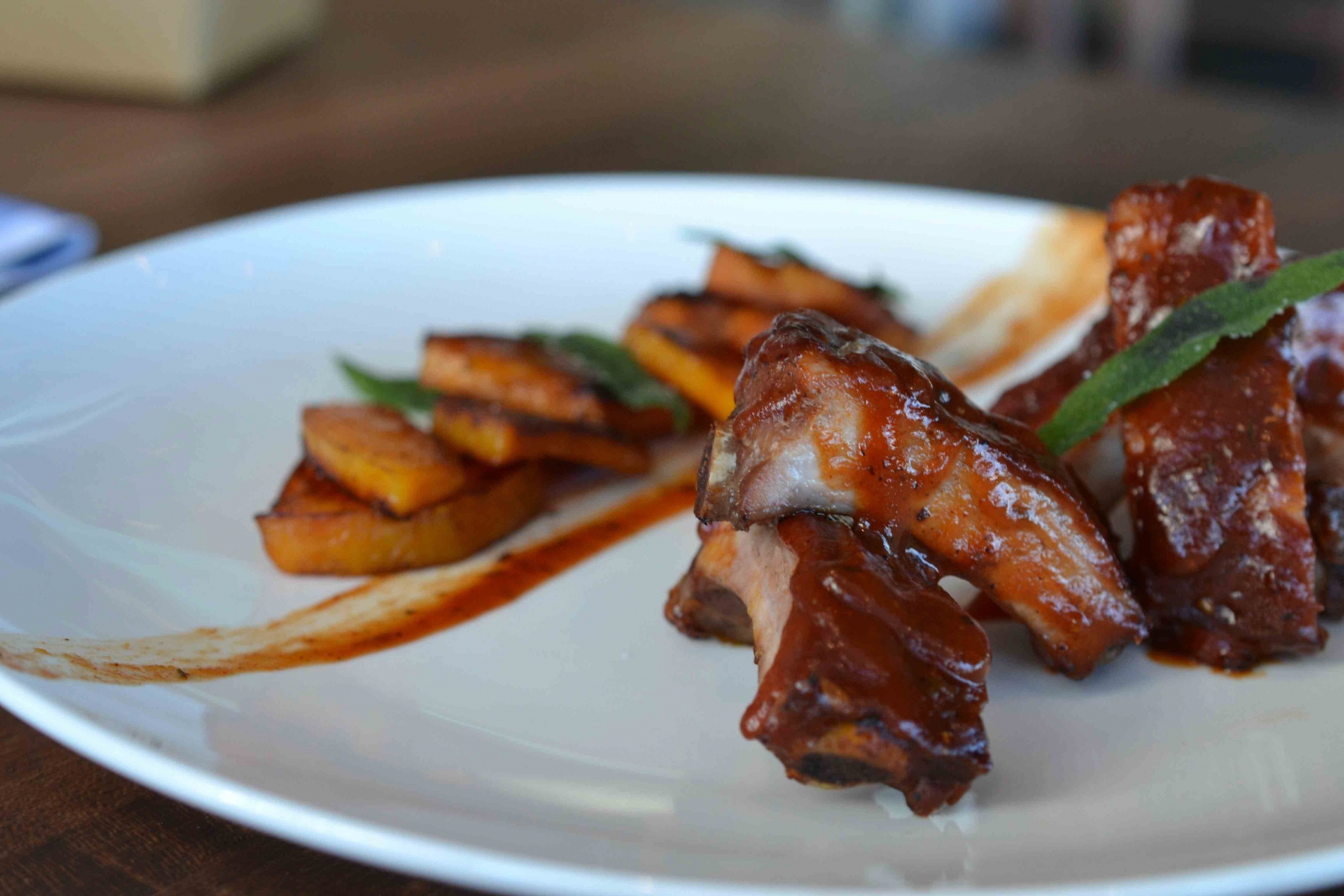 Ribs with a bourbon honey glaze.
There's freshly made tortellini with a sweet red pepper sauce, ribs with a bourbon honey glaze and a simple salad of greens with house-made duck prosciutto that's been cured with long pepper and cloves, but the true shining star of his savoury creations is easily the calamari. Scored squid curls up when cooked into tender tubes before they're grilled and tossed in a fresh-tasting cilantro sauce with roasted potatoes and shaved fennel and finished with a beurre blanc. It's unlike any other calamari dish you'll find in Calgary and light-years beyond the typical fried variety you see most often.
Continue on with flatbread that's fired up on the charcoal grill and dressed with dates and pesto, mussels in tomato butter or the in-house ground burger topped with cardamom onion jam.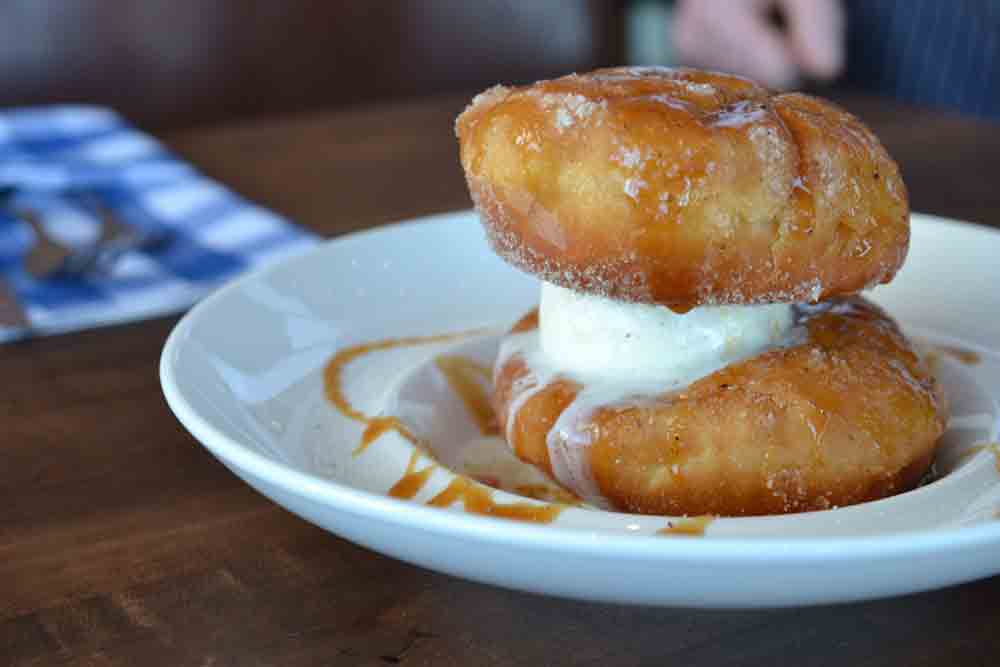 The root beer doughnut is an absolute must for dessert.
Last, but not least, the doughnut. Oh, the doughnut! Beignets are easy enough to find around town at restaurants, but Ross' root beer doughnut is a dessert that Homer Simpson would leap out of a television for if he ever caught wind of it. Why? Here's why; the sourdough starter used in the dough gives it a nice flavour beyond a simple doughiness and after these beauties are fried up, they're tossed with cinnamon, sugar, drizzled with brown butter caramel and nestled into a warm sarsaparilla-infused cream. A scoop of bourbon vanilla gelato is sandwiched between the two doughnuts to finish it all off. I rarely write an entire paragraph about a doughnut, so just in case it's unclear, you absolutely need to order this.
All and all, trying out Starbelly for dinner is well worth the drive, but if you're planning on enjoying some drinks with the meal then the real question here becomes, "Who's picking up the (cab) tab?"
220 19489 Seton Cres. S.E., 403-570-0133, starbelly.ca, @starbellyyyc