If you're a Canadian beer-lover, there's no better place to live than Alberta.
Twenty years of liquor store privatization have given way to hop-head paradises like Willow Park and Co-op liquor stores, where the craft beer selection represents many, many more nations than there are member states in NATO.
There are nearly 2,000 liquor stores in Alberta peddling approximately 2,300 varieties of beer at any one time. By contrast, British Columbians could go on week-long scavenger hunts of their government liquor stores and still find fewer than 600 beer bottles and cans. It would be tempting to rub in our great fortune if not for one thing: they're killing us in the microbrewery scene.
The whole country is. In 2013, Alberta had no more than 13 small brewers – just one more than Nova Scotia, which has only a quarter of the population, and one-sixth as many as B.C.
It's not for lack of barley and hops growing on the Alberta plains, nor is it because we don't like beer. We love beer. Last year, we consumed more of it than any province but Ontario and Quebec.
According to Greg Zeschuk, executive director of the newly formed Alberta Small Brewers Association, the reason for this paradox is antiquated laws that made starting a brewery or brewpub a formidable undertaking. But, in December 2013, the Alberta Gaming and Liquor Commission (AGLC) snipped three policies from its books based on the advice a report commissioned by the government that listed 39 recommendations that could allow Alberta to catch up to the rest of the country (many other recommendations have also been implemented).
Within two months of the relaxations, the AGLC had 30 inquiries for liquor licences and mailed out 10 applications for prospective breweries. David Neilly, co-founder and president of Calgary's Cowtown Yeast Wrangler Homebrew Club, which has nearly 200 members, says, "I have spoken with at least two others involved with the Yeast Wranglers who may or will do a start-up this year. The change in rules has definitely caused more people to consider starting a brewery."
After months of AGLC-led consultation with stakeholders throughout the industry (and what some of those stakeholders have called years of beseeching from individual breweries), the AGLC eliminated the biggest hindrance: a production-capacity requirement previously set at 5,000 hectolitres minimum per year. It meant a brewer would have to raise about $500,000, plus sign a long-term lease, for a mid-level brewhouse before even obtaining a licence to sell the first keg.
"It was a weird restriction," says Zeschuk, who co-founded Edmonton video games giant BioWare in his early 20s and recently left it to pursue his beer passion. "It is the same as if they told us, 'To start a video game company, you have to have five titles and 200 employees.'"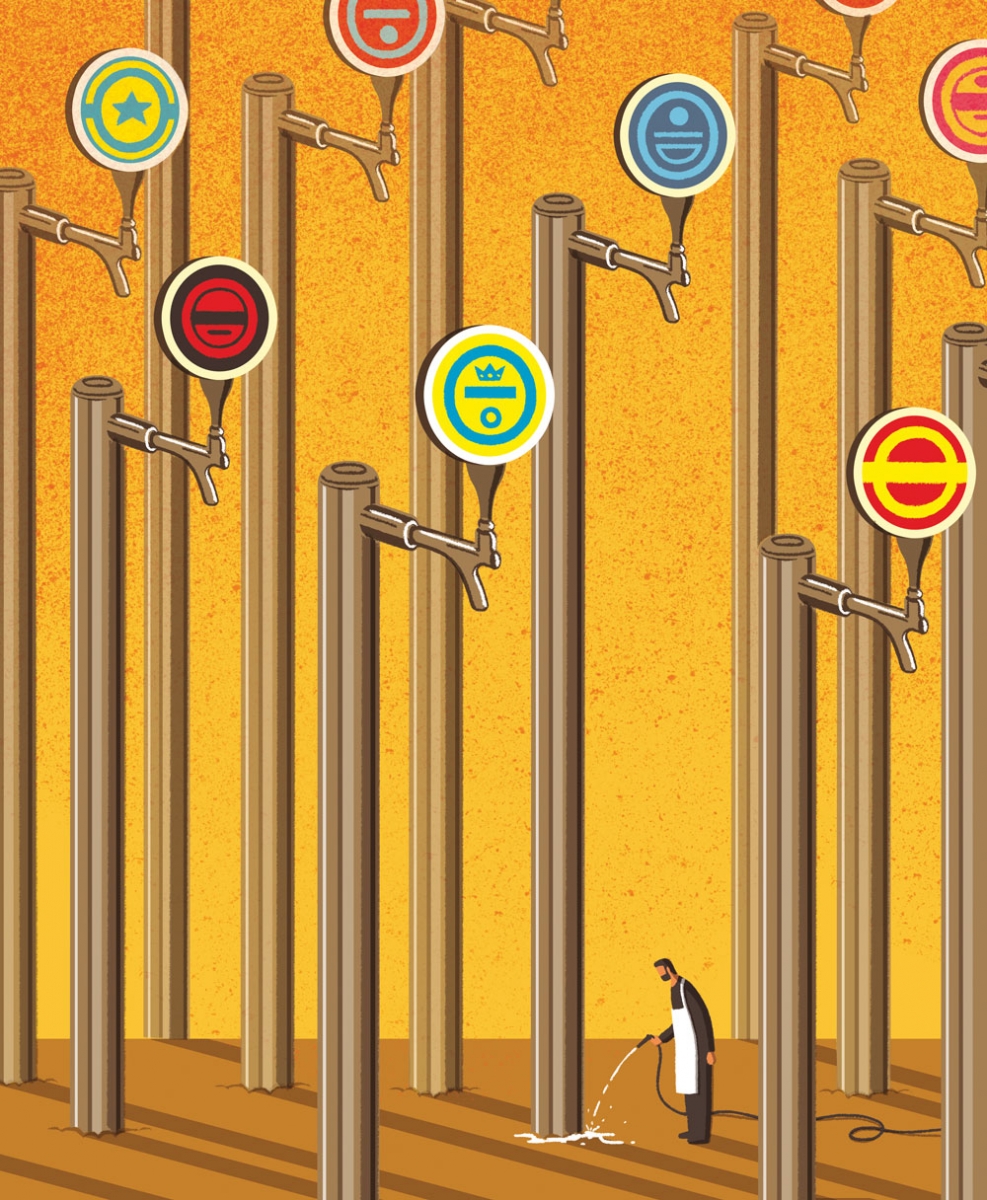 Illustration by Davide Bonazzi
But, with that policy killed, Zeschuk says Alberta is now on track to having two or three brewery openings per year. And the first two, Half Hitch Brewing Company and Tool Shed Brewery, hail from the Calgary area.
The AGLC and finance minister Doug Horner's recent relaxations on liquor laws – including the 5-a.m. breakfast booze they allowed local bars to serve up for the Sochi Olympics hockey finals – have surprised many, but perhaps none more than Graham Sherman and Jeff Orr of Tool Shed.
"I had no idea it was going to happen," says Sherman. "But, as soon as it did, Jeff and I jumped in our cars and drove up to St. Albert [where the AGLC is headquartered]." By that afternoon, they became the first to apply for a brewer's licence under the new regulations.
The Calgarians already have three ales available in 300 Alberta stores and bars, but they're actually importers of their own beers.
After years of perfecting their recipes in a literal tool shed using stolen Big Rock kegs, the best friends, who met at an IT company in Afghanistan, were ready to sell their beer in August 2013. The onerous capacity law, however, forced them to piggyback on an existing brewery.
"But nobody in Alberta had space or time for us," says Sherman. They also tried investor fundraising, but, as Sherman puts it, "Two IT guys? We could show them all the stats in the world, but why would you take a chance on guys who can't say 'I've done this three times before and they were all successful?'" Instead, they went with the first brewery to answer their calls, Dead Frog Brewery in B.C., though a non-compete clause prevented Tool Shed from selling in B.C.
Sherman and Orr often take their geekery to frightening levels – including an obsession with both barbecue and home-automation that converges in Sherman's ability to control his charcoal pit from his smartphone – so their unusual stamina kept them going when most would have given up.
It's impossible to know how many other home-brewers were deterred by old policies, but Sherman speculates that Tamarack Brewery, owned by Mr. Calgary himself, Lanny McDonald, and his family would not be in Montana otherwise. "It says something that Lanny has a brewery and it's not in Calgary," says Sherman. (Tamarack's owners were unavailable for comment.) "There was an appetite within the industry to grow in order to bring along more producers, producers with a variety of products, and get some excitement into the marketplace," says AGLC president Bill Robinson.
A former RCMP commanding officer for D Division in Manitoba, Robinson inherited some outdated policies when he took the job in 2012. Many of these laws were established around the prohibition era, and he struggles to make sense of them today. He believes the capacity minimums on brewers and other alcohol producers were to ensure safety and quality, "so that you didn't have small garage breweries," he guesses.
The AGLC also eliminated regulations preventing brew pubs from selling off-sales anywhere other than the restaurant itself. That means Brewsters, the Calgary brew pub chain with 11 Alberta locations, can finally sell its beer in liquor stores.
"Brewsters has had a strong interest in retail for a long time," says co-owner Matt Lanigan, whose late father, Michael Lanigan, founded the company in 1989. Currently, you'll only find its many beers at Brewsters or Beer Revolution, its Calgary and Edmonton craft-beer bars.
"This is something we've been lobbying the government about for 10-plus years," Lanigan adds. "We haven't been happy with the way it's been, so we're thrilled to have the chance to sell beers in the retail markets."
Reviews of other regulations are on Horner's desk (unpopular rules that shut off self-serve table-top beer taps at 1 a.m. and pen off alcohol-drinking adults at special events are not among them). One recommendation the AGLC made was to allow brew pubs to have multiple taphouses without multiple breweries.
That's great news for Chris Heier, whose family is set to open Half Hitch Brewing in Cochrane late this coming winter. He plans to add a brew pub in 2015 and make it a chain in subsequent years.
By the time he got the news, Heier, an award-winning home-brewer, had already begun planning a brewhouse that exceeded the old capacity rule. Had they started after, he says, "we might have added a [middle] stage, added a place where I could kick out some home brew and sell it on the market for market testing." But Heier says that, had they done so, they might not be as far along in their business plan as they are right now.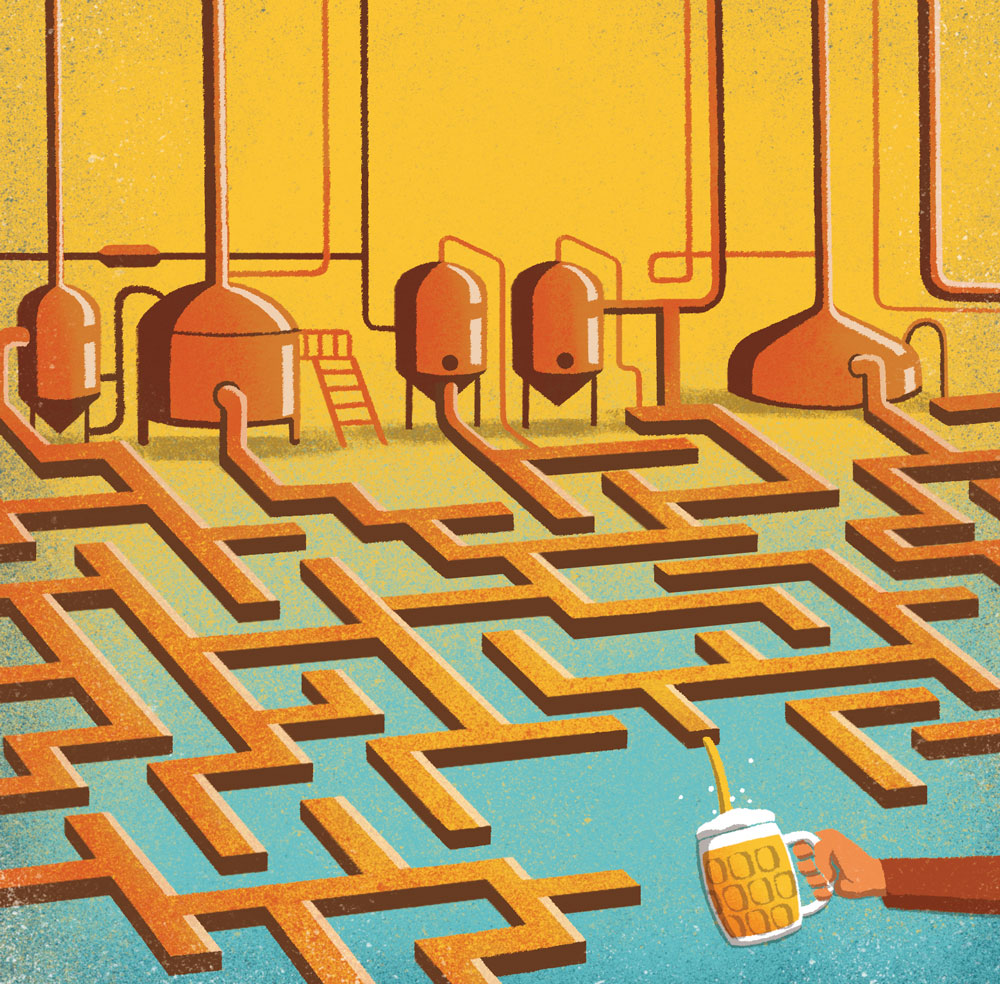 Illustration by Davide Bonazzi
Likewise, Tool Shed had already built such a fan base that, by the time the policies were changed, Sherman and Orr had already commissioned the construction of a 25-hectolitre brewhouse capable of producing five times the old minimum. Tool Shed's first truly Calgarian batch will be available in September.
"This brewery is so badass," says Sherman. "This is the dream of every home brewer." To honour home brewers and Tool Shed's roots, the newest line will be designed by Chris Nowlan, winner of Tool Shed's inaugural beer-making contest. Tool Shed also recently collaborated with Big Rock and Phil & Sebastian on a coffee stout – and came clean about the Big Rock contraband in Sherman's tool shed.
Small brewers say there's still more work to be done. Heier calls tax markups – which jump from 20 cents to 40 cents on the whole company after the 20,001st hectolitre is produced – a "glass ceiling to growth."
Zeschuk, meanwhile, is advocating for the government to follow the lead of the Liquor Control Board of Ontario, which recently gave $1.2 million to the Ontario Craft Brewers' 37 members for marketing, training and tourism development.
Even if those requests are made, however, it's unlikely Alberta will ever catch up to B.C., where 20 new craft breweries are expected in 2014, alone. B.C.'s severe limitations on imports give locals an edge, but instituting similar barriers would be disastrous in Alberta, says Zeschuk. He goes as far as calling his home province the best beer market in the world.
"If it wasn't for Alberta's kind of permissive environment, I wouldn't even be here, because I never would have gotten my beer education," says Zeschuk.
Lanigan, on the other hand, would like to see import barriers. However, in the meantime, his company is making use of the existing regulations; in fact, it's the only way Lanigan's family could open Beer Revolution, where the names of ever-rotating kegs arrive and depart on screens like an airport split-flap display.
"The sheer volume of craft beer coming into our province from other places is unbelievable," he says. "Calgarians and Albertans in general have a real thirst for craft beer. One of our main goals was to push the craft-beer movement, and one thing we've always been uneasy about at Beer Revolution is our dependence on beer produced outside of Alberta.
"In the future, I'd love to see our menu be predominantly made up of Alberta beers."