12 Questions with Convey the Moment Blogger Eleni McMullin
She talks Instagram followers, being a vegan and what a few of her favourite things are.
By Meredith Bailey; Styling by Phaedra Godchild and Brenna Hardy (Styleista); Hair and makeup by Lucy Morris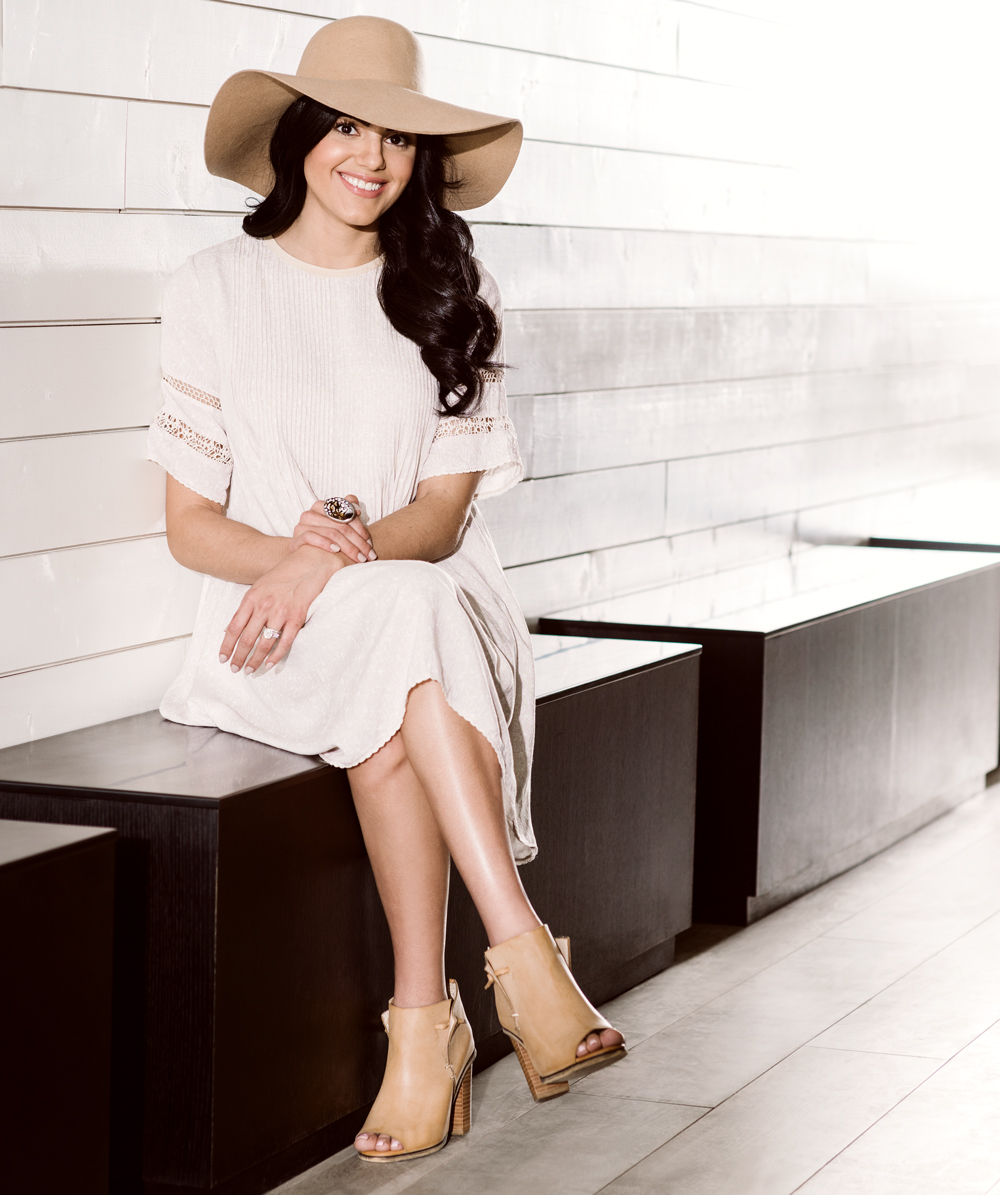 photography by jared sych
Wilfred dress from Aritzia; booties from Noul in Edmonton; hat from American Apparel; Chan Luu ring from Ginger Laurier.
When Eleni McMullin got married in September 2013, she had a difficult choice to make. The native Calgarian could pursue a career in nursing or she could move to a different Canadian city every few months to meet the demands of her husband's sales job.
She chose to stand by her man, Tim McMullin, but she quickly discovered she wasn't suited to a life of leisure. So, in January 2014, she launched the Instagram page Convey the Moment and, shortly after, a fashion and lifestyle blog of the same name. McMullin's clear fashion sense, positivity and commitment to veganism quickly attracted a strong following. In less than a year, McMullin amassed more than 70,000 followers on Instagram and her blog became a regular job.
With sincerity and humour, McMullin captures and shares moments from her life, from enjoying peanut butter toast in bed while wearing fabulous pyjamas to modelling the latest vegan-friendly holiday trends.
What do you think is so appealing about your Instagram posts?
Often people say they love my Instagram because they feel [like they're] with me. It's easy to create an Instagram that's beautiful and perfect. I try to make the pictures pretty, but, at the same time, I do try to make it as real as possible and I want people to know that.
Have you always been interested in fashion?
I've always had my own personal style and I would put together outfits that would reflect that. Style was a way to express myself.
How would you describe your style?
Boho chic. I really love that oversized-everything look. But I also love to wear form-fitting faux leather pants or a skirt.
Does being vegan shape your fashion decisions?
Absolutely. It can be a hunt and I work really hard at it. Even to find a pair of faux leather boots that I can lug through the Calgary snow is a challenge. I have pieces that have leather that I've owned for years, and I'm upfront about that. I do believe you can be fashionable without owning things that harm animals. It's just a matter of access.
What wardrobe item do you wear all the time?
My cardigans. I like them on repeat.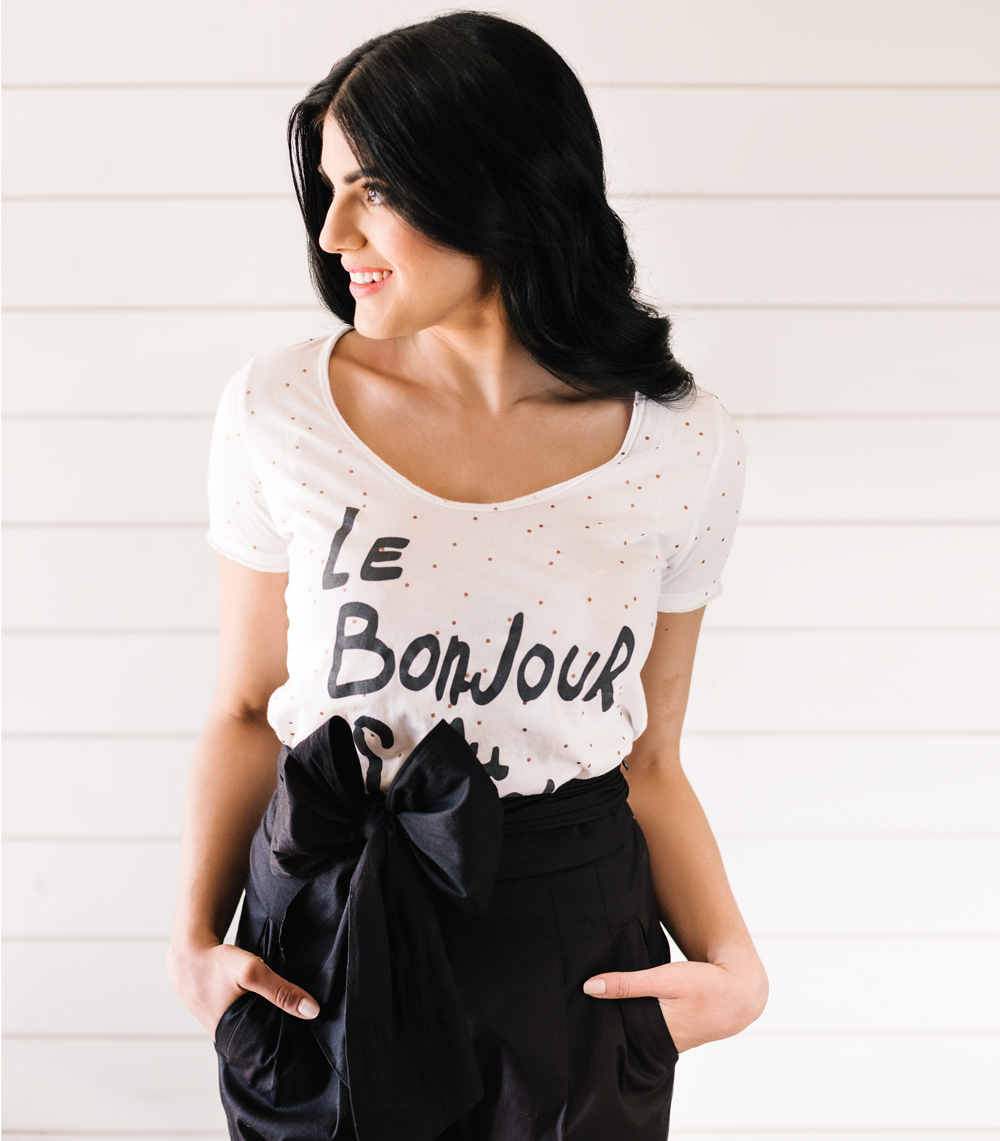 Pants and T-shirt, both from Anthropologie.
Do you plan your outfits?
I'll plan outfits when we're taking pictures, but day to day I just grab things and put them together. If it looks really strange, I'll change.
What's a normal day like for you?
When Tim is not working, we try to wake up by 8 a.m. I'll finish a blog post and respond to e-mails first thing. We like to do something together during the day, like visit family or drive to the mountains. We usually have dinner out. At the end of the day, we'll both do a little more work online. But we do make a rule of putting our phones away before bed.
What kind of daily e-mails do you get?
I get e-mails from companies who might want me to mention a product or wear a product in a photo on my Instagram. I try to stick with companies that I'm interested in and wear regularly. Anthropologie is one of my favourites.
What's the hardest part of your day?
It's a challenge to work for myself, because I have the control to do or not to do. So finding the balance between working and my personal life is a challenge. It's about remembering to eat, because I could be online all day.
Has your experience blogging been primarily positive?
Yes, for the most part. It's been a lot of fun, but also a lot of work. But there has been negativity.
What have you learned?
It can be tough on the Internet. You can't care about what other people think. You can have the most delicious piece of cake and there will always be someone who hates cake. I've learned to be in control of my own feelings. That's the biggest lesson.
What do you hope people take away from your blog?
I hope people feel inspired to live better. You don't need to have millions to look good or be negative to succeed in life. Also, as a vegan, there are fashion options to make better choices.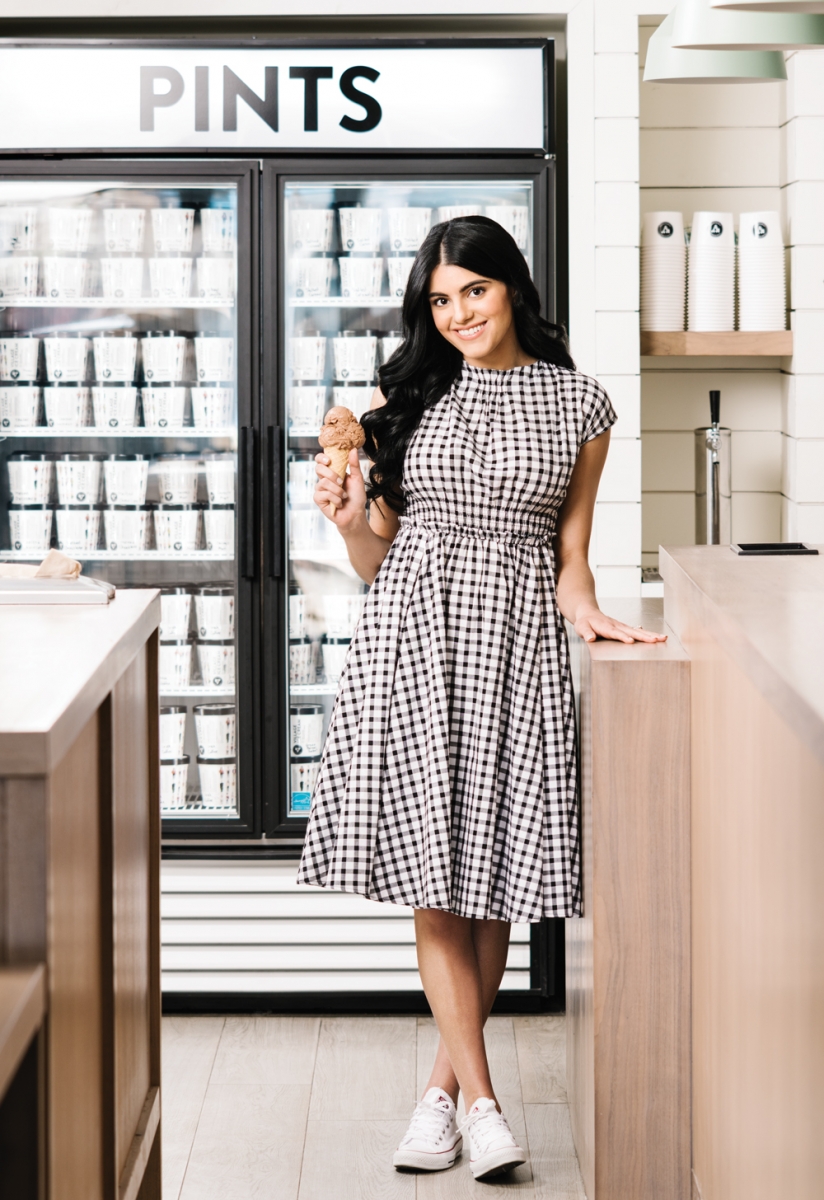 Dress from Zara; Converse shoes from Browns Shoes.
The lightning round with Eleni
What do you do?
I am a full-time blogger! Previously, I was a nurse, and before that, I was a social worker.
What did you think you'd do when you were growing up?
I was going to be a talk show host.
What station is your car radio set to?
Country 105.
What book are you reading?
The Goldfinch by Donna Tartt.
Glasses or contacts?
Both, although I rarely photograph in glasses.
Red or white?
Wine? Definitely red.
Denim or leather?
If it's faux, then, without a doubt, leather.
Favourite breakfast food?
Avocado toast with tomatoes and any kind of potato.
Dream vacation?
The Maldives.
Pet peeve?
Loud eating or poor taste in shoes.
Midnight snack?
Homemade popcorn, vegan burger, ketchup chips and fresh fruit.
Favourite cocktail?
Beer.
Favourite locally made edible treat?
Two Greek Gals' vegan cheesy kale chips.
What's your guilty pleasure?
Soy vanilla lattes – like three times a day.
Favourite ice cream flavour?
Phil & Sebastian Coconut Milk Coffee from Village Ice Cream in Britannia.
Favourite fashion blogs?
Julia Engel from Gal Meets Glam, Blair Eadie from Atlantic Pacific and Aimee Song from Song of Style.
What is your greatest extravagance?
Travel, without a doubt.
---
Get Eleni's look
Hat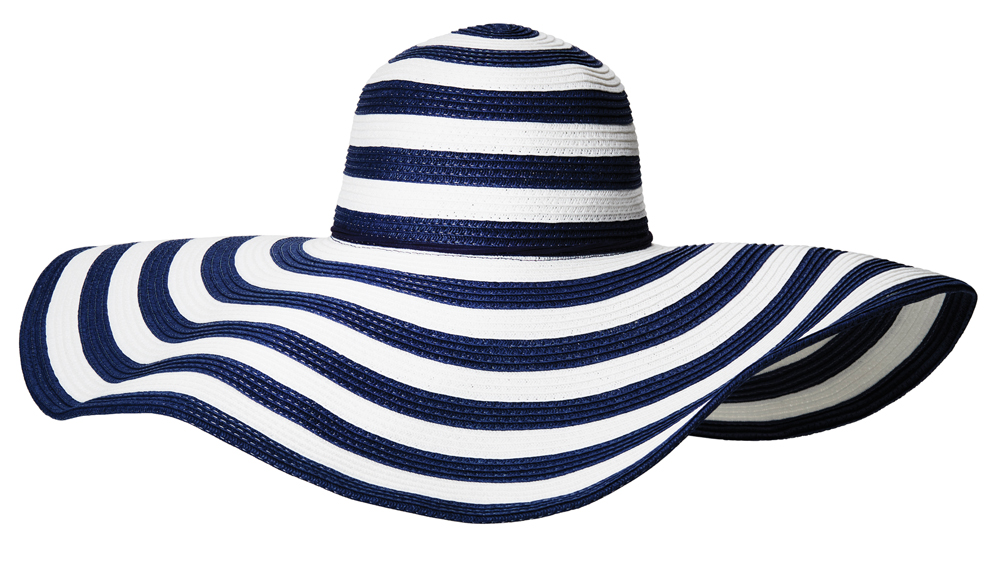 $30, from H&M. CrossIron Mills, 403-274-0841, and two other Calgary locations, hm.com
Matt & Nat "Riley" tote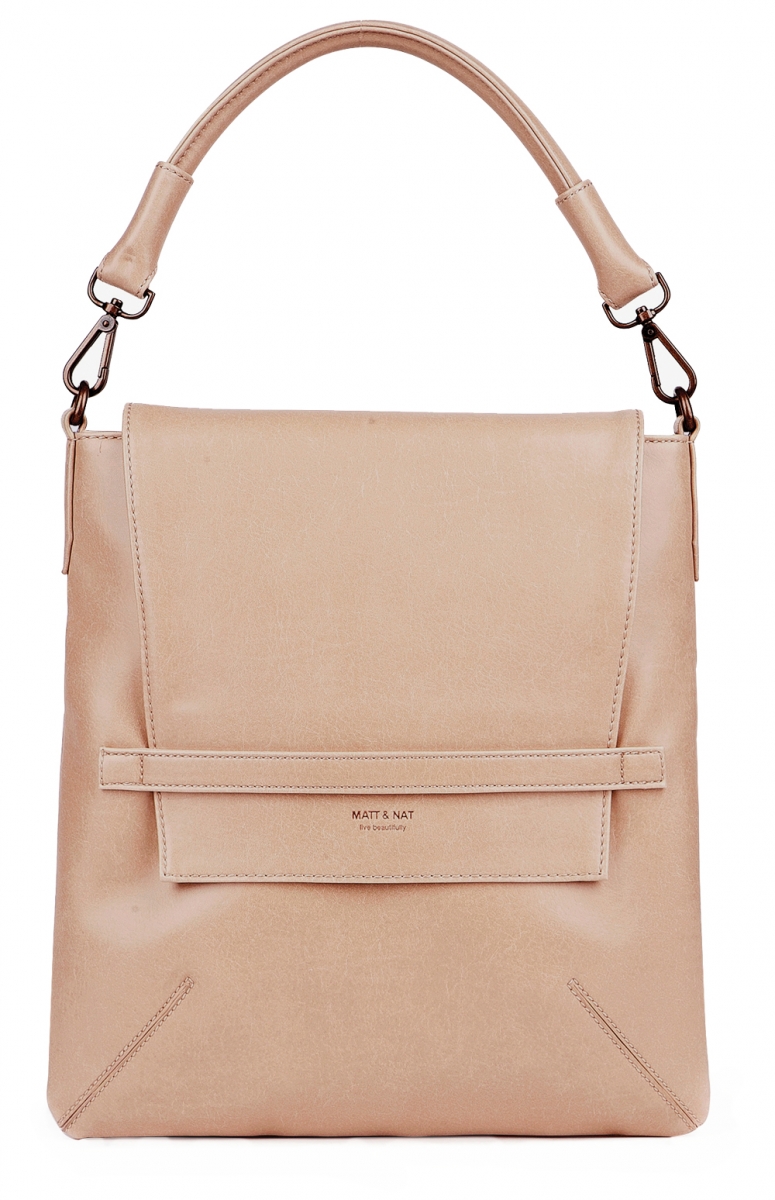 $145, from Twisted Goods. Aspen Landing, 403-453-0109, and two other Calgary locations, twistedgoods.ca
Lace top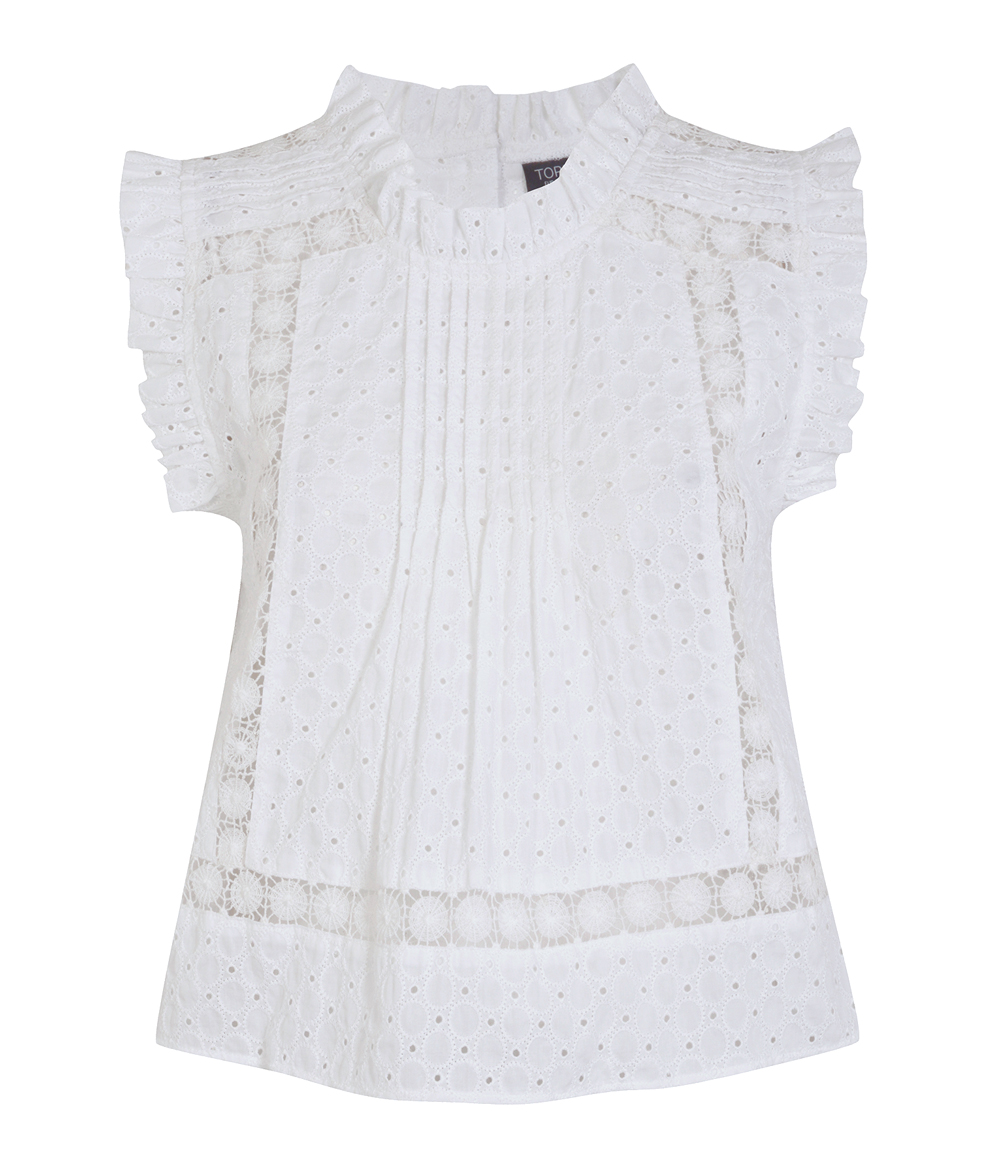 $56, from Top Shop. Chinook Centre, 403-259-3681, topshop.com
Cuff bracelet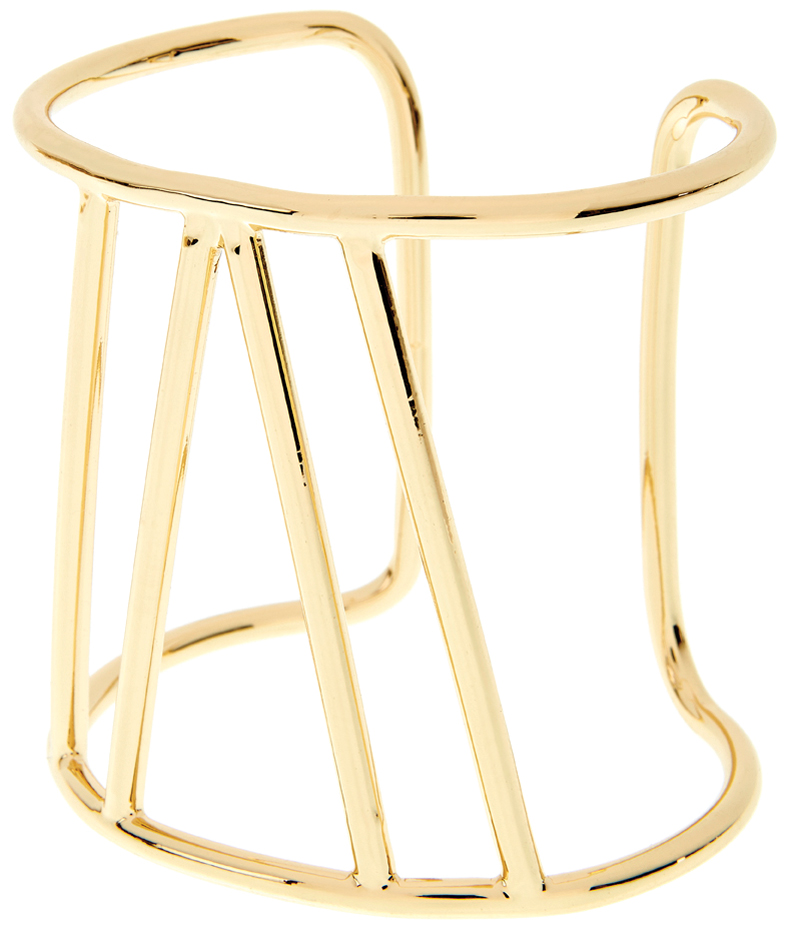 $55, from Banana Republic. The Core, 403-264-8886, and three other Calgary locations, bananarepublic.ca
Levi's 501 CT jeans in Precita wash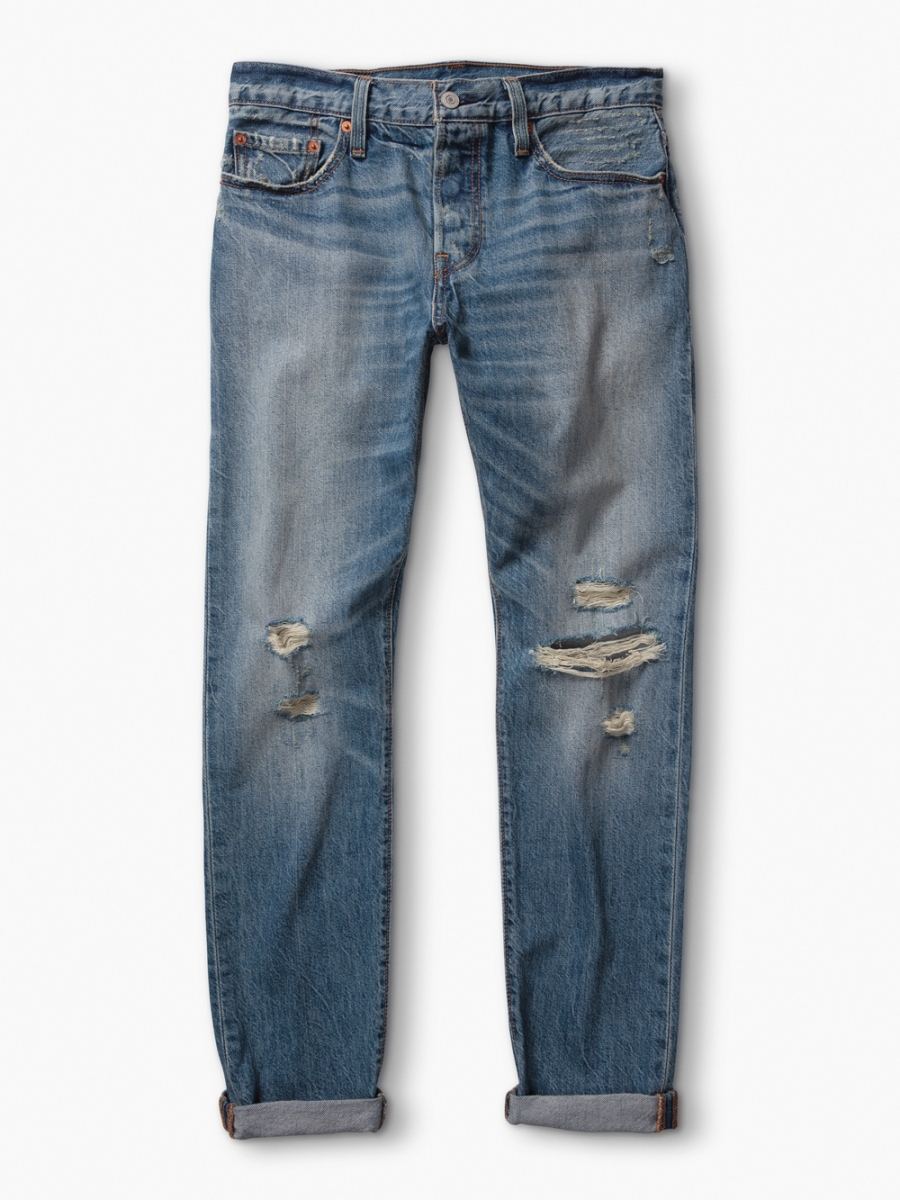 $118, from Levi's Store. Chinook Centre, 403-259-3681, levi.ca
Converse Chuck Taylor All Star shoes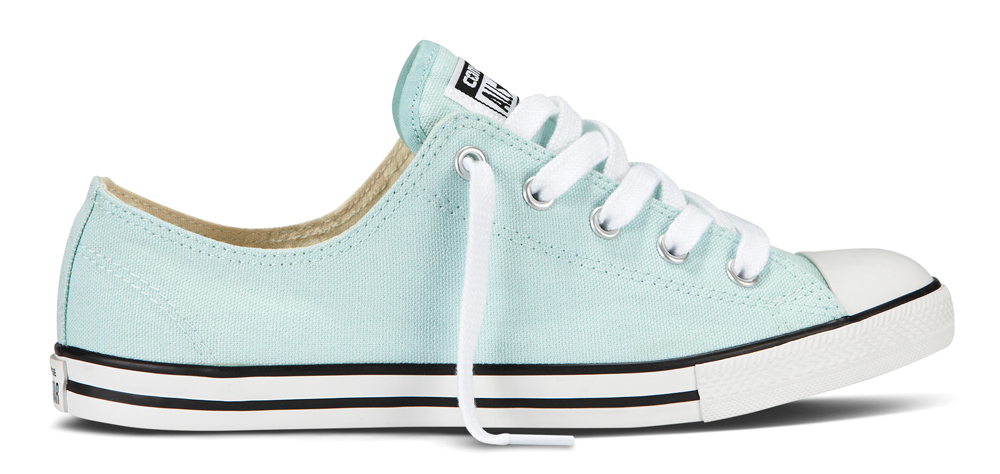 $60, from Browns Shoes. Southcentre Mall, 403-278-5929, and three other Calgary locations, brownsshoes.com