Homeowners James and Louisa Jensen believe it is important to "live with" the art in your home. Sometimes, says Louisa, the only way to tell if a piece is right for a space is to try it out for a while.
When graphic designer James Jensen and his artist wife, Louisa, first saw their Glamorgan home in 2009, they knew they were onto a winner.
"We like homes built in the '60s," says James, who describes the style of the home as "minimal, with feeling." The A-frame house was particularly appealing. "There really aren't – especially in this neighbourhood – that many houses like this. It's an unusual design," he says.
The Jensens purchased the home, which they believe was constructed in 1964, from its original owner, and spent the next six months giving it a 21st-century makeover before moving in.
"We took out a ton of walls that didn't make sense," says James. Two smaller bathrooms were combined to create a spacious single room more suited to a family of three, and innovative storage cabinets were installed in the kitchen where support beams meant walls couldn't be completely removed.
"We just wanted to open it up," says Louisa, pointing out the original design of the home featured a separate breakfast nook and dining area. But the couple also wanted to honour the mid-century spirit of the home with what Louisa describes as "little hits" of colour inspired by the 1960s. She is naturally drawn to sage green and teal, mod hues that complement the original features of the home, including the prominent stone fireplace in the living room.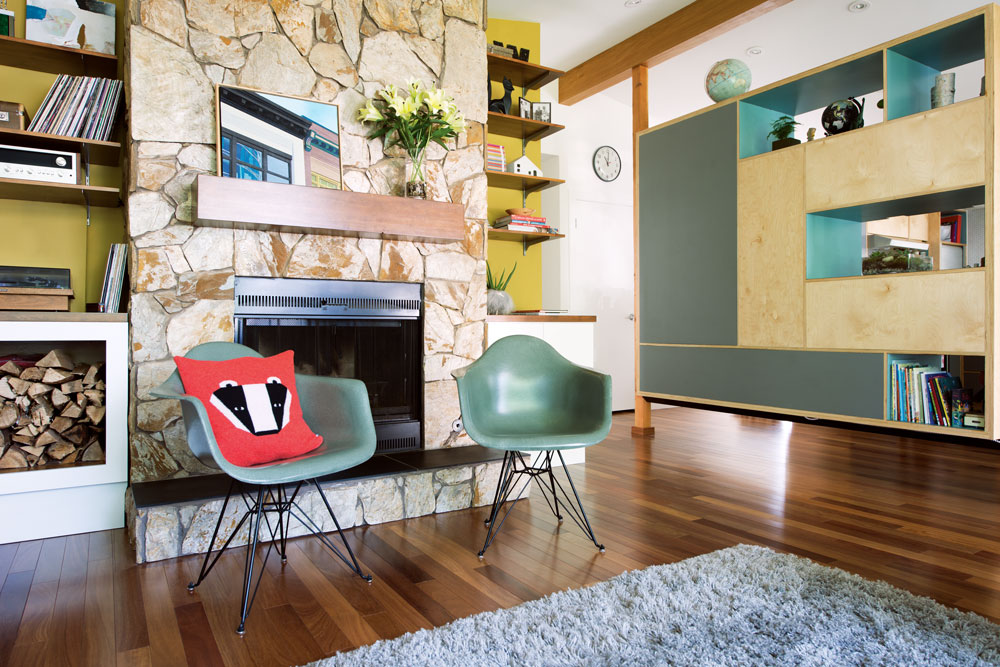 photograph by jared sych
His wife, Louisa, "wanted colours on par with the age of the home," says homeowner James Jensen. Green, teal and yellow hues complement the original mid-century features of the Jensen's home, including the original fireplace.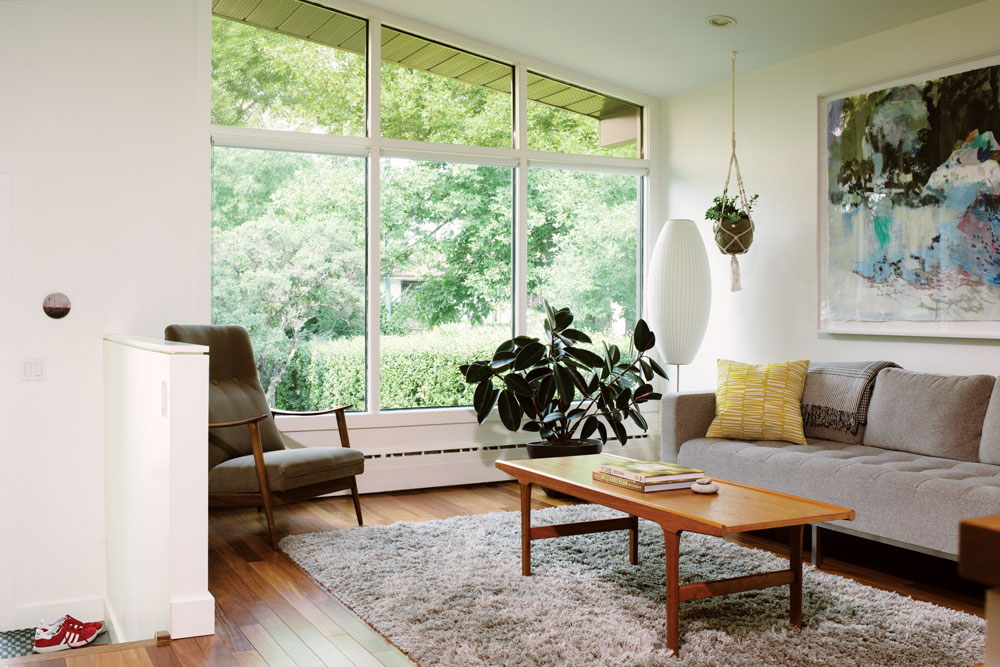 photograph by jared sych
Right The home's A-frame and vaulted ceilings were design features that particularly appealed to the homeowners.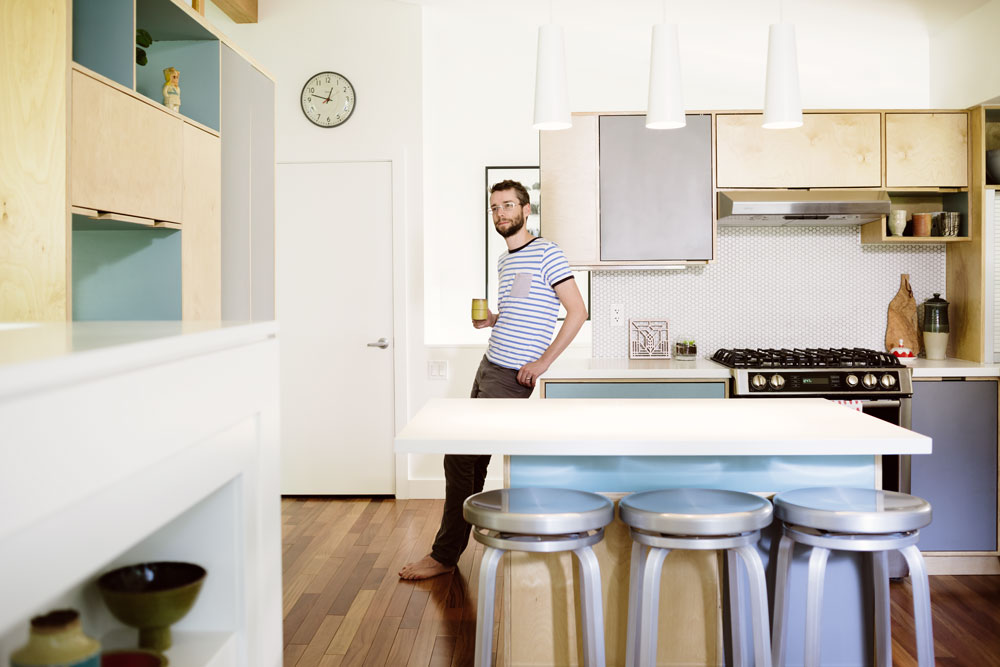 photograph by jared sych
Mid-century purists, says James, "wouldn't build a kitchen like ours because no one would build it like that in the '60s."
Living With Art
The Jensens, who met while studying at the Alberta College of Art + Design (ACAD), place tremendous importance on art. The couple is emphatic that the art in their home reflects their personalities and, as a result, their home feels warm and welcoming.
"I think anything visual that gives you pleasure in your home can be classified as art," says James, who has a fondness for plastic dinosaurs.
Most of the art the Jensens choose to display was created by friends they met while studying at ACAD. Their collection also includes a gift from print media instructor Heather Huston. Another favourite piece is a large painting by Berlin-based Canadian artist Christine Cheung – a friend of the Jensens – that hangs above their couch. "We were just drawn to it," says James.
The couple also likes to create their own art. In addition to Atom Graphics, the design business James runs from home, the pair started Rabbet, a company that makes art, prints and cards with the motto "Happy Art for Happy Homes."
Three of Louisa's prints – Unimpressed Bird, Red Panda and Preppy Badger – hang proudly in their daughter Kaili's bedroom.
"It's interesting to watch people react to Louisa's work," says James. "They instantly think 'kid's room,' which is good, but a lot of people almost feel like they're not allowed to buy it for their own room, even though they want to. And then they talk themselves into it."
In their own home, the Jensens keep their walls and furniture neutral so they can rotate other pieces. "That way we can easily change some of the accessories and art when we get bored," says Louisa.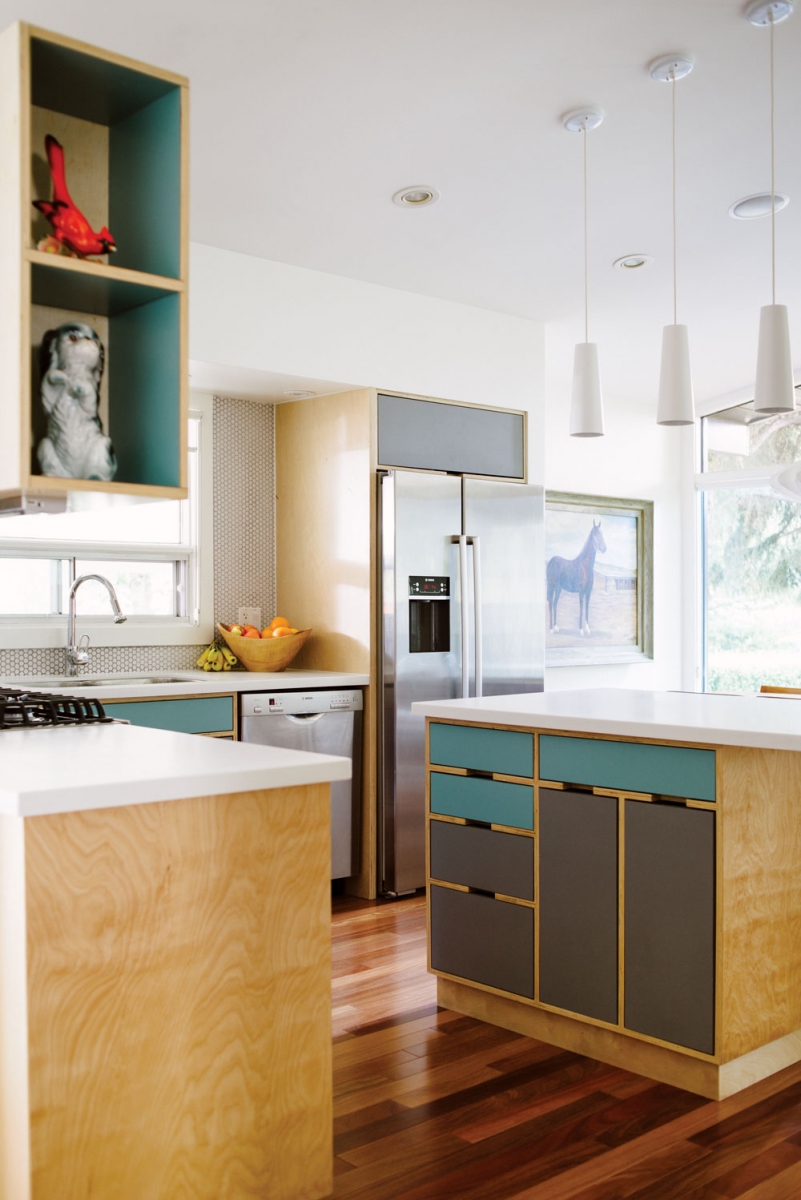 photograph by jared sych
He and Louisa prefer to make decisions based on the needs of the 21st-century family. "Mixing styles is more fun for us," he says.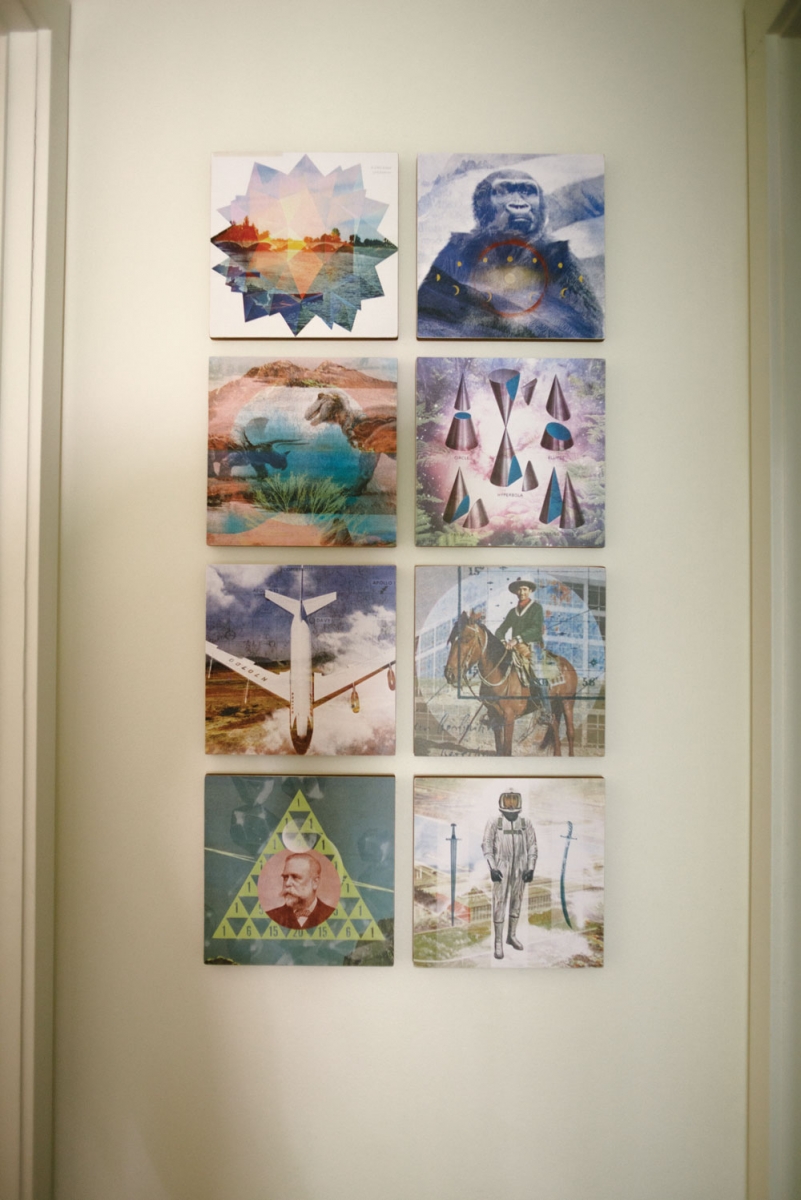 photograph by jared sych
James describes his work as "kind of nerdy," inspired by astronauts and dinosaurs. "It's stuff from boyhood," he says. "That's stuff that never leaves guys."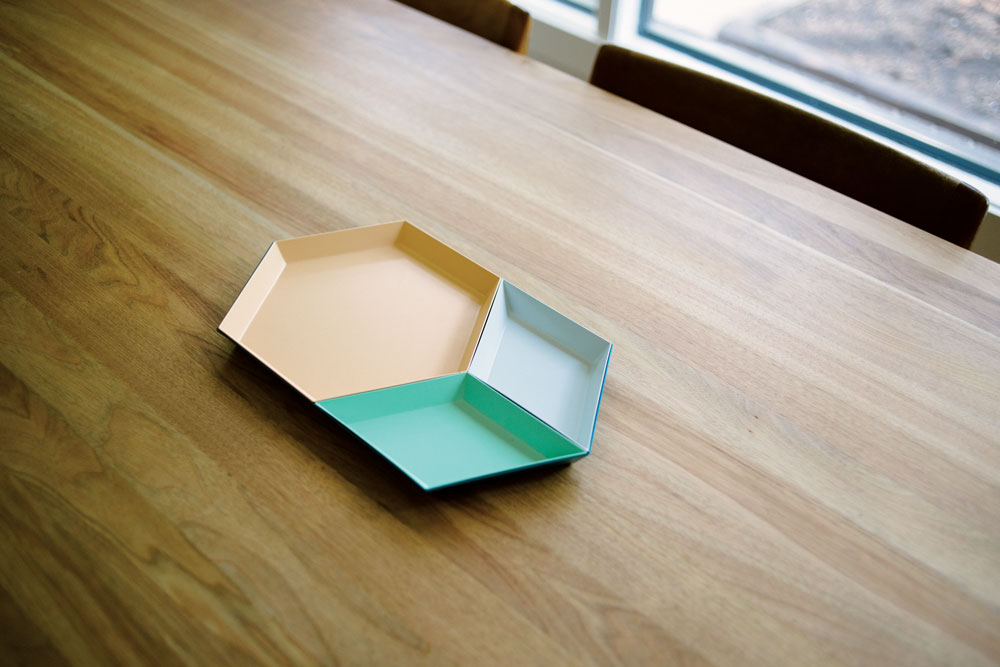 photograph by jared sych
A mix of vintage and new decor accessories, like these Kaleido Trays from Kit Interior Objects, are placed thoughtfully throughout the home.
A Family-Friendly Location
While the Jensens were immediately sold on the potential of their new property, they weren't sure about moving too far away from the amenities in walking distance of their old home in Bankview. However, mid-century homes in Calgary were hard to come by when the couple began their property search, a search sparked in part by the arrival of their daughter, Kaili (now eight), and the accumulation of toys in their former home.
"It was funny, because when we were looking to buy, we weren't quite sure of this neighbourhood at first," says Louisa. "Coming from Bankview, it sort of felt like we were moving…to the suburbs," finishes James.
Fortunately, Glamorgan won the pair over with its quiet, tree-lined streets and family-friendly appeal. "We thought we'd miss being central, but we don't miss it that much," James says.
The couple works from home and has come to appreciate that southwest Calgary allows them to seamlessly blend work and home life. James says most of the neighbours are either retired couples or other young families with children, which means Kaili has plenty of playmates.
"One thing I really appreciate about this house is that I can look out and see where she is," Louisa says, watching from the oversized kitchen windows as her daughter rides her scooter up and down the driveway. Kaili, she adds, often tells her folks that they are never allowed to move. "At one point, she told us that when we get old, we will have to move out and she will stay here."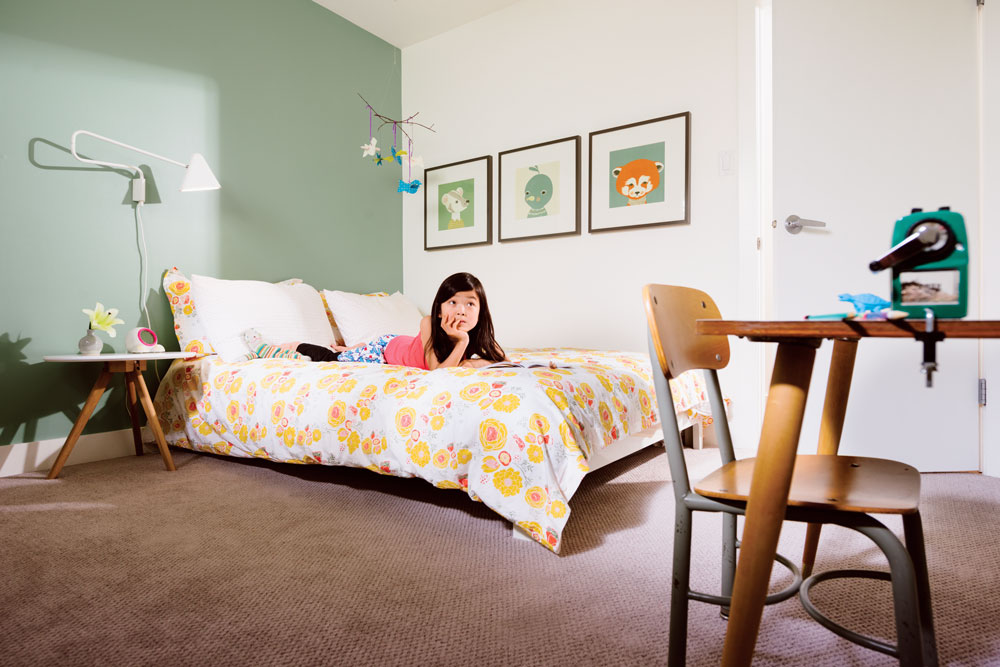 photograph by jared sych
One of the couple's main goals is to create artwork that is "interesting, unusual and affordable." Three of Louisa's prints hang in eight-year-old Kaili's bedroom.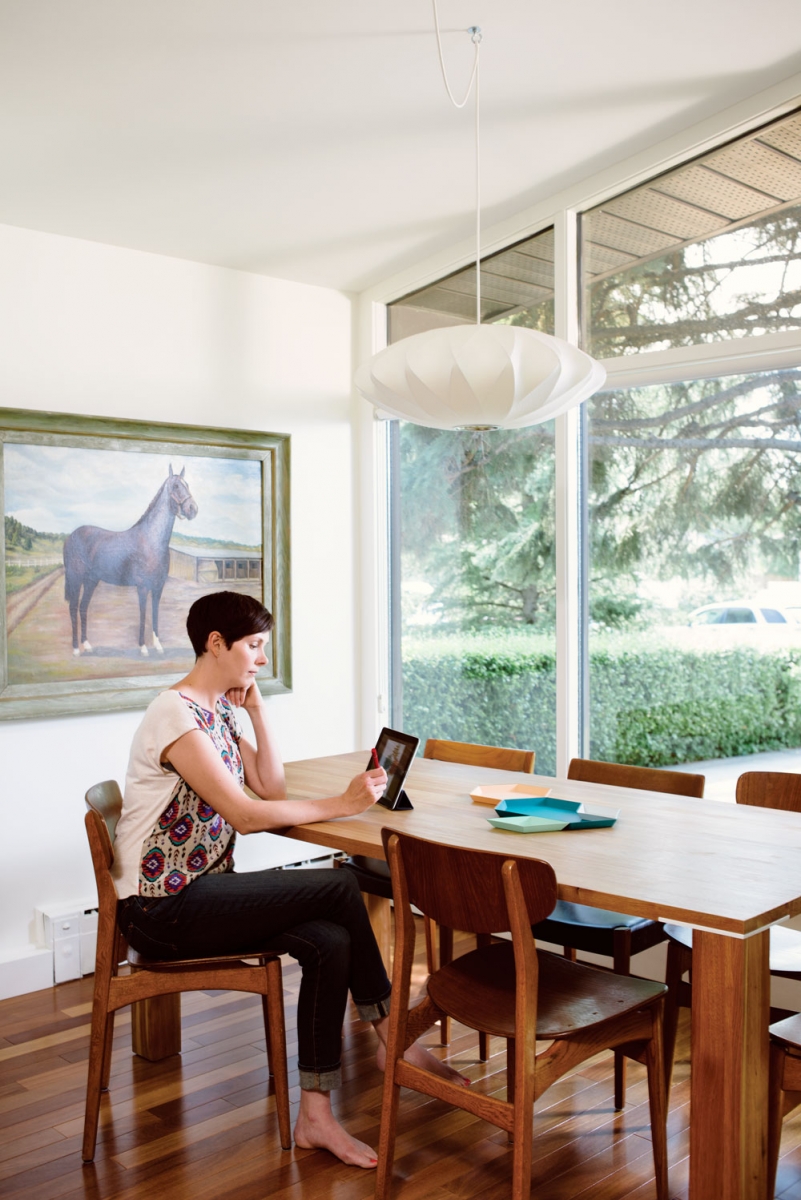 photograph by jared sych
"Spending $1,000 on a piece of art is fine, but so is finding a piece of art at a garage sale," says Louisa. Some of the couple's favourite pieces – including the framed picture of a horse in the dining room – were inexpensive, second-hand purchases.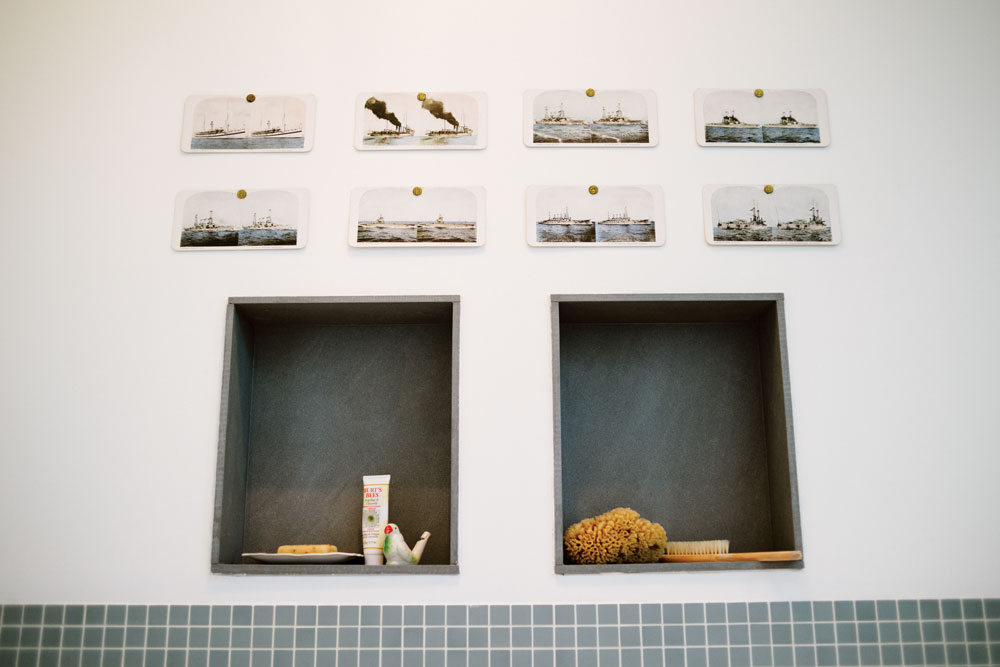 photograph by jared sych
Homeowners James and Louisa Jensen's tips on how to live with art
Find a Personal Connection
Louisa says it is more important for the art in your home to have a personal meaning than to match your furniture.
Choose Pieces You Love
Don't feel like you need to stick to one particular style of art or worry that you need to spend a certain amount of money, say James. It is more important to choose pieces you genuinely like to look at.
Mix and Match
Seek out art from a variety of different sources. Many of the pieces in the Jensens' home are purchased from or are gifts from art-school friends, and the painting of a horse that hangs in their dining room was purchased at a garage sale.
Less is More
"One of my biggest pet peeves is people over-framing art," says James. Choose something simple that lets the artwork speak for itself.
Embrace Change
Rotate your art regularly. "Sometimes, we experiment with things," says Louisa. "We put things up for awhile and then decide if we like it or not."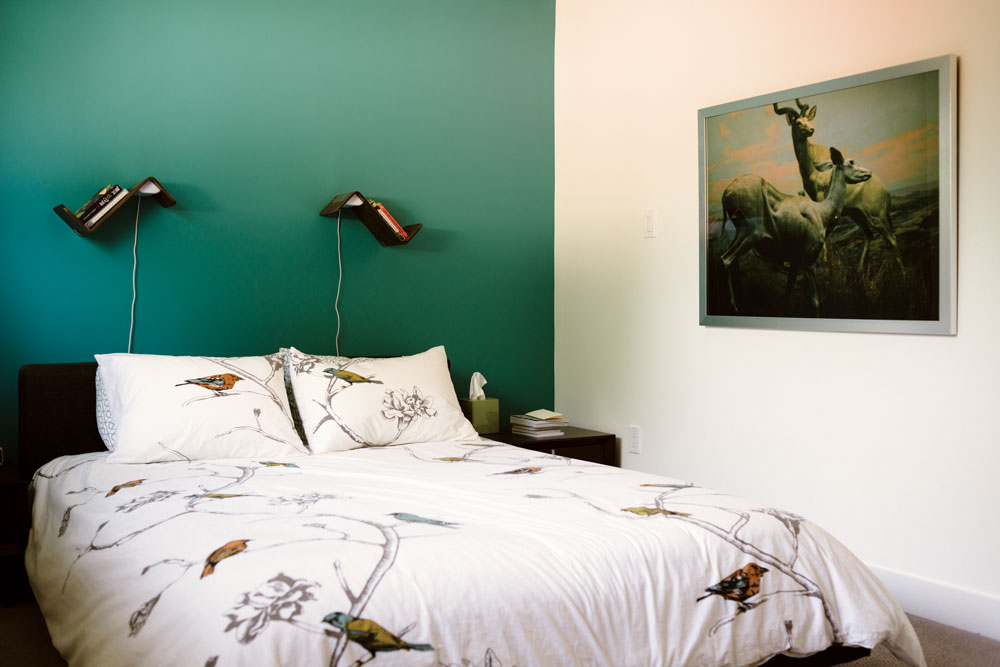 photograph by jared sych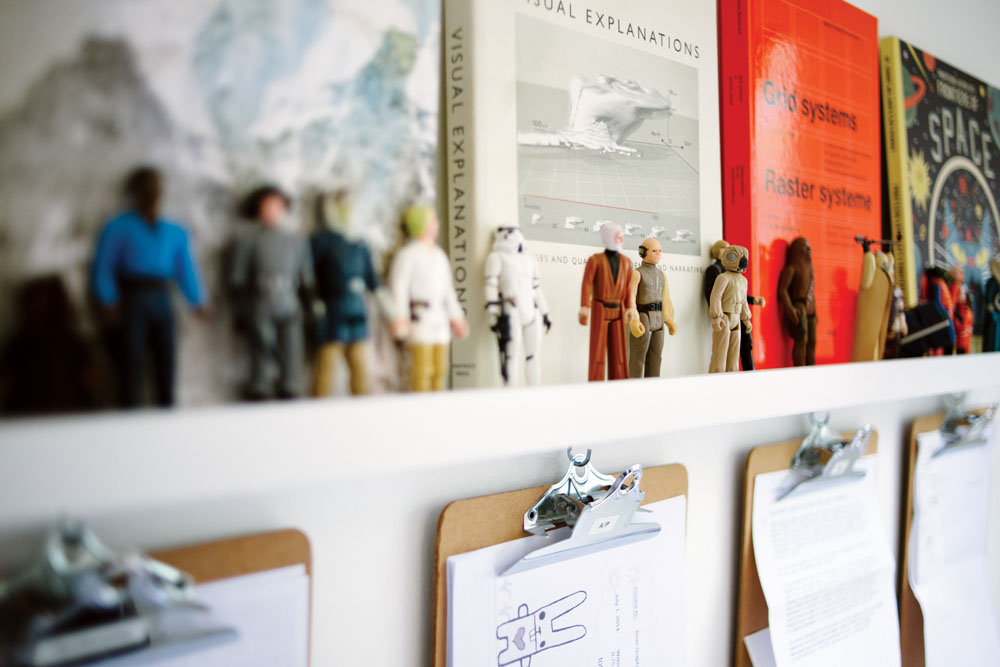 photograph by jared sych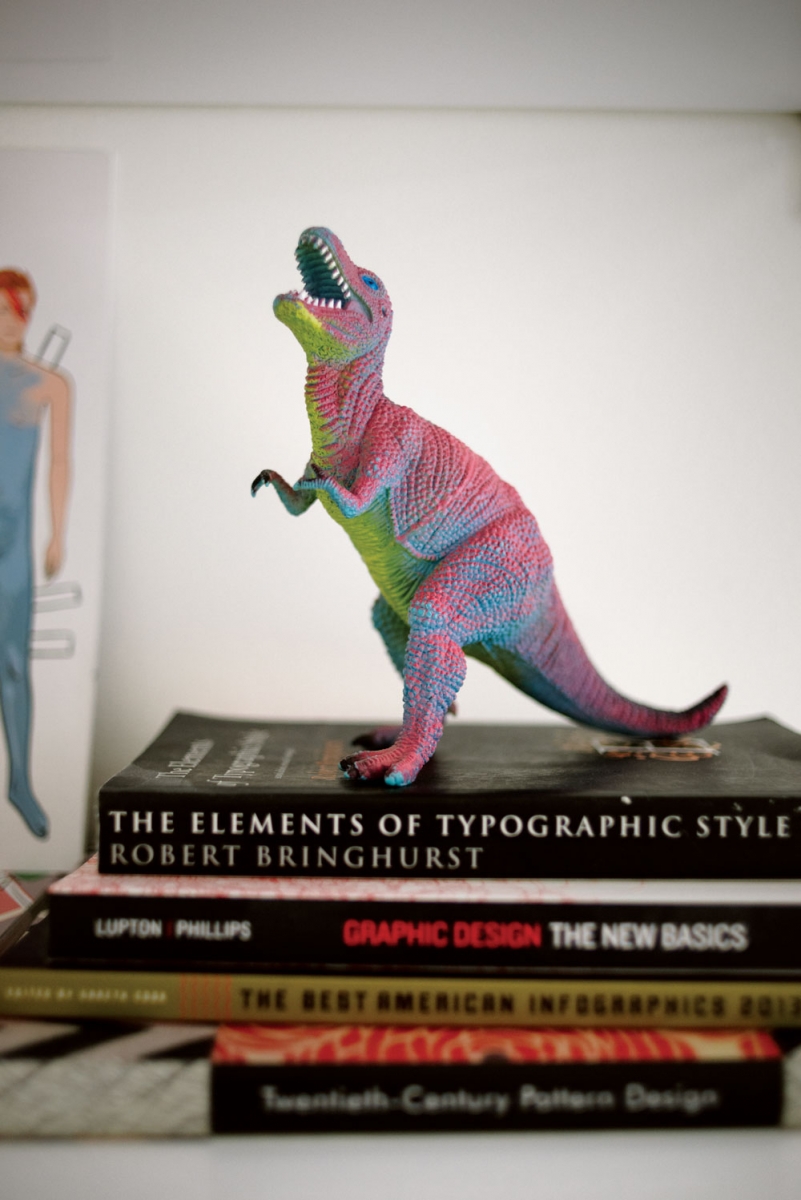 photograph by jared sych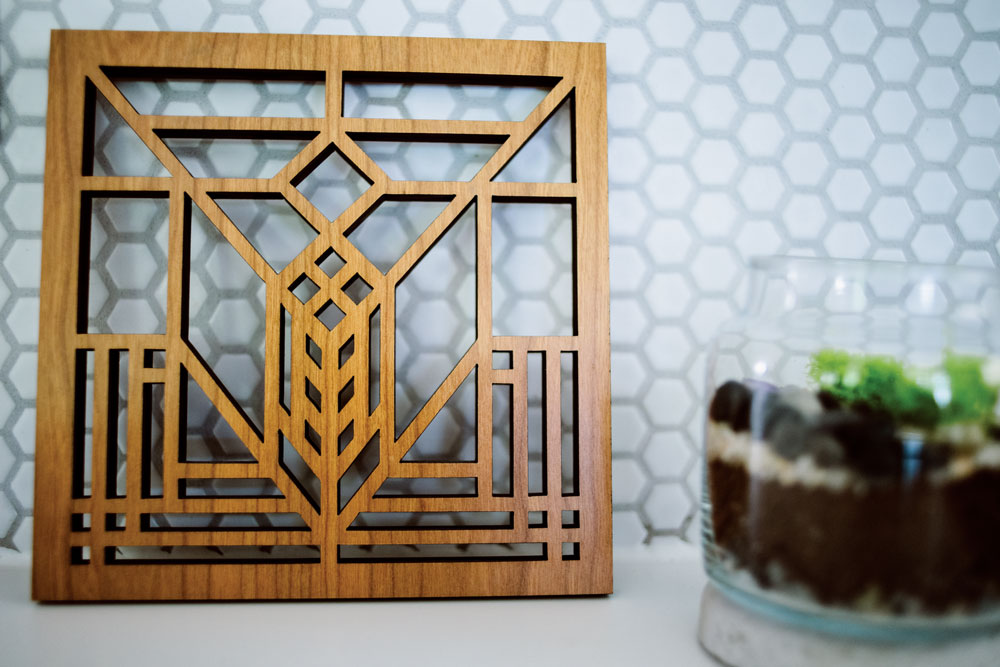 photograph by jared sych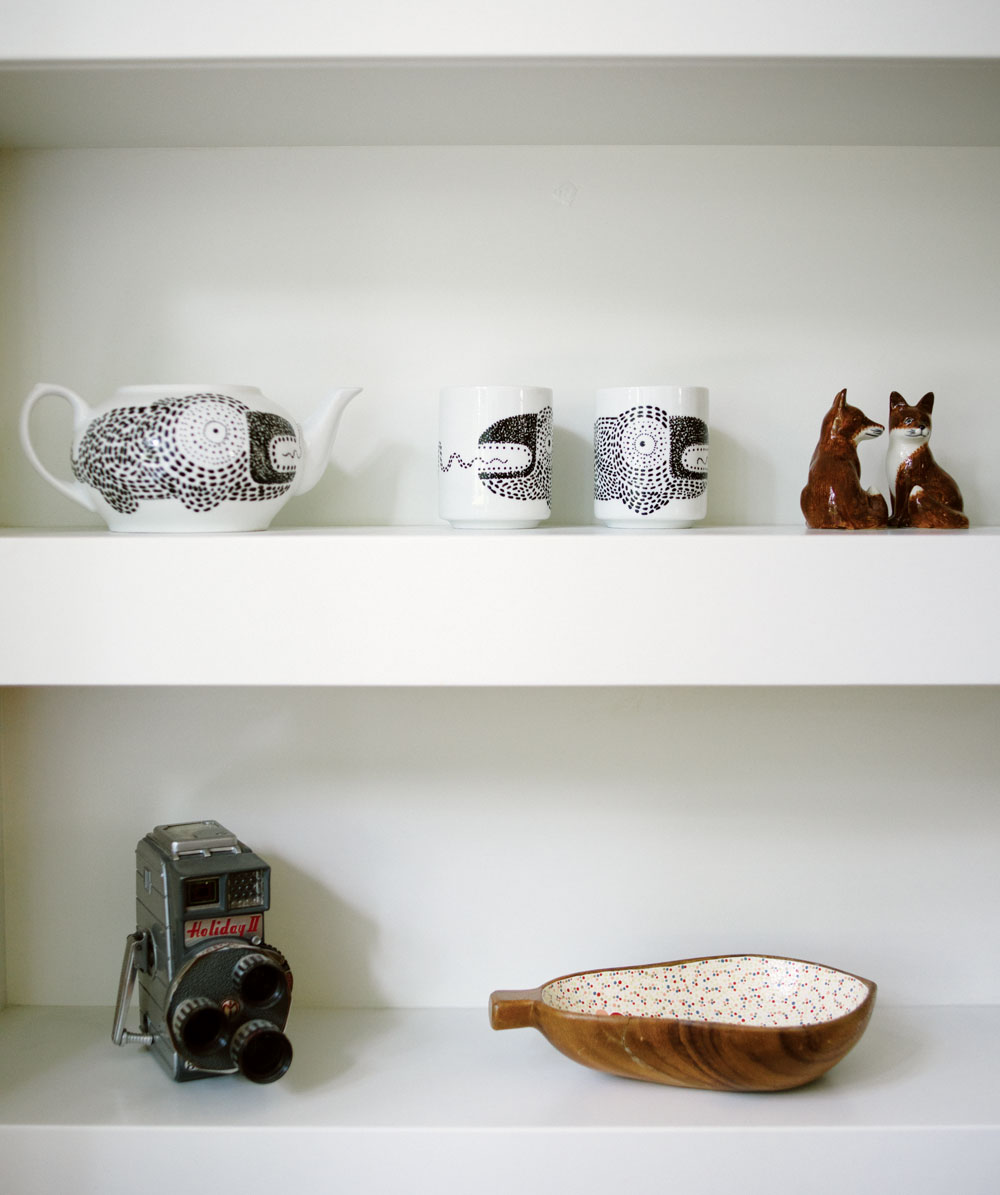 photograph by jared sych