All About Mike Garth's Shabby Chic Style
Big Rock Brewery's manager of events and sponsorships talks about the shock factor of V-neck T-shirts, his definition of hipster and getting kids to drink their dad's beer.
By Nicole Halloran; Styling by Leah Van Loon; Hair and makeup by Kate Barutowicz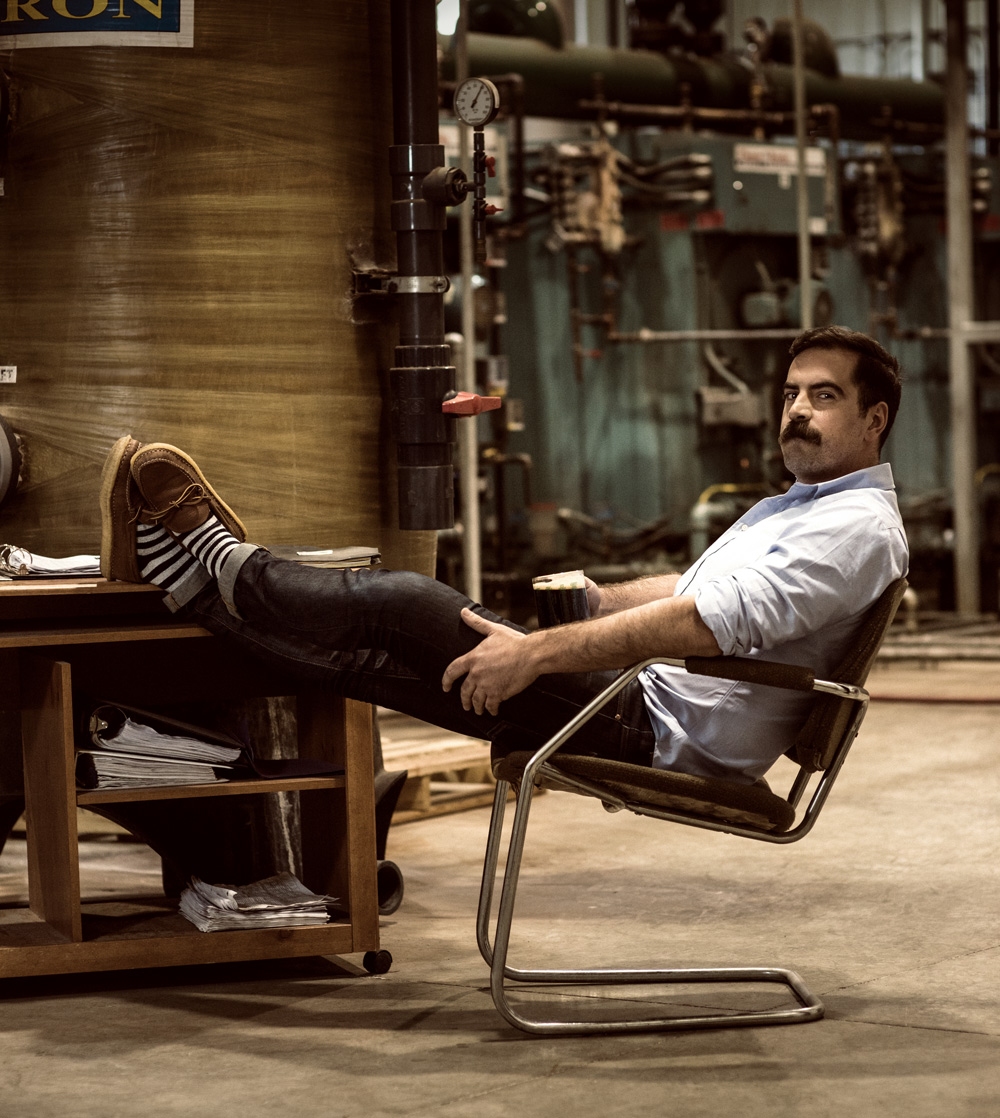 photography by jared sych
New England Shirt Co. shirt, New England Outerwear shoes and American Trench socks, all from North American Quality Purveyors; Nudie jeans from LESS17.
Getting paid to hand out beer at some of the coolest events and festivals across Canada may be everyone's idea of a dream job, and Mike Garth already has it.
Garth has been the manager of events and sponsorships with Big Rock Brewery for almost two years now – and, when the opportunity to take the job came up, the former bartender never looked back. As the face of one of Calgary's oldest craft-brewing companies and a man about town, the born-and-raised Calgarian has to look his best. A signature old-timey, shabby-chic style means Garth can perfectly align himself with the craft-brew clientele. With the thirst for craft brew on the rise, the pressure is on, and as Calgary's festival scene gets bigger and better, so does Big Rock's presence.
What's the best part of your job?
My favourite part would be summer festivals. We do the folk fests in Winnipeg, Vancouver, Edmonton, Regina and Calgary. This is our second year for Sled Island, which I love. We also do Beakerhead.
Would you be going to those festivals anyway if you weren't working?
Yes. When I'm picking a festival, I like to pick something that kind of falls around what I would want to do as a person. That goes for everything. If it's cool in my eyes, then I want to be part of it.
What about those events appeals to Big Rock as a sponsor?
That's the kind of market we really want to tap into, because Big Rock's an old company and the majority of our fan base has grown up. It's the beer that your dad drank, and your dad's dad drank, and so we want to make sure we get their kids. And craft brew is so trendy. There's so much variety and you have to stay competitive, and, by sponsoring these really cool events, and new stuff like Beakerhead, we get to catch the youth.
You said your favourite part of your job is getting to be in front of people. Why do you think that is?
Because I'm a people person. That's where I thrive. I don't really belong behind a desk. I find, as a salesman, as well as somebody who wants to go out there and shake hands and make sure that you're maintaining partnerships, it's important to have that face-to-face interaction.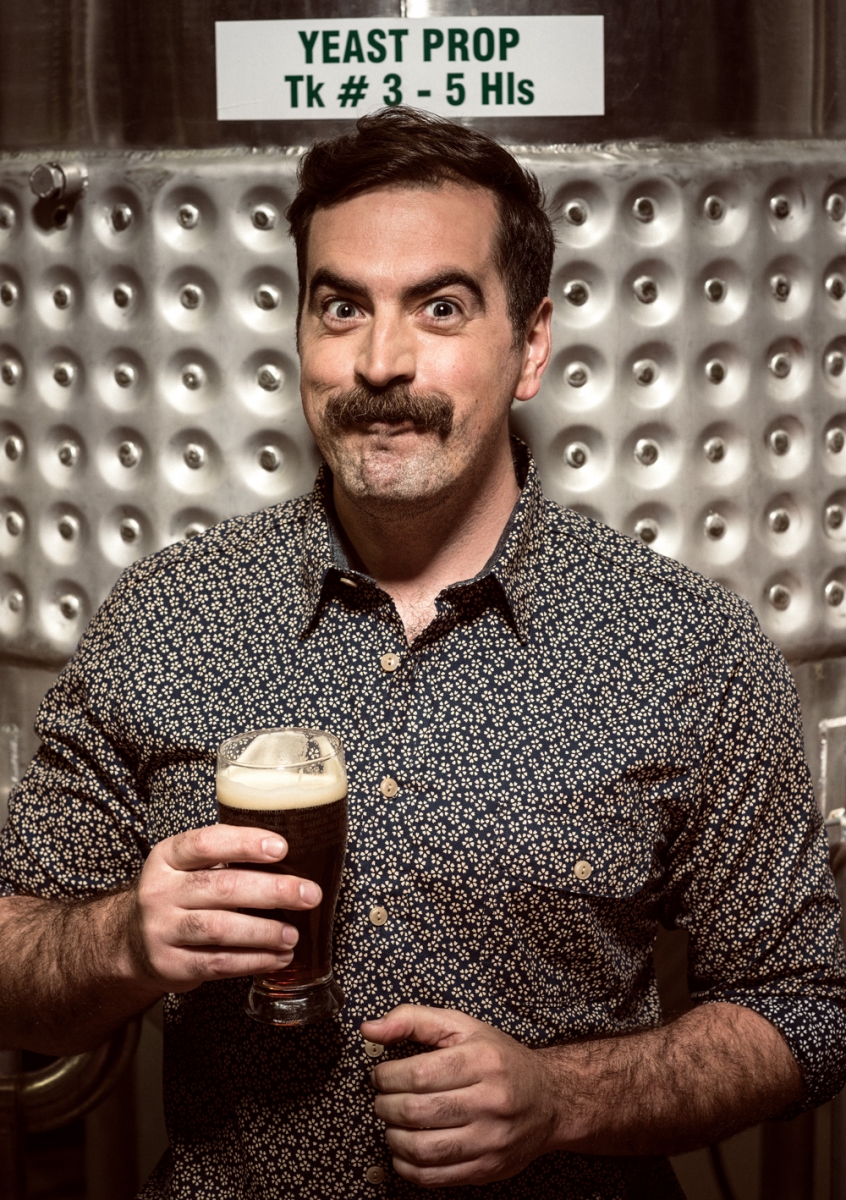 Dickies shirt from North American Quality Purveyors.
How does your work influence the way you dress?
I like to be approachable, and I think if you dress too formal then people won't get that impression. But I also care about how I look, so I think the term "shabby chic" kind of sums it up – an unpolished polished.
Were you stylish all your life, or was there a turning point?
I've always [cared] about how I look. I think as you grow up and start to get more money, you start to appreciate the difference between quality of fabric versus brand name. I think that's when you make a change. For me, that was probably when I was a bartender because there's always a face-to-face interaction and you want to look your best.
What are your wardrobe staples?
A good pair of jeans. I find a good pair of jeans is hard to find, so I'll wear jeans six out of seven days of the week, and, when they break down, I go get them patched and continue to wear them. A solid pair of boots – Red Wings. I'm a sucker for the V-neck T-shirt. Even with all my chest hair, I still wear them. I enjoy that for the shock factor. And a jean jacket.
What brands do you like?
Right now, there's a brand called I Love Ugly. They're making these pants called Zespy pants, and they're a hybrid pants/sweatpants with a drop crotch, and you can wear them as pyjamas on lazy Sundays, or you can dress them up for work. I love them. I have two pairs; they're so comfortable. I also like Filson, I like Gitman Brothers, Levi's and American Apparel for all your staples.
Do you consider yourself a hipster?
I hate the word, but, in essence, I guess I am one. I think "hipster" is just another word for a stylish dude who doesn't dress like the rack at Gap tells you to.
Do you think it has anything to do with personality?
I think it's mostly counterculture and going against the norm. But what's the difference between hipster and, say, a hippie or a fashionable dude? There's the ironic hipster and a normal hipster. And ironic hipster, I understand. That's annoying. But I've always been a bit counterculture. I've had a beard for most of my adult life. As soon as I could grow one, I had one. But when I have only a moustache, people are always commenting. It's a legitimate hairstyle. People have been doing it for hundreds of years, but the hipster has trivialized it.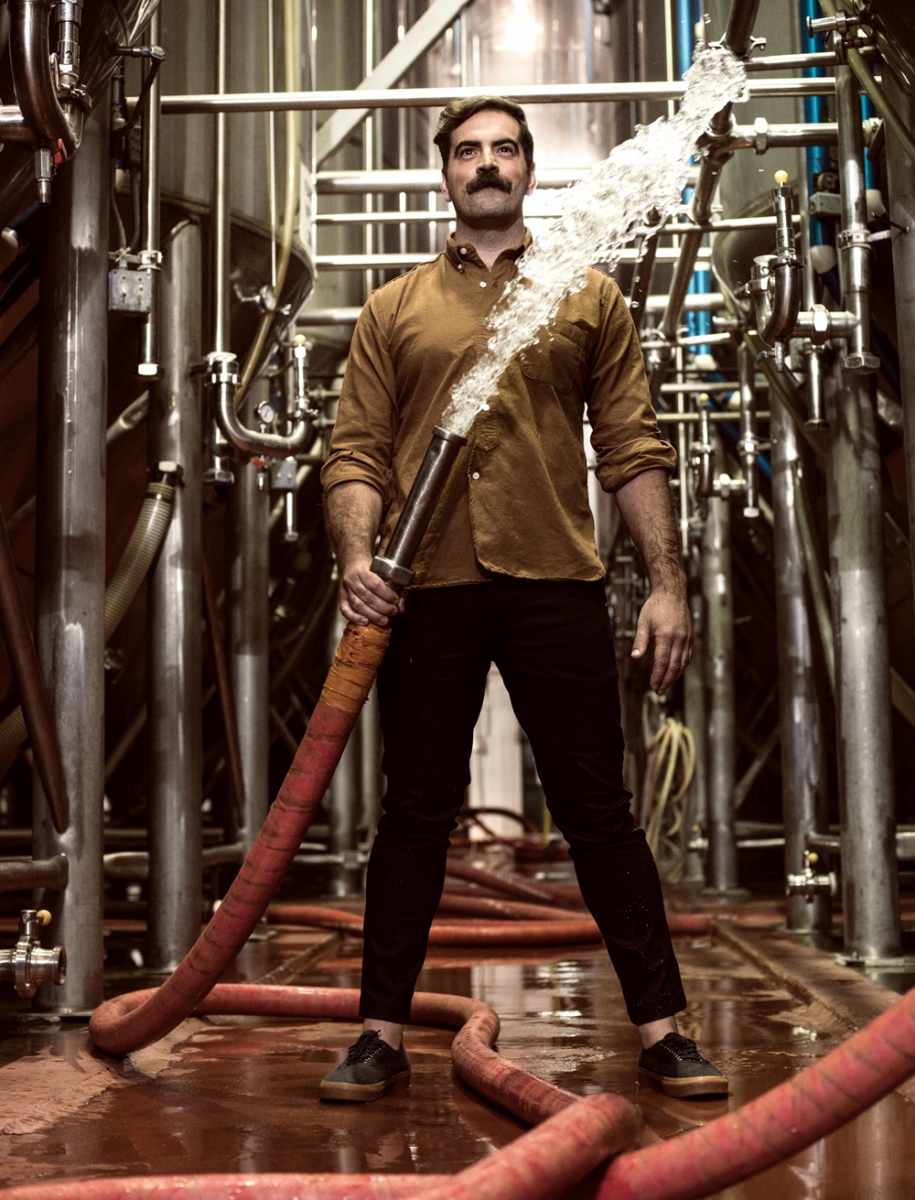 Dickies x Palmer Trading Company shirt from North American Quality Purveyors; I Love Ugly Pants from LESS17; Vans Authentics from Vans Store.
---
Lightning Round
Who is your style icon?
Daniel Plainview in There Will Be Blood.
Favourite thing to drink?
Beer. I'll have beer for breakfast. It is cereal, technically.
Favourite place you've travelled?
Japan. Tokyo is a whole other world.
What kind of traveller are you?
I'm a "do what the locals do" dude. I do some research and then blend in.
What radio station is on in your car right now?
CBC. I can't take the repetitiveness of radio.
Favourite Calgary hangout?
Cilantro. I love hanging out at the bar, and Dom, the bartender, makes amazing cocktails.
Favourite cocktail to make?
A Lemon Flip. It's vodka, lemon juice, an egg and simple syrup, and then shake the hell out of it. It tastes like a milkshake.
Favourite places to shop in Calgary?
I love North American Quality Purveyors, Hanson's Fishing Outfitters and LESS17.
This article has been edited from its original printed edition to reflect that the bartender at Cilantro is named Dom, not Don and that the clothing company is Gitman Bros, not Gatlin Bros.