Born-and-raised Calgarian Colin Cheng has been living in the Beltline neighbourhood for nearly three years in his beautiful park-side condo. By day, Cheng works as an accountant. By night, he loves to entertain his friends at home with handcrafted cocktails and delicious eats in his eclectic home. Cheng, who enjoys collecting artwork, decor and souvenirs everywhere he goes, also happens to be a talented self-taught artist and has several of his own paintings on display throughout the condo.
What is your design philosophy?
I don't have so much a design philosophy as I like to fill my home with beautiful things that remind me of certain times: vacations and big moments in my life.
What is your favourite room in your home?
Definitely the living room. When I come home from work, I just like to settle in here. The apartment faces west, so I love watching the sunset everyday. I am not a morning person so I love the summer sun and late-night entertaining in this room.
What is your most treasured item and where is it from?
The paintings I made because they are things I probably couldn't replace. They are really special to me because I painted them specifically for this space.
What is your favourite decor find?
I love shopping at auction houses and while I travel. I found this blue bowl last summer while travelling in Barcelona. It was cheap, but I just thought it was so beautiful.
Where do you find inspiration for your decor?
Honestly, I love Instagram. I'm just an average Joe who loves flipping through my Instagram feed. I also follow a lot of design blogs. I gatherered a lot of inspiration before I moved into this place. What I love most about finding decor inspiration online and on Instagram is that it is stuff you can actually buy, affordable things at West Elm or IKEA. My favourite Instagram account is Namdang Mitchell (@namdangmitchell).
What is your favourite thing about living in your home?
The location, definitely the location. I love being close to work, close to 17th Avenue. I feel like it's the center of everything. My friends always come here before we go out for the night.
Where do you like to shop for home decor locally?
I love West Elm, Kit Interior Objects and A Vintage Affair. I also frequent the Hall's Auction Services website. I've found some great pieces on there like – I got my living room side table there and did some DIY to it.
Did you encounter any sort of decor challenge in the space?
Mostly I was just worried about the size of the condo before I moved in. Everyone always suggests buying "condo-sized furniture" but I thought differently. So it was definitely a bit nerve-wracking moving into the building, but luckily everything fit.
What is your favourite view from your home?
My living room. I love eating dinner here and watching the sky. I love the light.
If you were to move what would your next home be?
I would want a fixer-upper. I don't think I want anything new. I would just love to grow with a place. I always joke that it is kind of sad in this place because I feel like I'm already finished here. I can't squeeze much more into this place. I'd love something I can build and add to over the years. I see myself still living inner city.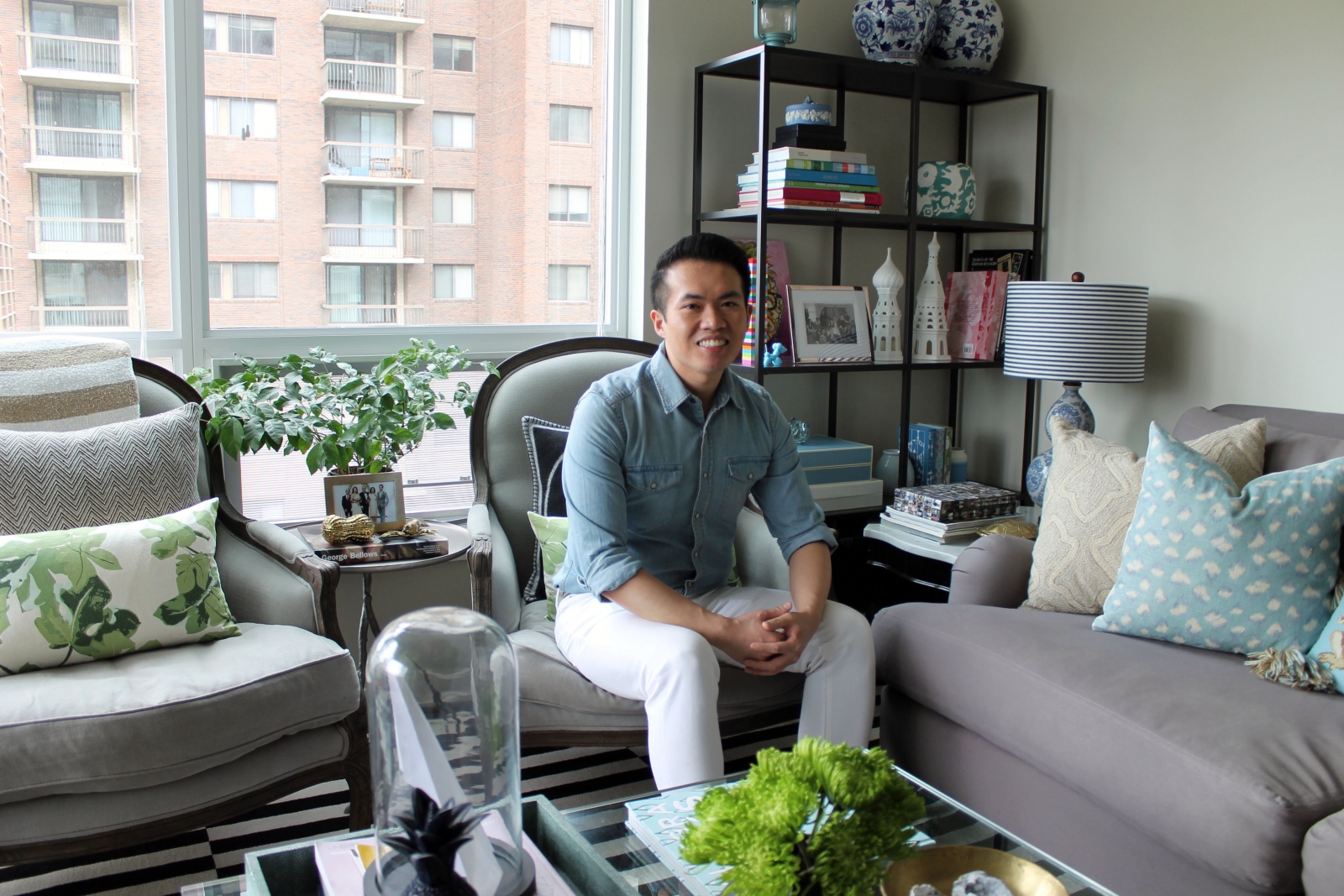 Colin Cheng in his favourite room in his home, the living room, with sprawling views of the Beltline and Lougheed House.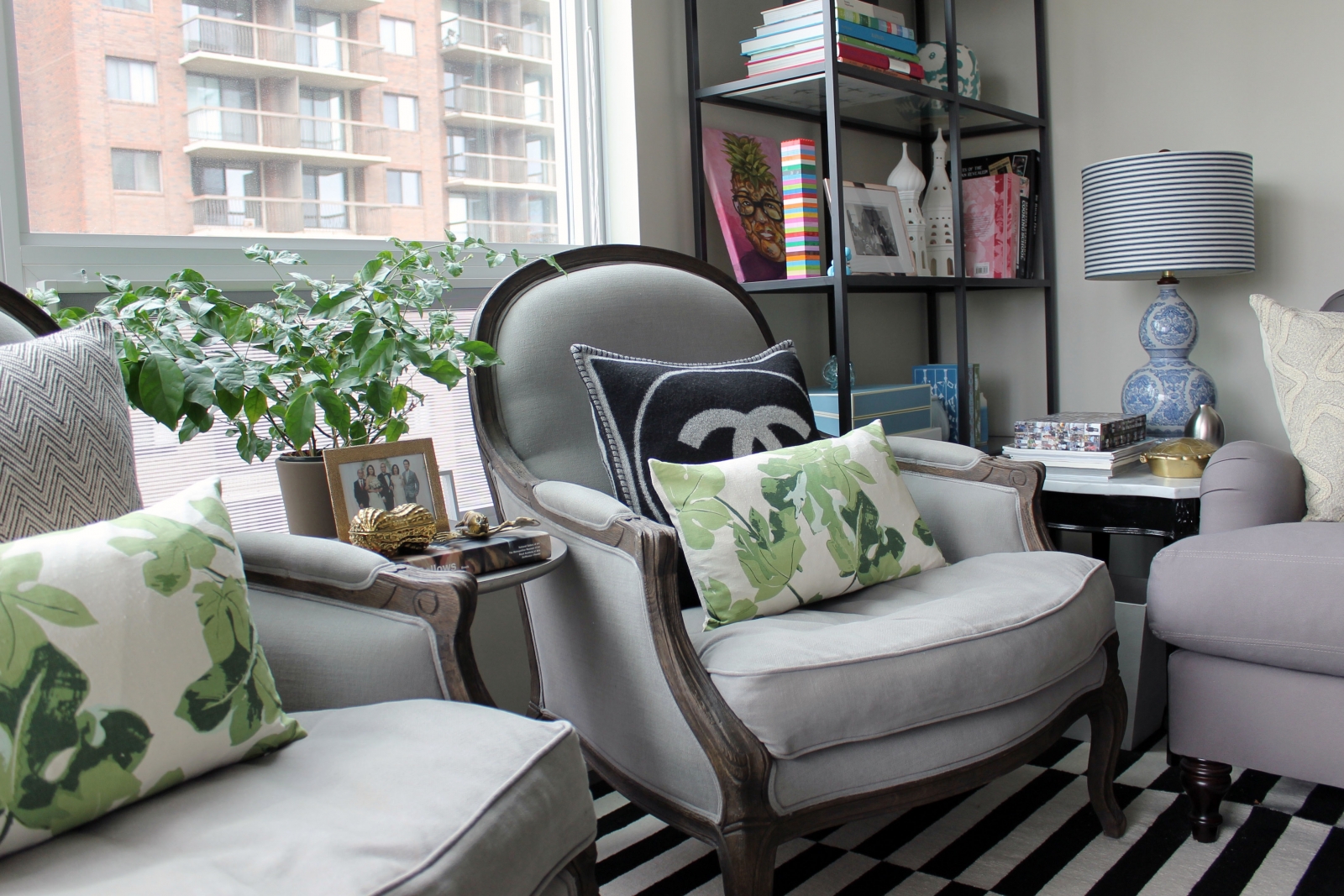 These cozy yet stylish Restoration Hardware chairs were a splurge for Cheng, but well worth the investment thanks to their classic design.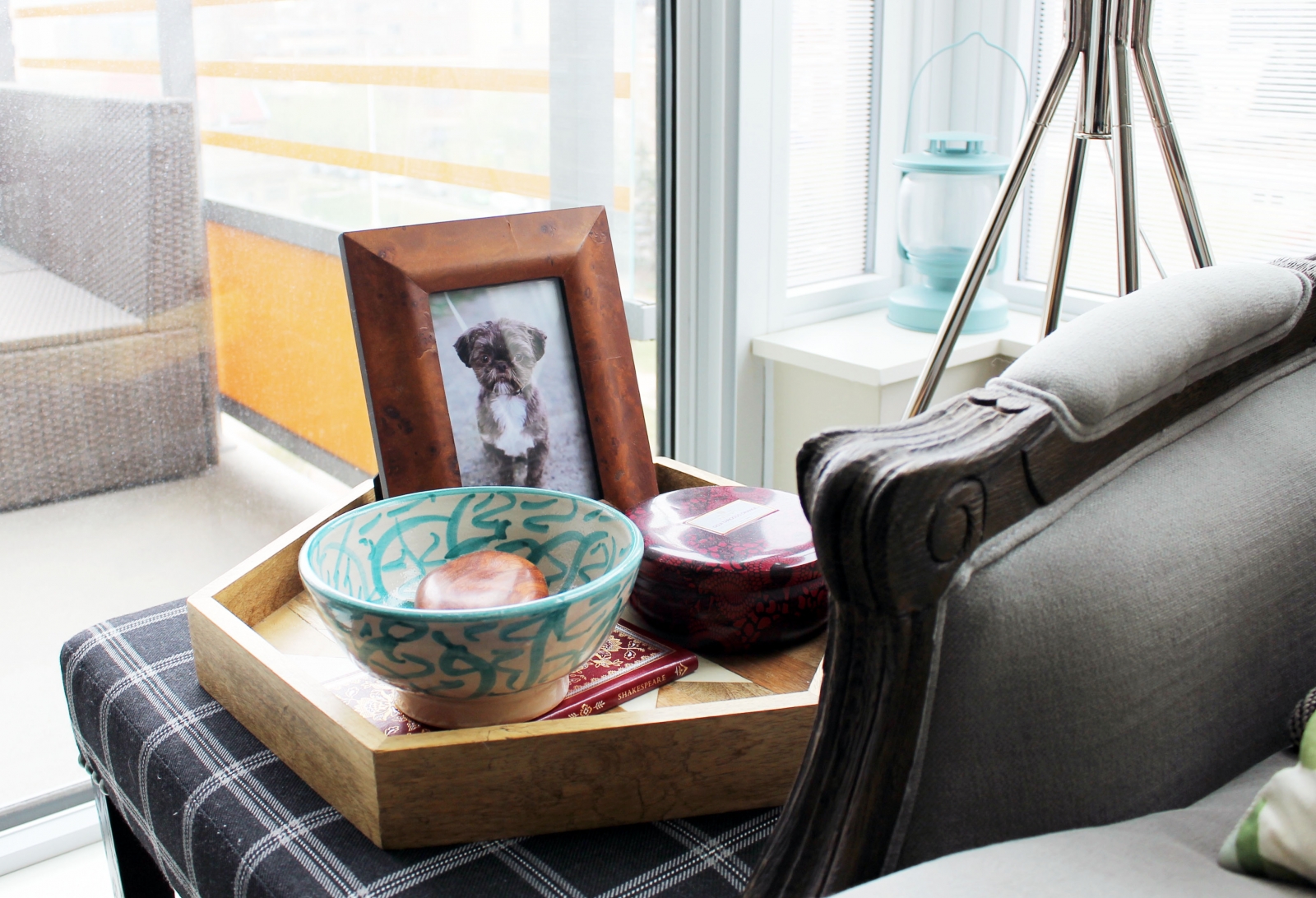 Cheng's most treasured item, a beautiful bowl he picked up in Barcelona on his travels, sits on a wooden tray next to a framed photograph of his favourite pup, his sister's dog.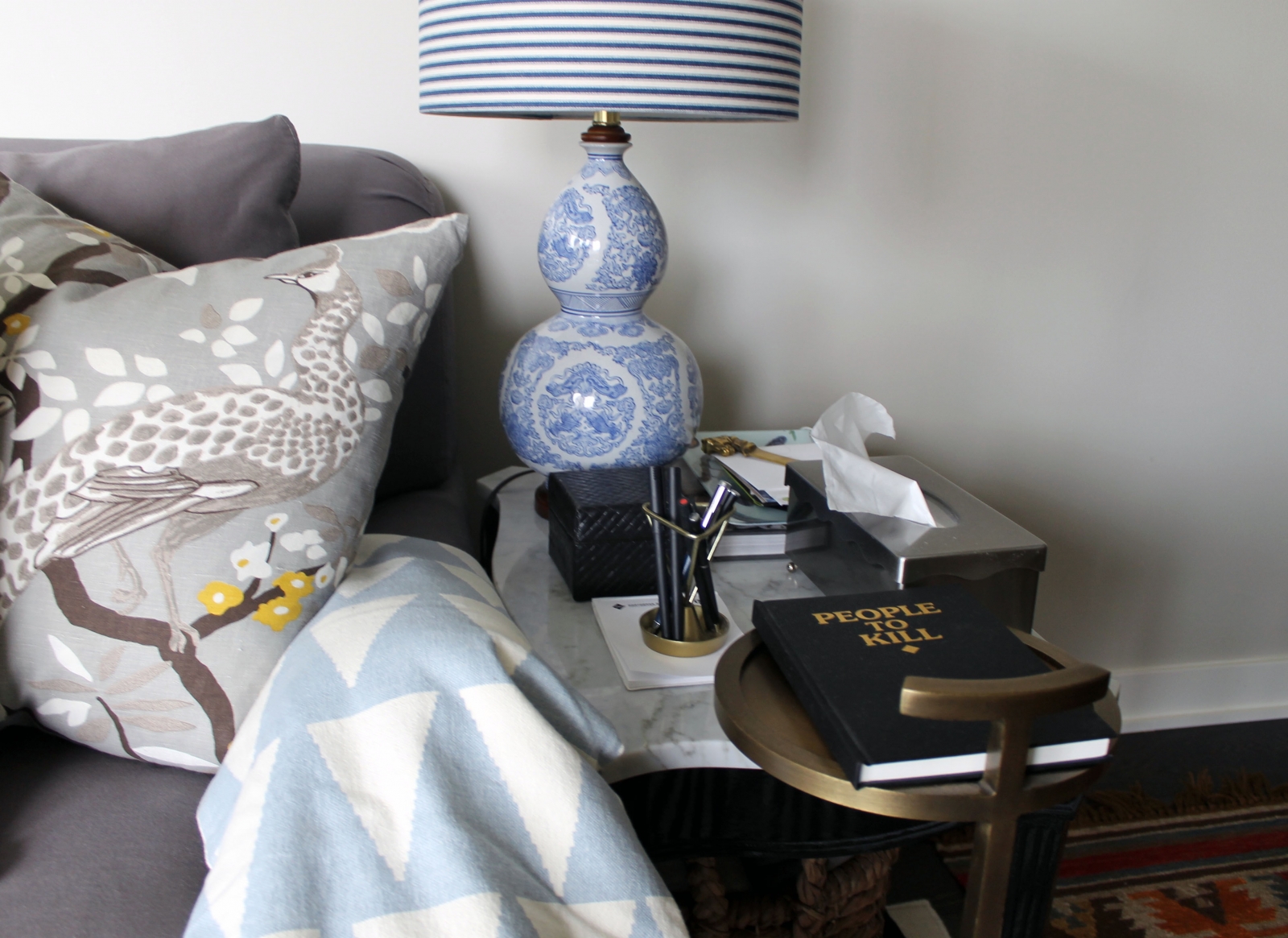 The marble-top table that Cheng scooped up from Hall's Auction now has a painted black base and is home for one of his beautiful blue-and-white lamps.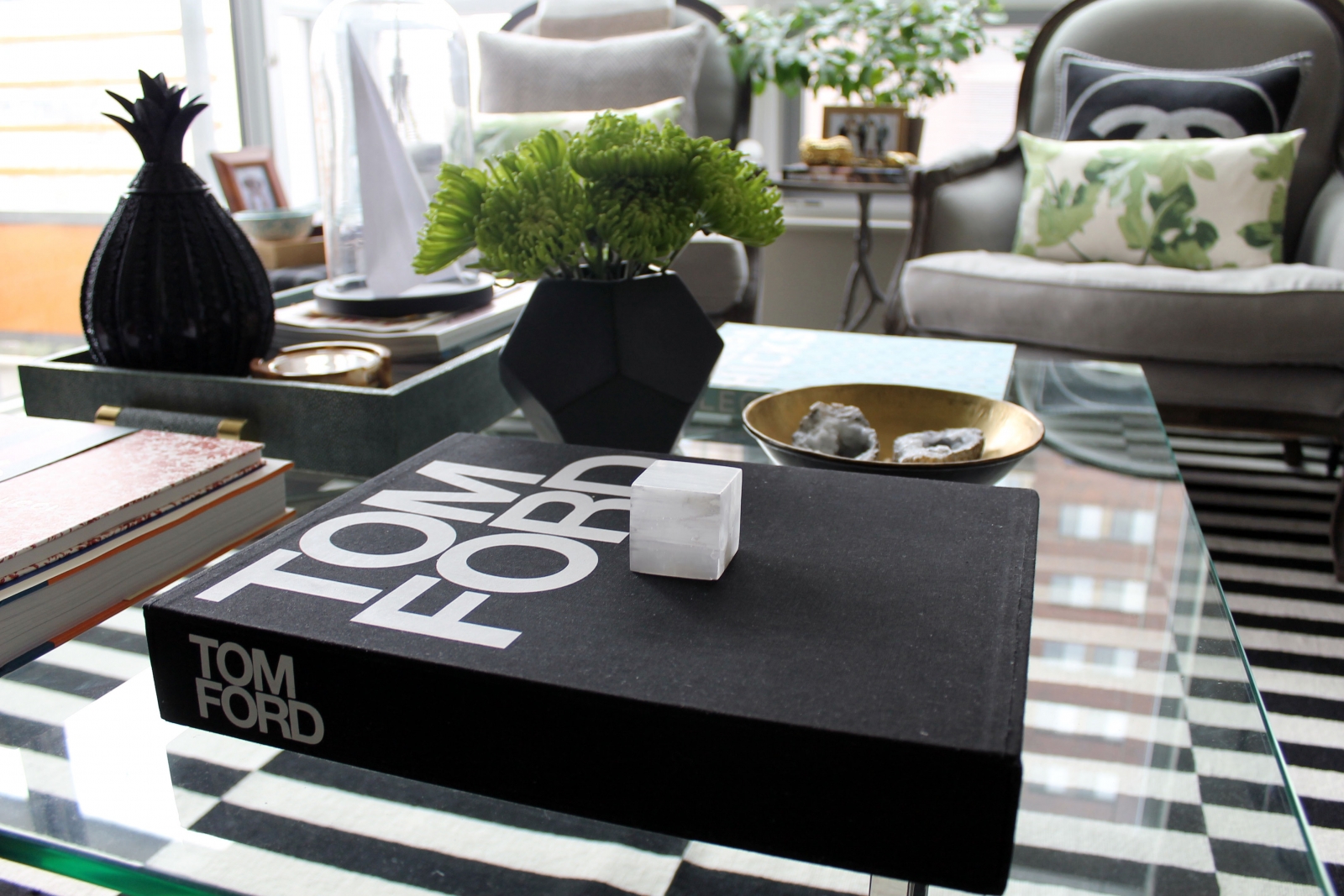 This quintessential fashion design book takes up precious real estate on Cheng's glass coffee table, while fresh flowers and interesting objects flesh out the tableau.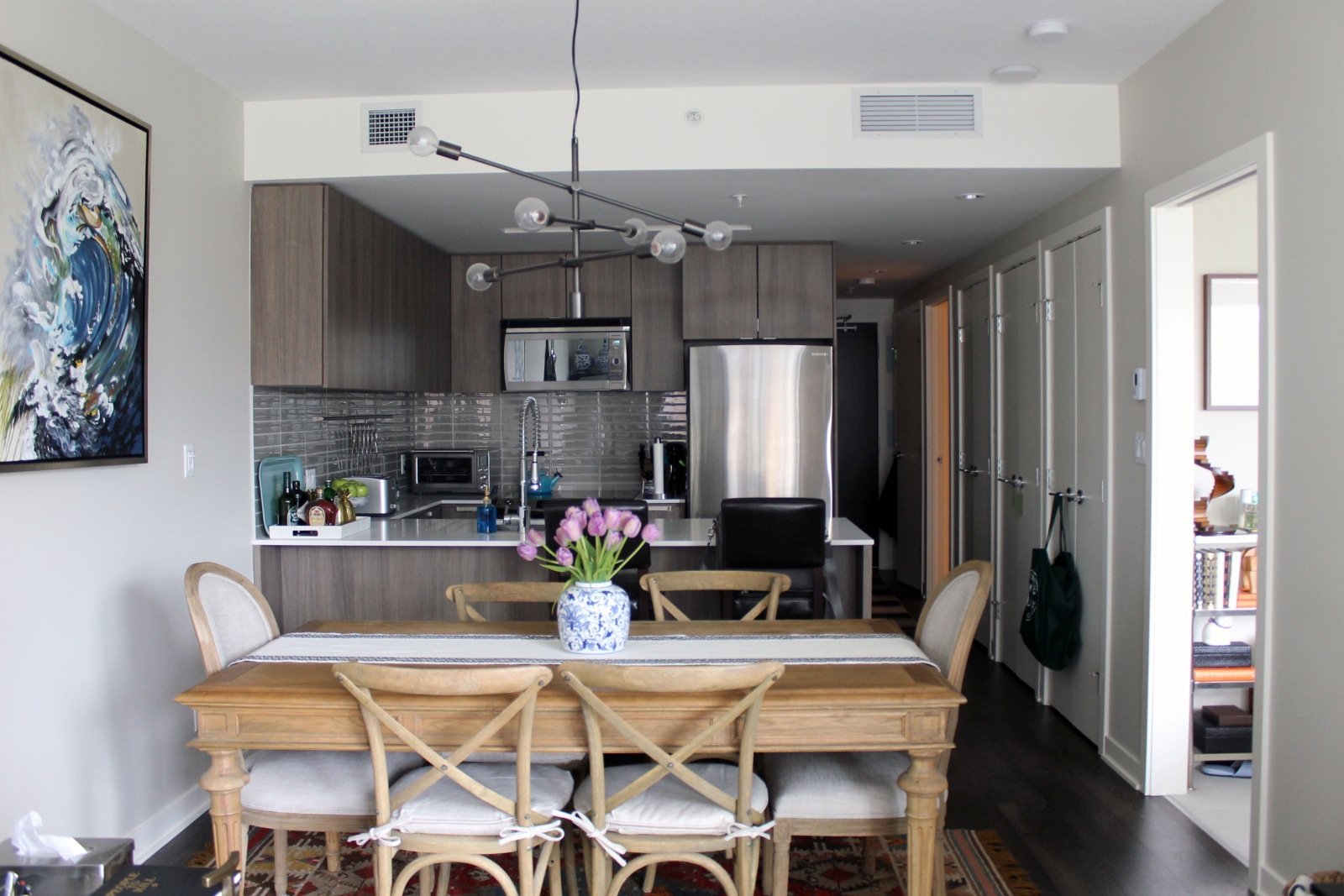 Not one to follow rules, Cheng opted for a large wooden dining table that seats six instead of a more "condo-friendly" sized dining set. The room feels open and spacious thanks to the fantastic natural light and light woods.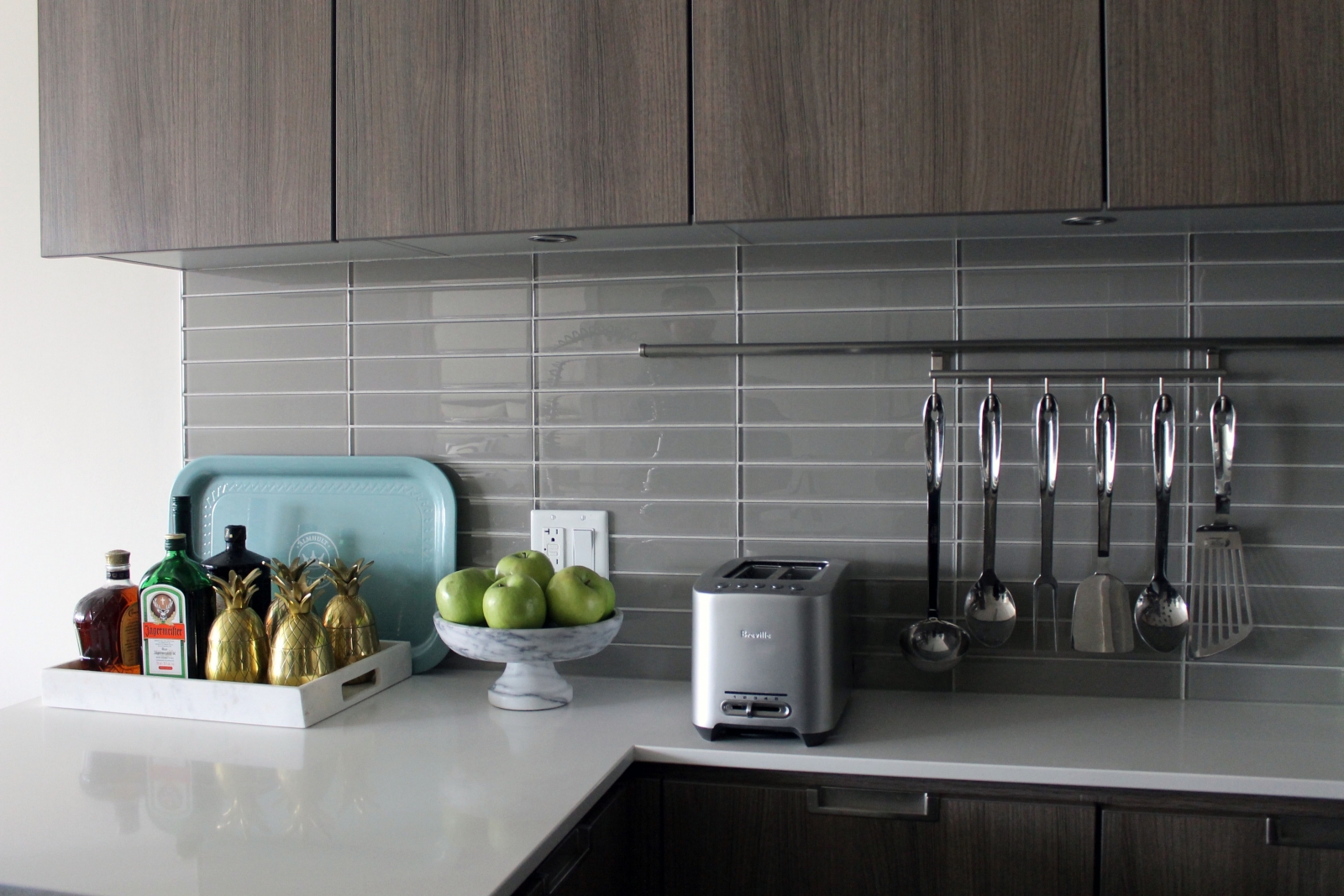 Soft greys keep the kitchen feeling contemporary yet classic. Constrained by limited counter space, Cheng makes sure that only the essentials make the cut.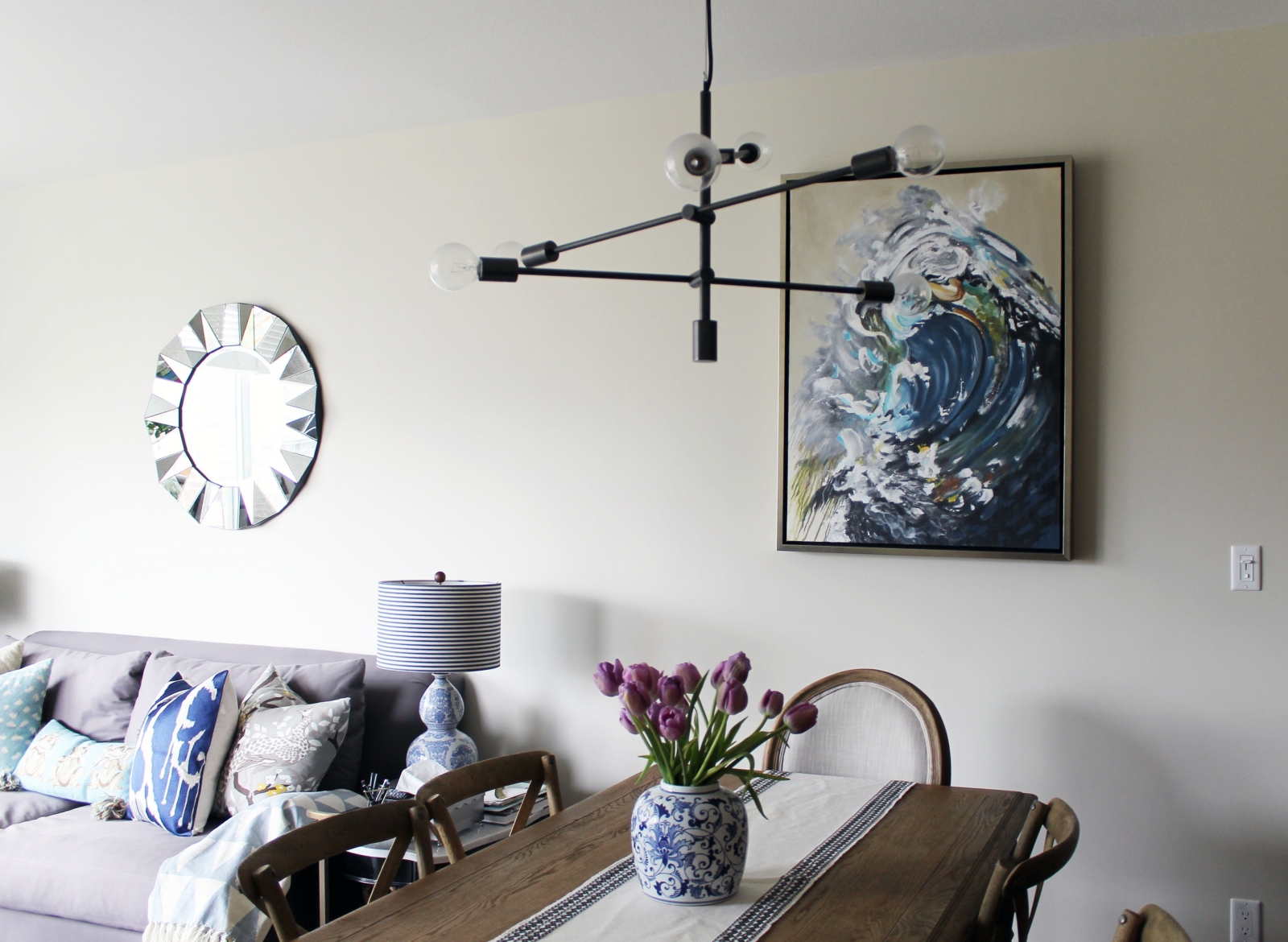 The dining room is anchored by one of Cheng's own paintings.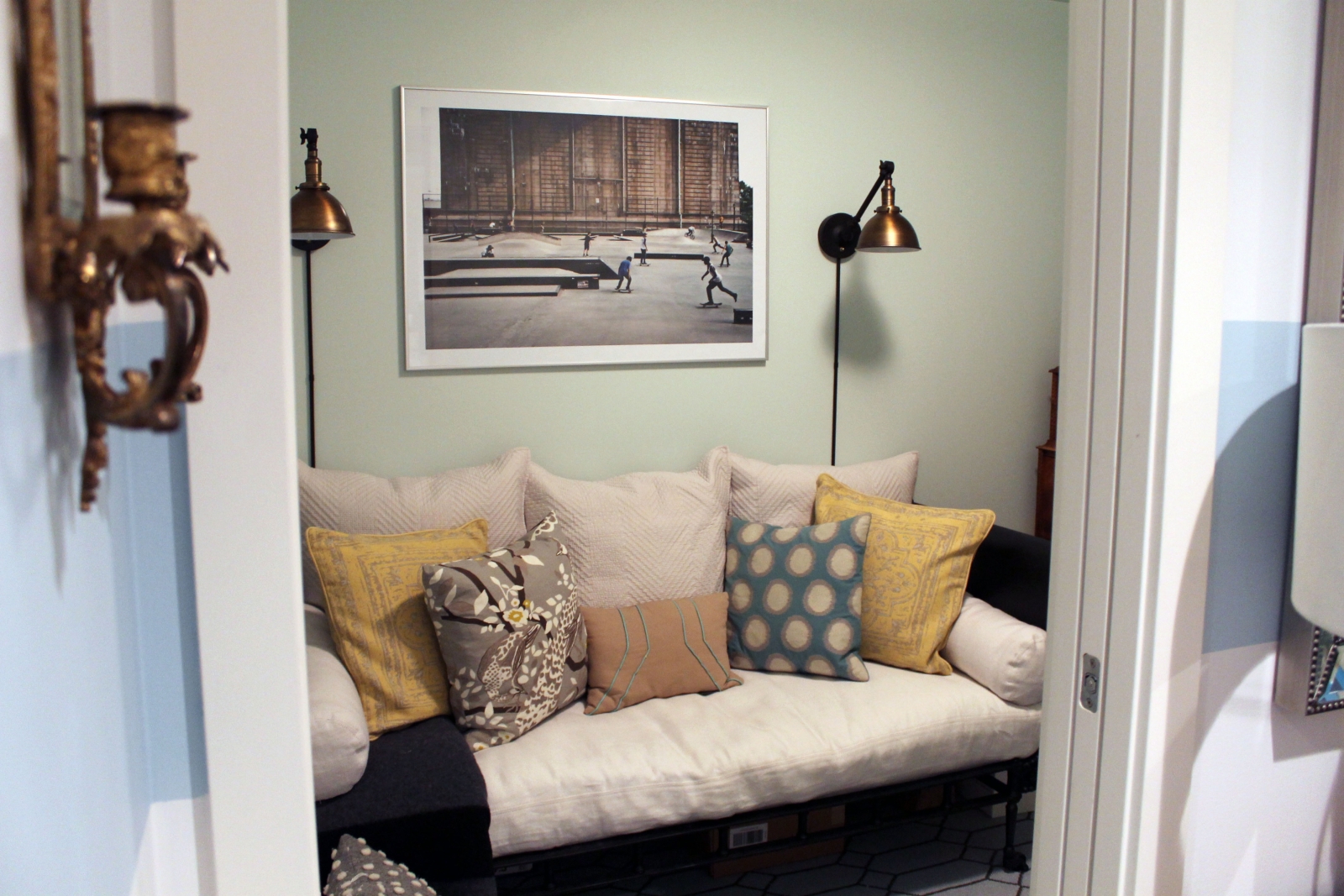 Meant to be a second bedroom or office, this room is cozy and eclectic with a sofa bed ready for guests and plenty of empty wall space for Cheng's ever-evolving art collection.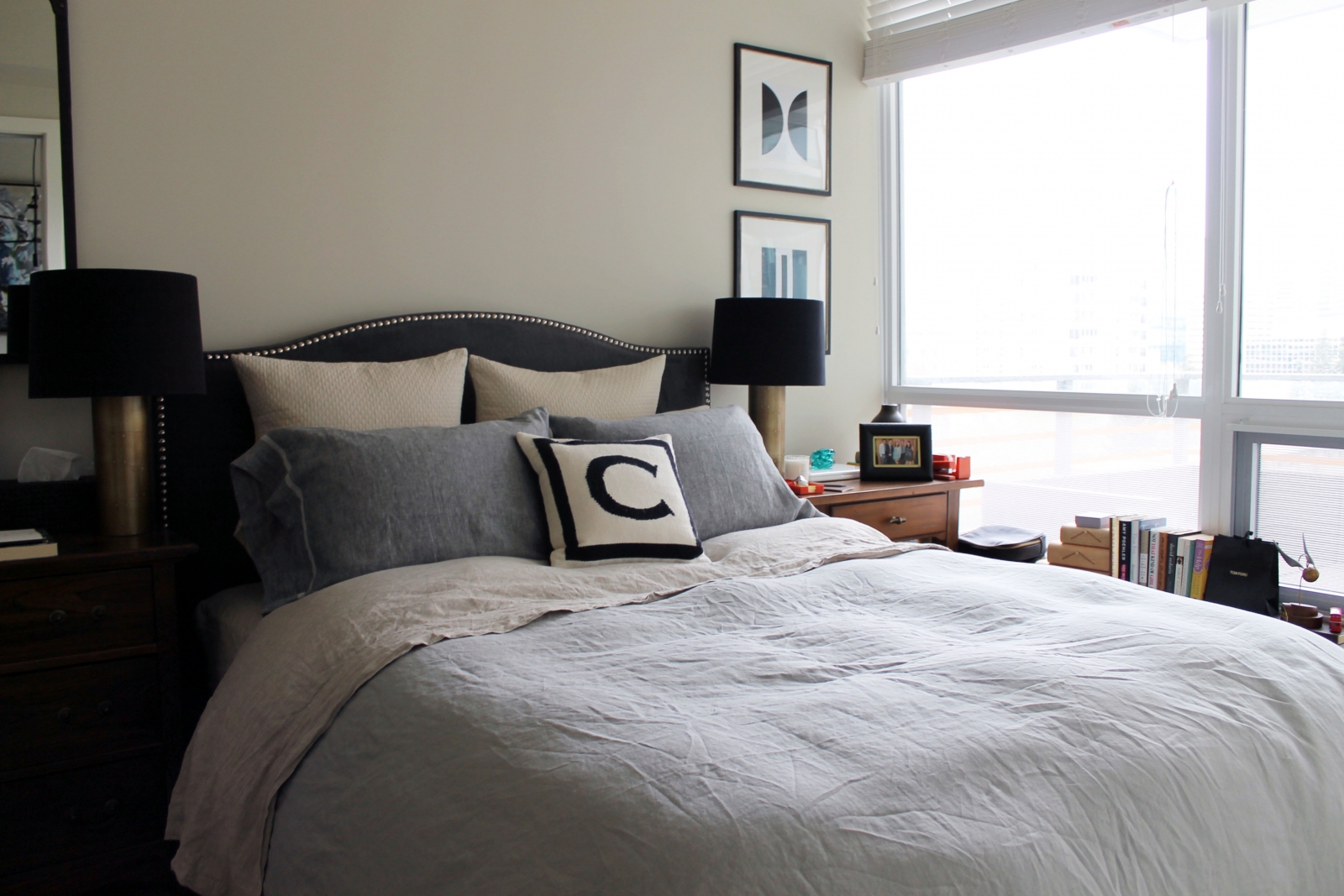 Floor-to-ceiling windows in the bedroom bring in loads of natural light, while the soft neutrals of the bed linens create a cozy atmosphere for relaxing in.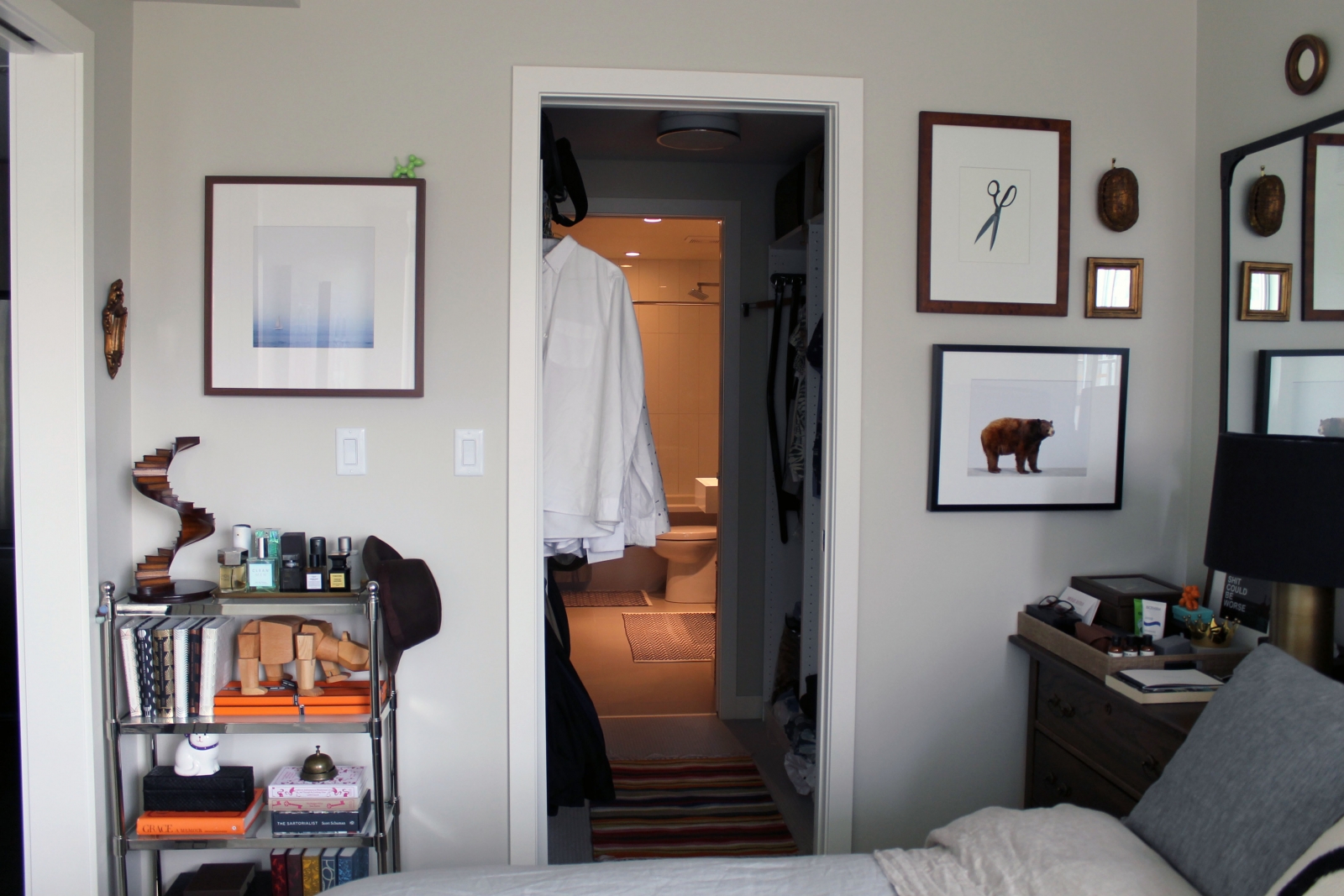 Cheng's eclectic art collection continues into the bedroom with a pieces found or purchased from all over the world. 
[Correction: This story has been updated to include the proper spelling of Colin Cheng's name.]