At Home With Daniel Blais
Walk through the heritage apartment of local graphic designer Daniel Blais and his incredible collection of art and antiques
by Kait Kucy
Daniel Blais with his miniature pincher, Olive, in his heritage Mission apartment
Kait Kucy
Working from home has provided freelance graphic designer Daniel Blais an excuse to create a perfectly inspiring and functional space that easily transitions to dinnertime entertaining. As sunshine streams in through the south-facing window in the Mission home, Blais and his miniature pincher, Olive, enjoy their surroundings of beautiful artwork and treasured antiques.
What's your design philosophy?
I basically buy pieces I like and they always work together. I never follow colour trends. Honestly, if I like it I bring it home and I make it work. Some pieces have just made their way into my home through trades or scavenging and it just worked out.
What is your favourite room in your home?
My living room because I spend the most time in it. My bedroom is massive, but I don't spend much time in there besides sleeping.
photo by kait kucy
Blais's art collection blends perfectly with antique furniture and a wall-mounted television.
What is your most treasured item and where is it from?
It has got to be the antique pitcher and basin that was from my grandmother that is in my bedroom. It is very special to me and I am lucky to inherit it.
photo by Kait kucy
Blais counts this antique pitcher and basin inherited from his grandmother as one of his most treasured possessions.
What's your favourite decor find?
The antique hutch that I use to store my Wedgwood drabware collection in is definitely my favourite decor find. I bought it at Hall's Auction here in Calgary and I totally thought I was going to be out-bid and it turned out that I was the only one who wanted it. I got it for $200. It is really hard to find furniture pieces like this so I feel pretty lucky.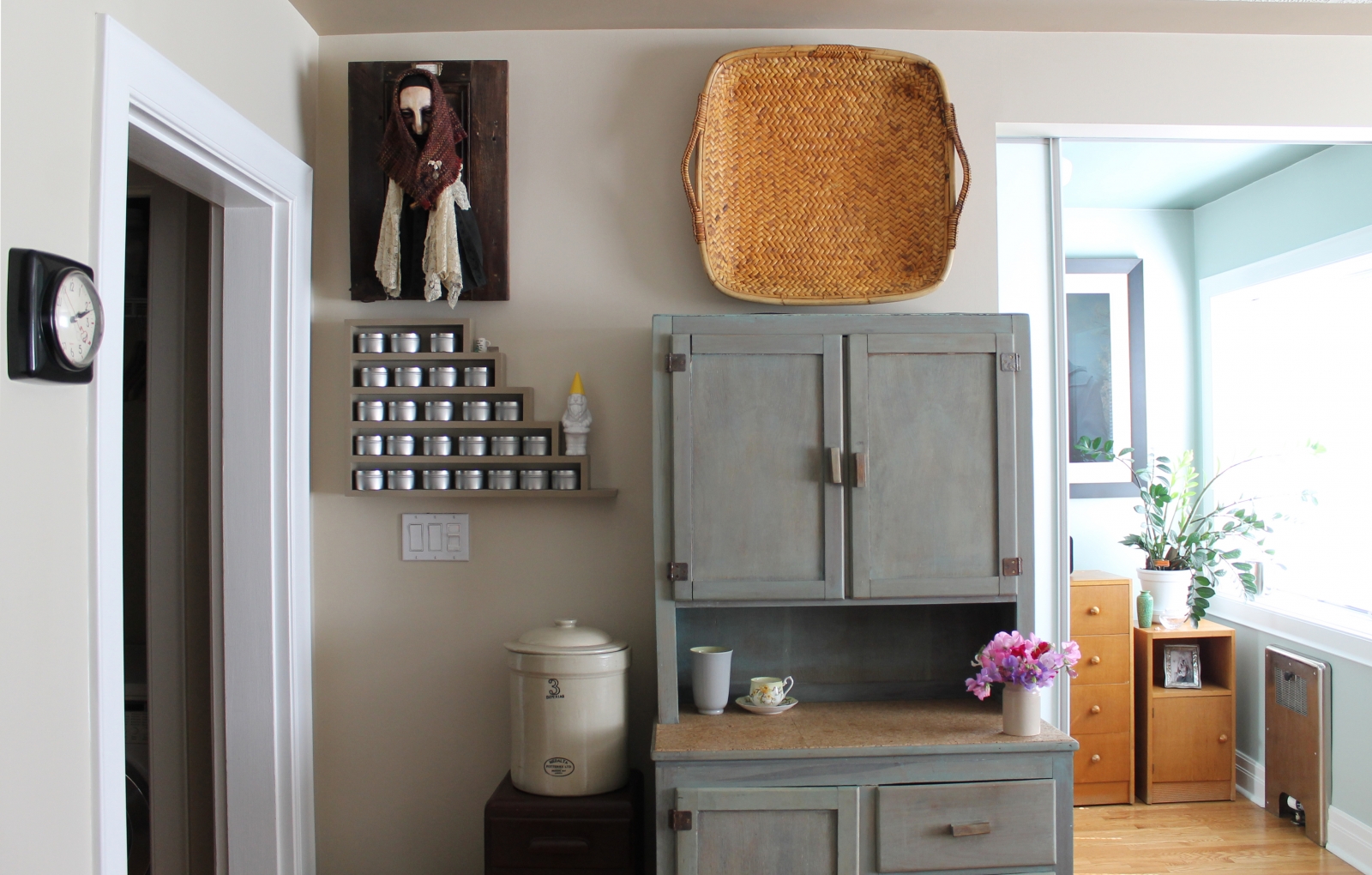 photo by kait Kucy
Blais bought this antique hutch for $200 from Hall's Auction Services.
photo by kait kucy
The hutch houses his collection of Wedgwood drabware.
Where do you find inspiration for decor?
Being a graphic designer I am always exposed to new things but honestly I don't look at a lot of interior designer magazines. Again, it is all just intuitive to me.
photo by Kait kucy
A stack of coffeetable books creates a statement.
What is your favourite thing about living in your home?
I love that it is a 1940s heritage building which is super hard to find in Calgary. I love living in the Mission area since I don't drive. I walk everywhere and if it is too far or hard for me to get somewhere, I just don't go. In my home specifically, I just love living somewhere with so much character and light. It is a very well-designed space – everything has a place.
photo by kait kucy
An eclectic mix of furniture and decor items comes together for a cohesive look.
Where do you like to shop for home decor locally?
Definitely Hall's Auction is my go-to. I like Homesense, Restoration Hardware and Crate & Barrel. I do buy newer pieces to compliment the stuff I find at auction. I actually back alley shop a lot. I started back alley shopping when I was in college and had no money. I started pulling stuff that I love. I have found some of my favourite pieces in there like the primitive bench in my front hall. Kensington used to be a gold mine.
photo by kait kucy
Blais's bedroom is a comfy art-filled retreat.
Did you encounter a decor challenge in your home?
The last time I moved my art around was a massive nightmare. It wasn't working and it required so much work to fill holes and patch over everything. I finally got it right and it all came together. Art always seems to be a challenge for me because I love to keep on buying it.
What's your favourite view from your home?
For sure, outside my living room. It is south facing and I can watch people coming and going on the street. Love watching squirrels and magpies and other birds right outside of my window.
What do you want your next home to be?
I would like to have another bedroom for guests to come stay with me but I really wouldn't want it to be much bigger than what I am living in now. I don't want to have a yard so I think I would like to stick with apartment living; however, I just saw a documentary on living in a tiny house and I think that would be such a cool way to live.
This story was part of Avenue's free weekly Style Newsletter. Sign up now and get home decor and fashion information and advice in your inbox every Wednesday.