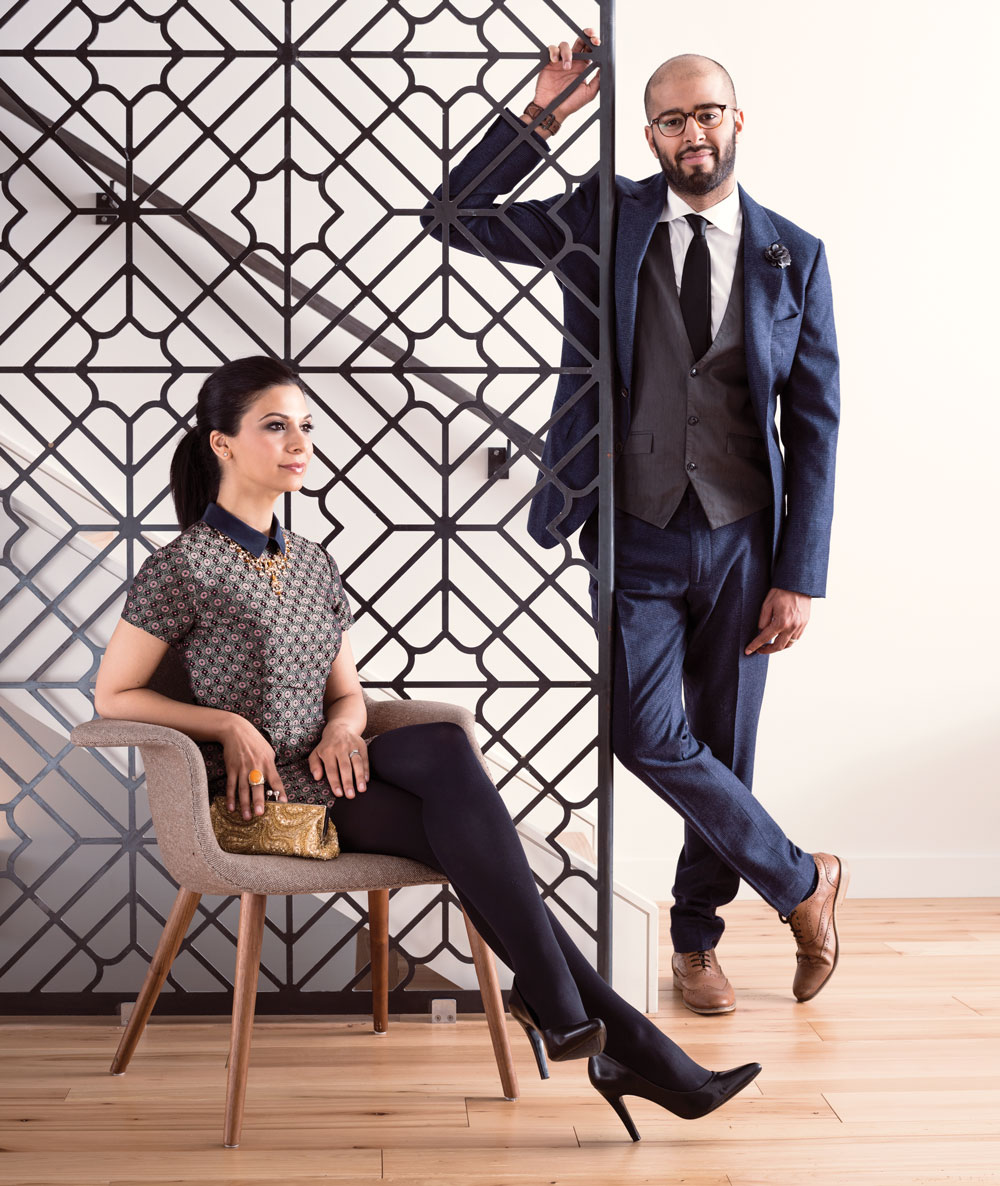 Photography by Jared Sych; styling by Aldona Barutowicz; hair and makeup by Kate Barutowicz
On Majida: Patterned dress from Club Monaco; shoes from BCBG Max Azria; ring was purchased at a market in Barcelona; necklace and gold purse from India were both wedding gifts.
On Alkarim: Shirt by Ermenegildo Zegna; suit and tie, both from Club Monaco; shoes from Gravity Pope; lapel flower from Ensemble Calgary; glasses from Dom Vetro in New York.
Alkarim and Majida Devani are passionate about building a better Calgary. They are the dynamic design couple behind Beyond Homes – Alkarim is the founder and principal and Majida is the head designer. Beyond Homes has become known for its modern, sustainable custom homes infused with natural design elements, such as reclaimed wood flooring and loads of natural light.
The Devanis are champions of the inner city, outspoken against urban sprawl and committed to creating dynamic communities that support what they call the "heart of Calgary."
In addition, the busy duo is involved in other design projects. Majida is also the principal of Building Bloc Design, a separate architecture and interior design firm, and Alkarim was one of the founders of Hors de Combat, a Calgary-based military-inspired menswear line that's currently on hiatus.
The stylish young couple designed their own home last year and, together with their daughter, Ila, moved into the sleek southwest duplex this spring.
Tell us about your new home.
Majida: We've never built a house just for ourselves. It's crazy, because literally six months ago we were drawing this fireplace and now we're sitting in front of it. I drew every single tile in the kitchen. I drew the design for the raw metal screen on the stairs. It's just kind of surreal; this home is like our brain.
Alkarim: In every sense, it's like our essence. I think people don't realize how much time they actually spend in their home. Your home should reflect who you are as a person.
How does it reflect who you are?
M: There are hits of who we are. For example, Al has always wanted this couch, and yellow is my favourite colour. Ila, our three-year-old daughter, picked the star-shaped light fixtures in her bedroom herself.
How did you two meet?
A: I've known Maj for years because she used to hang out with my older brother.
So you're a little bit older, Maj?
M: A little bit. It's the joke between us. I always thought of him as the little boy who would come up to me and say, "Hi." He was my friend's little brother.
A: I always thought she was amazing.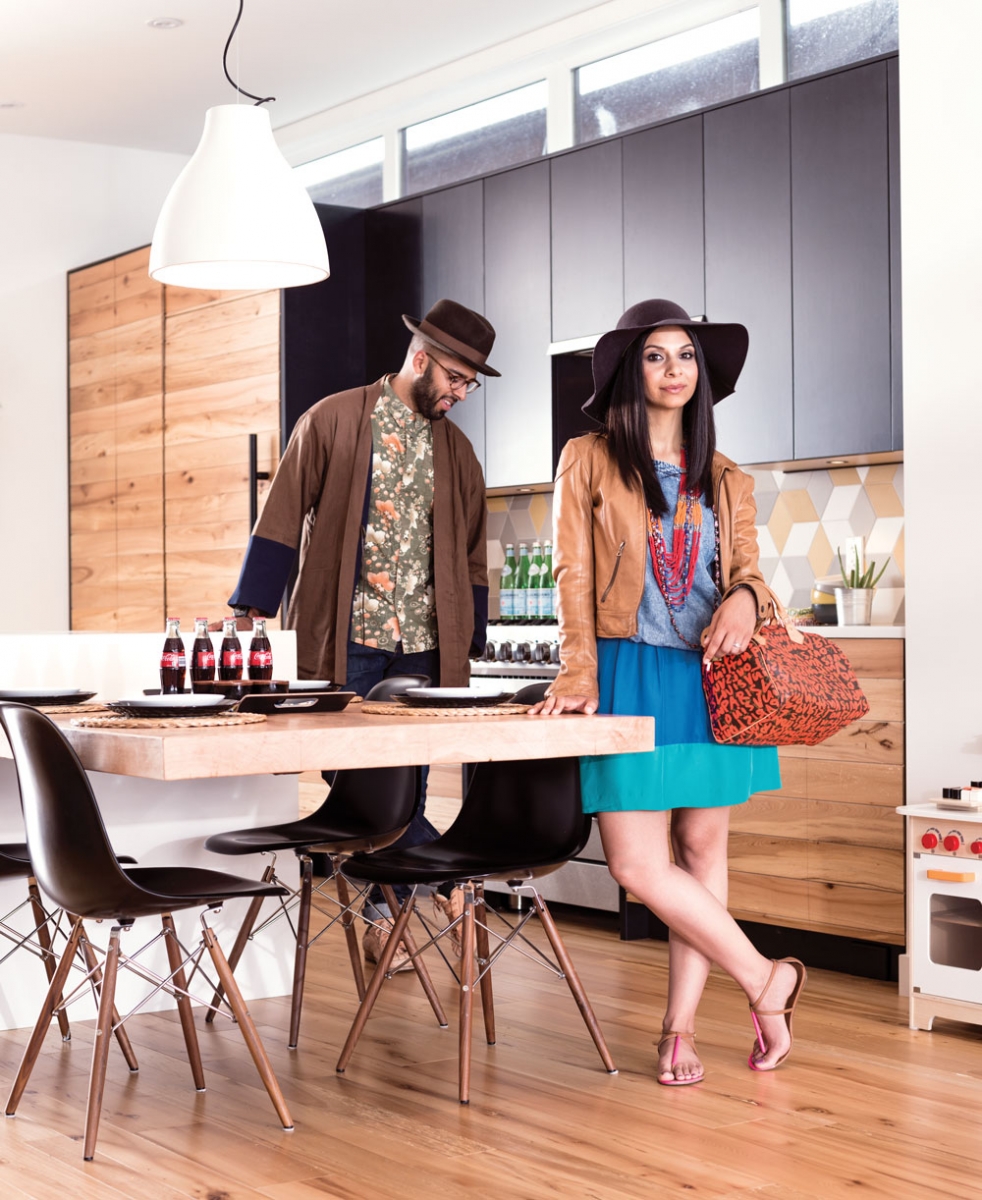 PHOTOGRAPH BY JARED SYCH
On Majida: Top from H&M; skirt from J.Crew; jacket from Gerard Loft; sandals by Dolce Vita; hat by Tony Merenda; bag by Louis Vuitton.
On Alkarim: Shirt by Deus Ex Machina; kimono sweater purchased in Japan; jeans by Wings & Horns; fedora from Bailey Hat Company.
What's your design style?
A: A realtor came into our house and asked how I describe this space to clients. We created an organic, natural space with modern elements – new modern, inspired by Frank Lloyd Wright? [Alkarim turns to Majida for clarification.]
M: Transitional.
A: Natural modern. The goal is to be as natural in the elements as possible.
You're very passionate when you talk about the homes you build.
M: [Alkarim is] very passionate and he's a good speaker. I'm a little quieter, so that's a good balance.
A: I try not to talk too much.
Do you have a signal to let him know when you want to talk?
M: Sometimes I'll give him a poke.
A: I can see it. I'm pretty honest.
M: That's one of the things I fell in love with: his bluntness and his honesty.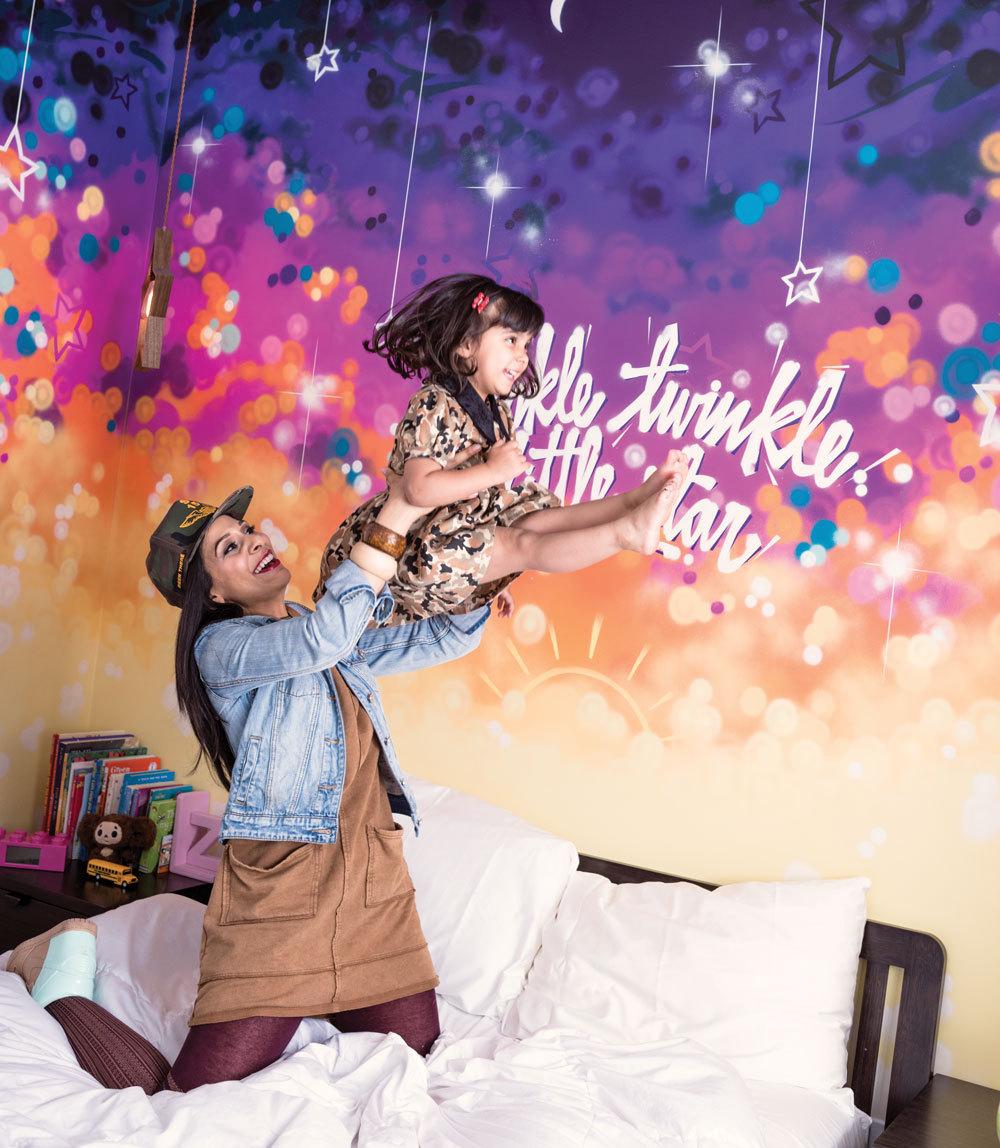 photograph by jared sych
Dress by DedenDuet; jacket by Talula; hat by Supreme; sneakers by Nike. Ila wears a dress by Opening Ceremony.
Tell us about Hors de Combat.
A: I started it with Tung Vo and Farsh Kanji. Instead of going out drinking, we would go to a restaurant and hash out designs. We got really good initial feedback. Going into the 2014 season, we were looking at getting piloted into Holt Renfrew and Gravity Pope, but Tung got scouted by Wings and Horns and was asked to be the head designer. It was so cool for Tung, and it made sense for us to put it on hold. I don't know if Hors de Combat will ever come back, but I think I'll be involved in fashion again.
Al, how would you describe Majida's style?
A: Very clean aesthetics. Even when we go somewhere glitz, her look is toned-down, so her character always speaks loud. She puts together an outfit so well. She's never trying to be something she's not.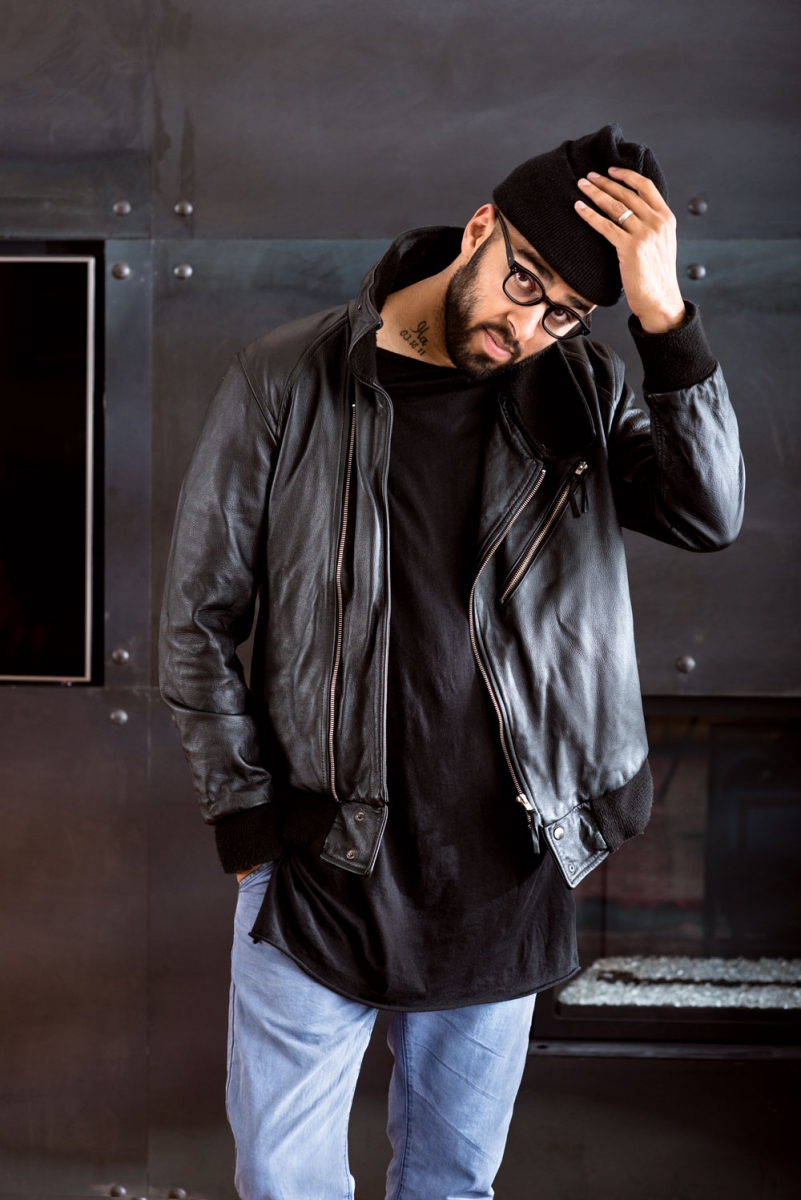 photograph by jared sych
T-shirt by Drifter; pants from Deus Ex Machina; jacket by Mananoshe; toque by Carhartt; glasses from Garrett Leight.
Majida, how would you describe Al's style?
M: He likes to be unique. He loves looking on the Internet for new ideas. His style is clean, and he's always been into sneakers. He buys Jordans for Ila.
A: She has nicer Jordans than me.
What inspires your design work?
M: My mom is an artist and my dad is an architect. It's always been within me to look at things in a certain way.
A: We just went to Japan and that was massively inspiring.
M: Travel is one of our inspirations, for sure. We're going to South America this December.
What are the challenges of working together?
M: We're always talking about work, so it's nice to have a break. On our vacations, we let everything go.
A: When I'm on work time, I'm extremely focused. I can't really jump out and in.
M: Al's mind is always going.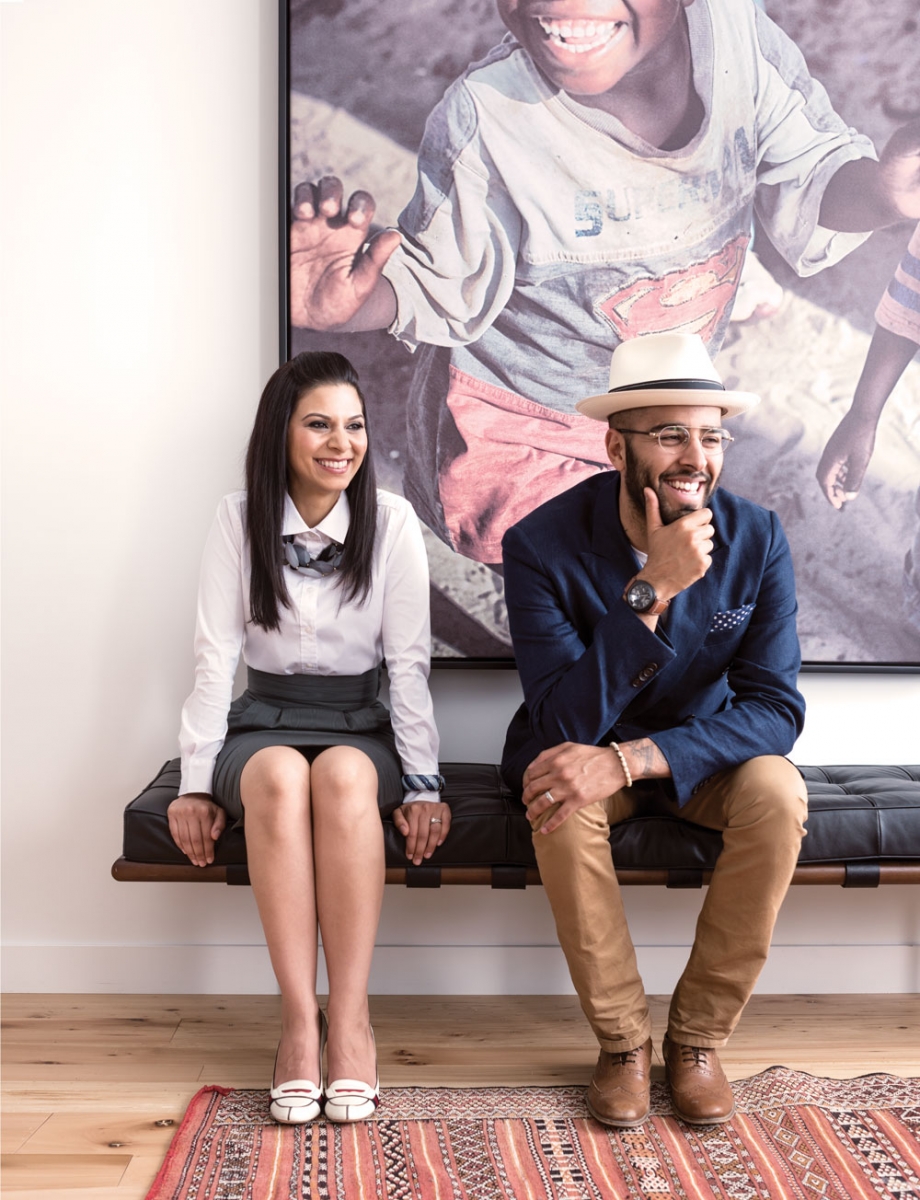 photograph by jared sych
On Majida: Shirt from Uniqlo; skirt from H&M; shoes by Gucci; necklace from Aldo.
On Alkarim: Blazer from Club Monaco; pants from Unis; hat from Biltmore Hats; glasses and pocket square were purchased in Japan; Panarai watch from Brinkhaus.
What inspires you as an entrepreneur?
A: We're doing this because we love to do this, not because we're taking the money to the bank to buy a Ferrari. We have donation initiatives, where, for every single home we sell, we donate $500 to $1,000 toward a charity. Right now, we're working with a micro-loan charity in Uganda.
So buyers won't get a gift basket from you?
A: Instead, we send them a letter that describes the charity we donated to on behalf of them. For me, sustainability is about always giving back. There are people and places in the world that have nothing and it's our job to reach out to them. That's at the core of what we do for both Maj and I. I want people to remember us for that. That's what building is actually all about.
This story was part of Avenue's free weekly Style Newsletter. Sign up now and get home decor and fashion information and advice in your inbox every Wednesday.