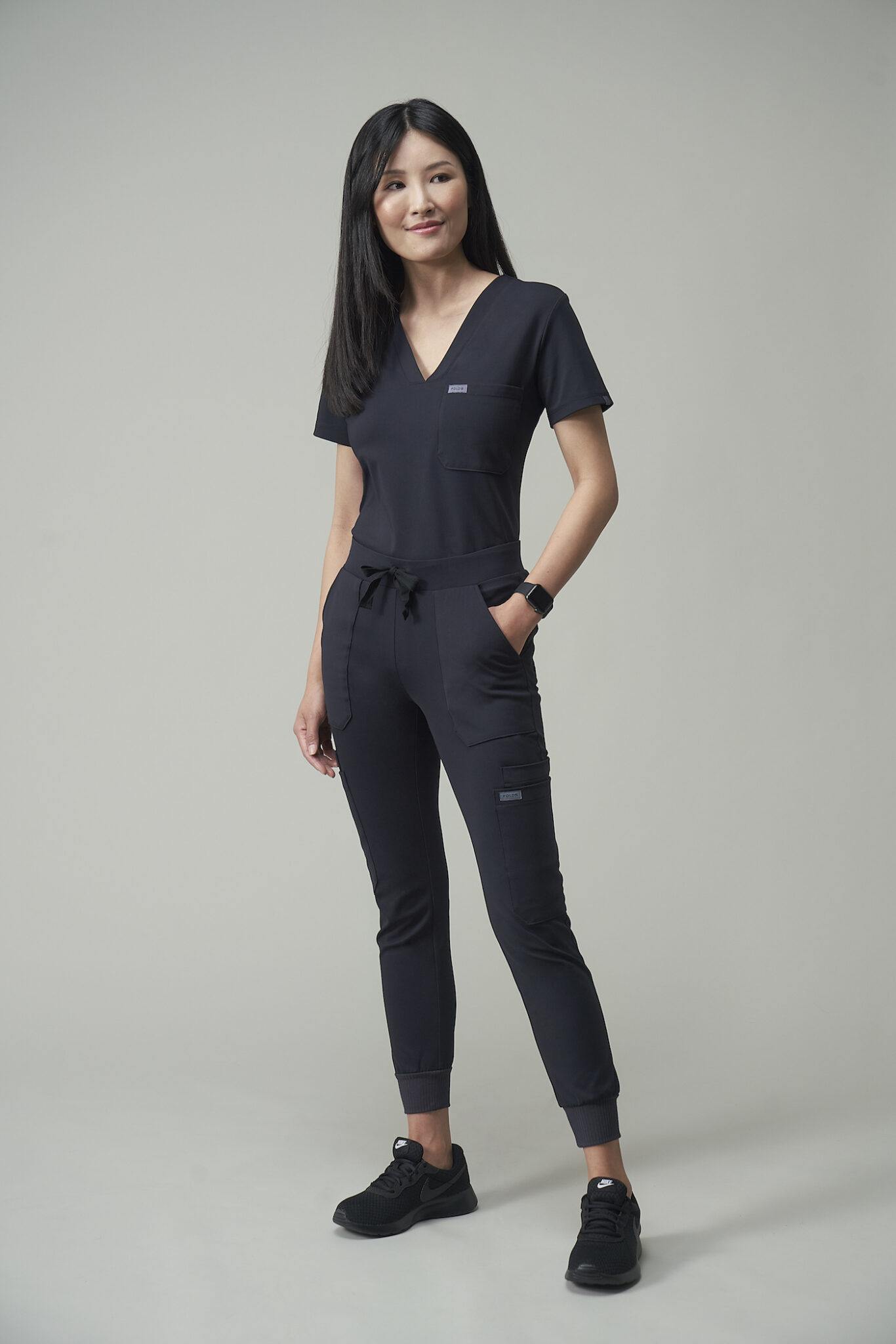 For a long time, clothing options for healthcare workers were limited to the standard scrubs we see today. Now, after a year that particularly showcased just how heroic frontline workers are, Nina Kharey has dedicated her new company to making sure there are comfortable and modern clothing options available to them.
Kharey is the Calgary-based designer behind Nonie and has earned international recognition over the years (perhaps most notably for her trench dress worn by Meghan Markle). But in 2020, Kharey turned her focus to health, wellness and comfort. After spending the early months of the pandemic making high-quality face masks, she recently launched Folds, a sleek line of anti-viral and anti-microbial athletic scrubs for healthcare workers.
"When COVID started, we were already trying to find ways to pivot Nonie to something that wasn't luxury-based and promoting consumerism when people were losing their jobs and struggling. We started with making the masks for nurses, but when I started my research on scrubs and how horribly designed and uncomfortable they were, I realized there was something really innovative and helpful that we could create," says Kharey.
After extensive research and conversations with doctors, nurses and more, Kharey was excited to create something new and necessary for healthcare workers.
"It was insane to me to think about these people fighting a pandemic on the frontline and seeing how we dedicate so much innovation to athletes clothing but nothing for these people who put their lives at risk every day," says Kharey.
Sleek and form-fitting with plenty of pockets, Folds scrubs come in two colours for both men and women. The pants are available as joggers or with a straight leg, while the tops come in v-neck and crewneck styles. The scrubs are made using a unique mixture of silver and other compounds applied through nano-technology that is embedded into the material, making it safe and anti-viral.
Folds also prioritizes sustainability and environmental consciousness. The line is manufactured locally and made using recycled, post-consumer plastics which are formed into nylon polymide. Additionally, its Full Circle Recycling program allows customers to send their scrubs back when they are permanently done with them to be recycled into new products.
"I've learnt that scrubs alone across the country account for roughly four million tonnes of waste going into landfills and we are trying to reduce that significantly," says Kharey.